Thursday, September 21, 2023
Klassic Wood Cook Stove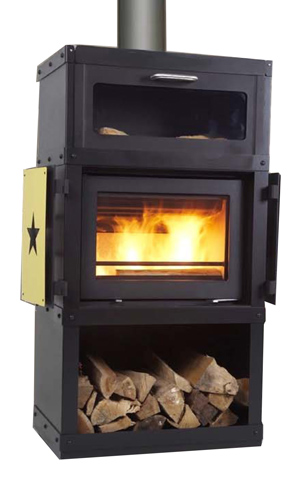 The Klassic Wood Cook Stove is a time-less multi-functional wood-burning cook stove.
This European Danish designed Wood Cook Range provides you with the ability to heat your home, and cook on a wood-fired oven. The Klassic is made of heavy gauge ¼" American Made Steel. The Klassic Wood Cook Range is handcrafted to carry on the revolutionary Danish design that came to life by industrial designer Bent Faulk back in 1970. The Klassic Wood Cookstove comes with an EPA approved firebox (the stove itself is EPA Exempt) and has freestanding capability. The stove offers heavy steel double doors open up to a glass door with exceptional view of the massive firebox. The side tile panels with star cut-outs add a unique touch to the Klassic, espeically if you would like to add a touch of color to the stove. The exposed rivets, and 2" thick, Brazilian soapstone lined, baking and roasting oven give this Klassic Wood Cook Stove a contemporary twist. Nothing bakes like the Klassic Wood Cook Stove.
Description
Specifications
Photos (10)
Pricing
Extended Info
Add Review
The old antique wood cook stoves are known to provide multiple uses such as raised fireboxes, wood storage, and baking and cooking abilities above the firebox. All these traits were the inspiration for this timeless masterpiece the Klassic Wood Cook Stove. Soon after the Klassic Wood Cook Range debut, it became the sought most after model for all stove designs throughout Europe. The unique design features a trademark star cutout on the heavy steel double doors, which fold back flat against the stove to add a touch of color (chosen by you) and show a unique view of the back panels.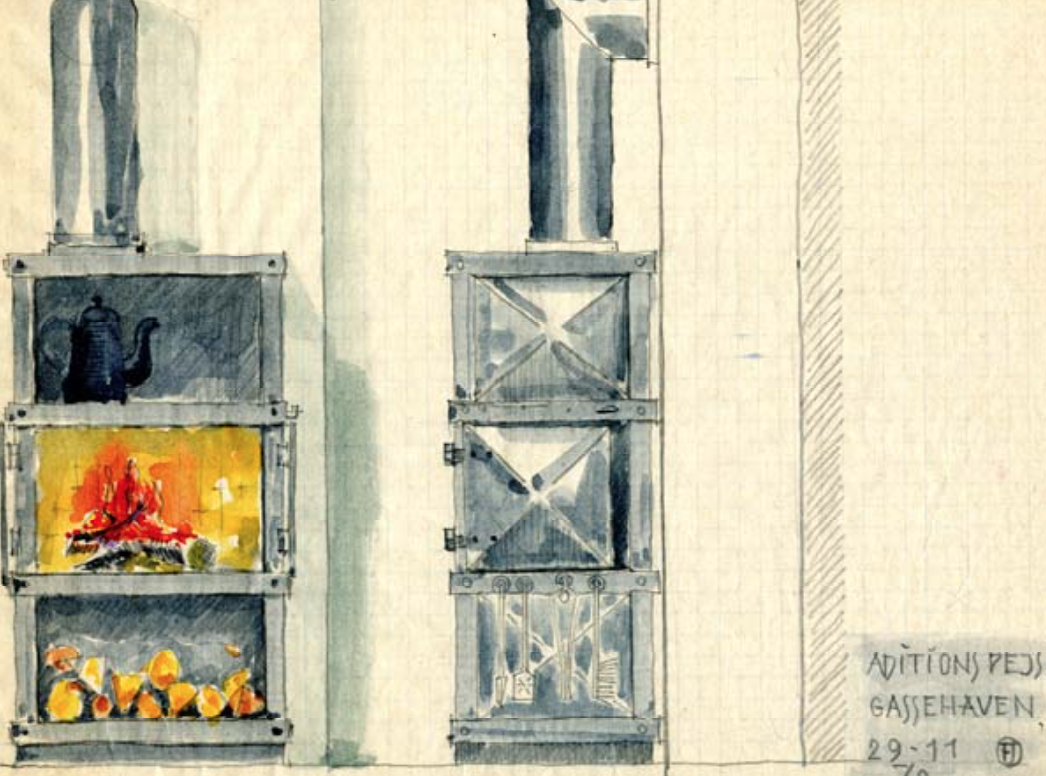 Features
Large Firebox that can hold logs up to 24" in length
Manufactured in the U.S. with 1/4" American Steel
Exposed rivet and clean lines
Double steel doors that fold back flat against the sides to offer an exceptional fire view and add to the overall appeal
Versatile baking/roasting oven. Lined with 2" Brazilian soapstone and converts into a warming area
5 year warranty
Color options to fit your unique style (As if the Klassic wasn't already unique enough!)
Thermometer
Oven mitt
Easy to use lighter
Can of touch-up paint
Color Options
Please select from the 5 color options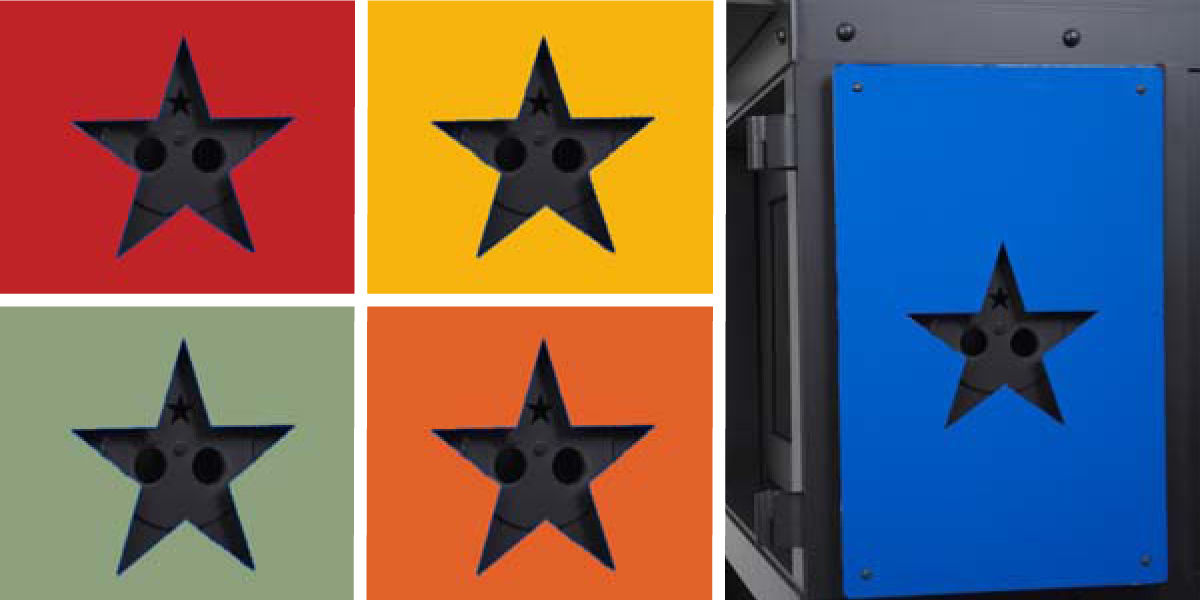 Clearances
| Clearances | | The Klassic |
| --- | --- | --- |
| A | Distance to side wall | 12" |
| B | Distance to back wall | 17" |
| C | Corner distance to side walls | 7" |
| D | Connector pipe to side wall | 25" |
| E | Connector pipe to back wall | 18" |
| F | Corner pipe to side walls | 18" |
| G | Distance to furniture | 36" |
| H | Front floor protection | US-16" Canada-18" |
| I | Side floor protection | US-8" (from sides of fuel loading door) Canada- 8" (from sides of the stove) |
| J | Back floor protection | US-0" Canada- 8" |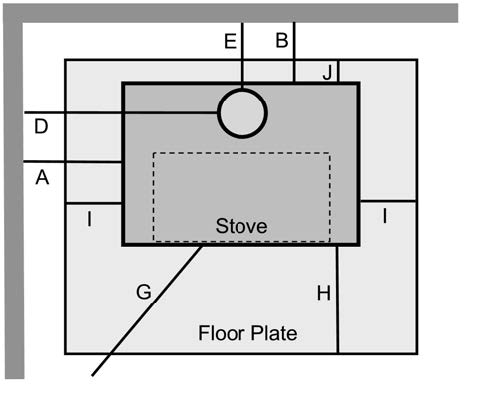 Chimney

The Klassic must be installed using a Class A UL 103 HT approved factory-built chimney system or a code-approved masonry chimney with a flue liner. In Canada, the installation must conform to NFPA 211 or CAN/CSA-B365. The chimney must extend through the roof at least 3 ft, and 2 ft above any structure within 10 ft.
The condition of the chimney and height is very important. We recommend a minimum height of 10 ft above the stove collar. However, additional chimney height may be required to maintain adequate draft - consult you dealer.

NOTE! Mount the special collar using the included hardware. When installing the first piece of pipe (at the stove), place the pipe inside the collar, that is designed so any moisture or creosote will drip back into the stove and burn away. Install the remaining stovepipe segments with the crimped end down whenever possible.

| The Klassic | Required Installation Components |
| --- | --- |
| A | Chimney Cap |
| B | Insulated Chimney |
| C | Storm Collar |
| D | Roof Flashing |
| E | Ceiling Support Box or Joist Shield/ Firestop Spacer |
| F | Chimney Connector Pipe |

Chimney Connector
Aluminum and galvanized steel pipe is not acceptable for use with wood stoves. These materials cannot withstand the extreme temperatures of a wood fire and can give off toxic fumes when heated. Do not use connector pipe to go through a wall or ceiling.
Each chimney connector or chimney connector section must be installed to the stove flue collar and to each other with the male (crimped) end toward the stove.
This prevents any amount of condensed or liquid creosote from running down the outside of the pipe or the stove top. All joints, including the flue collar connection must be secured with three sheet metal screws to ensure that the sections do not separate.
For the best performance the chimney connector should be as short and direct as possible, with no more than two 90° elbows. The maximum horizontal run is 36" and a recommended total length of single-wall stove pipe connector should not exceed 10 feet. Connector pipe over 10 feet must be double-wall from the stove collar (not mixed with single wall except at a masonry thimble per manufacturer's installation guide). Always slope horizontal runs upward ¼ inch per foot toward the chimney. Note the connector pipe should not pass through an attic or roof space, closet or similar concealed space, or a floor or ceiling.

Resources:
| | |
| --- | --- |
| Specifications | Klassic Wood Cook Stove |
| Overall Dimensions | 60" H x 32" W x 25" D |
| Firebox Dimensions | 14" H x 24" W x 12" D |
| Weight | 520 lbs |
| BTU | 45,000 |
| Heat Capacity | Up to 1,500 sq ft |
| Flue (Top Vent Only) | 6" |
| Efficiency | 75% |
| EPA Emissions | 6.6 g/hr |
| Max Log Length | 24" |
| Warranty | 5 year |
Klassic Wood Cook Stove - Product Dimensions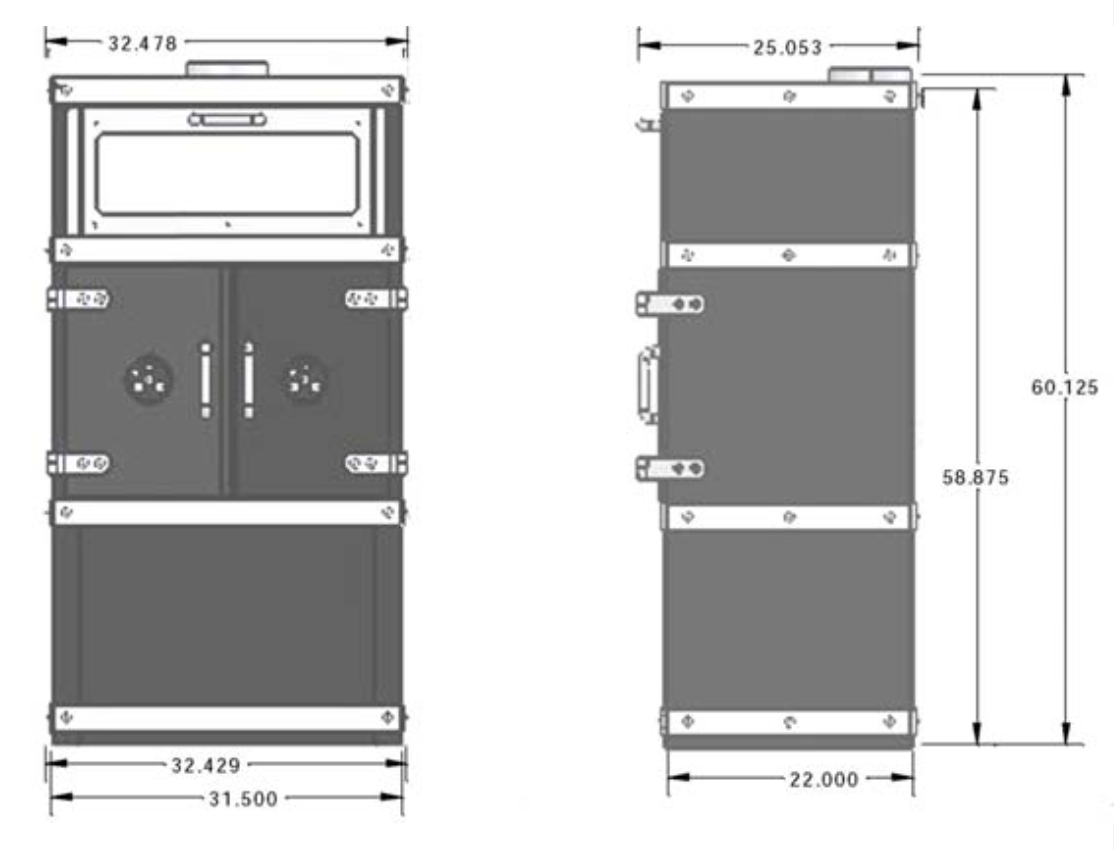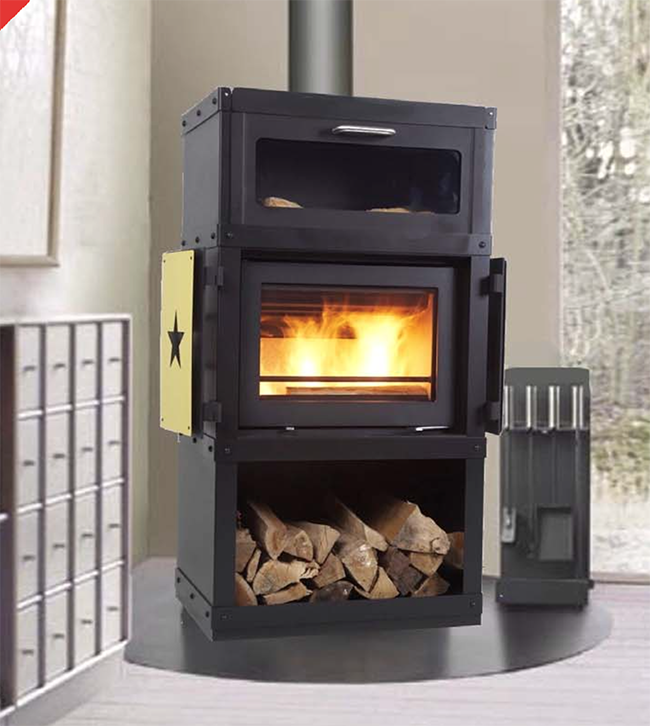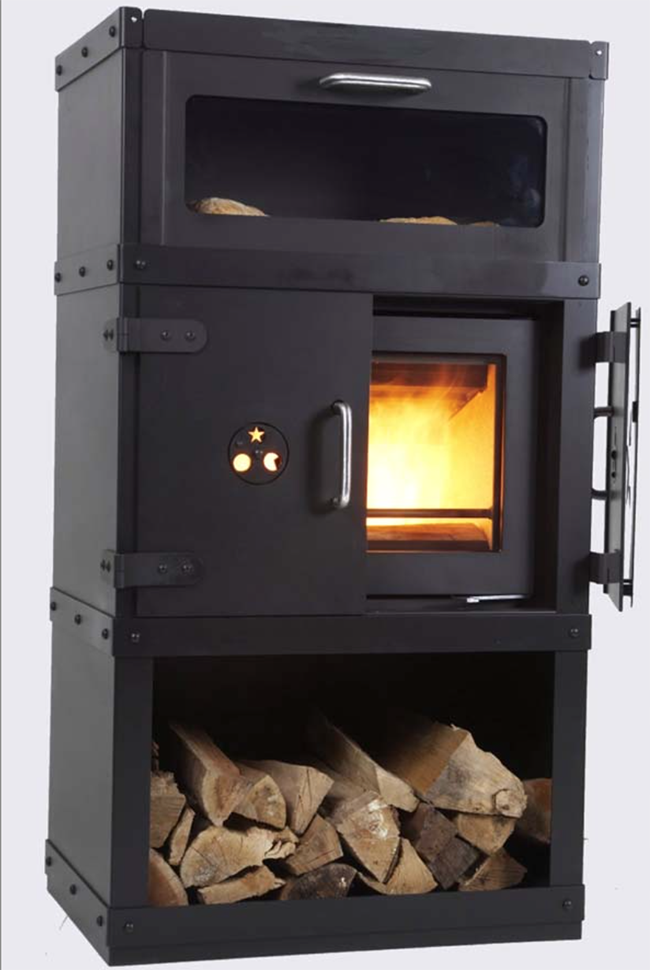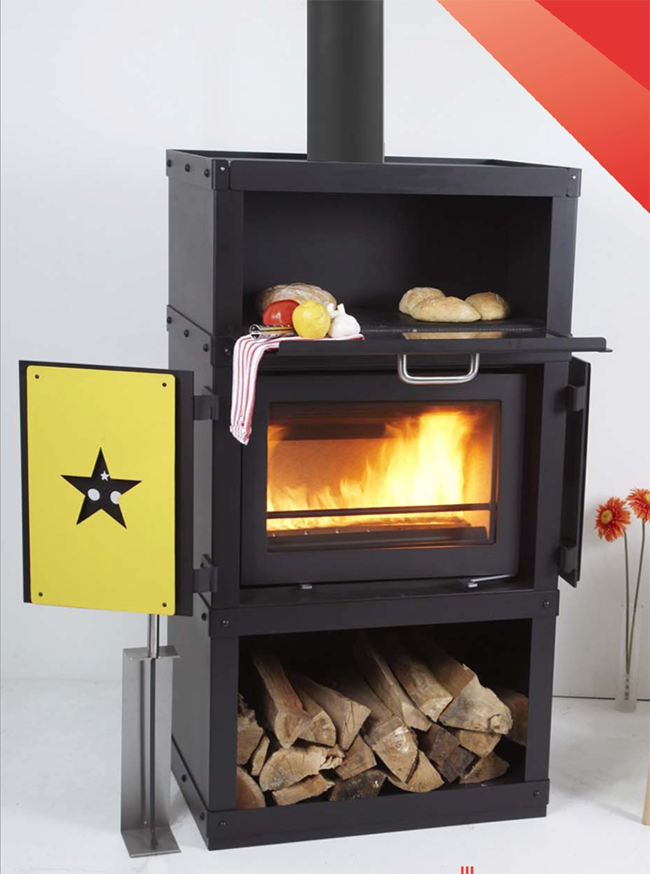 Klassic wood cookstove with one door closed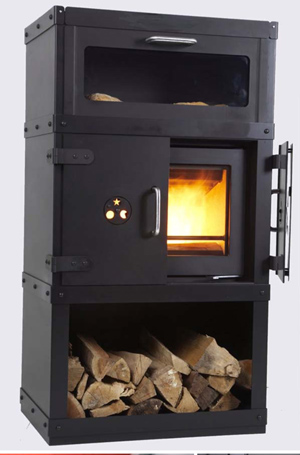 Klassic, Exposed Rivets and Hinges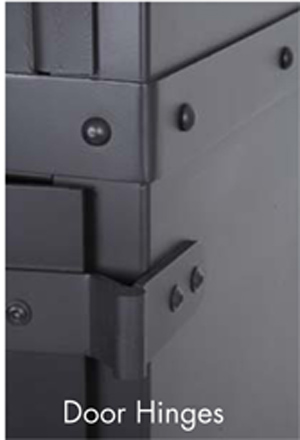 Klassic, Close-up of the oven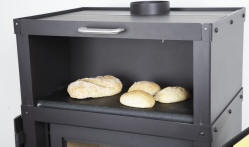 Klassic, close-up design detail on door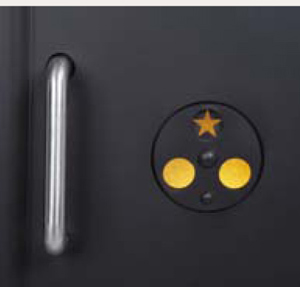 Klassic Wood Cookstove Measurements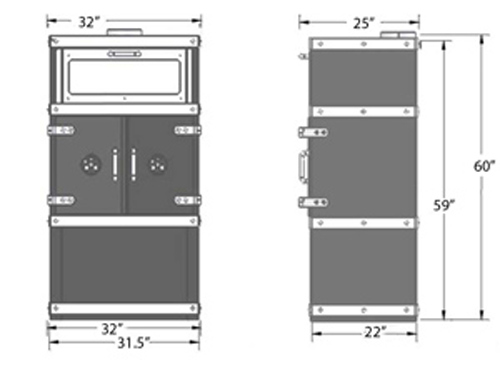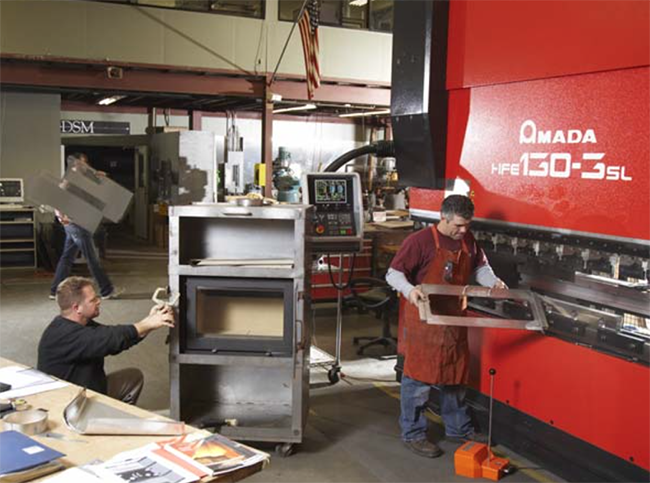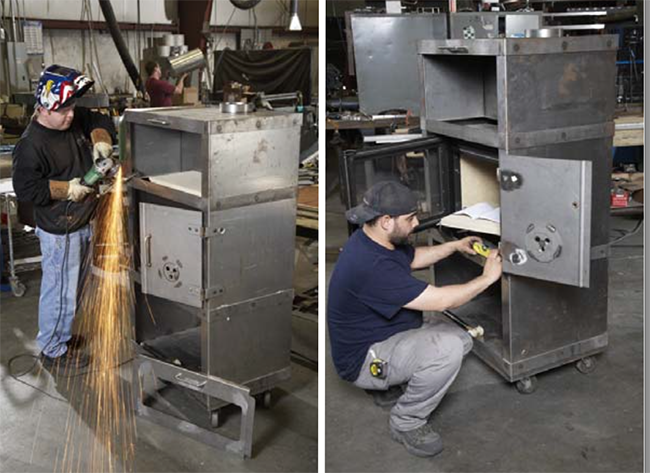 ** Residential, curbside delivery via freight truck with a lift gate is included for shipping in the Continental U.S.A. (some exceptions may apply). Please inquire with our sales staff if you have specific shipping needs such as international, freight terminal and/or business deliveries or if you need a smaller truck size. Click here to see Obadiah's Shipping Terms.
Please call or email us today to order! One of our sales consultants will help you on your way to great, home wood-fired cooking!
You can also leave your information with our office and one of our sales consultants will return your inquiry during our business hours:
Monday-Friday 8am-5pm Standard Mountain Time
Toll Free: 1-800-968-8604
Be sure to check out our newly improved Cookstove Community website cookstoves.net; the best place online to connect with other cookstove users over stoves, self-sufficient living, alternative energy, and more! Take a look at our selection of videos, articles, and photos, and be sure to visit the forums to connect with like-minded folks from all over.
If you are planning to cook with a cookstove, you will need to understand some basic fire safety. Remember, extinguishing a grease or oil fire with water is not a good idea.