Wood Burning Products
Commercial Wood Boilers
Wood Boilers
Wood Cookstoves
Wood Fireplaces
Outdoor Wood Fireplaces
See-Thru Wood Fireplaces
Commercial Wood Furnaces
Wood Furnaces
Wood Inserts
Wood Soapstone Stoves
Wood Stoves
Pellet Burning Products
Multi-Fuel / Corn Stoves
Commercial Pellet Boilers
Pellet Boilers
Pellet Furnaces
Pellet Inserts
Pellet Stoves
Gas Burning Products
Gas Cookstoves
Gas Furnaces
Gas Boilers
Gas Fireplaces
See-Thru Gas Fireplaces
Gas Fireplaces - Outdoor
Gas Inserts
Gas Stoves
Coal Burning Products
Commercial Coal Boilers
Commercial Coal Furnaces
Coal Boilers and Furnaces
Coal Stoves
Coal Boilers
Biomass
Commercial Biomass Boilers
Commercial Biomass Furnaces
Biomass Boilers and Furnaces
Biomass Stoves
Electric Products
Electric Refrigerators
Electric Dishwashers
Electric Furnaces
Electric Cookstoves
Electric Fireplaces
Oil Burning Products
Commercial Waste Oil Boilers
Waste Oil Boilers & Furnaces
Miscellaneous
Alternative Energy
Custom Range Hoods
BBQ Grills
Boiler Parts
Chimney Pipe
Cookstove Community
Cookstove Forums
Hot Tubs
Patio Heaters
Pizza Ovens
Pools
Sauna Heaters
Saunas
Stove Parts
Range Boilers
Discontinued Products
Discontinued Wood Boilers
Discontinued Pellet Products
Discontinued Coal Products
Discontinued Wood Products
Discontinued Gas Products
Help Links & Information
Tax Incentives
Cookstoves in Washington
Installations
Wood Heating
The EPA and Woodstoves
The EPA and Wood Boilers
Wood Boiler Regulations: F.A.Q
Great News from Congress
Chimney Q&A
Chimney Installation Configurator
Contact Us
800-968-8604
Toll Free
406-300-1776
Local
888-317-0987
Fax
Email:
sales@woodstoves.net
Hours 8 am - 5 pm (Mountain time)
Monday thru Friday
Showroom
1660 Whalebone Dr.
Kalispell, MT 59901
Showroom By Appointment
Not all Products are stocked or displayed.
Social Networking
Additional Resources
Financing Options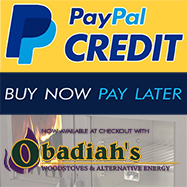 Chimney Configurator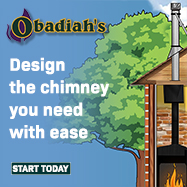 Obadiah's Memberships
Thursday, September 21, 2023
Chimney Q&A
Wednesday, February 20, 2019
Q: How do I know if my chimney pipe is installed properly?
Q: What are the different types of Solid Fuel Chimneys?

Q: When Should I Use a 30 Degree Wall Pass Thru?