Friday, September 22, 2023
Wood Boiler Regulations: F.A.Q
Thursday, March 24, 2016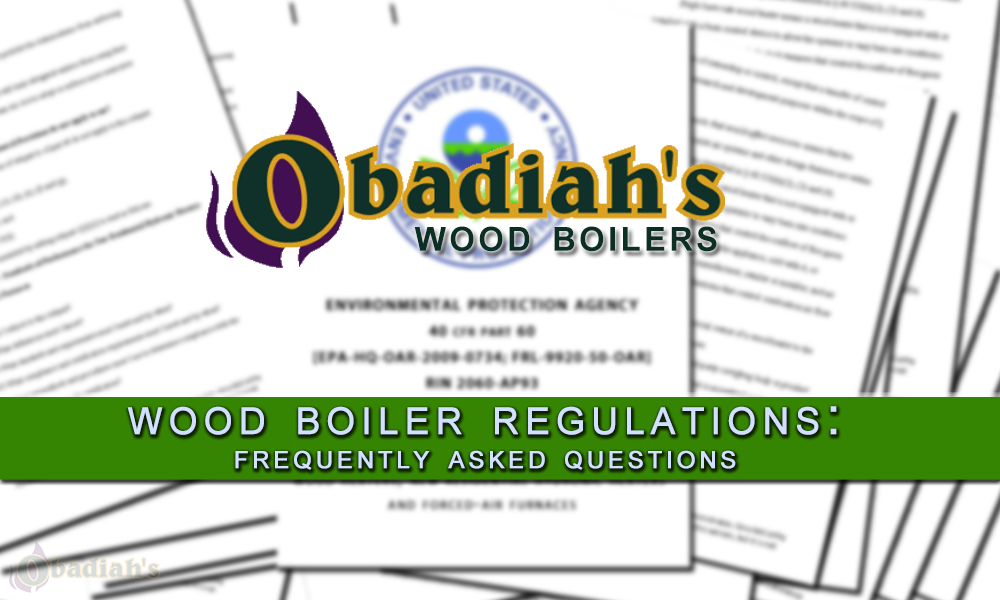 If you've thought about purchasing a wood boiler recently, chances are you've been confused when it comes to understanding the Environmental Protection Agency's wood boiler regulations. Over the last five years, the popularity of these heating units has exploded, but many users simply don't understand how to burn them cleanly or efficiently. As a result, the EPA has updated many of their regulations in hopes of creating cleaner air across the United States. But what does that mean to you? We recently wrote an article about the new regulations, but many people still had specific questions: What kind of boiler are you allowed to own as a resident? What about as a business? If you live outside of the United States, what boilers are you allowed to purchase? We heard your questions and dug through miles of government documents to bring you the answers without all the legalese.
Frequently Asked Questions
What is "40 CFR Part 60?"
"40 CFR Part 60" is the name of the EPA's set of regulations for residential wood stoves and wood boilers. Its full title is "The Source Performance Standards for New Residential Wood Heaters, New Residential Hydronic Heaters and Forced-Air Furnaces," or "The NSPS" for short. These regulations were updated in 2015, and most states have adopted them as part of their local laws.
What is "40 CFR Part 63?"
"40 CFR Part 63" is the set of regulations for commercial, industrial, and institutional wood boilers. These types of boilers are also called "area sources," which means they emit less than 10 tons annually of a single hazardous air pollutant or less than 25 tons annually of a combination of hazardous air pollutants. They're typically found in places like schools, manufacturing buildings, event centers, and other similarly large buildings.
What exactly is a "hydronic heater?"
A "Hydronic Heater" is what the EPA calls a wood boiler. According to the EPA: "Hydronic heaters (also called outdoor wood heaters or outdoor wood boilers) are typically located outside the buildings they heat in small sheds with short smokestacks. Typically, they burn wood to heat liquid (water or water-antifreeze) that is piped to provide heat and hot water to occupied buildings such as homes, barns and greenhouses. However, hydronic heaters may also be located indoors and they may use other biomass as fuel (such as corn or wood pellets)."
I live in the United States. What regulations apply to me for residential wood boilers?
To meet EPA certification, a residential wood boiler must meet the following emission standards for particulate matter: 0.32 lb/mmBtu heat output (weighted average) and a cap of 18 g/hr for each individual test run. You can find a full list of wood boilers certified by the EPA as of February 2016, here.
The EPA's Emission Limits for Residential Wood Boilers (40 CFR Part 60):

What regulations apply if I want to buy a commercial-size wood boiler?
Commercial boiler regulations are found in 40 CFR Part 63, the "National Emission Standards for Hazardous Air Pollutants for Area Sources: Industrial, Commercial, and Institutional Boilers." These types of boilers typically provide heat for buildings like manufacturing plants, greenhouses, trade goods housing, real estate, educational services, religious organizations, public administration, and other similarly-sized buildings. Boilers for these types of buildings have to put out some serious heat, but they must not exceed the limits in this table from the EPA:
The EPA's Emission Limits for Commercial Wood Boilers (40 CFR Part 63):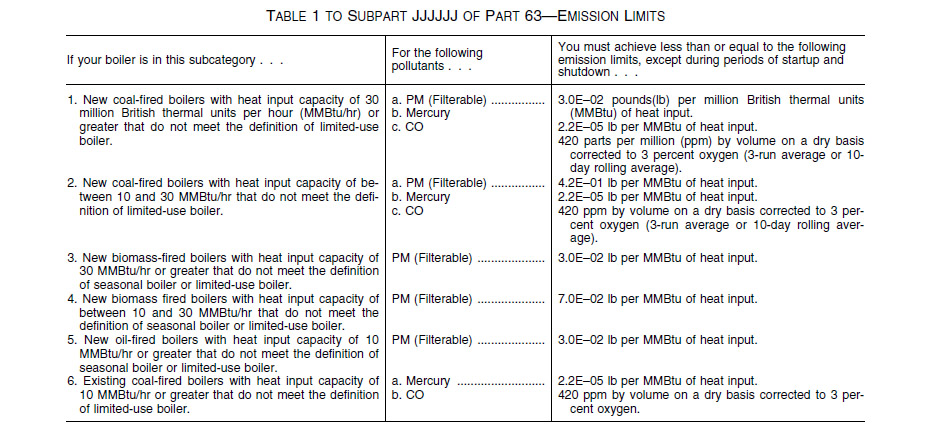 This chart by the EPA has more information on the exceptions to these rules (for example, if you shut down your boiler for seven months out of the year, you might qualify as a seasonal boiler). We also suggest that anyone operating a large building with a boiler installation read 40 CFR Part 63, which can be found in the resources at the bottom of this post.
I own a wood boiler and it doesn't meet the EPA's new standards. What should I do?
Great news for you: The EPA's updated wood boiler regulations do not apply to any boilers that were sold before December 31, 2015. If you bought your boiler before that date and it was in compliance with the regulations set at the time of installation, you don't have to do a thing!
Note for Washington State residents: NO outdoor wood boilers are allow in your state as of 2016. Visit the Washington Department of Ecology for more information.
I live in the United States. Can I legally operate a wood boiler that is not EPA-Certified?
In most states, the answer is no. Under federal law (42 U.S.C. §7416), a state's regulations for wood heaters such as wood boilers are required to be equal to or greater than the EPA's regulations. If you buy a wood boiler that is not EPA-certified, it probably does not comply with your local laws. We checked the laws for each state to see how they regulate wood boilers and have created a summary of where wood boilers have to be EPA-certified and where they do not (see the table below). The vast majority of states require wood boilers to be EPA-certified. Most states have done this by referencing or incorporating 40 CFR Part 60 directly into their list of state laws but some, like Washington state, have stronger restrictions than the EPA. However, several states such as Missouri, Hawaii, and Michigan have chosen to ignore the EPA's regulations altogether, and many others states simply have no information available online. If you live in a state we've listed as "no data" please check with your local Department of Environmental Quality to see what regulations apply to you.
Wood Boiler Regulations By State
State
EPA-Certification Required?
NOTES
Alaska
YES
Residential hydronic heater must meet EPA's emission standard of 0.32 lb/mmBtu (18 AAC 50.077, Standards for wood-fired heating devices, pg. 46).
Alabama
No data
Arizona
YES
"[Arizona] shall maintain a state implementation plan that provides for implementation, maintenance and enforcement of national ambient air quality standards." - Title 49, "The Environment" Chapter 3, Air Quality, Article 1. 49-404.
Arkansas
YES
Aims to "consistently meet all federal air quality standards" [...] "These programs include the NSPS."
California
N/A
Regulations are decided by districts, i.e. the Bay Area has adopted the NSPS requirements for emission standards for 2015 and 2020 (Bay Area Air Quality Management District, Regulation 6, Rule 3 Amendments).

Contact information for your district can be found here.
Colorado
YES
"The state of Colorado is required under Section 110 of the federal Clean Air Act as amended to adopt such NSPS standards and revisions into its regulations in order to maintain agency authority with regard to the standards." - Colorado DPHE, Regulation 6 "Standards of Performance for New Stationary Sources"

Additional notes on Outdoor Wood Boilers in Colorado
Connecticut
No data
Has not updated emission standards since the EPA released the NSPS. However, they encourage residents to use EPA-certified wood boilers and more information can be found here.
Delaware
YES/FURTHER RESTRICTIONS
"No person shall cause or allow the emission of particulate matter in excess of 0.3 pound per million BTU heat input, maximum two-hour average, from any fuel burning equipment." - Administrative Code Title 7 - 1104 Particulate Emissions from Fuel Burning Equipment.

This means your boiler has to have an emission even lower than the maximum limit currently certified by the EPA, which is 0.32 lb/mmBtu.
Washington D.C.
YES/FURTHER RESTRICTIONS
"The emission of particulate matter from any fuel burning equipment shall not be in excess of 0.13 lb/mmBtu" - D.C. Municipal Regulations (DCMR) Chapter 20-6 Air Quality - Particulates.
Florida
No data
Georgia
YES
Commercial boiler regulations are based on 40 CFR Part 63, Subpart JJJJJJ.

Online data is not immediately available, but given the acknowledgement of the EPA's regulations elsewhere, it's safe to assume residential wood heaters should comply with the NSPS.
Hawaii
NO
No Ambient Air Quality Standards for PM 2.5 as of 11/19/2015. (source)
Idaho
YES
The EPA delegated authority to Idaho DEQ to implement standards in 2013. However, part of the agreement was that "NSPS that are revised substanatively after [July 1, 2013] are not delegated to your agency; these remain the responsiblity of the EPA."

This means that the 2015 revisions to the NSPS are not delegated, and the EPA's current regulations for wood boilers are the standard in Idaho.
Illinois
No data
Indiana
No data
Iowa
No data
Kansas
YES
"New source performance standards.(a)(1) 40 C.F.R.part 60 and its appendices, as revised on July 1,2010 and as amended by 76 fed. reg. 10524 (2011),76 fed. reg. 37967-37977 (2011), and 78 fed. reg. 6695-6700 (2013), are adopted by reference[...]" - K.A.R. 28-1, Kansas Air Quality Regulations, 28-19-720.
Kentucky
YES
"This administrative regulation adopts the Standards of Performance for New Stationary Sources (NSPS) codified in 40 C.F.R. 60. [...] Delegation of implementation and enforcement authority for the federal NSPS program from the U.S. E.P.A. to the Commonwealth of Kentucky is provided by 42 U.S.C. 7411(c)(1)." - 401 KAR 60:005.
Louisiana
No data
Maine
YES
"Outdoor wood boilers which have not been tested and approved by the EPA Outdoor Wood-fired Hydronic Heater Program cannot be imported, sold or installed in Maine after March 31, 2009. Uncertified boilers which were in use in Maine before April 1, 2009 can be resold." - Maine Dept. of Environmental Protection.
Maryland
YES
"Small wood boilers (under 350,000 Btu/hr) made available for sale and use in Maryland after April 1, 2010 must meet an emissions performance standard of 0.32 pounds of particulate matter per million Btu of heat output." (source)
Massachusetts
N/A
Only MassDEP-certified units are currently legal to sell and install in Massachusetts. See this page for more information and a complete list of approved wood boilers.
Michigan
NO
Effective March 2015, Section 324.5514 of Michigan's Natural Resources and Environmental Protection Act states that the EPA cannot limit emissions from wood heaters in the state. More information on outdoor wood boilers in Michigan here.
Minnesota
YES
"40 CFR Part 60 (Standards of Performance for New Residential Wood Heaters) is adopted and incorporated by reference." - Minnesota Administrative Rules, Chapter 7011.2950.

Minnesota also adopts the EPA's standards for commercial boilers under 40 CFR Part 63 (MN Administrative Rules, 7011.7055).
Mississippi
YES
"New Source Performance Standards and National Emissions Standards for Hazardous Air Pollutants, are adopted by reference." - MDEQ's Air Division.
Missouri
NO
"No rule or regulation respecting the establishment or the enforcement of performance standards for residential wood burning heaters or appliances shall become effective unless and until first approved by the joint committee on administrative rules." - Missouri Air Conservation Statutes, Chapter 643, Section 643.055.1.
Montana
YES
"All emission source testing must be performed as specified in any applicable sampling method contained in 40 CFR Part 60, Appendix A and B." - Clean Air Act of Montana, Environmental Quality Chapter 8, Air Quality (17.8.106)
Nebraska
YES
The regulations of 40 CFR Part 60, including and specifically those for new residential wood heaters, are adopted and incorporated by reference. Nebraska DEQ, Title 129, Chapter 18, 001.71. (source.)
Nevada
YES
Wood heaters are subject to the EPA's standards, as referenced in NAC 445B.288 (source).
New Hampshire
YES
Commercial Boilers are subject to the EPA's standards for Area Source Boilers (40 CFR Part 63).

Residential Wood Boilers are subject to the NSPS (40 CFR Part 60).
New Jersey
No data
Regulations have not been updated since the EPA revised their standards. Contact New Jersey DEP for more information.
New Mexico
YES
"Any stationary source constructing or modifying and which is subject to the requirements of 40 CFR Part 60." - New Mexico Air Quality Bureau, Air Quality (statewide) Title 20.2.77.2 (amended 1/29/16)
New York
N/A
Refers to 40 CFR 60, Subpart AAA for indoor wood heat regulations. The state also has their own restrictions for outdoor wood boilers, more information can be found here.
North Carolina
No data
Previously acknowledged the EPA's emission limits in the NSPS (15A NCAC 02D.0524), but the available regulations have not been updated since 2007
North Dakota
YES
Incorporates 40 CFR Part 60 into state regulations. North Dakota Department of Health Air Quality Rules 33-15-12.
Ohio
No data
Oklahoma
No data
Oklahoma DEQ revoked their section on the New Source Performance Standards for Wood Heaters as of September 15, 2015 (Title 252, Chapter 100, Subchapter 4).
Oregon
YES
Adheres to EPA regulations. OAR 340-262-0500.
Pennsyvania
No data
Outdoor wood boilers are regulated under 025 PA Code §123.14, but these regulations have not been updated since 2011.
Rhode Island
YES
Follows EPA regulations. All outdoor wood boilers must be EPA certified or qualified to meet 0.32 lb/mmBtu. Air Pollution Control Regulation No. 48, 48.3.
South Carolina
YES
Incorporates the EPA's regulations by reference. South Carolina has not yet amended their regulations to include the most recent NSPS revisions, but has followed the EPA's guidelines since 1988. (South Carolina DHEC, Regulation 61-62.60, page 25).
South Dakota
YES
"The standards of performance for new residential wood heaters are those in 40 CFR 60." South Dakota Article 74:36, "Air Pollution Control Program", 74:36:07:24.
Tennessee
NO
Tennessee appears to have no regulations for wood heaters.
Texas
YES
Adopts 40 CFR Subpart QQQQ specifically. Source.
Utah
YES
Adopts the EPA's standards for wood heaters (Utah Air Quality Rules, R307-210-1).

Additional information on outdoor wood boiler restrictions can be found here.
Vermont
YES
Outdoor wood boilers must meet the same emission standards as those of the EPA's (0.32 lb/mmBtu), per 10 V.S.A. § 584(g)
Virginia
YES
The NSPS is incorporated by reference into state air pollution regulations. This is also designated in Virginia Administrative Code 9VAC5-50-410.
Washington
YES/FURTHER RESTRICTIONS
Adheres to EPA guidelines with further restrictions. No outdoor wood boilers are allowed in the state of Washington. More information on the state standards can be found via the Washington DoE.

A list of approved indoor wood boilers can be found here.
West Virginia
No data
Wisconsin
NO
Boilers are exempt from Wisconsin's wood heating regulations (NR 440.642), and the state is currently trying to pass a bill (2015 Assembly Bill 25) that will prohibit the EPA's new regulations for all wood heaters.
Some states make exceptions to EPA certification if you don't have access to other heating options. These exceptions are too numerous to list here, but please contact your state's environmental department for more information.
I live in Canada. Can I purchase a residential wood boiler that is not EPA-Certified?
Yes. In Canada, residential indoor boilers and furnaces are only subject to "The Code of Practice for Residential Wood Burning Appliances," which says that a boiler must have a particulate emission limit of 0.4 g/MJ. This is roughly equal to 0.93 lb/mmBtu, much higher than the EPA's requirement of 0.32 lb/mmBtu for residential wood heaters. Many boilers that do not meet the EPA's emission standards do meet the standards in Canada. Canada Residents: Keep in mind that "The Code" exists in Canada to provide municipalities with advice on best practices for reducing emissions. Local governments have the final say in what laws apply to you, so please check your area's guidelines before purchasing a boiler. You can read "The Code" online, here (see page 18 for emission limit details). Manufacturers and distributors should also know that, according to the EPA, wood boilers manufactured in the United States for export are exempt from the EPA's emission limits (NSPS Page 45, § 60.5472). U.S. manufacturers and retailers are allowed to sell non-EPA-certified wood boilers and furnaces to anyone outside of the United States.
What regulations apply to commercial wood boilers in Canada?
Commercial boilers in Canada are required to be manufactured to standards set by local or provincial Boiler and Pressure Vessel Act, all of which ultimately refer to the Canadian Boiler and Pressure Vessel Code (CSA B51). CSA B51 relies on ASME standards. Basically: If a boiler is ASME-certified, it meets Canadian standards of manufacturing. However, you may be required to obtain a wood burning permit from your local government.
Resources
The List of EPA-Certified Hydronic Heaters (updated Feb. 2016)
40 CFR Part 60 - The New Source Performance Standards for Residential Wood Heaters and Hydronic Heaters
40 CFR Part 63 - National Emission Standards for Hazardous Air Pollutants for Industrial, Commercial, and Institutional Boilers Area Sources - Subpart JJJJJJ
Summary of the EPA's requirements for Residential Wood Boilers
EPA's Burnwise Program - Click your state to find links to local regulation information
Cookstove Community - EPA Woodstove Regulations: What You Need To Know