Monday, December 4, 2023
Cozeburn Shaker Grate 250SG/450SG Outdoor Hot Water Coal Boiler - Discontinued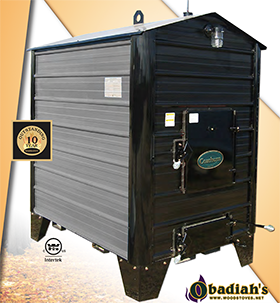 This unit has been discontinued and is no longer available for sale.
Looking to heat your home with coal? The Cozeburn 250SG / 450SG Outdoor Coal Boilers include a shaker grate, for easy removal of ash and clankers. The Cozeburn Shaker Grate Boiler Series allows you to keep the mess outside, while keeping your home/shop cozy warm. The non-pressuized design of the boiler allows for easy connctions with old existing systems, with a simple aquastat control. Connect into your existing plumbing, and you'll be set with your hydronic coal heating system.
Description
Specifications
Photos (3)
Pricing
Add Review
The Cozeburn Shaker Grate Boiler
The Cozeburn Shaker Grate boiler functions as an outdoor hot water coal heating appliance. The Cozeburn Shaker Grate boiler includes a cast iron grate that allows you to shake the ashes down into the ash tray with an exterior handle.

The Cozeburn - How it Works
The Cozeburn is a non-pressurized system heating the water surrounding the fire chamber. The water is thermostatically controlled by setting the aquastat to the desired water temperature. The pump then circulates the hot water from the boiler to your home or shop.
Features
•Cast iron shaker grates
•Low maintenance and easy to operate
•Sloped floor
•Large, easy to access, rear hookup panel
•Compatible with existing heating systems
•Full-length ash pan eliminates awkward, messy shovelling
Safety
•Non-pressurized
•Outdoor construction reduces risk of fire
•CSA approved for quality assurance
•Outside panels cool to touch
Quality
•Laser cut components and certified assembly
•Proven cast iron grates
•High quality mild steel construction

Resources:
| | | |
| --- | --- | --- |
| Cozeburn Shaker Grate | Model 250G | Model 450G |
| Steel Type | Mild Steel | Mild Steel |
| Furnace Width | 49" | 57" |
| Furnace Length | 80" | 97" |
| Furnace Height | 85" | 93" |
| Loading Door Opening | 20" x 20" | 20" x 24" |
| Firebox Dimensions | 30w x 33h x 42d in | 36w x 45h x 60d in |
| Fuel Type | Coal | Coal |
| Water Capacity | 150 US Gal. | 300 US Gal. |
| Furnace Weight | 1,900 lb | 2,800 lb |
| Maximum Heating Area | up to 4,000 ft² | up to 8,000 ft² |
*Results may vary based on fuel type, moisture and quality.
Product specifications and appearance subject to change.