Thursday, September 21, 2023
2400 Osburn Wood Stove - Discontinued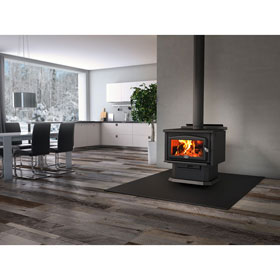 This product has been discontinued as it does not meet 2020 EPA Emission Standards. This page exists for informational purposes only.
The Osburn 2400 is perfect for heating large living spaces up to 2,700 sq ft. It includes a 3.4 cubic ft. firebox that allows logs up to 21" to create a warm atmosphere for up to 10 hrs. on a single load. This high efficiancy, low emissions stove comes highly recommended and is guaranteed to provide an enjoyable atmosphere.
Description
Specifications
Photos (2)
Pricing
Videos (2)
Add Review
One of the larger Osburn models, the Osburn 2400 stove comes equip with a 3.4 cu. ft. firebox and lined with refractory bricks to better distribute the heat. Designed to heat between 1,000 - 2,700 sq ft. and created with an extensive clearance in the firebox, allowing logs as long as 21" to fit, the 2400 will burn for up to 10 hours on a slow combustion rate, with an efficiency of up to 78% and can produce up to 100,000 BTU/hr.

In addition to these impressive features, the Osburn 2400 takes our environment's health into consideration, this stove has been popularized for its low emissions rate, meaning due to the special features in the Osburn 2400 firebox, up to 90% less smoke is released into the outside environment than traditional older stoves, releasing as little as 1.6 g/hr of emission particles when burned on a medium - high combustion mode.Other than being enviornmentally friendly, this low emissions rate creates a higher efficiency stove, the stove burns the wood more completely using that energy to heat your home instead of releasing it into the air via smoke ( smoke can make up to 50% of the energy of the fuel.)
Although not approved for alcove installation they are mobile home approved and are designed with ceramic glass and a viewing surface of ≈ 19" x 9" (along with an air wash system to maintain the clear complexion of the viewing area) for an absolutely stunning visual. This stove is perfect for heating your every day life.
Features: Osburn 2400
Certified to EPA standards - 3.5 g/hr. weighted average
Non-catalytic
3.2 cubic foot firebox
Recommended log size 21" sideways, 18" front to back
Large self cleaning glass viewing area
Firebrick lined and removable baffle
Outside air combustion
Built in Ash Pan on Black Pedestal Standard
Must select Door Overlay option
Provides more heat, uses less wood
Options:
Black or Nickel Plated Door Overlay
Outside combustion air
Rear mounted fan

Resources:
| | |
| --- | --- |
| Specifications | Osburn 2400 |
| Cooktop Height | 31" |
| Cooktop Width | 30" |
| Depth | 30.5" |
| Flue Size | 6" |
| Clearances | |
| Backwall | 16" |
| Sidewall | 18" |
| Corner | 12" |
| BTU Output | |
| Min. BTU/hr | 11,000 |
| Max. BTU/hr | 100,000 + |
| Area Heated | up to 2,700 sq. ft. |
Osburn 2400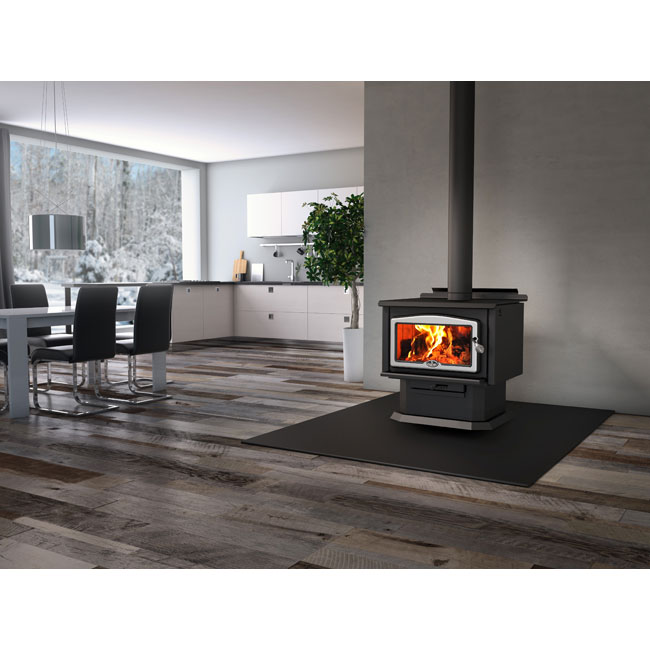 Osburn 2400

All Retail Prices Include: Residential, curbside delivery via freight truck with a lift gate is included for shipping in the Continental U.S.A. (some exceptions may apply). Please inquire with our sales staff if you have specific shipping needs such as international, freight terminal and/or business deliveries or if you need a smaller truck size. Click here to see Obadiah's Shipping Terms.
Obadiah's offer's a 20% discount and free shipping on most complete chimney systems. Email our chimney specialists for an exact quote.
Boss of the Swamp: Woodstove & Chimney Maintenance (Part 1)
Boss of the Swamp: Woodstove & Chimney Maintenance (Part 2)