Sunday, July 22, 2018
La Nordica Rosa L Wood Cookstove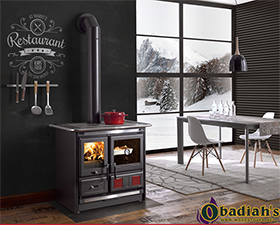 The Rosa Reverse Cookstove by La Nordica is a Cast Iron Wood Cook Range imported from Italy! This product combines excellent european quality at an affordable price ($2,500USD) *includes delivery (some exceptions apply)*
Note: The Rosa Reverse Wood Cookstove is not UL approved. This may cause a problem with your homeowner's insurance. Please check with your insurance company prior to making a purchase.
Description
Specifications
Photos (2)
Pricing
Extended Info
Videos (1)
Add Review
The La Nordica Rosa L Wood Cookstove is the perfect solution for small cabins where space is limited. The classic anthracite stove body with accent red tiles compliment both traditional and modern style decor. The Rosa L Wood Cook Range is Italian made and is very popular in the European region. The Rosa L Wood Cook Stove is all the quality you expect from Italian made products.
Features
Enamelled external facing
Doors and facade in polished cast iron
Double glass fire door
Top cooking plate and rings in polished cast-iron
Refractory and cast iron hearth
Wood drawer

Post Combustion System - PCS
The combustion system developped by La Nordica-Extraflame allows, thanks to a secondary/tertiary air system, a post-combustion capable of strongly reducing emissions and therefore of respecting the most restrictive european rules
Clean Glass Control - CGC
It is a system that thanks to a specific way of pre-heated air efficently avoids the deposits formation on the hearth door glass
Resistant Door at the Time - RDT
The high-quality cast-iron doors are made to last and ensure perfect sealing at all times.
Rosa L Wood Cookstove Specifications
Rosa L Cook Stove Dimensions
33.5"W x33.9"H x26.3"D (not incl. trim)
Stove Footprint
33" wide by 24" deep
Weight
422 lb
Firebox Opening
8.8"W x8.3"H
Firebox Size
11.6"W x12"H x18.1"D
Oven Size
12"W x16.5"H x16.9"D
Flue Location
Top or Rear Vent
Chimney Flue Diameter
15 cm (5.9") (adaptor required to connect to 6" chimney)
Firebox Material
Cast Iron
BTU Output
29,000 BTU
Efficiency
84 %
Approx. Avg Wood Consumption
5 lb/h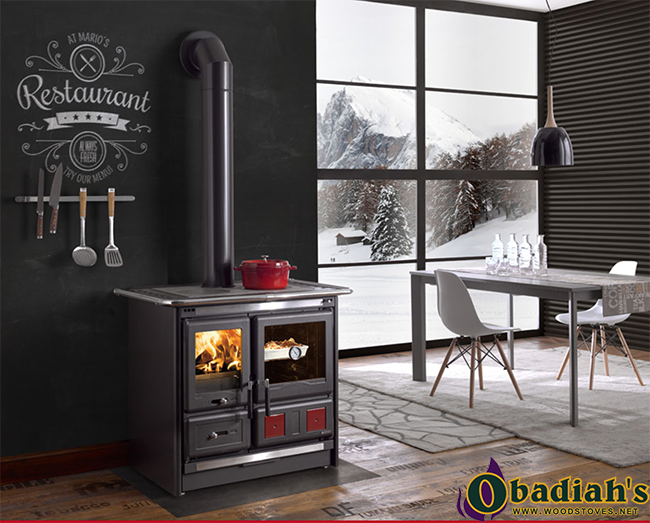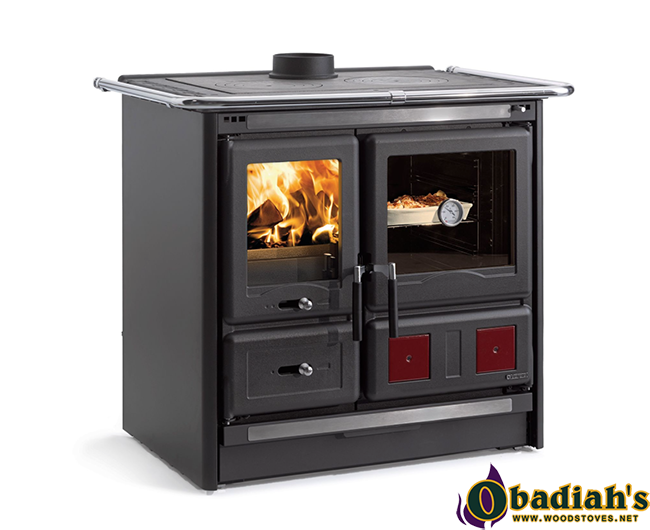 ** Residential, curbside delivery via freight truck with a lift gate is included for shipping in the Continental U.S.A. (some exceptions may apply). Please inquire with our sales staff if you have specific shipping needs such as international, freight terminal and/or business deliveries or if you need a smaller truck size. Click here to see Obadiah's Shipping Terms.
Please call or email us today to order! One of our sales consultants will help you on your way to great, home wood-fired cooking!
Obadiah's offer's a 20% discount and free shipping on most complete chimney systems. Email our chimney specialists for an exact quote.
Be sure to check out our newly improved Cookstove Community website cookstoves.net; the best place online to connect with other cookstove users over stoves, self-sufficient living, alternative energy, and more! Take a look at our selection of videos, articles, and photos, and be sure to visit the forums to talk to like-minded folks from all over.
If you are planning to cook with a cookstove, you will need to understand some basic fire safety. Remember, extinguishing a grease or oil fire with water is not a good idea.
La Nordica Rosa L Wood Cook Stove Review