Wednesday, September 30, 2020
IronStrike Ravenna / Superior DRI3030TEN / DRI2530TEN Direct Vent Gas Fireplace Insert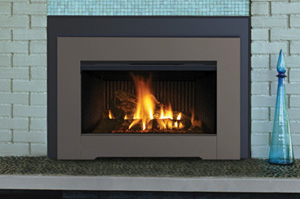 High-efficiency heating delivered in a stylish package, the Ravenna™ Direct Vent Gas insert transforms your old drafty fireplace into a family gathering place and a reliable source of warmth. The model DRI2530TEN is the same great gas fireplace insert, offering remote control optional instead of standard.
Description
Specifications
Photos (3)
Pricing
Extended Info
Videos (5)
Add Review
The Ravenna™ gas fireplace insert offers the convenience of gas, the look of a real wood fire and a variety of face options to enhance any décor, including a sleek new Contemporary face. Listed to fit most zero-clearance factory-built and masonry fireplaces, the Ravenna turns your standard fireplace into a cost-effective heat source and warm, beautiful gathering place.
Features
High-detail log set and realistic fireplace depth.
State-of-the-art burn technology provides the flame appearance of an authentic wood-burning fire
Mix and match Mink, Black, Gold, Brushed Nickel and Black Nickel face options to complement a broad range of architectural styles
Wireless Total Comfort Control™ remote system provides precise heat control
Available in two heating capacities - 33,000 or 40,000 BTUs
Heavy, 14-gauge aluminized steel firebox construction for years of reliable operation
Electronic ignition system with battery backup—still ignites and heats during a power outage
Temperature-activated 155-CFM blower to circulate warmth in your home
83-86% steady-state efficiency for even, continual heating
From the convenience of your sofa, use your Total Comfort Control remote to adjust the room temperature around the exact area where you are relaxing
Six heat and blower settings give you precise control to efficiently heat the space around you
One-touch On/Off switch for easy operation
*Square-feet heating capacities are approximations only. Local conditions, such as elevation, wind, vent configuration and choice of fuel will affect overall appearance of the fire and heating performance. Performance can also vary with home design and insulation, climate, condition and type of fuel used, appliance location, burn rate, accessories chosen, chimney installation and how the appliance is operated.
Options
Attached Screens
Barrier Screen (Arch Face)
Barrier Screen (Rectangular Face)
Facade
Arch Black
Arch Black Nickel
Arch Brushed Nickel
Arch Gold
Cast Pillar Bar
Cast Pillar Filigree
Contemporary Black
Contemporary Mink
Foundry
Screen
Traditional Black
Traditional Black Nickel
Traditional Brushed Nickel
Traditional Gold
Liner
Architectural Stone
Red Brick
Tan Brick
Zen Garden
Other Exterior
Wireless Remote Controls
Total Comfort Control wireless remote system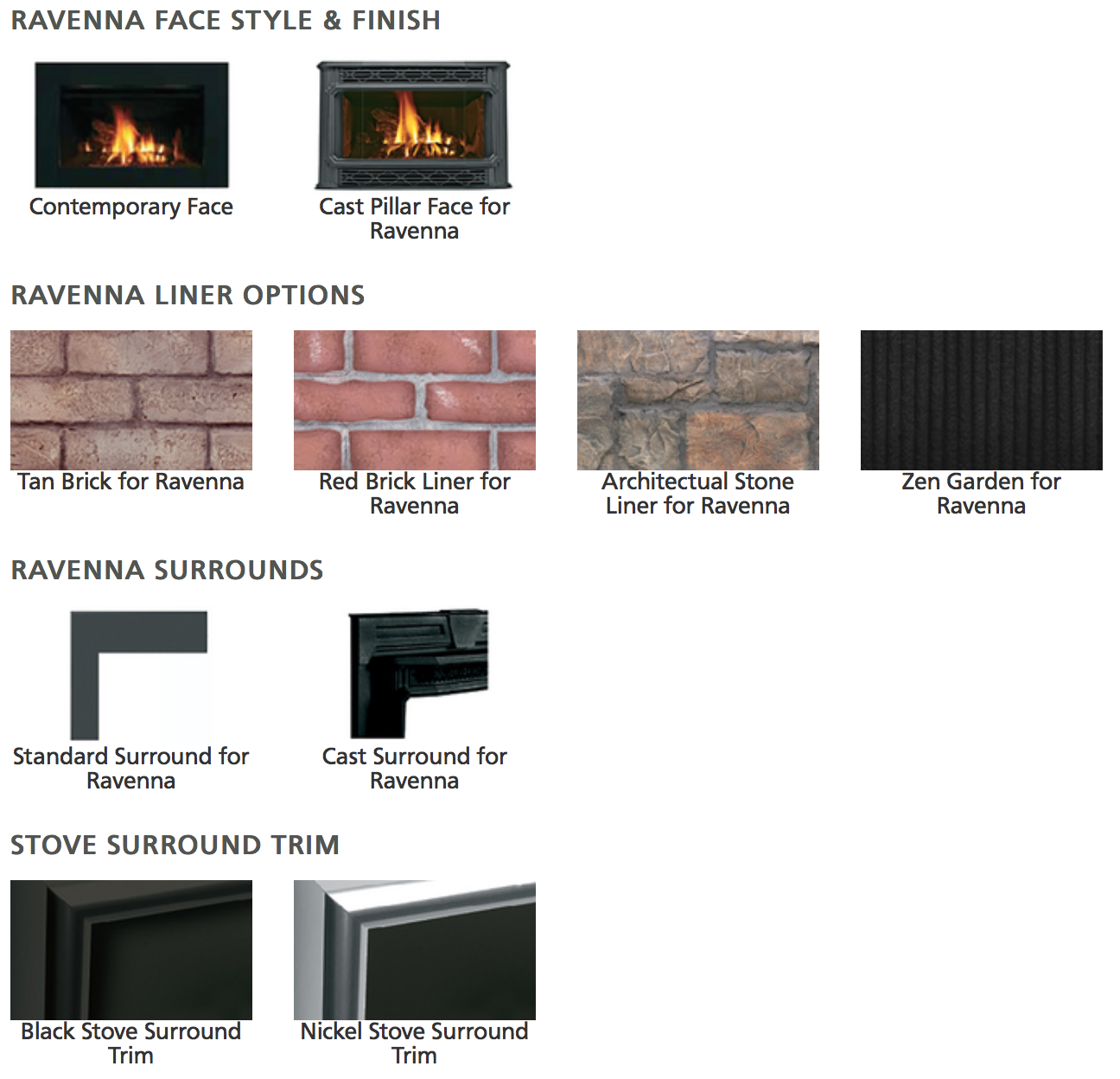 Resources:
Specifications
Ravenna / DRI3030TENC Gas Insert
Model
Ravenna 33
Ravenna 40
BTU
24,000 - 33,000
28,000 - 40,000
Minimum Fireplace Width
31-1/2"
31-1/2"
Minimum Fireplace Height
19-1/2"
19-1/2"
Minimum Fireplace Depth
16"
16"
Remote Control
Optional
Optional
Warranty
20 Year Limited Warranty
20 Year Limited Warranty
Fuel
Natural or Propane Gas
Natural or Propane Gas
Venting
Direct-Vent
Direct-Vent
View Style
Front-View or Bay-View
Front-View or Bay-View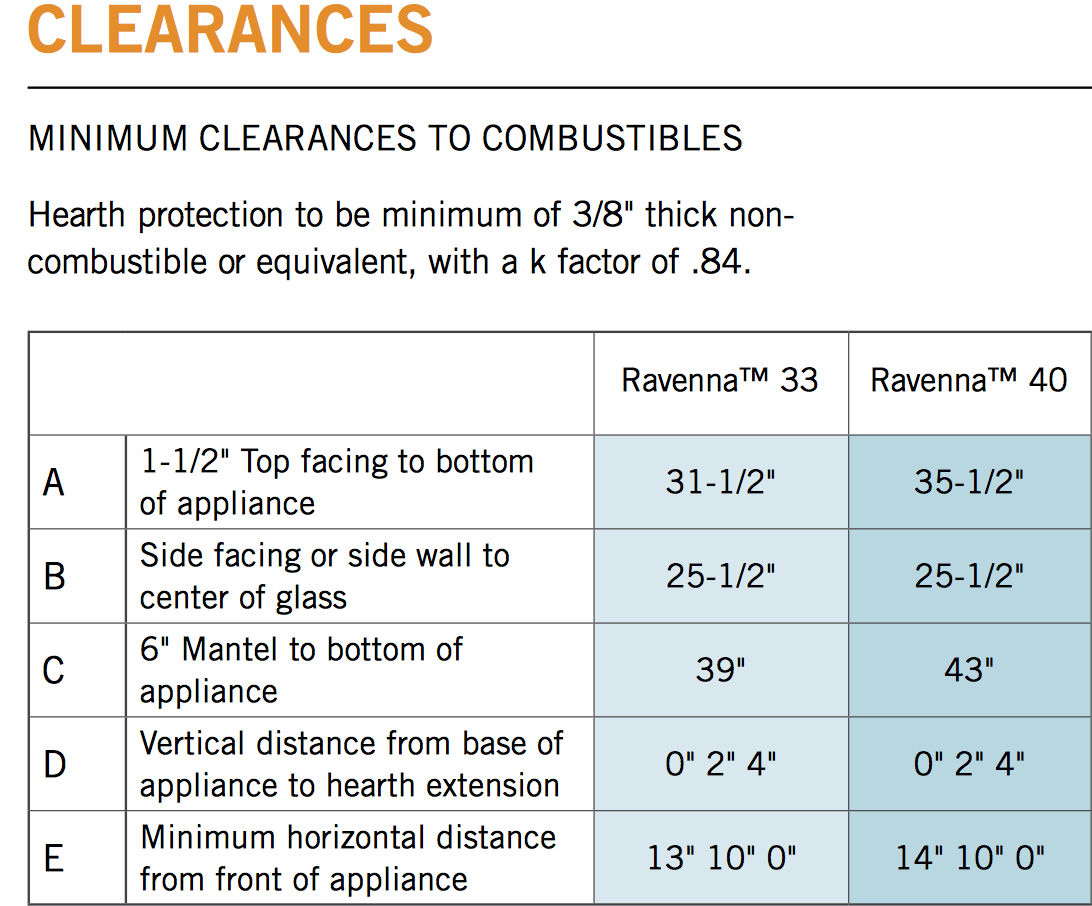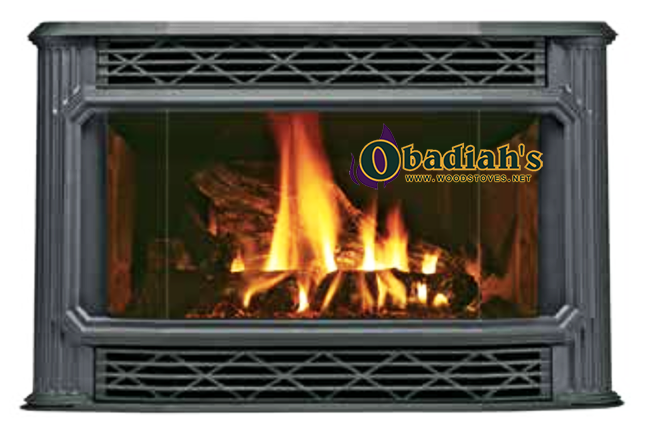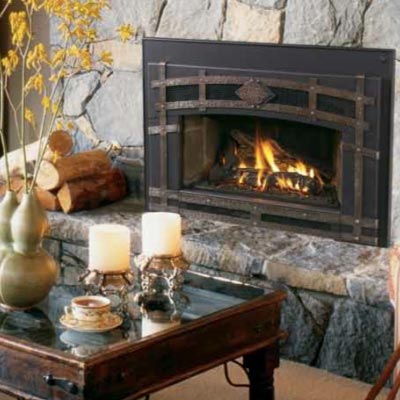 Be sure to check out our newly improved Cookstove Community website cookstoves.net; the best place online to connect with other cookstove users over stoves, self-sufficient living, alternative energy, and more! Take a look at our selection of videos, articles, and photos, and be sure to visit the forums to connect with like-minded folks from all over.
If you are planning to cook with a cookstove, you will need to understand some basic fire safety. Remember, extinguishing a grease or oil fire with water is not a good idea.
For help choosing and installing a wood boiler, see the links and posts below.
Chimney Liner Installation - Chimneys 101
Chimney Liner Installation Part I - Preparing the Liner
Chimney Liner Installation Part 2 - Inserting the Liner
Chimney Liner Installation Part 3 - Connecting the Liner & Damper Insulation
Chimney Liner Installation Part 4 - Final Touches