Thursday, September 21, 2023
Heartland 2603 Sweetheart Wood Cookstove - Discontinued*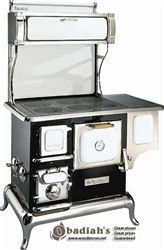 *PRODUCT DISCONTINUED July 2018 - This page is for informational purposes only.
Heartland Sweetheart 2603 w/ Water Reservoir
Let yourself be drawn to Heartland's Wood-fired cookstoves. After all, the original Heartland Oval has been heating homes, warming the water and cooking meals for almost a century. We proudly report that today's wood-burning cookstove models offer the same comfort, dependability, and tremendous versatility. Heartland has also incorporated some important changes to make your life easier.
Check out the tabs below for useful information, pictures, and more!
Description
Specifications
Photos (3)
Pricing
Videos (9)
Add Review
Features
5-gallon copper water reservoir with spigot
Warms up to 1,500 square feet
Solid cast-iron cooking surface
1.7 cubic foot oven
Upper warming cabinet
Top or front fuel loading
Large firebox for improved efficiency (less chopping and stoking)
Ash pan on sliding track
Ash scraper
Poker
Took rack
Lid lifter
Cooking surface lift handle
Bell damper handles with rod
Bell dampers
Heartland oven cleanout door
Interior oven thermometer
Available in black, white or ivory
EPA Exempt (learn more here)
Washington State Approved (learn more here)
Made in the USA
Options
Coal grate kit
Fresh air kit
Heat shield for reduced installation clearances. Check installation manual for clearance specifications.
Holds its Own Power
A Heartland Wood Burning Cook Stove can help you keep your home running smoothly when snow, ice, and power outages occur. The Sweetheart is able to heat up to 1,500 square feet. So you can enjoy a nice, steamy bath (with the water jacket option), a steaming cup of tea, or even a comfortable night's sleep.
Keep your Water Hot
Choose the optional copper reservoir with a tap, or install a hot water jacket. The installed water jacket can heat a 40-gallon water tank in around an hour with the stove running at full operation. Many customers choose to run this system on a thermosyphon, thereby eliminating the need for electricity. Wood heat can be a very dry heat, but the water reservoir provides plenty of humidity. Note: Please refer to the water jacket manual and have it installed by a professional.
Make your Chores Easier
You're fascinated with the idea of owning a Heartland Wood burning Cook stove, but are feeling like it might be too troublesome to maintain. Not so. Fuel can be loaded from the top or the front, the oven interior is porcelain-coated and has an ash pan that slides out for cleaning.

Resources:
| | |
| --- | --- |
| Specifications | Heartland Sweetheart 2603 |
| Overall Dimensions | 42" W x 62" H x 31" D |
| Firebox Dimensions | 8 3/4" W x 11" H x 18" D |
| Warming Closet Dimensions | 29-3/8" W x 8-1/4" H x 10-1/2" D |
| Oven Size | 13-1/4" W x 12-1/2" H x 18" D (1.7 cu. ft.) |
| Cooking Surface | 29-1/2" W x 21" D |
| Cook Top Height | 32" |
| Flue Size | 6" |
| Weight | 475 lbs |
| Maximum Log Length | 16" |
| Heat Output | Up to 35,000 BTU/hr |
| Heating Capacity | Up to 1,500 sq. ft. |
Clearances (Heat Shields reduce clearances by 66%)
A: Connector pipe to rear wall: 18" / with optional heat shield and DL connector pipe: 6"
B: Stove to side wall, left (firebox) side: 24" / right side: 10"
C: Centerline flue to rear wall: 22" / with optional heat shield & DL pipe: 9-1/4"
D: Centerline flue to sidewall, left (firebox) side: 42-1/4".... right side: 25-3/8"
E: Minimum hearth (floor protection) width: 50"
F: Backwall to front edge of hearth: 68" / with heat shield & DL pipe: 56"
Minimum combustible alcove dimensions: 67-5/8" W x 84" H
*Installation: Wood-burning stoves require strict adherence to clearance requirements and venting considerations. Heat shield kit is available to reduce clearances.
*The specifications found here are for reference only. Consult the owner's manual for the manufacturer's warranty and proper installation instructions prior to installing your stove.
PLEASE NOTE! There is an expansion gap in the cooktop as shown below. This can be mistaken for damage.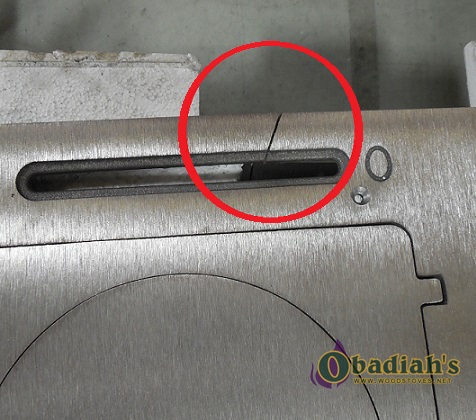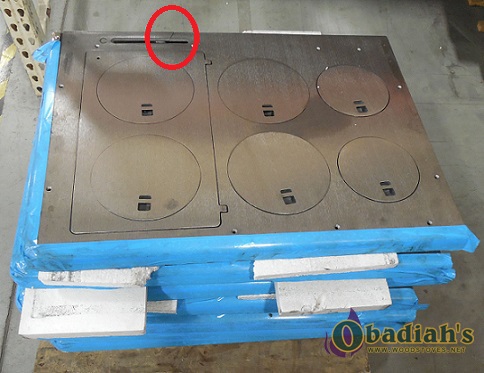 Oven Stove Top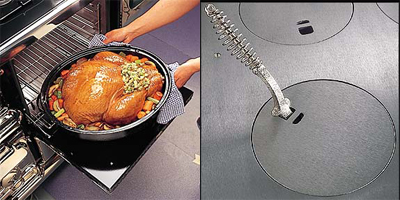 Stove Colors

Door Colors


** This item must be shipped via freight truck. Shipping cost is additional. Please call or email us today with your zip code for a full price quote! One of our sales consultants will help you on your way to great, home wood-fired cooking!
All Retail Prices Include: Residential, curbside delivery via freight truck with a lift gate is included for shipping in the Continental U.S.A. (some exceptions may apply). Please inquire with our sales staff if you have specific shipping needs such as international, freight terminal and/or business deliveries or if you need a smaller truck size. Click here to see Obadiah's Shipping Terms.
Obadiah's offer's a 20% discount and free shipping on most complete chimney systems. Email our chimney specialists for an exact quote.
Pouring Water on an Oil Fire
Heartland Wood Cookstoves Product Overview
Heartland Wood Cookstove Lighting a Fire
Heartland Wood Cookstoves Water Reservoir
Heartland Wood Cookstove Cleaning Video
Stove Delivery and What To Look For
Boss of the Swamp: Woodstove & Chimney Maintenance (Part 1)
Boss of the Swamp: Woodstove & Chimney Maintenance (Part 2)
Wood Stoves with Domestic Hot Water View Review