Saturday, December 2, 2023
Heartland 1903 Oval Wood Cookstove - Discontinued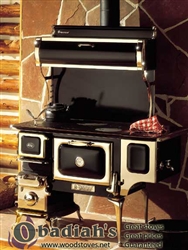 This stove was discontinued in June 2018. All inventory has been sold.
Heartland's Oval with Water Reservoir
The Heartland Oval has been heating homes for almost a century and today's models offer the same notorious versatility, dependability and comfort as those early wood-fired cookstoves. The added bonus for this Oval is the 5-gallon copper water reservoir which is perfect for drawing a hot bath, washing dishes and humidifying your home.
Description
Specifications
Photos (5)
Pricing
Videos (9)
Add Review
Features
Warms up to 1,800 square feet
Solid cast iron cooking surface
2.4 cubic foot oven – largest available on any wood-burning cookstove
Upper warming cabinet
Top or front fuel loading
Large firebox for improved efficiency (less chopping and stoking)
Ash pan on sliding track
A fresh air kit may be ordered for intake of outside combustion air
A water jacket may be ordered for domestic hot water heating
The coal grate package must be ordered for coal burning
Summer grate position, adjustable for summer heating and cooking
A fresh air kit may be ordered for intake of outside combustion air
A water jacket may be ordered for domestic hot water heating
EPA Exempt (learn more here)
Washington State Approved (learn more here)
Self-Reliance
Your home can remain a refuge from snow, ice, and power failures with a Heartland Wood-burning Cookstove. The oval can heat up to 1,800 sq. feet. So enjoy that nice, relaxing hot bath or hot tea in spite of what is happening outdoors. (With optional water jacket.)

Hot Water Options
The copper reservoir with a tap or the hot water jacket is a great option for your new cookstove. A water jacket installed is capable of heating a 40-gallon water take in about an hour under normal operation. Many people choose to run the system on a thermosyphon, no longer requiring electricity. Wood heat is a dry heat, but the water reservoir allows plenty of humidity back into the room.
*Note: Make sure to follow the water jacket manual and have a professional install it properly.

Memorable Flavor
Because the oven heats on all sides, the food cooks evenly. That's why Grandma always said her pies were cooked best. Use the warming closet as a plate warmer, rise your dough, or thaw your frozen food.

Make work easier
Don't be concerned about maintaining your Heartland Wood-burning Cookstove. The fuel can be loaded from the front or the top, the porcelain coated oven interior with an ash pan that slides out makes cleaning easy.

Resources:
| | |
| --- | --- |
| Specifications | Heartland Oval 1903 |
| Overall Dimensions | 47-1/2" W x 62" H x 35" D |
| Oven Dimensions | 18" W x 11-1/2" H x 15" D |
| Winter Fire Box Dimensions | 22 L x 9"" W x 7" H |
| Ash Pan Dimensions | 18"L x 7-1/2"W x 6"D |
| Cook Top Surface | 35-1/4" W x 25-3/4" D |
| Cook Top Height | 32" |
| Flue Size | 6" |
| Weight | 640 lbs |
| Maximum Log Length | 16" |
| Heat Output | Up to 50,000 BTU/hr |
| Heating Area | Up to 1,800 sq. ft. |
Clearances (Heat Shields reduce clearances by 66%)
A: Connector Pipe to Backwall: 20" .... With Optional Heat Shield and DL Connector Pipe: 6"
B: Stove to Sidewall, Left (firebox) Side: 24".... Right Side: 10"
C: Centerline Flue to Backwall: 23" .... With Optional Heat Shield & DL Pipe: 9-1/4"
D: Centerline Flue to Sidewall, Left (firebox) Side: 44 1/4".... Right Side: 39"
E: Minimum Hearth (floor protection) Width: 51 1/2"
F: Backwall to Front Edge of Hearth: 70 5/8"... With Heat Shield & DL Pipe: 58 5/8"
See Owner's Manual for installation instructions and manufacturer's warranty.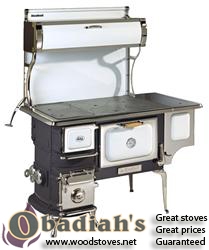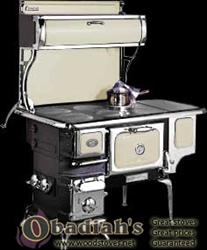 Oven Stove Top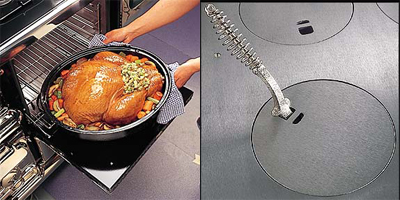 Stove Colors

Door Colors


All Retail Prices Include: Residential, curbside delivery via freight truck with a lift gate is included for shipping in the Continental U.S.A. (some exceptions may apply). Please inquire with our sales staff if you have specific shipping needs such as international, freight terminal and/or business deliveries or if you need a smaller truck size. Click here to see Obadiah's Shipping Terms.
Obadiah's offer's a 20% discount and free shipping on most complete chimney systems. Email our chimney specialists for an exact quote.
CLICK HERE TO VISIT OUR NEWER WEBSITE WHERE YOU CAN FIND PRICING AND MORE INFORMATION
Pouring Water on an Oil Fire
Heartland Wood Cookstoves Product Overview
Heartland Wood Cookstove Lighting a Fire
Heartland Wood Cookstoves Water Reservoir
Heartland Wood Cookstove Cleaning Video
Stove Delivery and What To Look For
Boss of the Swamp: Woodstove & Chimney Maintenance (Part 1)
Boss of the Swamp: Woodstove & Chimney Maintenance (Part 2)
Wood Stoves with Domestic Hot Water View Review