Friday, December 8, 2023
GARN WHS-1500 Wood Boiler Heating System—Not Available for sale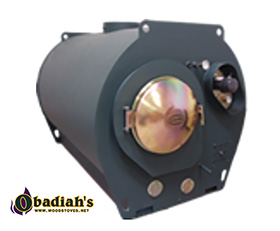 This product is no longer being sold by Obadiah's.
EPA NSPS 2020 tested and approved! The GARN® WHS-1500 is a simple, efficient, and durable wood residential heating unit. GARN® wood burning boilers use a large hydronic thermal storage tank to store the heat from a fast, clean, and efficient wood burning gasification process. GARN® wood heating systems can burn cord wood, slab wood, pallets and other scrap wood, dense wood briquettes, and air-dried corn on the cob. GARN® hydronic heaters produce virtually no smoke because of its patented, two-stage wood gasification technology. A GARN® is not an outside wood furnace, outside wood boiler or an outside wood stove. However, it can be installed outside in a shed. The GARN® is installed indoors and provides hot water for heating your home, shop, business, or district heating system. All models combine high-efficiency wood combustion and hydronic thermal storage to produce the most efficient and simple wood heating units on the market.
Description
Specifications
Photos (6)
Pricing
Extended Info
Videos (9)
Add Review
This unit qualifies for TAX CREDITS
IRS Notice 2009-53, Biomass Tax Credit: Both the purchaser and the manufacturer must comply with specific rules as set forth in the IRS document. For more information please visit the Hearth Patio and BBQ Association website.
For the purchaser: every installation must be reviewed individually in order to determine if a tax credit is available.
For the manufacturer, a Certificate of Qualification must be provided, which is downloadable at the link below for GARN® WHS models 1350, 1500 and 2000.
In all cases a qualified tax professional must be consulted regarding the applicability of this tax credit.
Features
Integrated Combustion
Non-Pressurized Thermal Storage
Double Weld Construction
Secondary Combustion (Gasification) Chamber
5 Pass Heat Exchanger
Large Insulated Loading Door
Double Lock Safety Handle
Hot Water Return (HWR) Dispersion Tube
Manway Access
Induced Draft Fan
Air Cooled Door
Combustion Air Supplied from Outside
30 Years of Proven Technology
Benefits of a GARN® Boiler
Safe and Certified to be Installed Indoors
No Overnight Loading or Fire Required
Long Life, Low Maintenance Construction
Reduced Wood Use
Low Emissions
Easy to Load Fuel Chamber
Cool to the Touch Loading Door
No Smoke in Your Face when Reloading Fuel
Easy Maintenance
Simple Part Replacement
Anodes with Water Treatment Minimize Corrosion
Demonstrated Longevity
Available Electric Backup
Only rear vent wood boiler on the market!
Listed below is a overview of the various parts of the GARN® WHS and their purpose. Its best to think of the GARN® WHS as a big tank of water that you heat by burning wood. The fire is not modulated, the entire wood load is burned quickly while the heat is dumped into the large water tank. This results in a very clean, highly efficient burn. The outcome is less wood, less work, and less smoke, for the consumer. When a thermostat calls for heat, a pump turns on drawing the hot water out of the tank and into your heated space for distribution.
BURNING AND HEAT STORAGE:
1. Fresh air is ducted from the outside and enters the unit through an inlet in the back.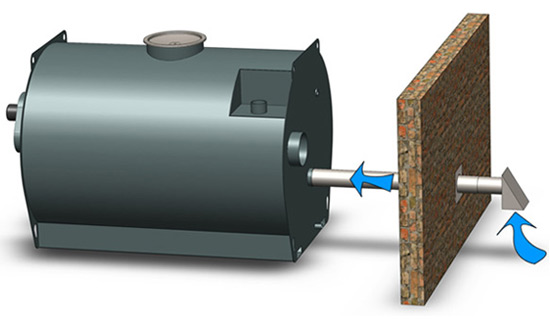 2. The fresh air travels through a tube immersed in the water and into the air collar.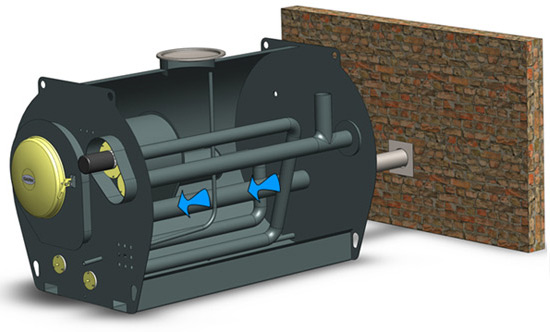 3. The fresh air is circulated around the air collar before entering the combustion chamber. This keeps the collar relatively cool. The air collar distributes the air into the combustion chamber.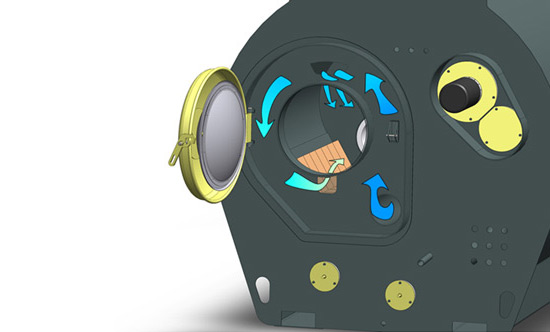 4. In the combustion chamber the wood burns in its first stage.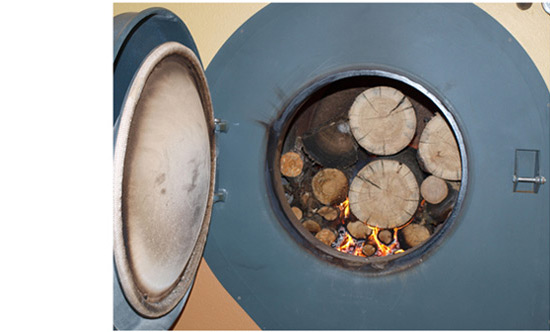 5. The smoke and exhaust from the fire enters the insulated reaction chamber. Additional fresh air is provided by the air collar. A high temperature secondary combustion occurs. The process is called direct gasification. Direct gasification burns the smoke and creates additional heat.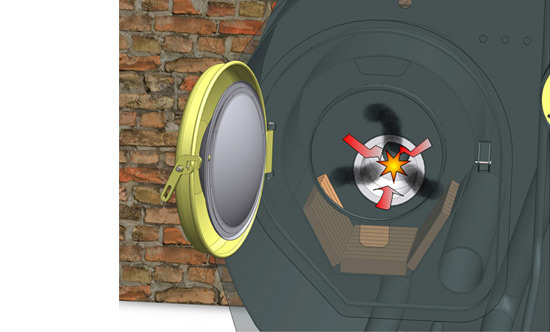 6. After exiting the reaction chamber the clean exhaust travels through 30 ft of tubing. Heat transfers from the very hot gases to the water in the tank.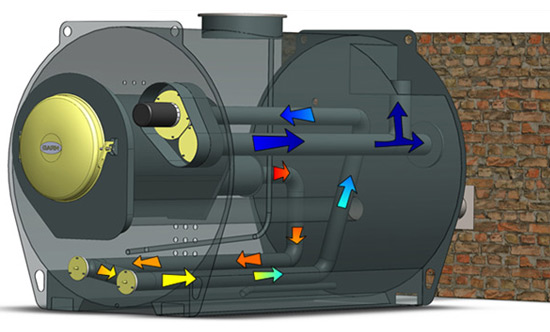 7. The exhaust exits the GARN® WHS vertically or horizontally through a 6" insulated flue.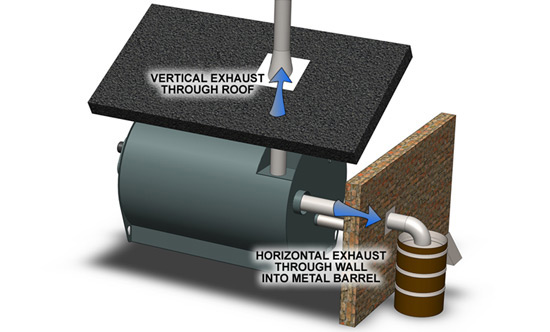 8. A digital controller automatically stops the induced draft blower when combustion is complete. The water is now hot and ready to be used for heat in a building.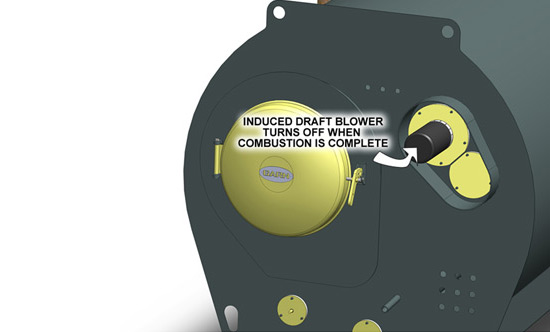 OVERVIEW AND OPERATION:
A GARN® WHS needs to be installed indoors. A designated area in a building, a separate building, or an attachment to an existing building is required.
This is the front of the GARN® WHS unit. The front is where you load wood, mount the blower, access the digital controller, drain the unit (when needed), and access the cleanout ports for periodic pipe cleaning. An overflow pipe is also provided so the first time you heat your unit the water that expands to the top of the tank comes out here. The GARN® WHS provides optional off-peak electric elements fittings up to 49.5 kW.

This is the back of the GARN® WHS. The back is where you connect to the 2" hot water supply (3" on the WHS 3200) and 1.5" hot water return (2.5" on the WHS 3200), duct the fresh air intake, and vent with the horizontal exhaust (if applicable).

This is the top of the GARN® WHS. The top is where you access the full-size manway (for water inspection and water chemical addition), anode rods (for corrosion protection), fill the tank with water, and vent with the vertical exhaust (if applicable).

Start a fire by loading the combustion chamber and adding some newspaper and small kindling. A simple match does the trick. The fire will heat up the tank of water.
Reloading after a fire is easy, just open the combustion door. The induced draft blower ensure little to no smoke backdrafts into your space. You can then pile on more wood to get the water up to your desired temperature.
When your building calls for heat, a pump in your system turns on and draws the hot water from the tank and distributes it for heat. A fire need not be maintained constantly. That's the idea behind storing the heat.

The GARN® WHS is not pressurized and so cannot be directly connected to a pressurized system. The GARN® WHS can interface with a pressurized system by simply installing a heat exchanger.
When the GARN® WHS unit drops below the operating temperature of your system, start a fire and heat the water again.

Resources:
| | |
| --- | --- |
| Specifications | Model GARN® WHS-1500 |
| Maximum Heat Output † | 250,000 btuh |
| BTU's of storage (120 F to 195 F) | 920,000 btus |
| Tested Efficiency (LHV) | 80.0% * |
| Particulate Emissions output – PM2.5 | 0.131 lbs/mmbtu |
| Particulate Emissions rate – PM2.5 | 2.87 gr/hr |
| Nominal gallons of storage | 1,420 gallons |
| Weight – Empty | 3,140 lbs. |
| Weight – Filled | 15,000 lbs. |
| Recommended wood length | 24″ to 32″ |
| Recommended wood diameter | 3″ to 10″ |
| Combustion chamber length | 40″ |
| Combustion chamber diameter | 25″ |
| Combustion chamber volume | 130 gallons |
| NPT supply flange | 2″ (25 gpm MAX) |
| MPT return pipe | 1-1/2″ |
| Draft inducer motor | 1/2 HP |
| Electrical requirements | 115 VAC 15 amp |
| Flue diam. (2100°F Class A) | 6″ |
| Air intake diam. (single wall) – Includes screened intake hood | 7″ |
| Clearance to Ceiling | 36" |
†Maximum heat output is based on reloading once every 3 hours with 24 inch long split white oak, with 20% moisture content. Output rate is fuel dependent and will vary with wood type, moisture content, size and reloading frequency. GARN® WHS units are certified safe to burn cord or slab wood, densified wood briquettes and air dried corn on the cob.
*Tested to ASTM-E2618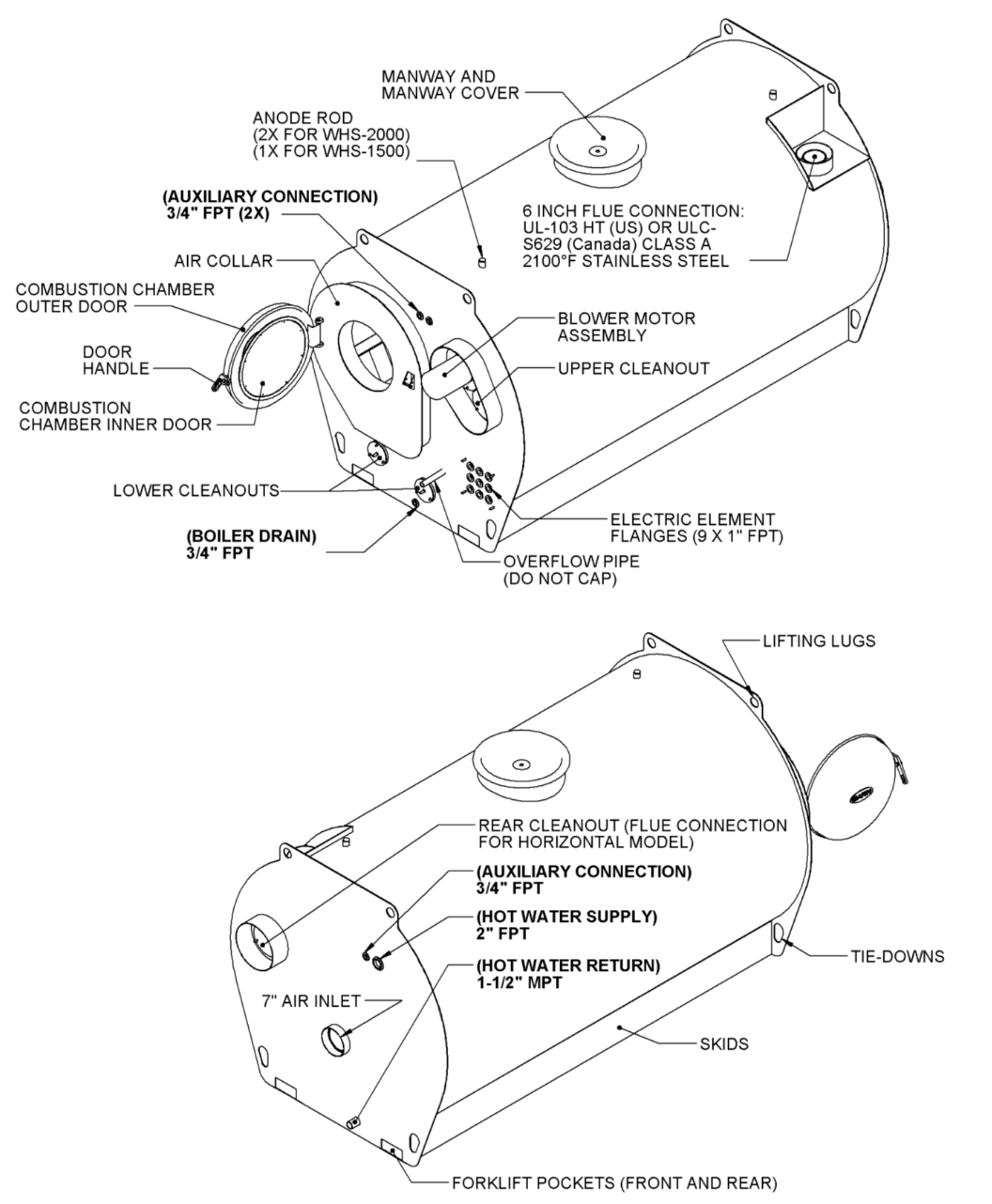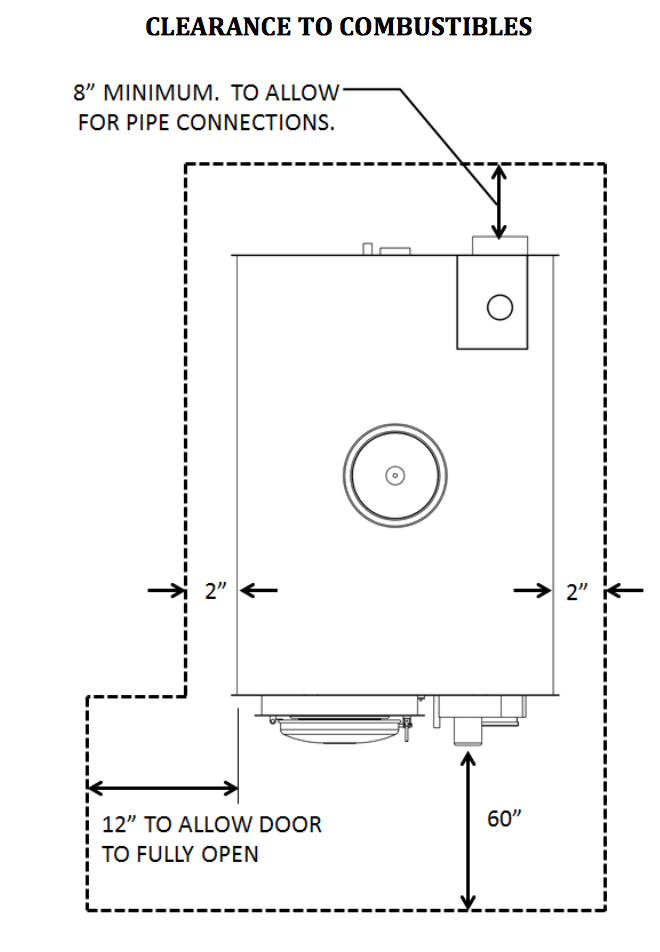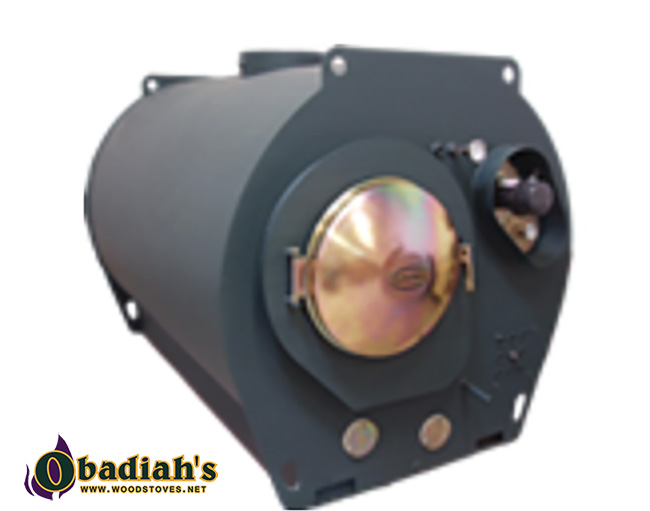 Control Box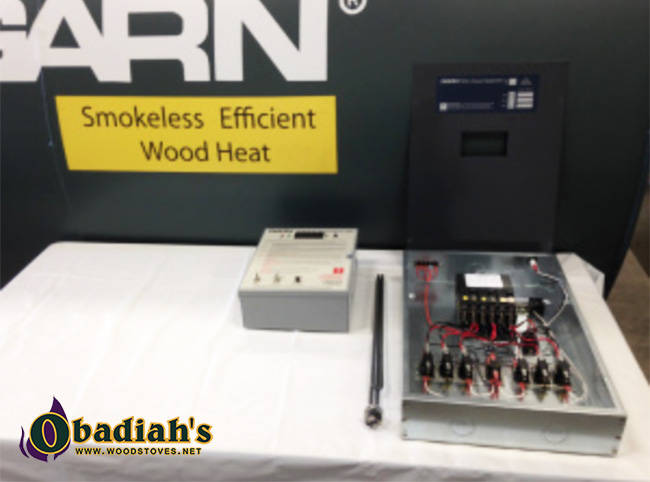 1500 fully installed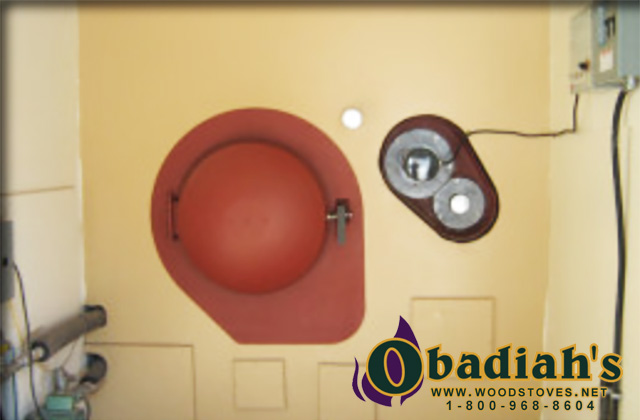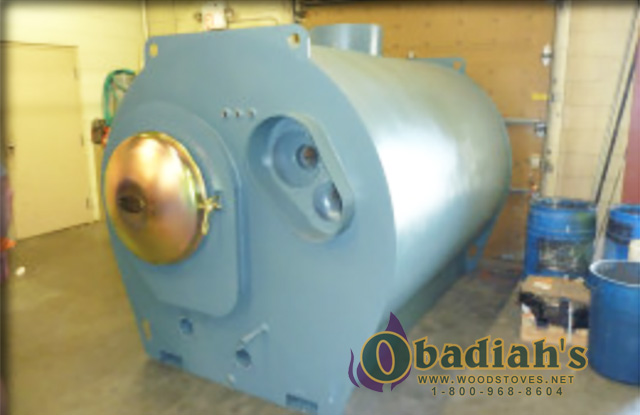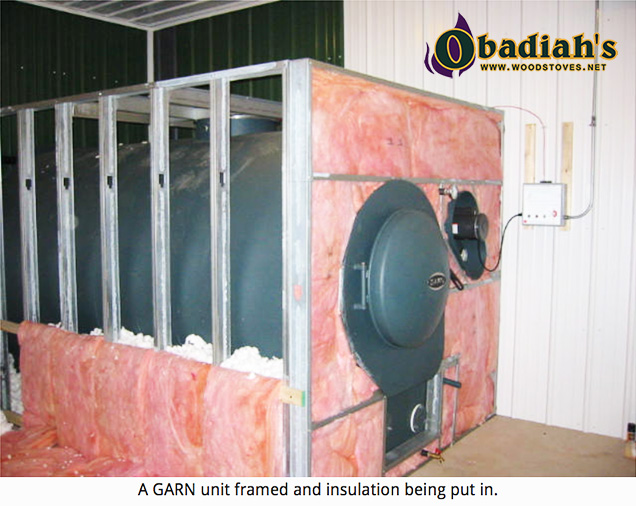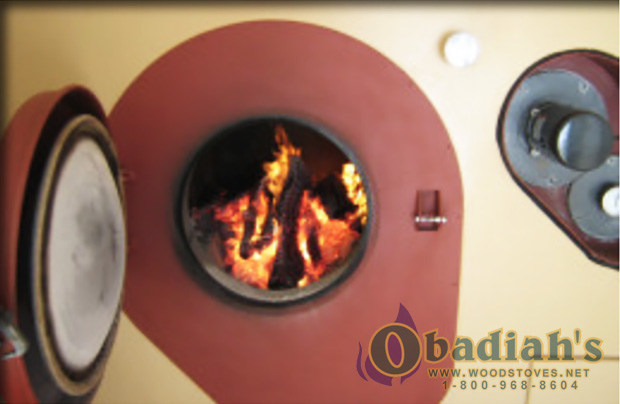 Be sure to check out our newly improved Cookstove Community website cookstoves.net; the best place online to connect with other cookstove users over stoves, self-sufficient living, alternative energy, and more! Take a look at our selection of videos, articles, and photos, and be sure to visit the forums to connect with like-minded folks from all over.
If you are planning to cook with a cookstove, you will need to understand some basic fire safety. Remember, extinguishing a grease or oil fire with water is not a good idea.
For help choosing and installing a wood boiler, see the links and posts below.
Garn WHS-1500 Wood Boiler Product Info
Garn WHS-1500 Consumer Video Review
Gary Wood Boilers - Starting a Fire
Garn Maintenance: Blower Wheel Removal
Garn Maintenance: Replacing Blower Wheel
Garn Maintenance: Door Gasket Replacement
Garn Maintenance: Heat Exchanger Cleaning
garn Maintenance: Replacing Manway Gasket
Garn Maintenance: Removing Ash