Thursday, December 5, 2019
Effecta Lambda 60 Boiler - Discontinued*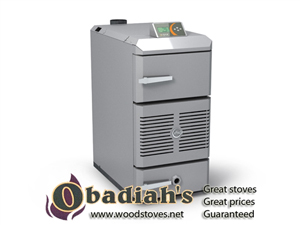 *PRODUCT DISCONTINUED - This page is for informational purposes only.
We are proud to present the wood gasification boiler - Effecta Lambda 60.
Description
Specifications
Photos (6)
Pricing
Extended Info
Add Review
*PRODUCT DISCONTINUED - This page is for informational purposes only.
Click here for Single Line PEX Pipe
Click here for Dual Line PEX Pipe
Effecta Lambda 60 is the largest product in our range of log boilers. It is developed with the intention of being used by the owner of bigger houses, e.g. farms or mansions. It is also suitable for smaller industrial buildings.




The grate volume is as large as 52 gallons. This leads to a large amount of heat being produced every time the boiler is started, which in turn leads to fewer start-ups and less time spent in the boiler room.




The combustion is monitored by the lambda sensor, which is controlling the dampers at the air inlets. This means that the combustion is optimized every time the boiler is used, and this leads to high efficiency, less wood used and less maintenance.






Effecta Lambda 60 is designed to be used with at least 800 gallons accumulator volume. We have ready to order solutions, complete with stacking valves, shunt valves ext. to make it easier for the installer/customer to get the right products. This ensures the right function of the products, because of the fact that everything is delivered from the same producer and all the products tested together for the best result. To make things even better, look into the possibility to connect one of our solar systems to the log system.
Effecta has always strived for constructing and producing solutions that have the highest efficiency, by themselves or connected to any other product.
The advantages with our products are that the different parts are designed especially with the whole system in mind. And as one of few producers that can supply whole range of bio energy products, you as a customer know that you do not have to look elsewhere.
The products are high-end with top rated efficiency and quality. There are no problems combining e.g. solar heating with the use of wood logs.
There are lots of good products on the market around Europe, however there are few, if any, with the ride range of products that Effecta displays.

What makes it simpler with an Effecta boiler is that the accumulators are available from the same source, they are designed to fully integrate.
The Lambda boilers are EN303-5 approved and over 90% efficient when run as recommended.
With large fireboxes they're able to run at full load for extended periods further improving fuel usage.
With the Lambda control the fire is continuously monitored and air flow is constantly adjusted to
ensure the cleanest and most efficient burn. All of which means that it is easier for you because the boiler produces the same results every firing and you can know exactly what to expect.
There is also the option to fit a pellet burner allowing you to have a day off when you feel like it! If you want to reduce the number of firings during the summer, why not use a solar thermal system in conjunction with the accumulators.
Did you know in many parts of Europe it is illegal to sell a wood fired boiler that idles? (no call for heat)
Europe has been building high tech gasification boilers for many years before we here in North America became concerned with things like efficiency and particulate output.
In Sweden where the Effecta is built, all wood boilers are set up with water storage sized to meet the needs of the space being heated.
How does it work?


Anyone who has been using logs to burn, knows that it might be a bit tricky to get the combustion and efficiency to the highest level.
The logs should not be to moist and be homogenous. Effecta Lambda simplifies your wood firing substantially, because the boiler itself knows how the combustion is running with the assistance of a lambda sensor in the flue gas channel.
The air inlet dampers on the front of the boiler are optimized with motors to give you the best combustion and highest efficiency possible.
When the boiler is fired, it is taken to maximum efficiency levels as fast as possible and held there as long as possible by a built in control system the monitors the combustion and rate of burn and emissions. The computer makes the adjustments to maintain maximum burn efficiency.
The BTUs generated are stored in the insulated tanks and drawn out as needed to heat the space required.
When the storage tank is no longer able to maintain that temperature, it is time to re-fire the boiler. This is based on the heat load, so certain times of year you may fire the boiler once a month, or every other day.

Resources:
Specifications
Lambda 60
Dimensions Inches (Depth incl. smoke outlet)
27 1/2"W x 48"D x 50"H
Dimensions MM (Depth incl. smoke outlet)
700W x 1220D x 1270H
BTU Input
205,000
Thermal Efficiency
Up to 90%
Heating Capacity
Up to 10,000 sq. ft.
Chimney Outlet
7"
Maximum Working Pressure
21 Psi
Maximum Tested Pressure
30 Psi
Electrical Rating
230V 50/60Hz
Electrical Rating W/ Converter
115V 50/60Hz
Flooring
Noncombustible
Warranty
2 Years
Clearances
Sides Clearance
12"
Rear Clearance
18"
Front Clearance
24"
Top Clearance
18"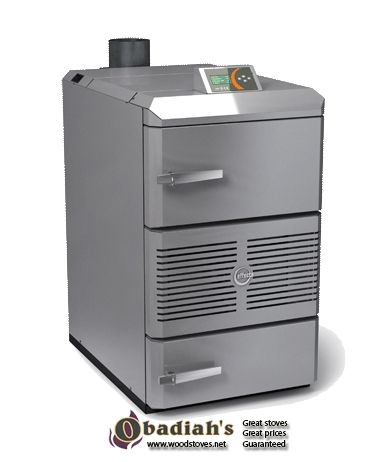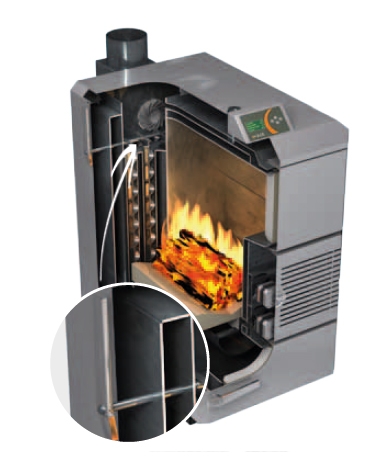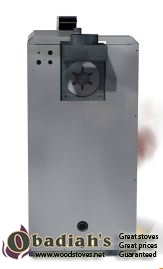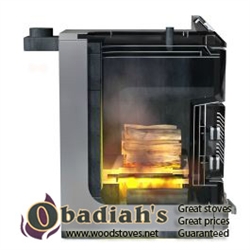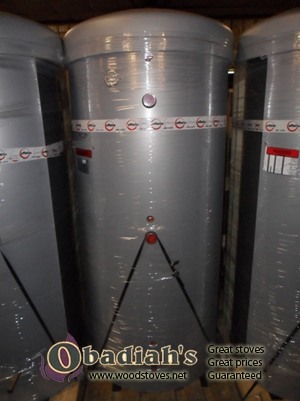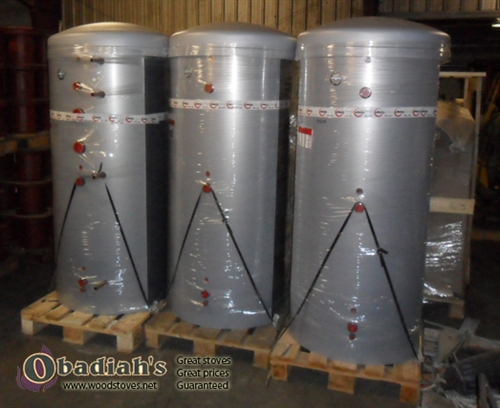 Be sure to check out our newly improved Cookstove Community website cookstoves.net; the best place online to connect with other cookstove users over stoves, self-sufficient living, alternative energy, and more! Take a look at our selection of videos, articles, and photos, and be sure to visit the forums to connect with like-minded folks from all over.
If you are planning to cook with a cookstove, you will need to understand some basic fire safety. Remember, extinguishing a grease or oil fire with water is not a good idea.
For help choosing and installing a wood boiler, see the links and posts below.