Wednesday, March 29, 2017
Elmira Fireview Wood Cookstove
The Elmira Fireview wood burning and gas combo cookstoves is one-of-a-kind available to the US market today. Elmira's ingenuitive engineering doesn't lack style, it comes loaded with many high-end functional and performance features. As a bonus, you can customize your Fireview with several decorative and functional options to suit your personal needs and styling preferences. The Secondary Air Supply makes the Fireview a Highly Efficient and stylish that keeps an overnight fire with an 18" log, and produces a warm 60,000 BTU's.
Description
Specifications
Photos (1)
Pricing
Videos (5)
Add Review
If you are are a seasoned wood baker, or new to the wood cookstove community, you will love the Spacious 3.0 cu. ft. Oven. Fitting a Large Turkey is no worries when Thanksgiving rolls around. Overall, most customers want the convenience of Glass Fireview Door for Enjoyment and Fire Control, which is what the Fireview provides.
Wood Cookstoves with Optional Gas Side Burners are hard to find in the US, but are readily available in Europe. The Fireview provides an optional 11,000 BTU Gas Side Burner, for convenience cooking.
Optional Water Jackets for Domestic Hot Water heating, allows you to heat, cook, and provide hot water for your home, thats Efficiency savings!
Features
Viewing Window / Firebox
The Fireview viewing window not only allows you to enjoy the fire; you can also monitor the fire so you know when to add wood or adjust the controls. Behind the fire door is a large 1.6 cubic foot firebox that accepts up to 18″ logs and can be loaded from the front or top.

Spacious 3.0 Cubic Foot Oven
The deep three-cubic-foot oven easily accommodates a full-size roasting pan.

Overhead Warmer
The 1.7 cubic foot overhead warmer is handy for keeping dishes warm while you're waiting for those last few items to cook, heating plates, bread or pies or, like in the old days, drying out a pair of children's mittens

Side Warmer (Standard on 48″ Models. All 48″ models feature an additional 2.0 cubic foot side warmer for additional capacity and flexibility (the side warmer typically runs about 50⁰ F cooler than the overhead warmer).

Models
There are three Fireview models to choose from: 36″ all-woodburning; 48″ all-woodburning with right-side warmer and work surface; or 48″ dual fuel (woodburning & gas) with right-side warmer and two side gas burners. Choose the model that suits your needs and available space.
36″ Model 1840 wood-burning, shown with optional Nickel Victorian Trivet, Nickel front legs and Nickel skirt.
48″ Model 1842-0 wood-burning in Black / Bisque combination shown with optional Nickel Victorian Trivet.
48″ Model 1842-G Dual Fuel (wood / gas) shown with no options.
Options
Nickel Legs
Nickel front legs provide an attractive accent to your stove. (If the back of your stove will be visible, you can also order your stove with Nickel back legs.)

Nickel Skirts
The skirt is the decorative "apron" that runs between the legs. For a more ornate look, dress your stove up with a Nickel front skirt, or front and side skirts.

Nickel Victorian Trivet
Cast from an authentic circa 1880 pattern, then plated in Nickel. The trivet looks spectacular when combined with matching legs and / or skirt.

Water Jackets
Optional water jackets replace the corresponding fire brick and supply hot water to your household water system. The rear jacket supplies approximately 5 gallons per hour; the side jacket approximately 10 gallons per hour. (Fittings, pipes, etc. not supplied.)

| | | |
| --- | --- | --- |
| Specifications | Elmira Fireview models 1830 Wood/Gas Cookstoves | Elmira Fireview models 1840-1842, 1842-G Wood/Gas Cookstoves |
| Cookstove Dimensions | 35 3/4" W x 35"H x 36 5/8" (w/flue boot) (28 1/2" w/o flue boot) | 49 1/2" W x 67 1/4"H x 36 5/8" (w/flue boot) (28 1/2" w/o flue boot) |
| Shipping Weight | 394lbs | 500lbs |
| Carry Weight | (no doors, plates, brick, grate, cabinet , etc.) 145 lbs | (no doors, plates, brick, grate, cabinet, etc.) 160 lbs |
| Oven Dimensions | 18 ¼" W x 11 ½" H x 24 3 ⁄ 8" D | 18 ¼" W x 11 ½" H x 24 3 ⁄ 8" D |
| Oven Capacity | 3.0 cu. f t . | 3.0 cu. f t . |
| Solid Fuel Chimney | Flue Size 6" | Flue Size 6" |
| Firebox Dimensions | 9 ¼" W x 13 ½" H x 22" D | 9 ¼" W x 13 ½" H x 22" D |
| Firebox Capacity | 1.6 cu. f t . | 1.6 cu. f t . |
| Log Size | Length 18" | Length 18" |
| Secondary Outside Air | YES | YES |
| Heat Output | 30,000 to 40,000 BTU / Hr. | 50,000 to 60,000 BTU / Hr. |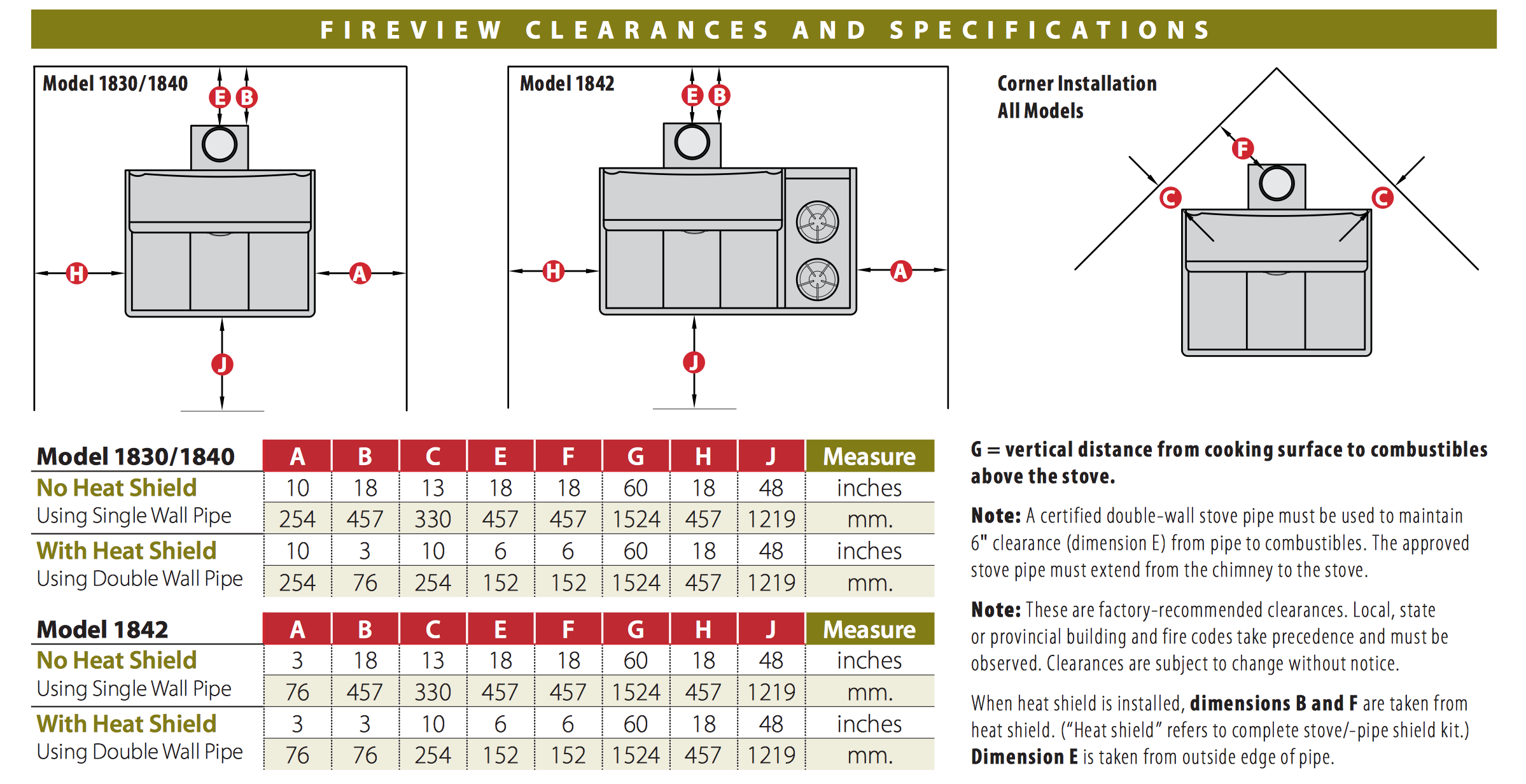 Elmira Fireview Wood Cookstoves

| | |
| --- | --- |
| Elmira Fireview Woodburning Cookstoves | Price List |
| 1840 36" Woodburning Cookstove | $4795.00 |
| 1842-0 48" Woodburning Cookstove, Work Surface on Right Side | $5295.00 |
| 1842-G 48" Dual Fuel Cookstove (Wood plus Two Propane Burners) | $5595.00 |
| Options | |
| 1036N Nickel Front Legs* | $150.00 |
| 1075N Nickel Victorian Trivet | $150.00 |
| 3313N Nickel Front Skirt = | $150.00 |
| 1057N Nickel Side Skirts (2) | $275.00 |
| 3285 Heat Shield Kit (Includes #3286 Pipe Shield) | $200.00 |
| 3301 Rear Water Jacket (Approx. 5 gallons/hour capacity) | $250.00 |
| 3303 Side Water Jacket (Approx. 10 gallons/hour capacity) | $400.00 |
| Cookstove Colors Available | Black or Black/Bisque Combination |
| 3350 Smoker Kit* (inc. broiler pan, cover, rack, smoke puck tray, smoke puck sample pack, tongs, thermometer and instructions) | $100 Note: Smoker Kit is included with Models 1840, 1842-0 and 1842-G |
Xl6aK3r:title}
Xl6aK3r:video}
Xl6aK3r:title}
Xl6aK3r:video}
Xl6aK3r:title}
Xl6aK3r:video}
Xl6aK3r:title}
Xl6aK3r:video}
Xl6aK3r:title}
Xl6aK3r:video}