Thursday, September 21, 2023
WoodMaster Biomass Wood Pellet Mini Boiler - Discontinued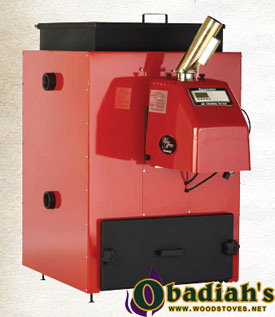 THIS PRODUCT HAS BEEN DISCONTINUED, THIS PAGE IS UP FOR INFORMATIONAL PURPOSES ONLY
Compact and Eco-Friendly!
This indoor, compact Biomass Mini Boiler by WoodMaster is the solution to your limited space needs. Equipped with the revolutionary 30kW Renovator, this ASME Certified boiler easily connects to your existing fossil fuel unit and provides highly efficient, natural, wood pellet heat. With minimal maintenance requirements and user friendly features, the WoodMaster Biomass Mini Boiler gives you the bang for your buck!
Description
Specifications
Photos (6)
Pricing
Extended Info
Add Review
The Wood Pellet Mini Boiler by WoodMaster is compact and user friendly; equipped with the thermal storage to provide that highly efficient and natural pellet burn you are looking for with minimal emission rates. The Air-cleaned firepot and easily accessed flue tube and ash door make cleaning a breeze, while the extra large ash box holds up to 1.74 cubic ft. of ash – that's up to 2 weeks worth of normal load ash! Set your mind at ease with the Burn Back Protection and 5 year Limited Warranty; the WoodMaster Biomass Wood Pellet Mini Boiler is your indoor compact boiler solution.
Click here for Single Line PEX Pipe
Click here for Dual Line PEX Pipe
Features
ASME Certified
Burning wood pellets provides Eco-friendly, natural energy
Compact design geared for tight spaces
Air cleaned renovator and extra large ash box minimize maintenance
Automatic ignition gives you heat on demand
Fully Automatic PLC and easy-to-access flue tube and ash tray make operation and cleaning a breeze.
Easy connection to existing systems
Burn Back Protection to protect you and your loved ones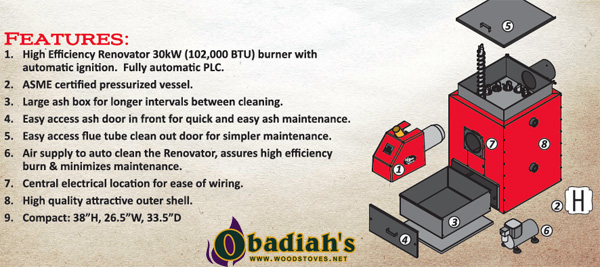 Installation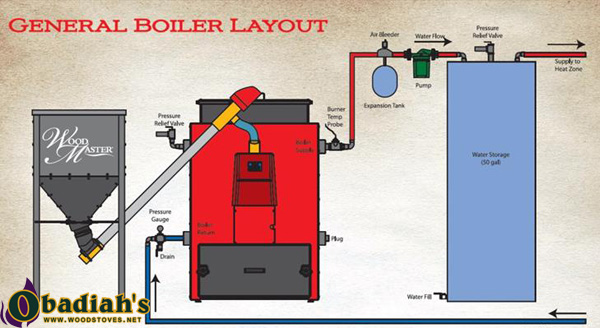 Tips for installing your new unit:
Although the WoodMaster Biomass Mini Boiler is compact, be sure to leave room for the pellet hopper and auger system, and comfortable maintenance and cleaning.
To ensure that your storage room is properly ventilated for the combustion process, we recommend a vent that is at least 20 sq. in.
Maintenance
Be sure to disconnect any power and allow your unit time to cool before cleaning the heat exchanger tubes and emptying the ash box. Easy access to the heat exchanging tubes is made by taking the top door and cover off of the furnace. When cleaning the heat exchanger tubes carefully work around the ceramic insulation to ensure there is no damage. The Mini Boiler has an extra large ash box (holding approximately 1-2 weeks worth of ashes) which allow for longer intervals between changes, but should be checked and emptied regularly. Daily maintenance of the firebox is taken care of by the Air Cleaning system, however, the firebox should be taken out post heating season and thoroughly cleaned to maximize performance.
Measurements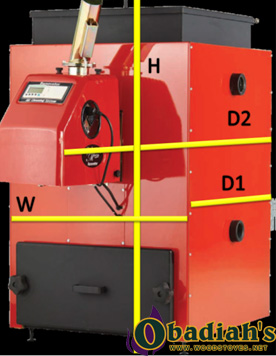 | | |
| --- | --- |
| H | 38-40" |
| D1 | 33.5" |
| D2 | 49.75" |
| W | 26.5" |

Resources:
| | |
| --- | --- |
| Specifications | WoodMaster Biomass Wood Pellet Mini Boiler |
| Fuel | Wood Pellets |
| Flue Size | 6" |
| H | 38-40" |
| W | 26.5" |
| D2 | 49.75" |
| D1 | 33.5" |
| Ash Box | 1.74 Cubic Ft. |
| Water Capacity | 9.5 Gallons |
| Wk/BTU | 30/102,000 |
| Weight | 785 lb. |
Installation & Operation Support
Obadiah's is a Montana based company located in the Rocky Mountains near Glacier National Park. We understand cold, we depend on our product and our knowledge is backed by 50+ years of experience. Our staff provides technical support and knowledge to assist your builder or contractor with understanding and the installation your new unit. We deliver internationally and specialize in delivering directly to your house.
Please call 1-800-968-8604 Mon-Fri. 9-5 Mountain Standard Time.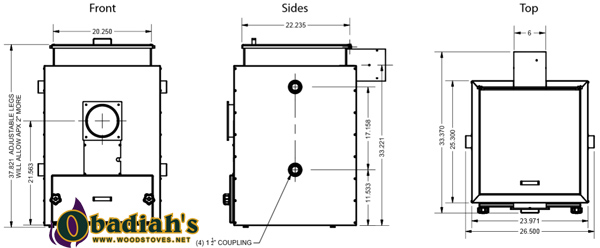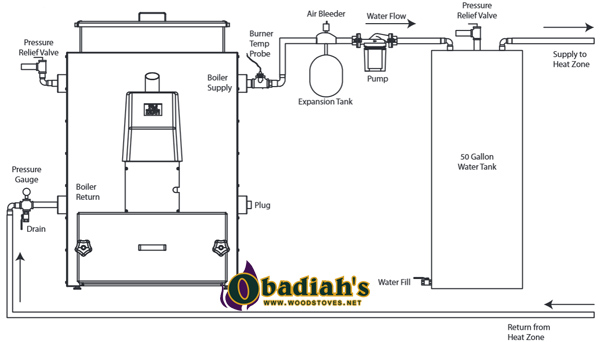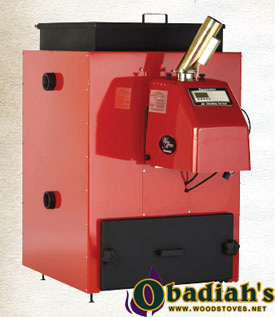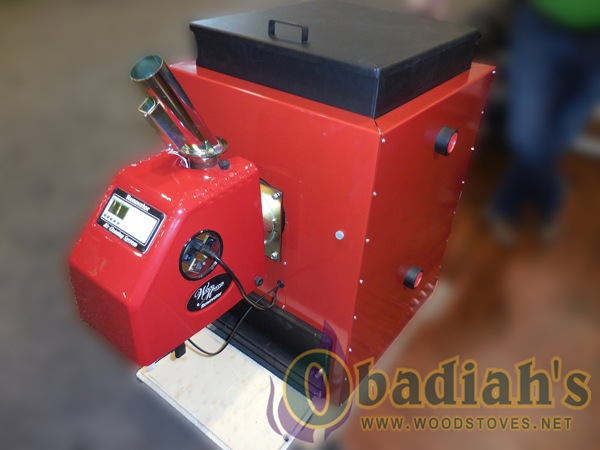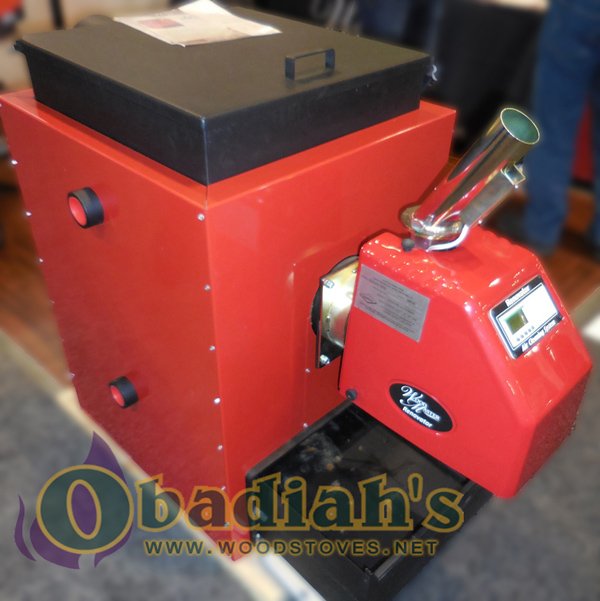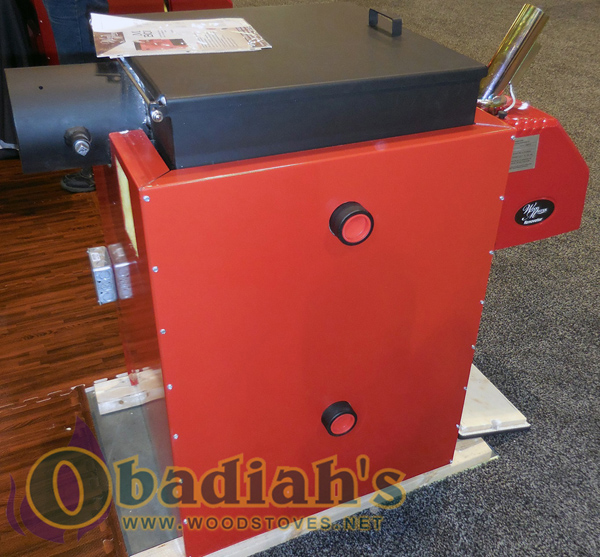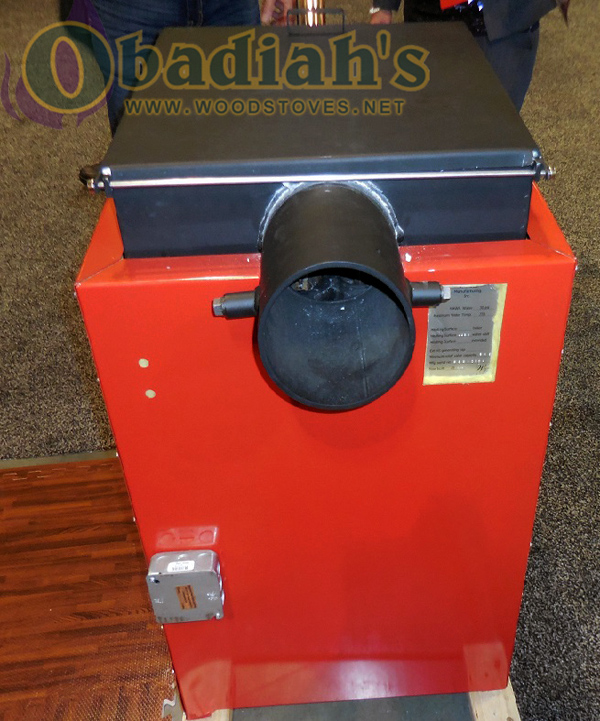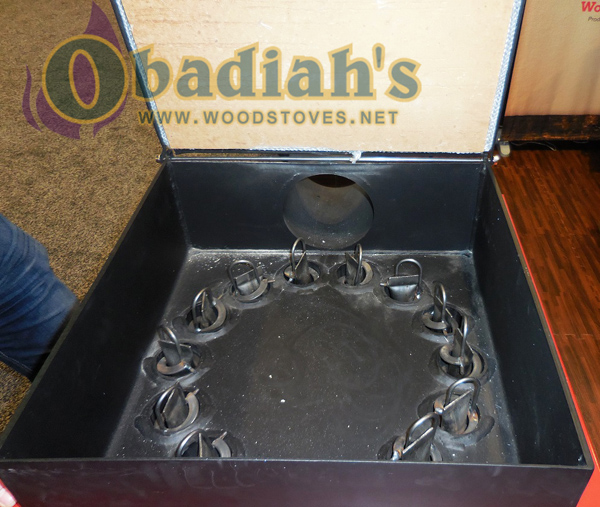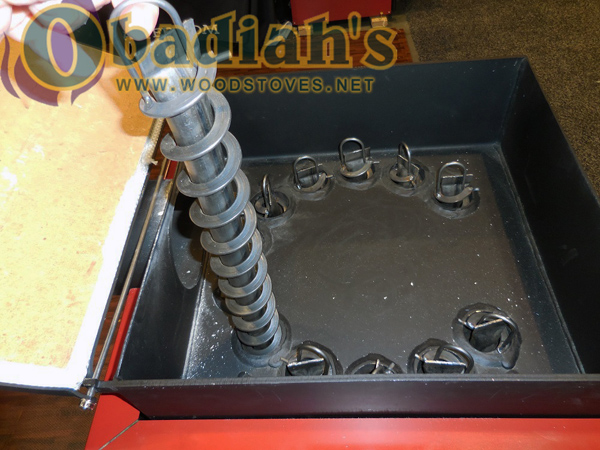 Shipping is NOT included in the price.
Please call or email for a price quote and specify the model you are interested in and your zip code. One of our sales associates will be glad to get back to you.
Be sure to check out our newly improved Cookstove Community website cookstoves.net; the best place online to connect with other cookstove users over stoves, self-sufficient living, alternative energy, and more! Take a look at our selection of videos, articles, and photos, and be sure to visit the forums to connect with like-minded folks from all over.
If you are planning to cook with a cookstove, you will need to understand some basic fire safety. Remember, extinguishing a grease or oil fire with water is not a good idea.
For help choosing and installing a wood boiler, see the links and posts below.