Wednesday, September 27, 2023
Woodmaster Maxim M255 PE - Not Available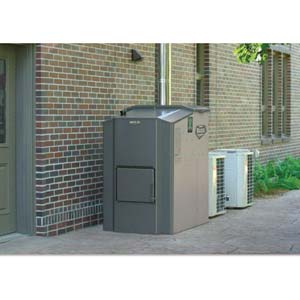 This product is no longer available through Obadiah's.
Using a simple idea and some of the most technologically advanced ways to heat using wood pellets or corn, the Maxim Outdoor Furnace with the large integrated hopper and extended burn time break the cycle of the constant loading and maintenance usually required by pellet furnaces.
Description
Specifications
Photos (2)
Pricing
Extended Info
Add Review
The Maxim Outdoor Coor and Wood Pellet Furnace with a large integrated hopper and extended burn time break the cycle of the constant loading and maintenance usually required by pellet furnaces. Take the guesswork out of operating with the FireStar combustion controller. Using a simple idea and some of the most technologically advanced ways to heat using wood pellets or corn, the Maxim provides heat to not just one room, but multiple rooms at different temperatures or even a room in your garage! The heated water circulates through the insulated underground pipes to the buildings being heated, it then transfers the heat energy by either direct circulation or moving through one or more heat exchangers or both, providing you with unlimited hot water and the ability to heat multiple rooms and buildings.

* Included with the furnace: Water Test Kit, Cleaning Rod, Flue Brush Kit, Ground Rod Kit, Ash Scoop, Rain Cap, and two 4-foot chimney sections.

Note: Residential customers must purchase by May 1, 2020, as this product does not meet the EPA requirements. After May 1, 2020, this unit will only be available to be sold commercially. If you have questions about compliance for EPA regulations, you should contact your local regulatory agency, typically the building department to see what the requirements are.

Features
Location - Unit can be located as far as 500 feet away
Circulation - Containing a high volume of water, the heat is circulated to buildings through insulated underground pipes, a highly efficient way to move the heat over distances.
Unlimited Hot Water - When installing a heat exchanger on the domestic water heater, it provides unlimited hot water and savings from turning off your water heater.
Heat multiple buildings - Heat your home, garage, workshop, shed, greenhouse or barn. It can even be used to heat a swimming pool or hot tub.
Easy Installation - Simply connect the piping and heat exchangers to your existing heating system and the Maxim is ready to go.
Easy to Load - With the large integrated hopper and top-loading door, you are given easy access to the hopper which can hold up to 12 bags of wood pellets (11 bushels of corn) allowing the furnace to heat for days on a single load.
Optional 48-Bushel Hopper available
Use Less Fuel - Using urethane insulation to create an airtight, waterproof installation that locks in heat and reduces fuel usage (even in temperatures of -35° F or colder) This provides 2-3 times the effective R-value of conventional fiberglass batt insulation.
Durability and Reliability - Manufactured with attention to detail, every component meets the highest standards.
Simple inspection and maintenance - The high-efficiency heat exchange system was designed to require less maintenance and provide easy access thanks to the removable rear exhaust cover. Pumps and inner components all easily accessible.
Improved indoor environment - With the furnace kept outdoors instead of inside, the smoke, dust, ashes, odors, and soot that are often associated with indoor furnaces is kept outside.
Electric Ignition - Save on fuel with the help of the controller which stops feeding and lets the fire go out when there is no call for heat, and will automatically relight the fire as needed.
2019 EPA Certified with wood pellets as a fuel source.
5 Year Warranty - A free 5-year limited warranty is available if your Maxim is registered at the time of purchase.


Options
Firestar XP w/ E-link Technology
48-Bushel External Hopper (can hold up to 2,440 lbs of wood pellets) - Steel construction, easy to assemble, color-coordinated to match furnace, 48" x 48" x 66" (NOTE: Does not include auxiliary auger which is needed to transfer fuel into your Maxim furnace)
Auxiliary Auger
Large External Bin - Allows for months of heating on a single load.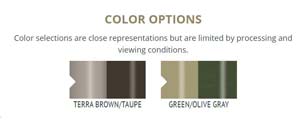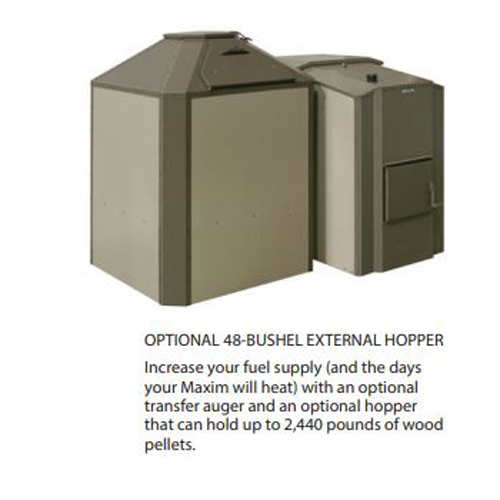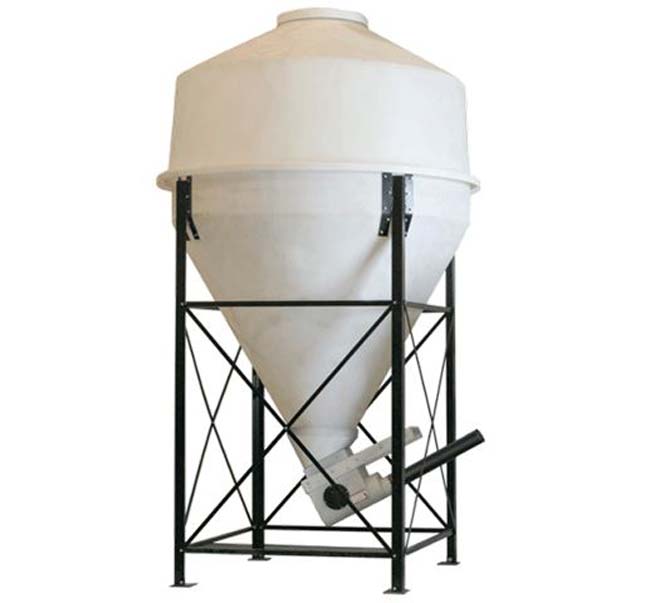 Resources:
Dimensions: Height x Width x Depth
57" x 34" x 49.5" (145 cm x 86 cm x 126 cm)
Door
15.5"w x 13.5"h
Firebox Door to Chimney
59.5" (151cm)
Height w/ two 4' Chimney Sections
117.5" (298.5cm)
Weight
1,310 lbs
Supply/Return Ports
1 set of 1-1/4" supply and return ports, 1 set of 3/4" supply and return ports
Water Capacity
90 gal.
Hopper Capacity
11 Bushels (600 lbs)
Thermal Output Rating
165,215 BTU/hr (47.5 kW) Maximum (BTU output)
Manufacturer Rated Heat Capacity
180,000 BTU/hr (BTU input)
Annual Efficiency Rating *
89% (lower heating value) 82% (higher heating value)
Clearance to Combustibles
From Transition Box
8" (20 cm)
From Sides
6" (15 cm)
From Front
48" (122 cm)
From Chimney
8" (20 cm)
From Top
27" (68.5 cm)

Note: The foundation must be noncombustible

*Performance is a product of the combustion rate, combustion efficiency and heat exchange efficiency with a single fuel load without refueling. Results may vary based on wood species, wood quality and moisture content. Efficiencies are determined under the same test conditions using higher heating value, lower heating value and annual fuel utilization efficiency, (AFUE)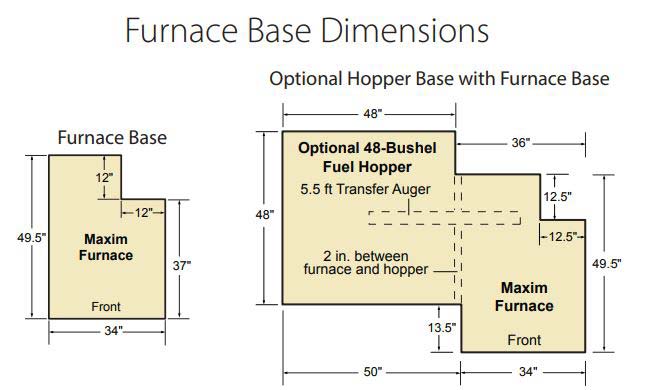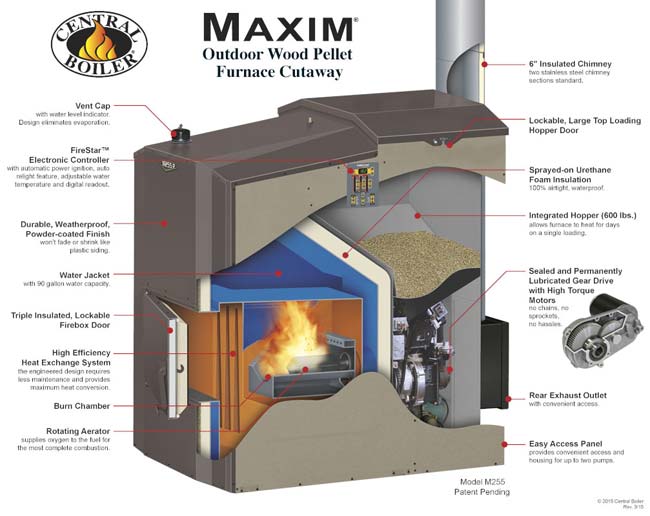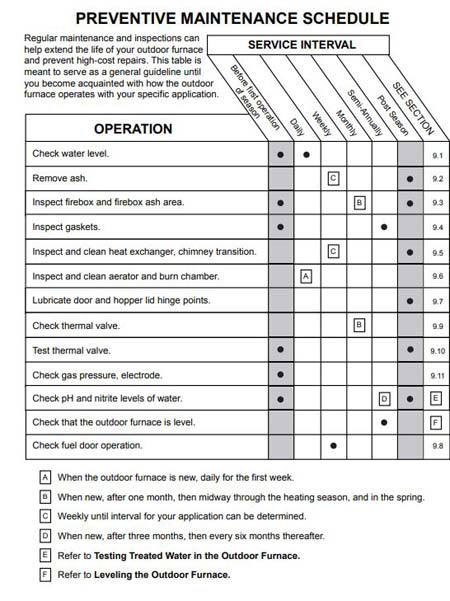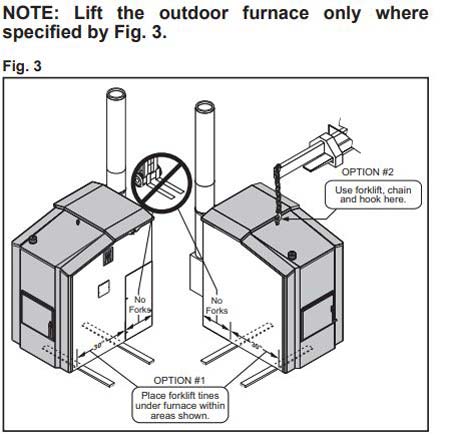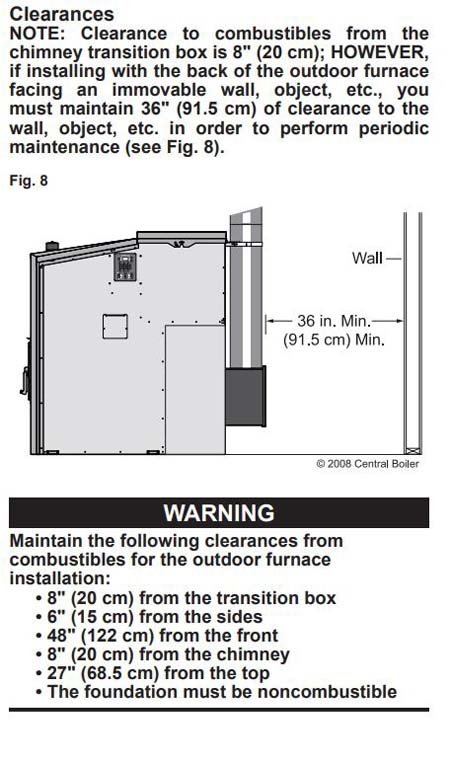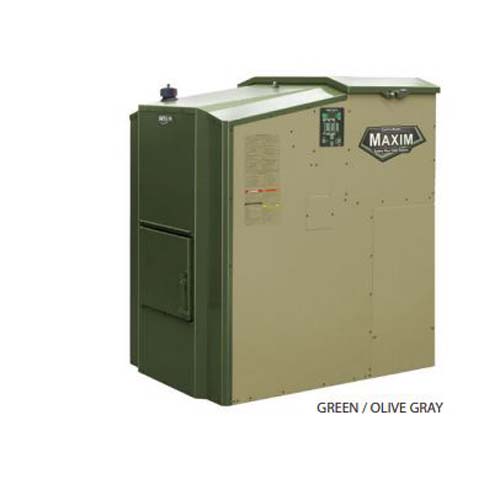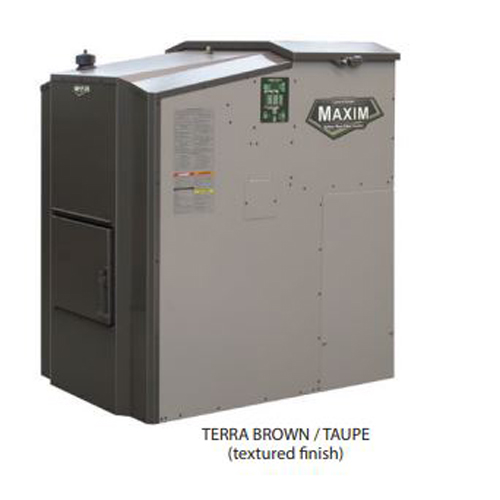 Please call or email for a price quote and specify the model you are interested in and your zip code. One of our sales associates will be glad to get back to you.
Be sure to check out our newly improved Cookstove Community website cookstoves.net; the best place online to connect with other cookstove users over stoves, self-sufficient living, alternative energy, and more! Take a look at our selection of videos, articles, and photos, and be sure to visit the forums to connect with like-minded folks from all over.
If you are planning to cook with a cookstove, you will need to understand some basic fire safety. Remember, extinguishing a grease or oil fire with water is not a good idea.
For help choosing and installing a wood boiler, see the links and posts below.