Saturday, October 19, 2019
LT90 WoodMaster Outdoor Wood Boiler/Furnace - Commercial Use Only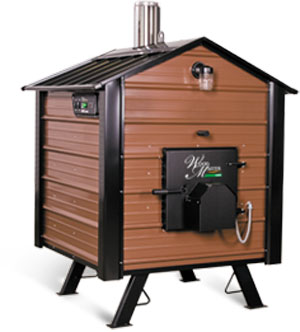 This product is available for Commercial Installations ONLY due to stricter 2016 NSPS regulation. Inventory can no longer be sold for residential use in the United States. Remaining inventory can be sold into Canada, and South America for residential applications. To view more on the new 2016 EPA regulations, click here.
The WoodMaster LT90 furnace is ideal for heating multiple buildings, including a home, garage or workshop, pool and spa.
Description
Specifications
Photos (0)
Pricing
Videos (1)
Add Review
Features
No fuels enter the house to limit smoke, soot, fire hazards and the risk of dangerous carbon monoxide buildup
Round chamber design provides optimum internal air movement and water circulation for even heat transfer and more efficient burn
40% fewer seams than a square box, for less chance of cracking or leaking and minimal pitting
No dead spots, so creosote doesn't build up
Digital Electronic Temperature Control (ETC)
Easy-to-read display
Color Options
Black
Charcoal
Brown
Green
Click here for Single Line PEX Pipe

Resources:
| | |
| --- | --- |
| Specifications | WoodMaster LT90 |
| Fire Box | 34" x 32" |
| Door Size | 16" x 16" |
| Thickness | 1/4" fire drum & water jacket |
| Draft Control | Fan |
| Overall Size | 7' x 5' x 6' |
| Heating Capacity | 90,000 Btu |
| Total Water Capacity | 120 gallons |
| Warranty | Limited Lifetime |
| Shipping Weight | 1,800 lbs. |
Please call or email for a price quote and specify the model you are interested in and your zip code. One of our sales associates will be glad to get back to you.
LT90 WoodMaster Boiler/Furnace Video