Sunday, December 3, 2023
5500 WoodMaster Outdoor Wood Boiler/Furnace - Not Available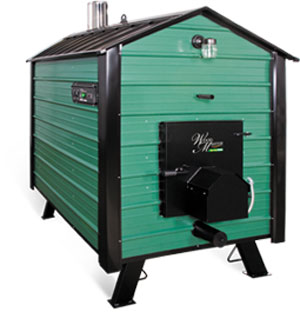 This product is no longer available through Obadiah's.
The WoodMaster 5500 super duty wood furnace is double-plumbed and ideal for farms, providing heat for a home and a large shop or midsize commercial building. Increased fuel capacity for higher heat output, plus a larger door (more than two feet by two feet) for easier loading makes this an efficient choice for agricultural applications.
Description
Specifications
Photos (0)
Pricing
Extended Info
Add Review
Features
No fuels enter the house to limit smoke, soot, fire hazards and the risk of dangerous carbon monoxide buildup
Round chamber design provides optimum internal air movement and water circulation
40% fewer seams than a square box, for less chance of cracking or leaking and minimal pitting
No dead spots, so no creosote build up
Digital Electronic Temperature Control (ETC)
Easy-to-read display
Color Options
Black
Charcoal
Brown
Green
Click here for Single Line PEX Pipe

Resources:
| | |
| --- | --- |
| Specifications | WoodMaster 5500 Wood Boiler/Furnace |
| BTU's | 360,000 btu/hr on a 12 hr burn |
| Fire Box | 50" x 56" |
| Door Size | 27" x 27" |
| Thickness | 1/4" fire drum & water jacket |
| Draft Control | Fan |
| Overall Size | 6' x 6'10" x 8'6" |
| Heating Area | Approx. 10,000 sq.ft. |
| Total Water Capacity | 194 gallons |
| Warranty | Limited Lifetime |
| Shipping Weight | 2,835 lbs. |
Be sure to check out our newly improved Cookstove Community website cookstoves.net; the best place online to connect with other cookstove users over stoves, self-sufficient living, alternative energy, and more! Take a look at our selection of videos, articles, and photos, and be sure to visit the forums to connect with like-minded folks from all over.
If you are planning to cook with a cookstove, you will need to understand some basic fire safety. Remember, extinguishing a grease or oil fire with water is not a good idea.
For help choosing and installing a wood boiler, see the links and posts below.
WoodMaster 5500 for the WIN!!!
October 12, 2016
Reviewer: Jack Morgan
We love the Wood Master 5500. Never a worry if our 4300 sq. ft home will be heated or not. Fire stays going and cleaning is a simple task with implements provided. The only issue we have had is the rear blower motor has went out twice but I think that is because of where it is located and the manufacture. A must buy for large homes!