Monday, May 29, 2023
Lugo Contemporary Wood Cook Stove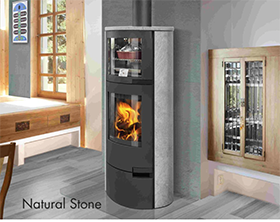 The Lugo Wood Cook Stove is an attractive and efficient fireplace with a baking oven. The Lugo Wood Cook Range was designed to provide a contemporary solution for both heating and baking. This modern Wood Cookstove was designed by Vlastislav Vyborny from Romotop in the Czech Republic. The sleek design of this stove is sure to complement any modern, contemporary decor. With a wide variety of color options, this modern wood cookstove is sure to please.
Description
Specifications
Photos (4)
Pricing
Extended Info
Add Review
The Lugo Wood Cookstove is tested to Washington State standards and is approved to UL 1482 in the United States and ULC S627 for Canada. This 80% efficient wood cookstove is clean-burning and meets the strictest EPA standards. Offering a larger stainless steel oven compartment, reaching temperatures of up to 500 Degrees! The oven comes equipped with a thermometer allowing you to cook your food to perfection.
The Lugo Wood Cooking Range utilizes advanced technology and brings that art of cooking on a wood fire into the 21st century; using its efficient wood heat and modern wood-fired baking--without neglecting style. It offers (2) dampers controls, along with the primary and secondary air controlled by a single element, with a special valve. This allows steam to escape from the oven when necessary. The oven comes with loads of options including, a dip tray, a position grill, a thermometer, and the ability to top or rear vent the stove!
The Sleek European design of the Lugo Wood Cook Range is both well constructed and designed with cooking in mind. The body of the stove is constructed of high-grade steel, which comes in a dark grey finish. You have options of styling the stove to your liking as the panels are available in a variety of tile colors including white tile, gray steel, or natural stone. Other colors are available on a special order basis. Lead time for special order colors is approx. 12 weeks.

Lugo Wood Cook Stove Features
Big stainless roaster heated only by flue gases
Radius glazing of the roaster door matches the design of the stove
Drip tray and positioning grill
Temperature indicator in the roaster
Valve for steam to escape from the roaster
Central air intake
Possibility to connect the top or the rear venting
Regulation of the primary and secondary air by a single control element
Lockable woodshed for storage of a small supply of wood or ecological briquettes
Suitable for low-energy houses
EPA Exempt (Not EPA Exempt in Washington State)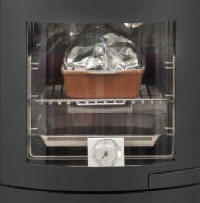 Resources:
| | |
| --- | --- |
| Product Specifications | Lugo Wood Cook Stove |
| Heat Output | 14,000 - 38,000 BTU's |
| Approx. Heating Area | 1,600 sq. ft. |
| Flue Size | 6" |
| Weight | 376-520lbs |
| Dimensions | 58"H x 22"W x 19"D |
| Firebox Size | 20"H x 13"W x 9"D |
| Oven Glass Size | 13"H x 13"W |
Lugo Wood Cook Stove Clearance to Combustibles (using double wall chimney)
Clearance from Side of Stove = 7.87"
Clearance from Rear of Stove = 7.87"
Clearance from Front of Stove = 31.5"
Lugo Wood Cook Stove Clearance to Combustibles (using single chimney)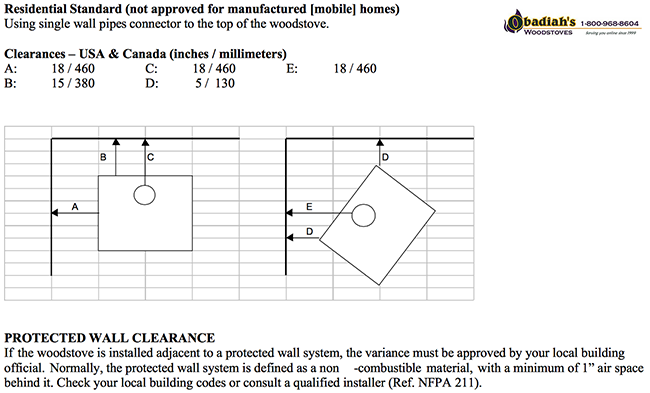 Lugo Wood Cook Stove Product Dimensions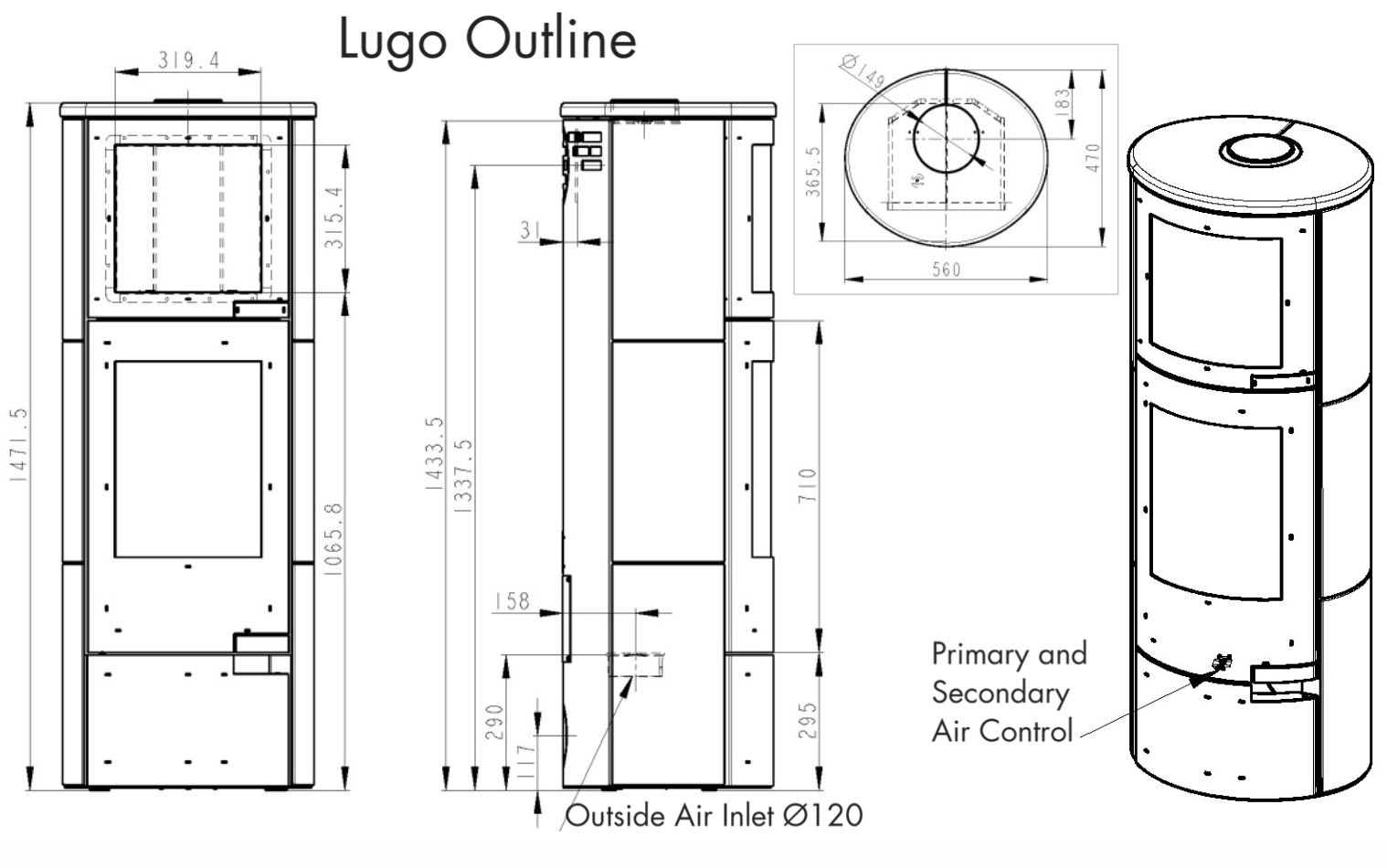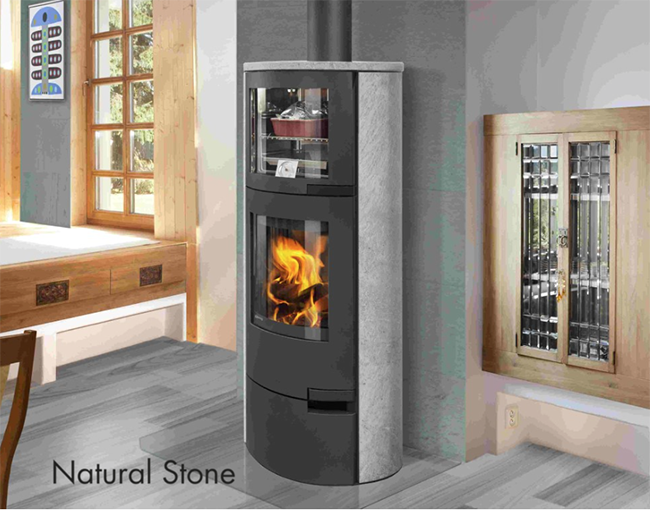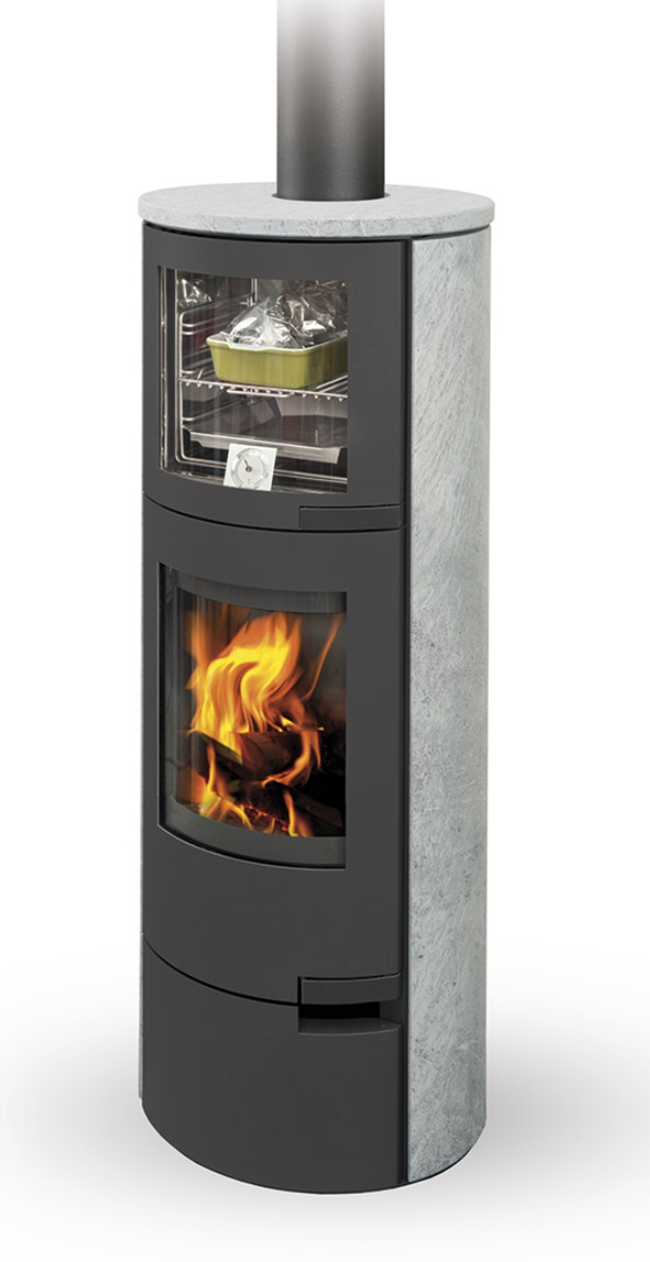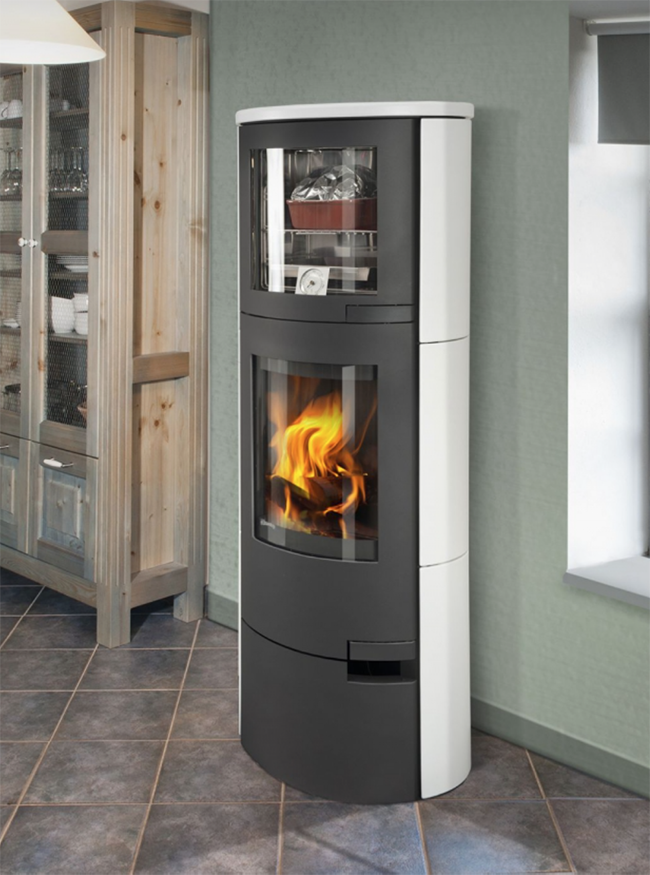 **Note: This stove is special order, delivery may take up to 18 weeks from the date of order.
* Includes free shipping on a large truck (53-63') within the contingent United States. Smaller trucks are available upon request and come with a slight upcharge starting at $50 depending on what is available in your area.
Be sure to check out our newly improved Cookstove Community website cookstoves.net; the best place online to connect with other cookstove users over stoves, self-sufficient living, alternative energy, and more! Take a look at our selection of videos, articles, and photos, and be sure to visit the forums to connect with like-minded folks from all over.
If you are planning to cook with a cookstove, you will need to understand some basic fire safety. Remember, extinguishing a grease or oil fire with water is not a good idea.