Thursday, September 21, 2023
Ventis HEI240 Woodburning Fireplace Insert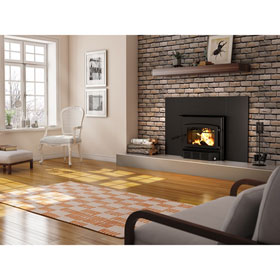 The Ventis HEI 240 will allow you to enjoy both the warmth and ambiance of the fire in the comfort of your home.
Description
Specifications
Photos (2)
Pricing
Extended Info
Add Review
The beautiful Ventis Wood Insert HEI 240 offers one of the lowest emissions rates (3.9 g/hr) and a max output of 75,000 BTU/hr thanks to its 2.4 Cu. ft. combustion chamber. A 130 CFM blower is included to maximize the heating performance, along with its single door and cast iron frame, the HEI 240 will allow you to enjoy both the warmth and ambiance of the fire in the comfort of your home.
Features:
Blower 130 CFM and Large Face-Plate Kit Included
Heats up to 2,100 sq. ft.
Optional Liner Adapters
71.2% Optimum Efficiency
Holds 20" Logs
6" Flue Pipe Diameter
Safety Tested and Verified
Maximum output - seasoned cord wood 75,000 BTU
Firebox volume 2.4 cu. ft.
EPA certified
Options:
Offset Liner Adapter
Hook Up Liner Adapter

Resources:
Ventis HEI240 Wood burning Fireplace Insert
Fuel Type
Dry Cordwood
Heating Area
500 - 2,100 sq ft
Firebox Volume
2.4 cu. ft.
Firebox Dimensions (W x D)
21" x 16-3/4"
Overall Dimensions (W x D x H)
28-3/8" x 26-1/8" x 23-1/8"
Max Heat Output
75,000 BTU/hr
Max Burn Time
8 Hrs.
Overall Heat Output Rate
12,500 - 31,300 BTU/hr ( 3.7 - 9.2 kW)
Average Efficiency Overall
69.5 HHV 75.2% LHV
Optimum Efficiency
77.2%
Average Emissions Rate
3.9 g/hr
Average Carbon Monoxide
137.4 g/hr
Max Log Length
20" ( 508 mm) East to West
Flue Diameter
6" ( 152 mm)
Recommended Connector Pipe Diameter
6" ( 152 mm)
Chimney Type
ULC-S635, CAN/ULC-S640, UL 1777
Baffle Material
Vermiculite
Approved for Alcove/Mobile Home
No
Shipping Weight
407 lbs ( 185 kg)
Actual Weight
347 lb ( 1527 kg)
Door Type
Single, Glass w/ Cast Iron Frame
Door Opening Dimensions (W x H)
12-1/2" x 8-3/4"
Glass Type
Ceramic
Glass Viewing Area (W x H)
16-1/2" x 9"
Blower
Included ( Up to 130 CFM)
Warranty
Limited Lifetime
Particulate Emission Standard
EPA/CSA B415.1-10
USA Standard (Safety)
UL 1482, UL 737
Canadian Standard (Safety)
ULC S628
Clearance to Combustibles
Adjacent Side Wall
16"
Combustible Side Surround
12"
Combustible Top Surround
20"
Combustible Mantel Shelf Dimensions
8" / 10" / 12"
Minimum Clearance from Combustible Mantel Shelf
22" / 24" / 26"
Minimum Fireplace Opening (H x W x D)
23-3/8" x 28-7/8" x 15-7/8"
Minimum Floor Protection in front of unit
16"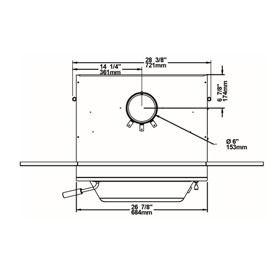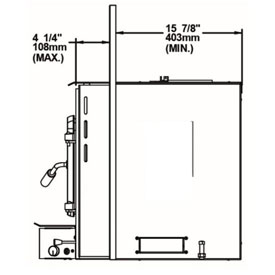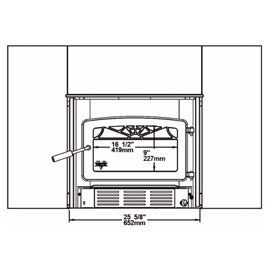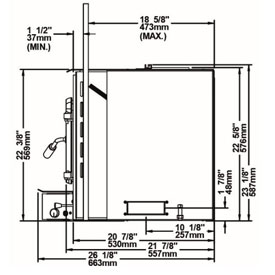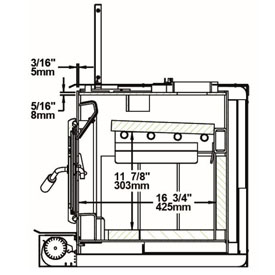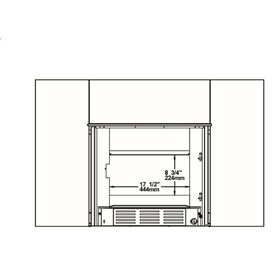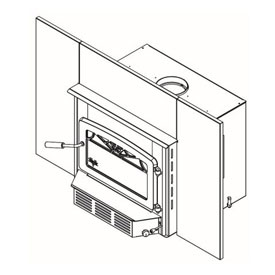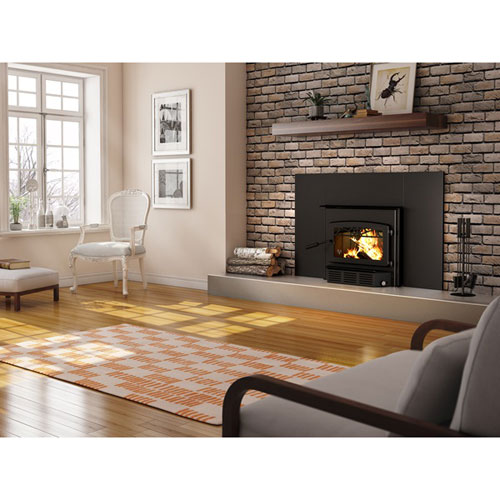 Ventis-Wood-burning-insert-Close-Up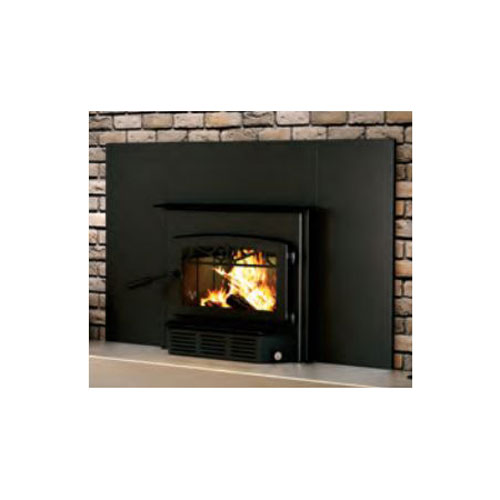 All Retail Prices Include: Residential, curbside delivery via freight truck with a lift gate is included for shipping in the Continental U.S.A. (some exceptions may apply). Please inquire with our sales staff if you have specific shipping needs such as international, freight terminal and/or business deliveries or if you need a smaller truck size. Click here to see Obadiah's Shipping Terms.
Obadiah's offer's a 20% discount and free shipping on most complete chimney systems. Email our chimney specialists for an exact quote.
Be sure to check out our newly improved Cookstove Community website cookstoves.net; the best place online to connect with other cookstove users over stoves, self-sufficient living, alternative energy, and more! Take a look at our selection of videos, articles, and photos, and be sure to visit the forums to connect with like-minded folks from all over.
If you are planning to cook with a cookstove, you will need to understand some basic fire safety. Remember, extinguishing a grease or oil fire with water is not a good idea.
For help choosing and installing a wood boiler, see the links and posts below.