Friday, December 8, 2023
Vaughn 80 Gallon Range Boiler with Hydrastone Liner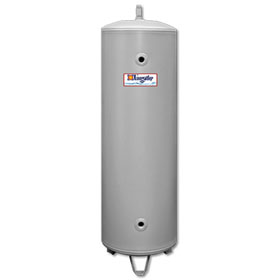 The Vaughn Range Boiler combines Hydrastone cement lining with heavy gauge steel for the industry's most effective, longest lasting, and reliable range boiler. The half inch thick Hydrastone lining and bronze fittings at all six water openings make this range boiler highly resistant to corrosion, without requiring an anode rod.
Note: This product requires installation by a boiler or hydronics professional. Check your local building codes for proper installation. Obadiah's assumes no liability for items sold for the installation of a boiler system.
Description
Specifications
Photos (1)
Pricing
Add Review
Features
Hydrastone Lining
80 Gallon Capacity
Bronze Tappings
Small Footprint
Weight: 280 lbs.
No Anode Rod Required
High Efficiency
5 Year Warranty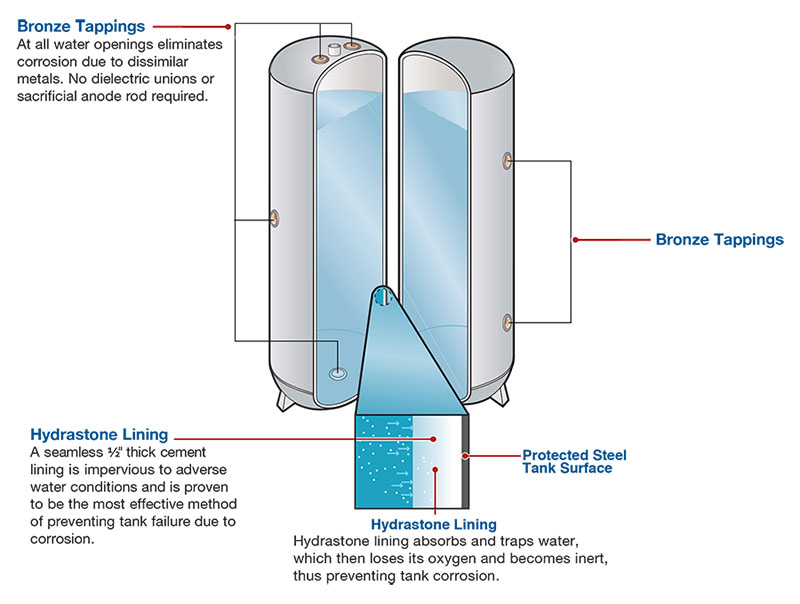 Domestic Hot Water: What Kind of Water Storage Tank Should be Used?
Standard hot water tanks that are used for heating domestic water should never be used as a holding tank for water being heated by a wood stove. Standard water tanks are not heavy enough and are insulated. There must be a way for the heat to bleed off. All plumbing must be hard plumbing like copper or Stainless Steel. Galvanized can be used but it will plug up faster if there are minerals in the water, especially lime. PEX lines should not be used.

Range Boilers versus Domestic Hot Water Tanks
Some folks out there have tried using insulated domestic hot water tanks that you can purchase at just about any hardware store. There are several reasons why this is a really bad idea.

1. Domestic Hot Water Tanks are not built like a Range Boiler. They are not designed for the high water temperatures that a solid fueled appliance produces. They are much thinner tanks and can rupture creating a flood of scalding hot water in your home.

2. Domestic Hot Water Tanks are glass lined. The problem is that these tanks are not cast iron but rather sheet metal of a much lighter gauge. When connected to a solid fueled appliance like a wood or coal burning stove you will have a constant flow of hot water going into the tank. If you are at work all day during really cold weather, the water temperature in the water tank can rise to the point of boiling. To prevent an explosion from happening when water boils, it produces steam which expands tremendously and creates extreme pressure. The PTV (Pressure Temperature Valve) senses this and opens up to bleed off the pressure. Hot water pours out of the valve which must be connected to a drain so it doesn't pour out onto your floor. The hot water is being replaced with cold water from your pressurized domestic water system. The water pouring out of the tank is above 200 degrees, and the water pouring into the tank is around 50 degrees. This 150 degree temperature difference creates a lot of expansion and contraction inside the tank. Eventually the glass lining will crack and it will no longer provide any corrosion resistance inside the tank. This means that the thin metal tank will rust quickly and fail within a year or two and can potentially flood your home.

Range Boilers are stone lined and have a much thicker and more flexible material inside the tank. The material is also a heavier gauge, made with a thicker steel and therefore will flex far less than the Domestic Hot Water Tanks will. They have been designed for the rigorous use that these kinds of installations produce. They will hold up and not fail like a typical Hot Water Tank you purchased at the local hardware store.

3. Range Boilers have Bungs (places where you can connect water lines to) installed to make the proper connections to your plumbing system, on the sides, bottom and top. You should keep the hot water heating loop separate from the domestic water loop to prevent scalding hot water at your faucets. These connections should be on the side of the tank and the water going to the faucets should be coming from the top of the tank. This way the tank has the ability to mix the cold and hot water inside the tank creating a buffer by mixing the temperatures of the hot water coming from your stove and using the tank itself as a mixing valve. Anti-Scald Protection should be installed as well. These can be mixing valves installed where the cold water enters into the top of the tank which connects to the hot water leaving the tank. Some mixing valves are preset and some types are adjustable. If the water temperature is too hot, cold water from the inlet side mixes with the hot water leaving the tank when someone turns on the hot water somewhere. This brings the temperature back down to a safe temperature so that you don't have scalding hot water coming out of a faucet. The same thing can be done at the faucet itself using the same principle of mixing cold and hot water together so it is much safer, by using anti-scalding water fixtures. This is code in some areas.

4. Range Boilers are not insulated by design. The idea is that allowing some heat to escape through the walls of the tank, which not only helps heat the house, it also takes longer for the tank to get so hot that it blows the PTV valve. An insulated Domestic Hot Water Tank is designed to hold the heat inside the tank because it is designed with a burner system that turns on when the water temperature gets too low and it turns back off when it gets to a preset temperature. This does not happen when you are connected to a Solid Fueled appliance, which does not modulate or turn on and off. If your stove has fuel in it and is burning, it is sending heat into the tank, there's no way to control it or turn it off. It is always a good idea to install the Range Boiler inside a closet so it can be ventilated in the winter by simply opening the closet door. In the summer the closet door can be shut to help keep the heat in.

5. Range Boilers have places to install Temperature Gauges that will help you to monitor what is going on inside your tank and how long you have before your PTV is going to release your hot water into the drain and cool down the tank. Knowing the temperature in the middle and at the top is very helpful for your ability to know if you need to take measures to use some hot water by taking a long hot shower, do some laundry, or give Fido a bath. It's also helpful for you to know how much hot water is left after your teenage daughter just took a 40 minute shower and you need a shower too. Will it be a cold one, and maybe you should wait 30 minutes for the tank to build up some more hot water?

These are the realities when you have this kind of system in your home. Having free hot water from your stove is great, but it does come with some limitations and requirements to get the most out of the equation. Once you get your mind wrapped around the idea that as long as you're stove is making heat, it's making hot water too. You begin to understand what the temperature gauges mean in relation to what you are going to do with the hot water. Bottom line here is "Use It, Or Loose It".

Other points to remember are that you can't put the Range Boiler in the basement, it must be higher than the stove. The next thing is that you should have the Range Boiler tank fairly close to your stove. The higher you go the further away you can get from the stove. This is only applicable for passive systems that don't use circulation pumps, in which case you can do just about anything, until the power goes out, in which case you just might have a big problem on your hands, unless you have a backup plan and it kicks in very fast to keep the hot water flowing.

Resources:
| | |
| --- | --- |
| Range Boiler Specifications | Vaughn 80 Gallon RB |
| Overall Dimensions (Height x Diameter) | 56"H x 22"D |
| Storage Capacity | 80 Gallons |
| Tapping Size | 1" |
| Shipping Weight | 280 lbs. |
Note: This product requires installation by a boiler or hydronics professional. Check your local building codes for proper installation. Obadiah's assumes no liability for items sold for the installation of a boiler system.
** Residential, curbside delivery via freight truck with a lift gate is included for shipping in the Continental U.S.A. (some exceptions may apply). Please inquire with our sales staff if you have specific shipping needs such as international, freight terminal and/or business deliveries or if you need a smaller truck size. Click here to see Obadiah's Shipping Terms.
Please call or email us today to order! One of our sales consultants will help you on your way to great, home wood-fired heating!
CLICK HERE TO VISIT OUR NEWER WEBSITE WHERE YOU CAN FIND PRICING AND MORE INFORMATION