Wednesday, September 27, 2023
GBU-070 Traeger Pellet or Corn Furnace - Discontinued*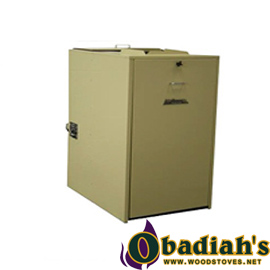 *PRODUCT DISCONTINUED - This page is for informational purposes only.
Designed to meet the needs of an average sized home, this furnace from Traeger is our most popular model and has a fan forced draft, making the applications quite flexible
Description
Specifications
Photos (1)
Pricing
Add Review
Note: This furnace is sold as either a pellet or corn furnace, and is built to such specs at the factory. This unit is not designed to burn both corn and pellets together, and the fuels burn at different tempatures and the furnaces does not operate at its best performance and efficiency.
The GBU-070 uses a solid state control board which allows the unit to be operated from a wall thermostat and it has a built in pilot. The GBU-070 can be used as an add on furnace or a primary furnace. It can also be used in many shop applications.
The 20th century has seen a dramatic change in central heating systems, from wood and coal, to oil, to heat pumps and natural gas, and now back to wood again. Today, nearly all central heating systems are dependent upon electricity, natural or propane gas, or oil as a fuel source. The convenience of these modern heating systems has not come without their price tags and certain realities. Dependence on non-renewable energy resources over the past 30 years has taught us that:
The supply of oil and gas is limited and NON-RENEWABLE
Electricity, oil, and gas costs will increase as supplies decrease
If we remain dependent on these sources of energy, we will definitely face an energy crisis again
We must look to heating systems that utilize renewable energy sources
Old style wood furnaces burn a renewable resource, yet they require hard work to stoke and typically are not very efficient, either with heat transfer or combustion efficiency (emissions).
16 years ago Traeger Industries developed the first residential pellet fired furnace. Designed to meet coming air quality standards these pellet fired furnaces performed effectively and efficiently without the negatives of a typical wood furnace. These early central heating units have evolved into today's wood pellet furnaces and boilers that are the most efficient renewable resource burning appliances manufactured today.
In addition to wood pellets, many new types of renewable Biomass fuel are being developed that will also burn efficiently in Traeger pellet furnaces. One such alternative fuel is shelled corn, which has been used for years in the Midwest in Traeger furnaces. A wide variety of models are available ranging from the smallest 70,000 BTU GBU-070 on up to the largest 4,000,000 BTU model GBU-400. Residential, commercial, and industrial models as well as burner systems are also available. Pellet or corn model must be specified at time of order. If you are thinking of central heating with a renewable biomass energy product, remember the names TRAEGER and PINNACLE.
Options
Back Draft Damper (for add on)
Hopper Extension (extends capacity to 140 lbs)
Filter Box Assembly (adapts return air to 12" round)
Shop Plenum (for shop installation)
Wood Pellet Burn Pot (for pellet unit only)
Shelled Corn Burn Pot (for corn unit only)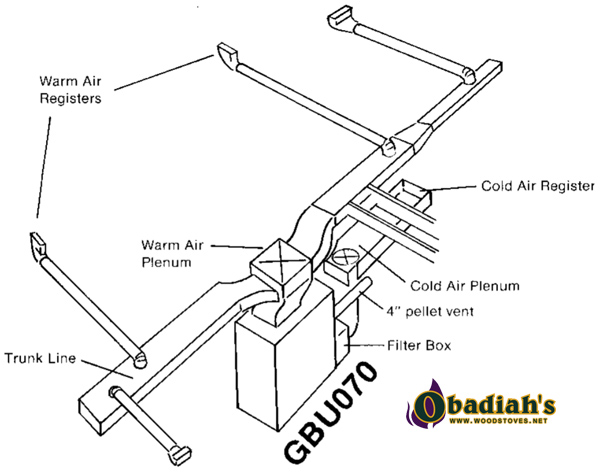 Resources:
| | |
| --- | --- |
| Specifications | Traeger GBU-070 |
| BTU Input | 70,000 BTU/hr |
| Overall Efficiency | 80% |
| Approx Heating Capacity | up to 2,000 sq ft |
| Height | 45 1/4" |
| Width | 24 1/4" |
| Depth | 33 1/2" |
| Hopper Capacity | 80 lbs standard |
| Weight | 385 lbs |
| Flue Size | 4" |
| Warm Air Outlet Size | 12" x 12" |
| Blower | 1250 CFM |
| Power Requirement | 110 volt |
| Breach | Rear |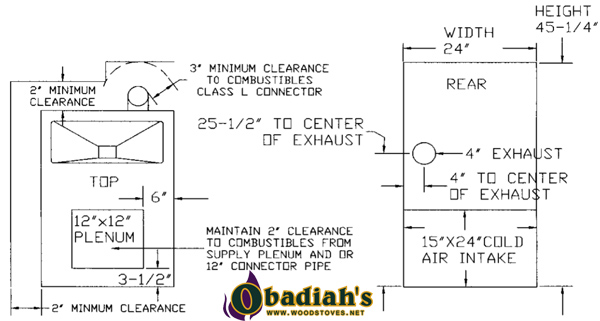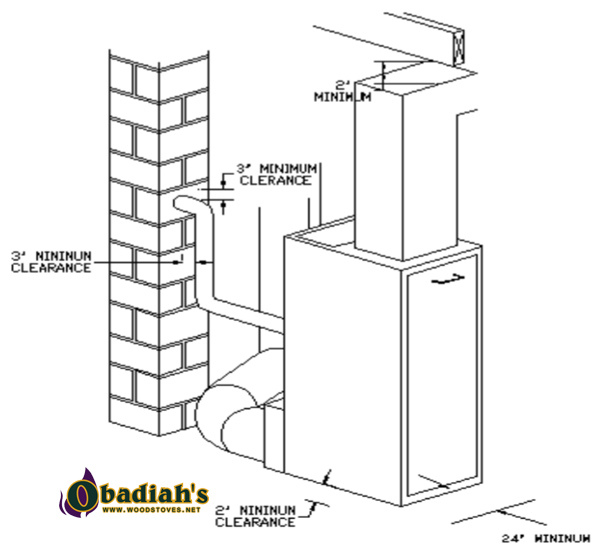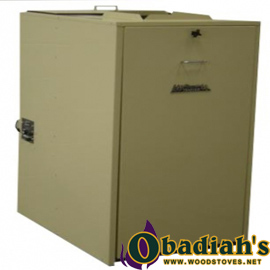 This item qualifies for free shipping within the continental USA!