Wednesday, September 27, 2023
Rizzoli S90 Wood Cook Stove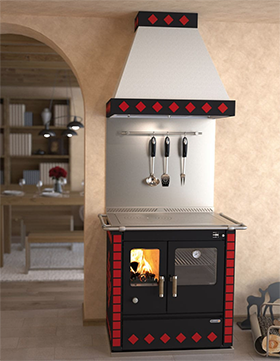 The Rizzoli S90 Wood Cook Stove has the largest variety of styling options over any other wood cook stove on the market. Depending on the options chosen, this wood cook stove would appease contemporary and traditional styles alike. Stay warm, and cook delicious homemade food this winter with a new Rizzoli S90 Wood Burning Cook Range.
Qualifies for a tax credit
Some Models and Options may be out of stock. Please Call for Availability.
Description
Specifications
Photos (16)
Pricing
Extended Info
Videos (15)
Add Review
NOT ALL MODELS ARE CURRENTLY IN STOCK AND MUST BE ORDERED.
Options
Color Options - Finishes available in standard, dekor, ceramic tile, or stainless steel


Cook Top Options - Solid Ring, Removable Rings, or Ceramic Glass*

Features
Certified Superflame Combustion System
External air vent Fire door with hermetic airtight seal
Fire door with double ceramic glass
Combustion chamber in refractory material
Refractory material Preheated secondary air
Starting with smoke bypass key Adjustment / closing of external air intake
Handles isolated
Handrail on three sides
Stainless steel oven
Oven holder with side opening glass
Oven with light and thermometer Oven with excess steam valve
Pyrolytic enamel tray on telescopic rails
Oven grill
Vented sides with natural thermal convection
30 mm stainless steel top with
Radiant plate in steel or glass ceramic
Primary and secondary air regulation
Preheated secondary air
External air intake - External Air®
Adjustment / closing of external air intake
Insulated handles in precious wood
Natural thermal convention aero sides
Raise with ventilation holes
Oven door with side opening glass
Oven with lighting and thermometer
Oven with excess steam valve
Oven comes with one oven rack and one oven tray
UL Certified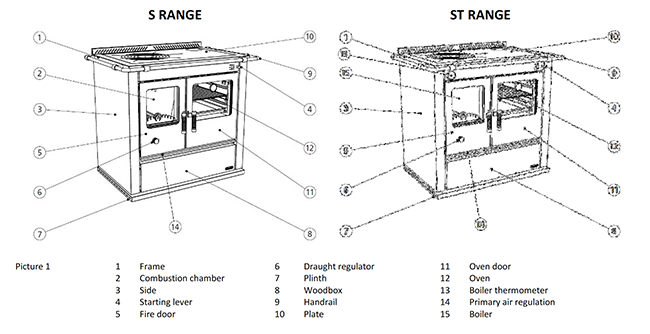 Resources:
| | |
| --- | --- |
| Specifications | S90 Wood Cook Stove |
| Dimensions | 33.46" H x 35.43" W x 23.62" D |
| Oven Dimensions | 13.78"W x16.54"D x11" H |
| Firebox Dimensions | 11" H x 11.5" W x 17.7" D* |
| Firebox Door Dimensions | 10.24"L x 10.43"H |
| Fire Door Dimensions | 9.1" H x 11.0" W* |
| BTU Output | 42,000 |
| Efficiency | 83.3% |
| Weight | 551 lbs. |
| Flue Outlet | 6" |
| Flue Outlet Position | Left/Right Upper Plate or Rear |
| Fuel | Wood |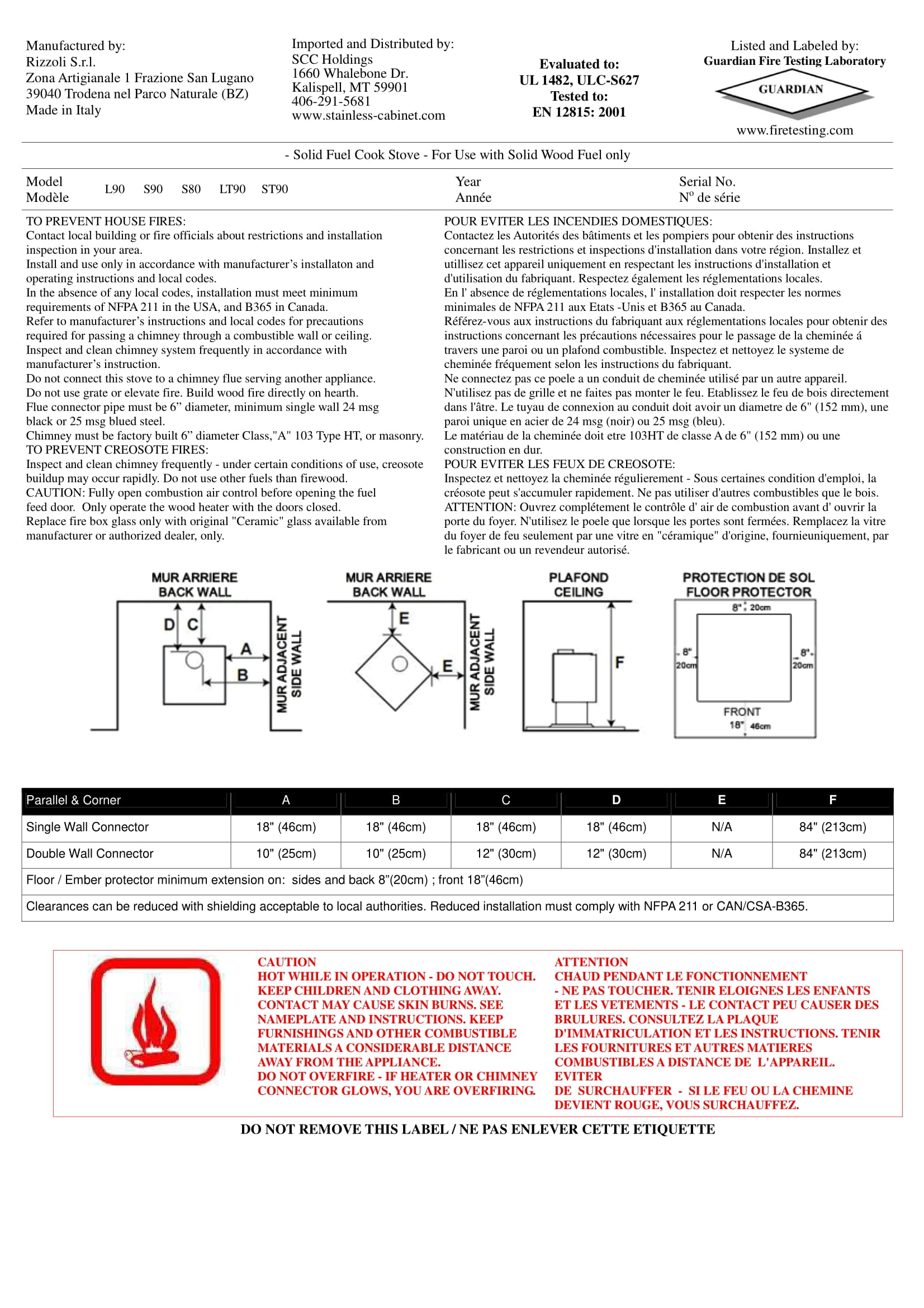 Rizzoli S90 Wood Cook Stove in Red Dekor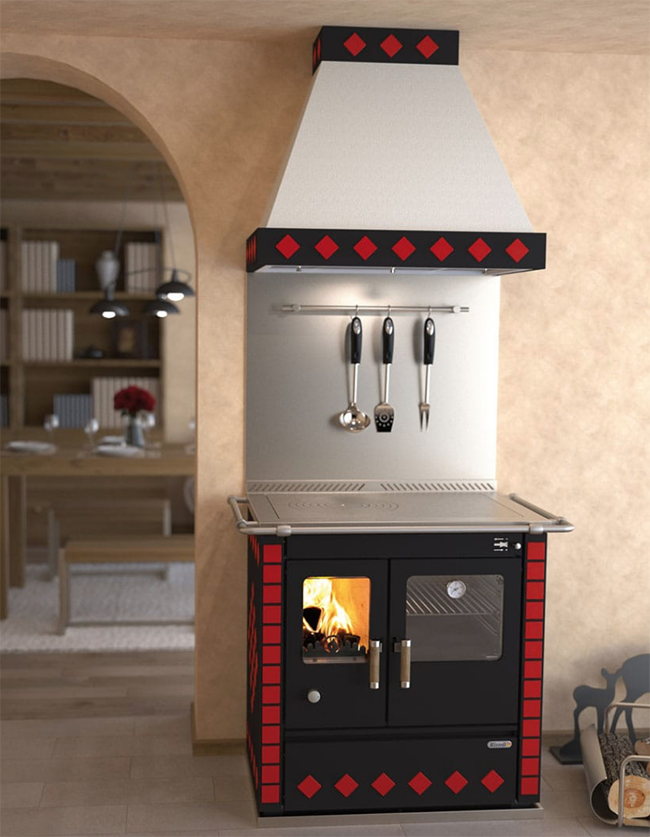 Rizzoli S90 Wood Cook Stove with Stainless Steel Door in White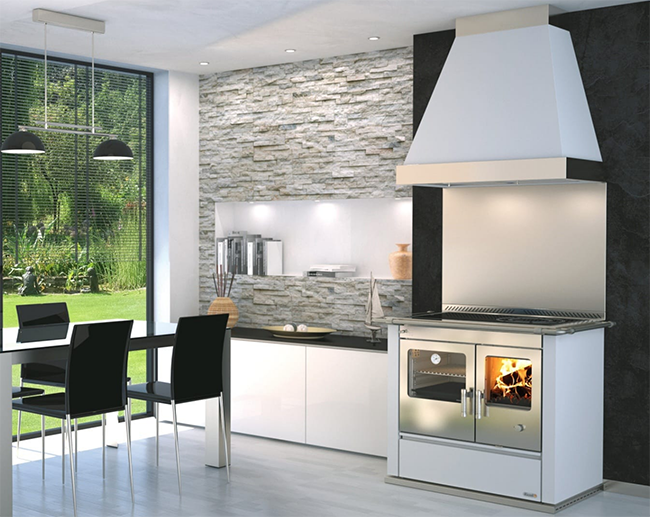 Rizzoli S90 Wood Baking Oven in Baby Blue Tile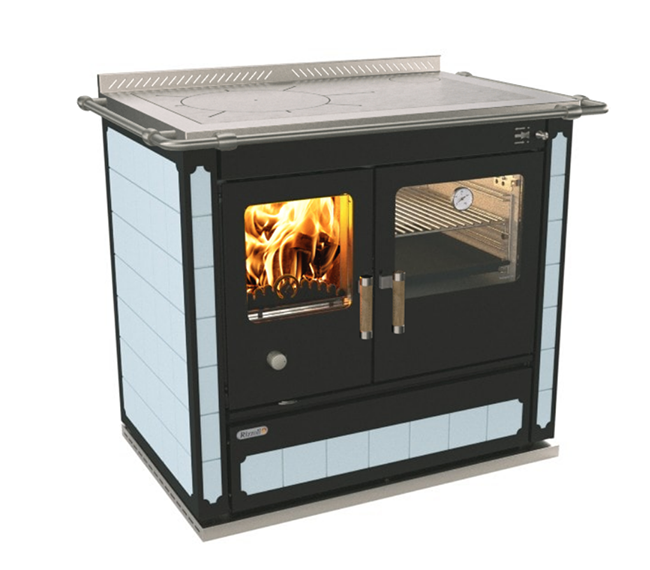 Rizzoli S90 Wood Baking Oven in Green Tile with Ceramic Glass Cooktop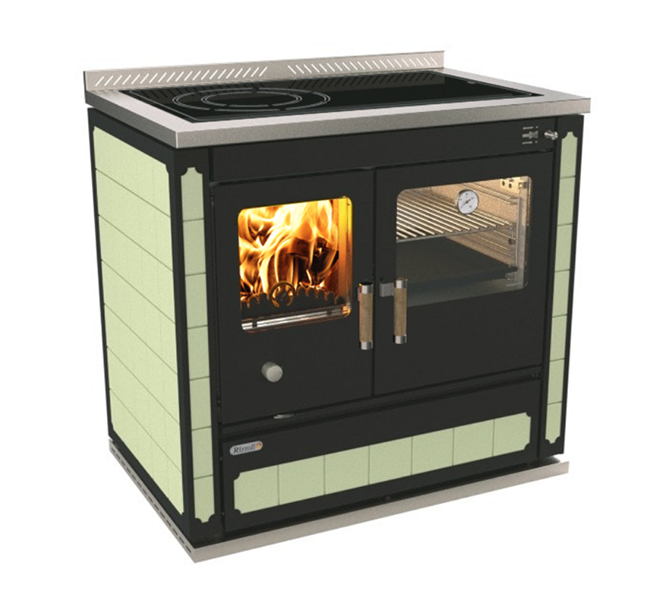 Rizzoli S90 Green Wood Cook Range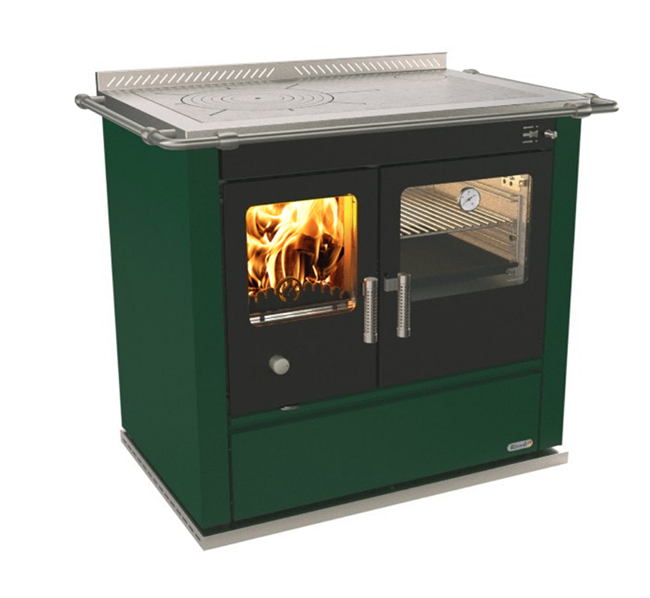 Rizzoli S90 Wood Baking Oven in Anthracite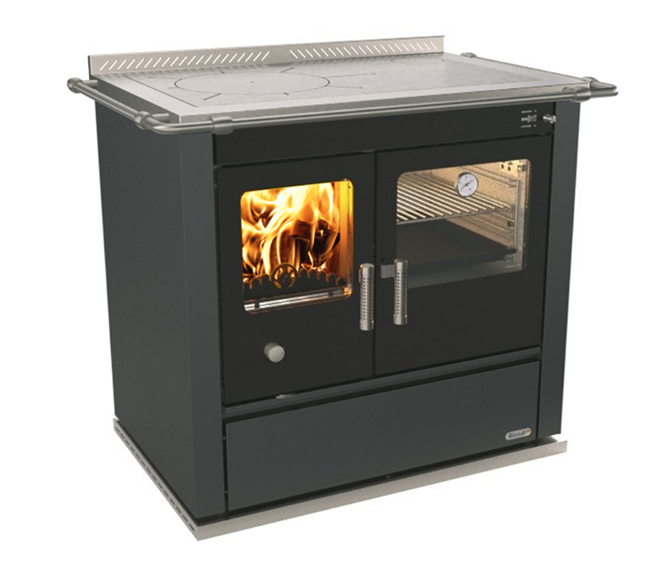 Rizzoli S90 Wood Burning Cookstove in Standard Sand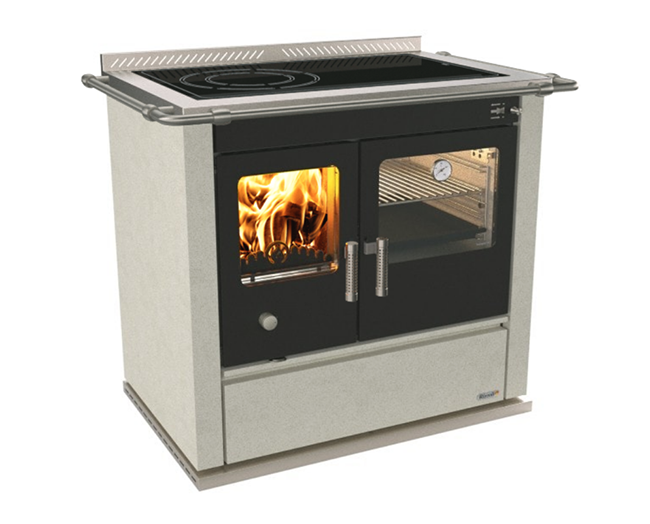 Rizzoli S90 Wood Baking Oven in Rust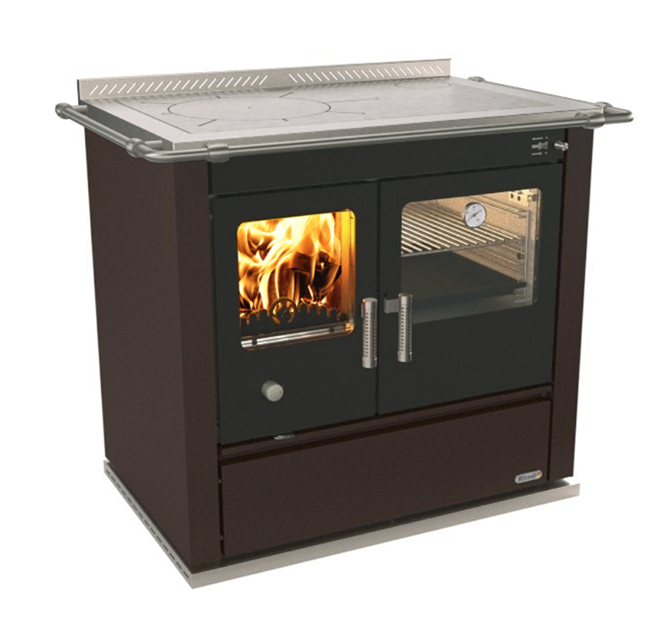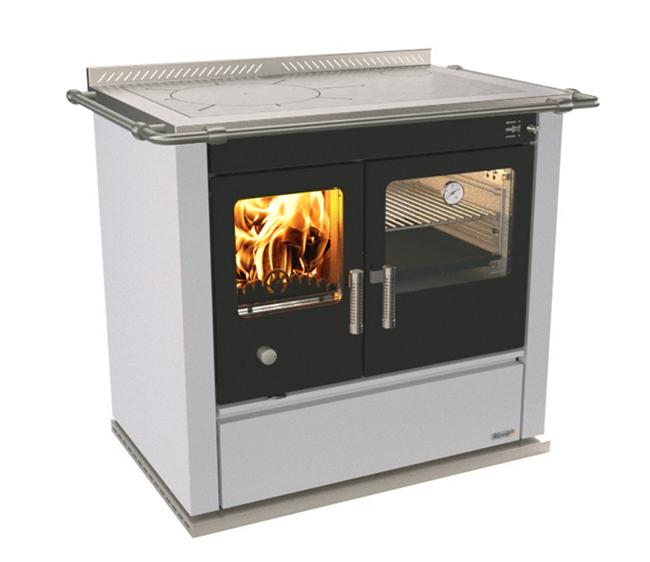 Rizzoli S90 Wood Cook Range in Standard Red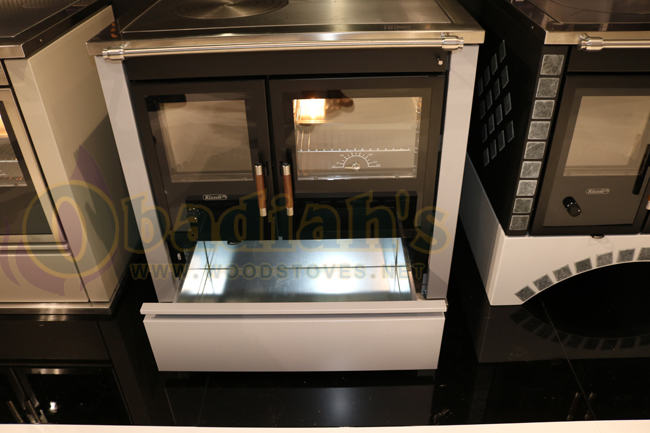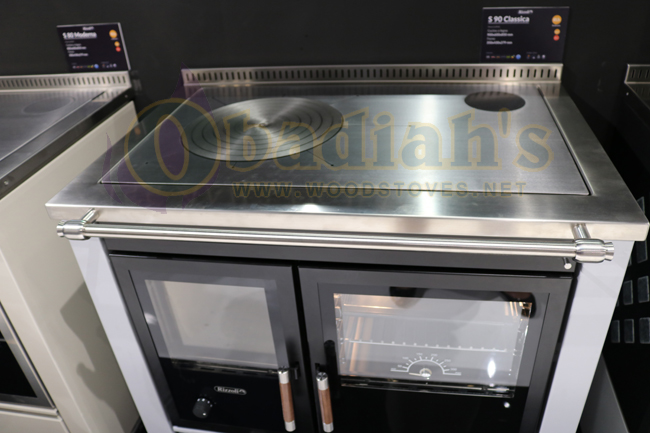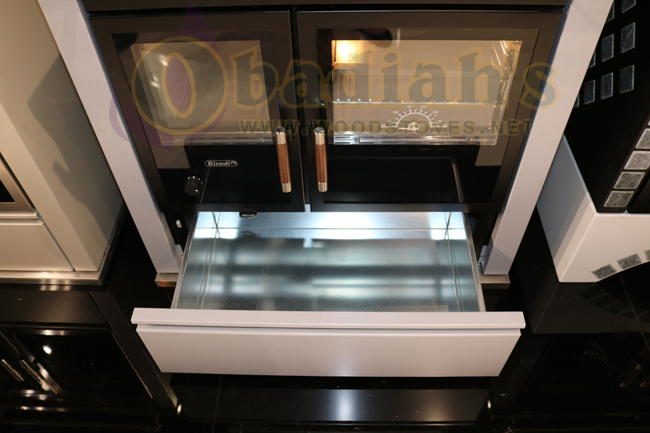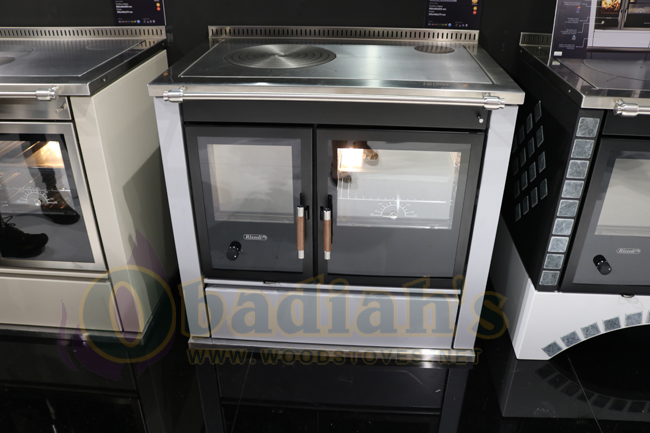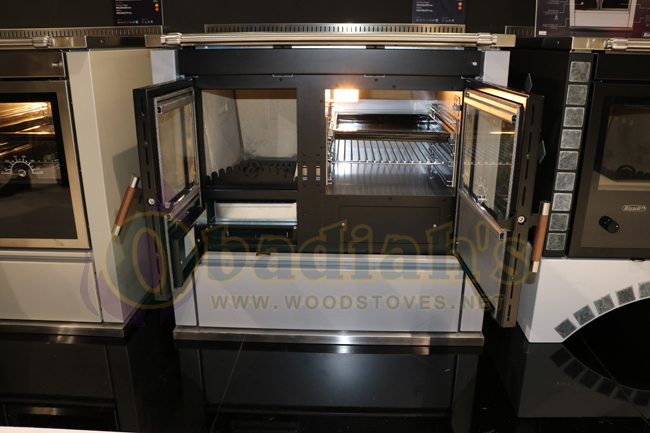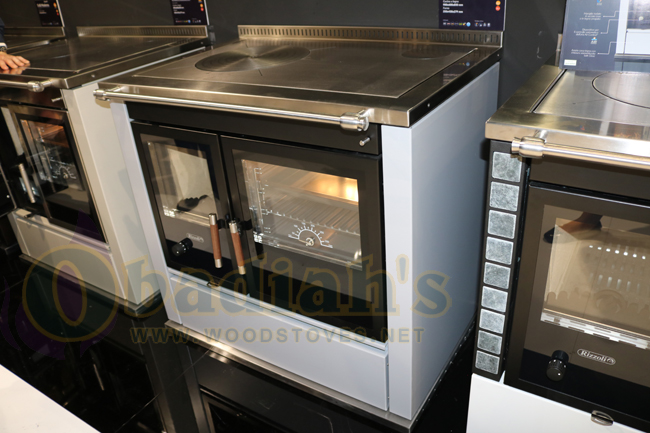 Note: Special orders to receive by Sept/Oct Order must be placed by 05/02/2022
Obadiah's offer's a 20% discount and free shipping on most complete chimney systems. Email our chimney specialists for an exact quote.
All Prices Include: Residential, curbside delivery via freight truck with a lift gate is included for shipping in the lower 48 U.S.A. (some exceptions may apply). Please inquire with our sales staff if you have specific shipping needs such as international, freight terminal and/or business deliveries or if you need a smaller truck size. Click here to see Obadiah's Shipping Terms.
Be sure to check out our newly improved Cookstove Community website cookstoves.net; the best place online to connect with other cookstove users over stoves, self-sufficient living, alternative energy, and more! Take a look at our selection of videos, articles, and photos, and be sure to visit the forums to connect with like-minded folks from all over.
If you are planning to cook with a cookstove, you will need to understand some basic fire safety. Remember, extinguishing a grease or oil fire with water is not a good idea.
S90 Wood Cookstove
S90 Wood Cookstove (with Arched Base)
S90 Wood Cookstove and CP165 Gas Range
Rizzoli S90 Stainless Steel Wood Cook Stove - Product Overview
Rizzoli S90 Contemporary Stainless Steel Wood Cookstove - Technical Overview
Rizzoli S90 Wood Cook Stove - First Burn
Rizzoli S90 vs. Firebelly Razen Stainless Steel Contemporary Cook Stove Comparison
Rizzoli S90 vs. L90 Wood Cook Stove Comparison
How to Clean Your Stainless Steel Cook Top - Wood Cook Stove Cleaning
Rizzoli Wood Cook Stove - Pellet Box - Combo Wood/Pellet Cookstove
Rizzoli S90 Italian Wood Cook Stove - Stove Top Cooking with Pellet Box - Wood Fired Trout Fish
Rizzoli S90 Wood Cook Stove - Temperature Readings
Rizzoli S90 Wood Cook Range - Baking with Pellet Box - Brownies on Biomass Cook Stove
Pellet Cook Stove - Rizzoli Italian Cook Range
How to Remove a Wood Stove From Pallet - Rizzoli Cookstove Pallet Removal