Thursday, September 21, 2023
Rizzoli 75 Series Gas-Electric-Wood Combi Cookstove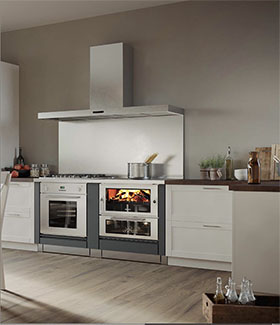 Are you looking for multi-fuel cooking / baking / heating source for your home? Rizzoli has the perfect multi-fuel cominbation cook stove to suit any style decor. They offer a varitey of customizble options, including zero clearance panels for tight space installation.
Rizzoli is the only UL listed multi-fuel wood cooking suite available in North America. Imported from Italy, with the finest quality and attention to detail.
Note: This is the Electric or Electric / Gas Combo range only. Matching Wood Burning Cook Stove sold separately. Complete matching Kitchen Suites with range hoods, microwaves, and cabinets are also available.
Description
Specifications
Photos (6)
Pricing
Videos (1)
Add Review
The Rizzoli 75 is a combination electric / gas range that is compatable with the Rizzoli Wood Burning Cook Stoves. This 29.5" Total Cabinet Width Range can be added to the following Rizzoli Wood Cook Stove models: S90, ST90, ML80 Series, and ML60 Series, ML80 Series Cook Stoves. (It is not recommended to use the combi model with the L90 series or ML Rustik as the pattern on the front doors will NOT match) The Rizzoli Wood Cookstoves offer a pellet burning box, giving you the ability to burn wood / pellets / gas / electric all in one cominbation range! This model is available with electric baking oven only, you must choose electric or gas cook top, you cannot have both.
Standard Features - Rizzoli S75 multi-fuel cook stove comes standard with the following:
Cooktop Choice of Gas or Electric
Electric Baking Oven
24"W Cook Top & Baking Oven
Stainless Steel Doors
UL listing for North America
30" Total Cabinet Width
4 Burners
Riser with Ventilation Holes
No Ventilation Required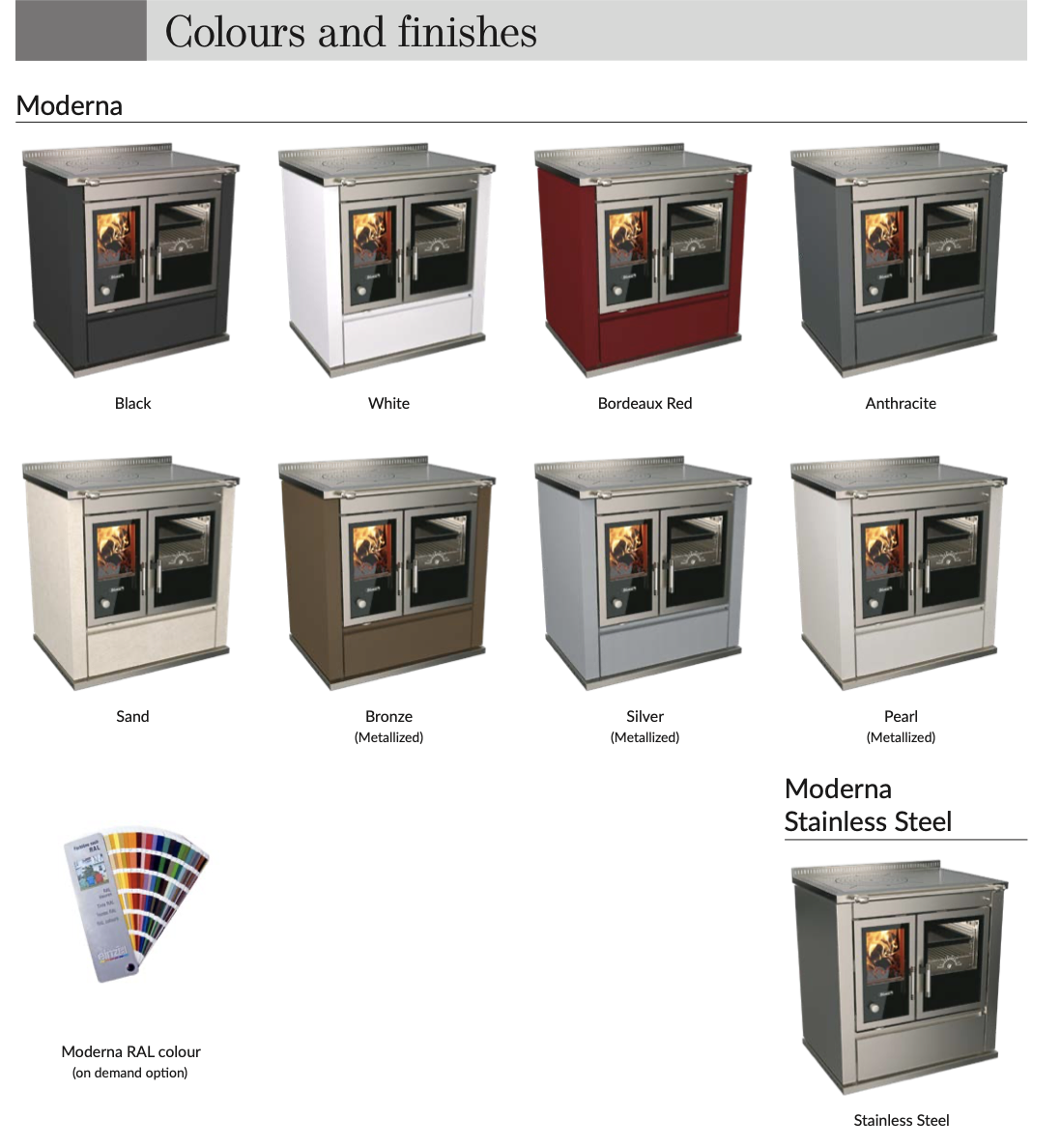 Standard Electric Baking Oven Features - S100 24" Multi-Function Easy Clean Baking Oven F1SM24S2 by Fulgor Milano, with stainless steel Front. Italian built quality you can trust. The baking oven is available in electric only, no gas available on oven.
Cool Touch Door
Interior Lighting
Multi-Level Cooking
True Convection
Convection Bake, Broil, and Roast
Lower Convection Bae
Standard Bake and Broil
Knob and Electronic Controls
Black Porcelain Enamel Inteior
Halogen Interor Light
2.6 cu. ft. Oven Size
2 Chrome Racks
Enameled Broiler Pan
Stainless Steel Finish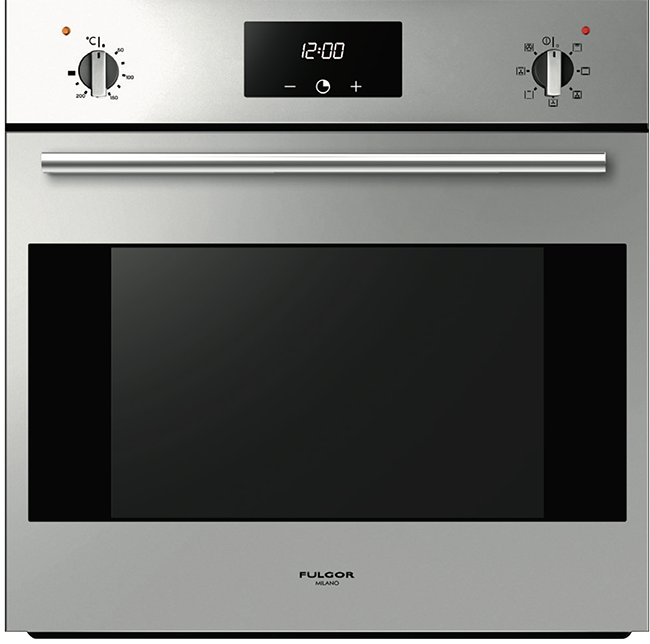 Standard Electric Cook Top Features- The S300 24" Wide Radiant Cook Top with Knobs F3RK24S2 by Fulgor Milano, which is a UL listed black ceramic glass 4-burner cooktop. Built in Italy, especially for your Rizzoli Combination Stove. - No induction Cook top available on the 24" cook top, Only available on the 30" & 36" cooktop.
Double Radiant
Power on Indcation
Hot surface Indcation
Easy to Clean Ceramic Glass - Black Finish
Frame Creactive
Residual Heat Sensor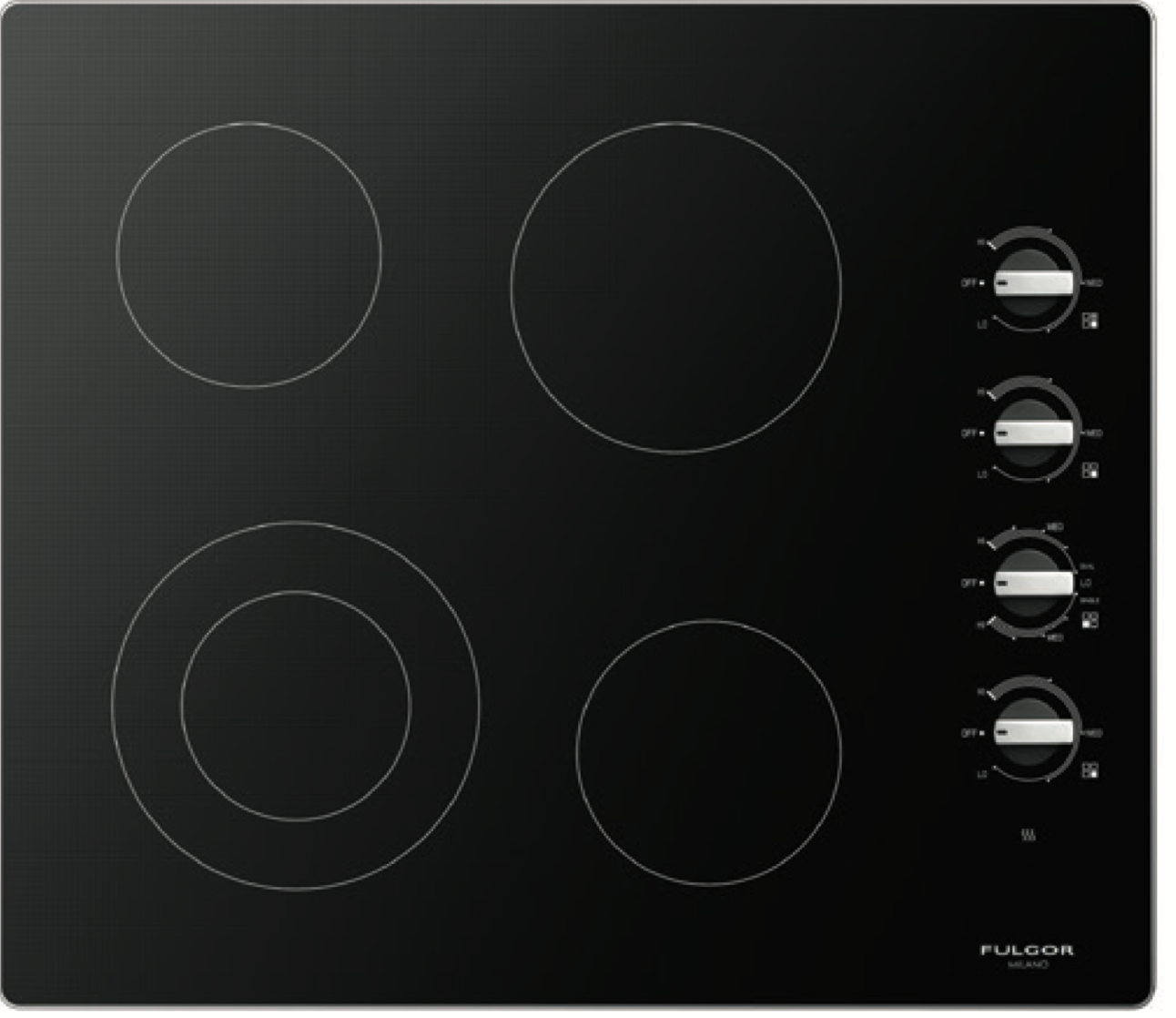 Standard Gas Cook Top Feautures - The S400 24" Gas Cook Top F4GK24S1 by Fulgor Milano. UL listed gas cook range: Italian quality built to last. All grates are separate, making it easy to handle and remove for cleaning.
Stainess Steel
Continnuous Grate Surface
Dual Burner
Heavy Duty Cast Iron Grates
4 Gas Burners with 1 Dual Flame burner
Elctric Re-ignition system
Flame-out Sensing
Upcharge Options for Gas Cooktop: Wok Ring FMWOK, Simmer Plate FMSIM, Small Pot Reduction FMSPRR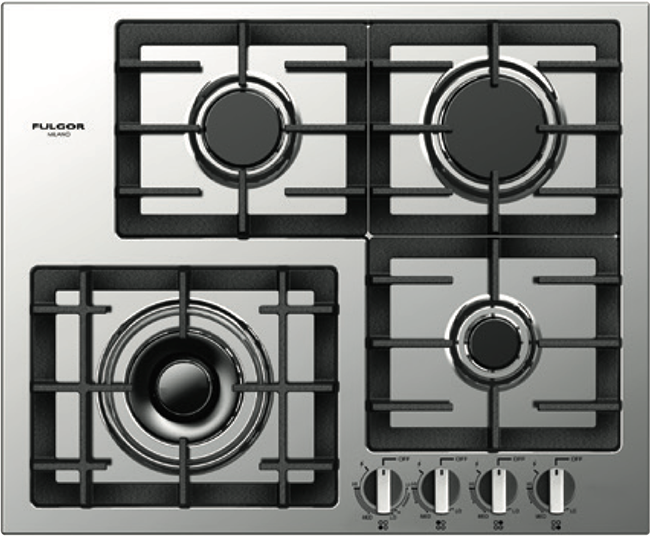 Resources:
75 Combi Stove Specifications
Cabinet Dimensions Electric / Gas Portion ONLY
29.53"W x 33.46"H x 23.6"D
Gas Cook Top Dimensions
24-1/2"W x 20-1/16"D x 2-15/16"H
Electric Cook Top Dimensions
24-5/16"W x 21-3/16"D x 3-1-1/8"H
Electric Oven Dimensions Actual
23-3/8"W x 21-7/8"D x 23-3/8"H
Electric Oven Dimensions Framing
22-1/16"W x 22-1/16"D x 22-1/16"H
Weight
Approx. 350lbs Single Unit
Total Dimensions when Pairing with Wood Range
ML60 Combi with ML75 Cabinet Dimensions
29.53"W x 33.46"H x 23.6"D
ML80 Combi with ML75 Cabinet Dimensions
29.53"W x 33.46"H x 23.6"D
S90 / ST90 Combi with S75 Cabinet Dimensions
29.53"W x 33.46"H x 23.6"D
24" Electric Cook Top Dimensions

24" Gas Cook Top Dimensions

Rizzoli ML80 Wood Cookstove w/ ML105 Electric / Gas Cook Range in Anthracite with Stainless Doors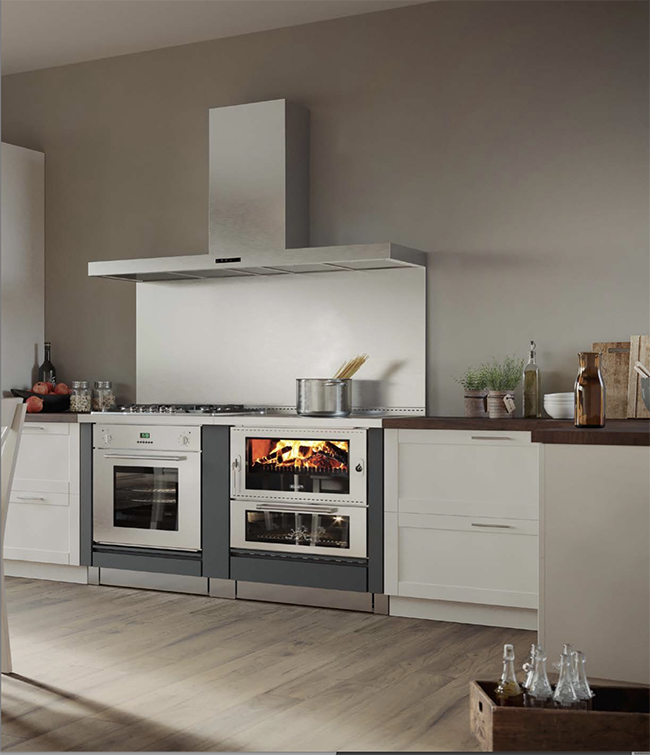 Rizzoli ML60 Wood Cookstove w/ ML105 Electric Cook Range in White with Stainless Doors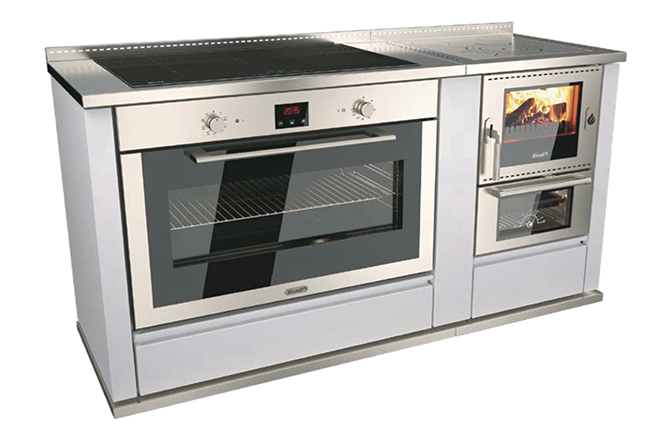 Rizzoli S90 Wood Cookstove w/ S90 Electric Cook Range in Pearl with Stainless Doors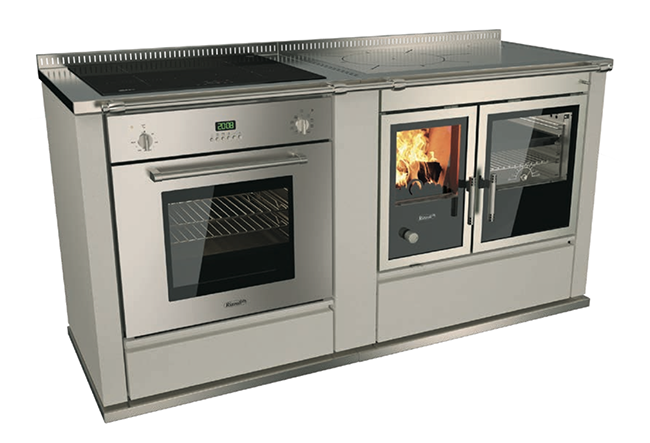 Rizzoli S90 Wood Cookstove w/ S95 Gas / Electric Cook Range in Red Dekor Black Doors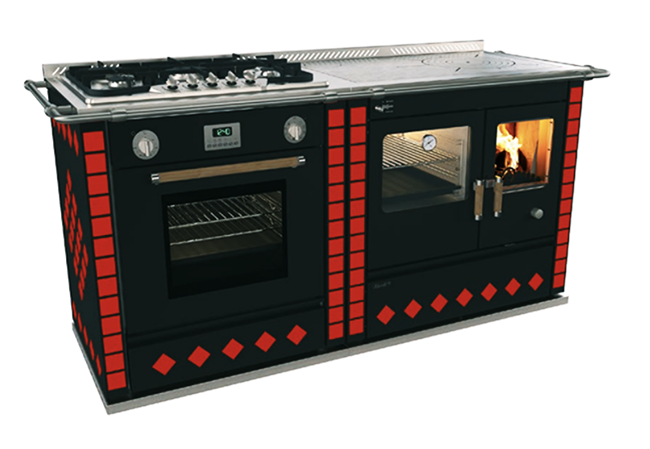 Rizzoli ML75 30" Cabinet Width, 24" Cooktop/Oven Width Black with Stainless Steel Doors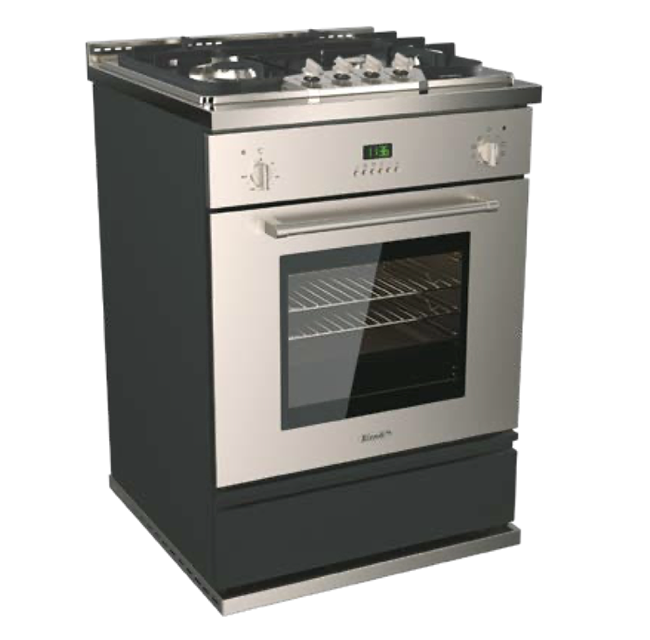 Rizzoli 105 41.5" Cabinet Width, 36" Cooktop - 30" Oven Width Black with Stainless Steel Doors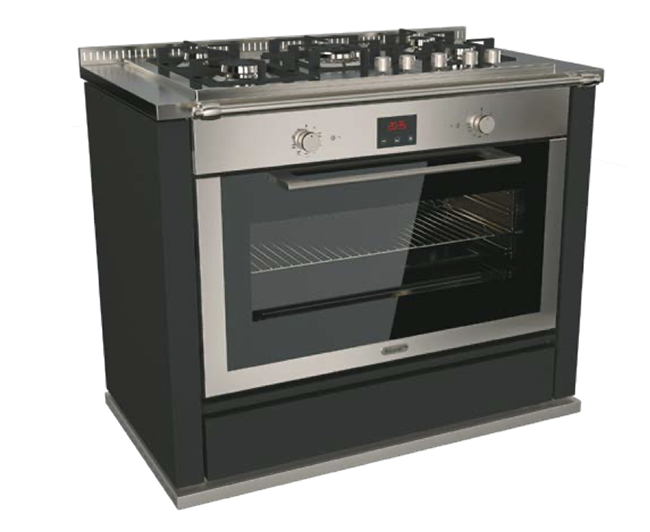 Note: Special orders to receive by Sept/Oct Order must be placed by 05/02/2022
Additional Charge Options - The Rizzoli S75 combination cook stove can be ordered with custom options including:
Stainless, Dekor, Epoka, & RAL Upcharge
Epoka RAL Color Available
Railings (Front or 3 Piece Wrap Around)
Side Flue Exit
Back Riser Removal
Zero Clearance Panels (to put directly against cabinets for complete built-in installation) - (For Wood Stove portion only)
Single Cook Top (to make wood & combi stove single cook top avoiding any gaps for drips or spills)
Connector Gap (To seal the gap on the front of the stove when adding single cooktop)
Back Panel for Stove to match Side Panel Color (helpful for island installations, where the back of the appliance is visible)
Matching Range Hood
Rizzoli Kitchen Suits are customizable and made to order. These are not stocked items. Lead times can vary from 7-20 weeks from date of order. Please call with your desired options for exact lead time. Custom order items require a 50% non-refundable deposit to build the product and ship to America, final balance due prior to shipment.
Rizzoli Wood Cook Stoves qualify for 75% HHV Biomass Tax Credit - 26% credit for 2021 credit includes installation cost and venting requirements - Federal EPA Tax Credit decreases but extends thru 2023.
All Prices Include: Residential, curbside delivery via freight truck with a lift gate is included for shipping in the lower 48 U.S.A. (some exceptions may apply). Please inquire with our sales staff if you have specific shipping needs such as international, freight terminal and/or business deliveries or if you need a smaller truck size. Click here to see Obadiah's Shipping Terms.
How to Remove a Wood Stove From Pallet - Rizzoli Cookstove Pallet Removal