Saturday, June 3, 2023
PSG Mini Caddy EPA Wood Furnace - Discontinued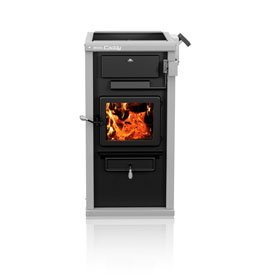 This product has been discontinued and is no longer available. This page is for informational purposes only.
PSG Distribution is synonymous with flexibility. Designed to provide wood central heating with the added option of an electric element or oil unit, these units will automatically come on if the furnace runs low on wood.
Description
Specifications
Photos (5)
Pricing
Add Review
Perfect for smaller homes or cottages, PSG's newly redesigned Mini-Caddy combines clean-burning combustion technology with leading edge electronics to provide you with a state of the art furnace, delivering outstanding efficiency and operational convenience. This compact furnace offers both the charm and the advantages of a conventional wood stove and includes newly enhanced electronics and feature designs for greater ease of use.
By integrating a PC board and RTD probe, blower speed and plenum temperatures are now automatically managed, both boosting your comfort and optimizing efficiency, for fuel savings of up to 30 percent! The intuitive touchscreen LCD display makes input and output controls both quick and simple. The redesigned Mini-Caddy is not only simple to use but installing it couldn't be easier thanks to the optional rectangular return air plenum, available on top or either side. The blower assembly also comes with a prewired main power board for plug and play convenience.

This fantastic looking heating appliance is one you can proudly display, and like all Caddy wood-burning appliances, it's available in both wood only and wood/electric combo version for a duel heat source to put your mind at ease.
Features
Heavy duty cast iron frame
Ash pan
20" Log Length
Glass door
Four fan speeds
Lined w/ Refractory bricks for better heat distribution
Stainless-steel secondary-air system to improve gas combustion
Adjustable threaded legs
EPA approved wood furnace
Limited lifetime warranty
Options
Blower Assembly

Required for Wood Unit

11.25 kW Electrical Element

Required for Wood/Electric Unit

.....Top Return Plenum Kit

..........Air Diffuser
Old Style Model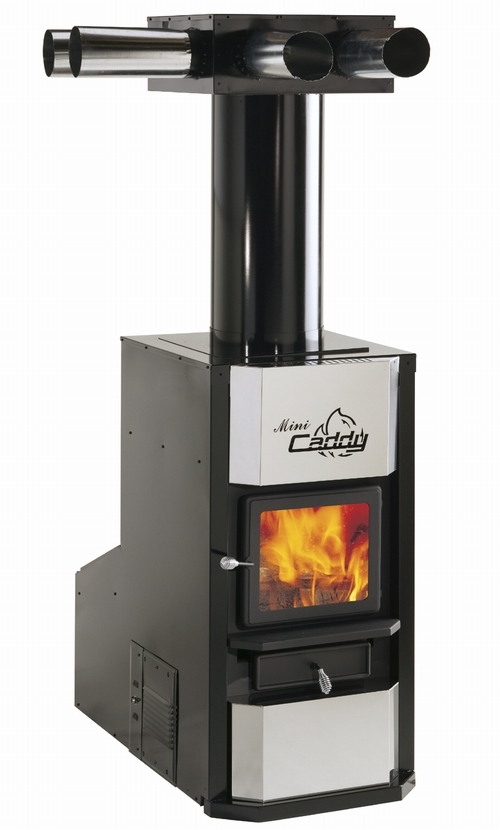 Resources:
Appliance Performance
Fuel Type
Wood or Wood-Electric Combination
Firebox Volume
2.3 cu. ft.
Max Burn Time
15 hrs.
Heating Area
500 - 1,500 sq. ft
Overall Heat Output Rate
11,319 BTU/hr - 37,053BTU/hr (3.3 kW - 10.8 kW)
Max input capacity
198,000 BTU
Average Overall Efficiency
75.70% HHV 81.10% LHV
Delivered Heat Output Rate
10,849 BTU/hr - 36,429 BTU/hr (3.2 kW - 10.7 kW)
Average Delivered Efficiency
70.60% HHV 77.20% LHV
Optimum Efficiency
85.10%
General Specifications
Average Electrical Power Consumption
760 Wh
Chimney Diameter
6"
Flue Outlet Diameter
6"
Baffle Type
C-Cast
Weight
470 lbs (213 kg)
Blower 1/4 HP 4 Speed Direct Drive
1,400 CFM
Filter Dimensions
15"W x 20"D x 1"H
Air Return Plenum - Dimensions (Depth or Height)
16 7/8"
Air Return Plenum - Dimensions (Width)
20 1/4"
Hot Air Plenum - Dimensions (Depth or Height)
20"
Hot Air Plenum - Dimensions (Width)
20"
Overall Dimensions (W x D x H)
46 1/2" x 29 7/8" x 31 1/8"
Firebox Dimensions
14 1/8" x 13 3/4" x 19 3/8"
Door Opening Dimensions (H x W)
9 7/8" x 13 3/4"
Glass Surface Dimensions (W x H)
12 1/2" x 10 1/8"
Door Type
Single, Glass w/ Cast-Iron Frame
Glass Type
Ceramic Glass
Steel Thickness (Body & Top)
3/16" & 1/4"
Electric Element - Location
Left or Right
Electric Element - Recommended (Max Output)
11.25 kW
Minimum Clearances
Front
48"
Back
24" recommended for servicing
Sides
24" recommended for servicing
Ducts
3" for 1st 6' and 1" thereafter
Recommended Clearance
24" (blower maintenance)
Type of Chimney
2100 deg Faren (1150 deg Cel)
Warranty
Limited Lifetime
USA & Canada Emission Standard
EPA / CSA B415.1-10
USA Safety Standard
UL 1995, UL 391
Canadian Safety Standard
CSA B366.1, CSA C22.2 no 236
Dimensions for PSG Mini Caddy EPA Wood Furnace (PF01302)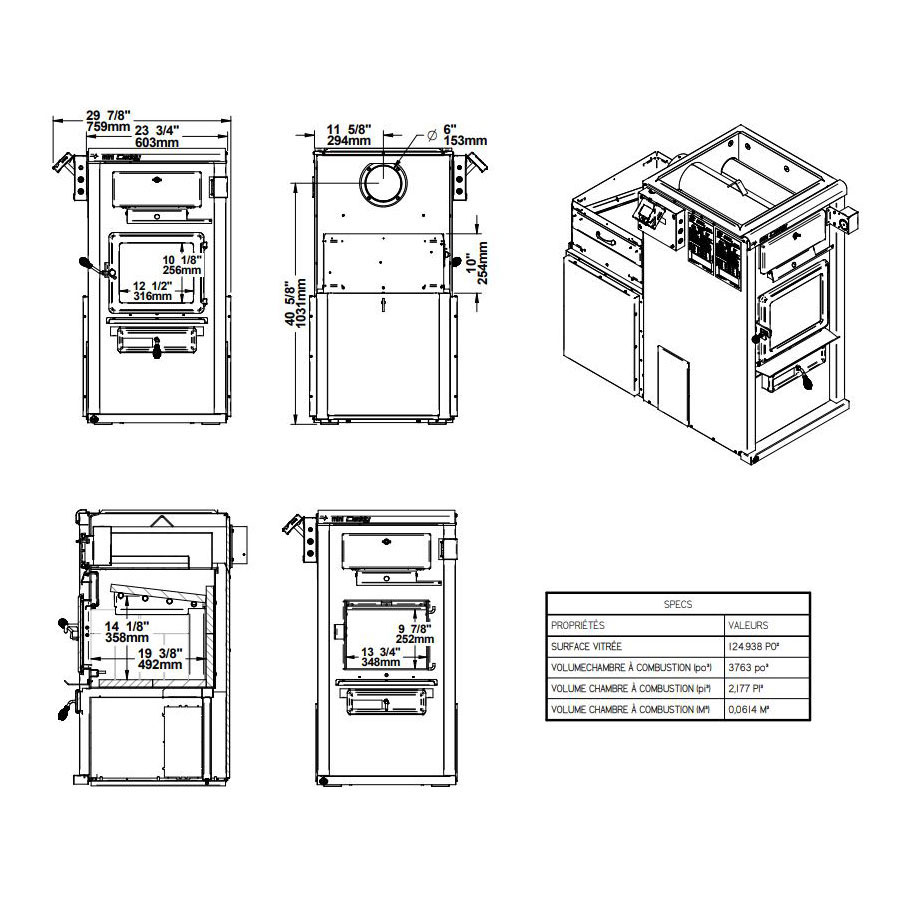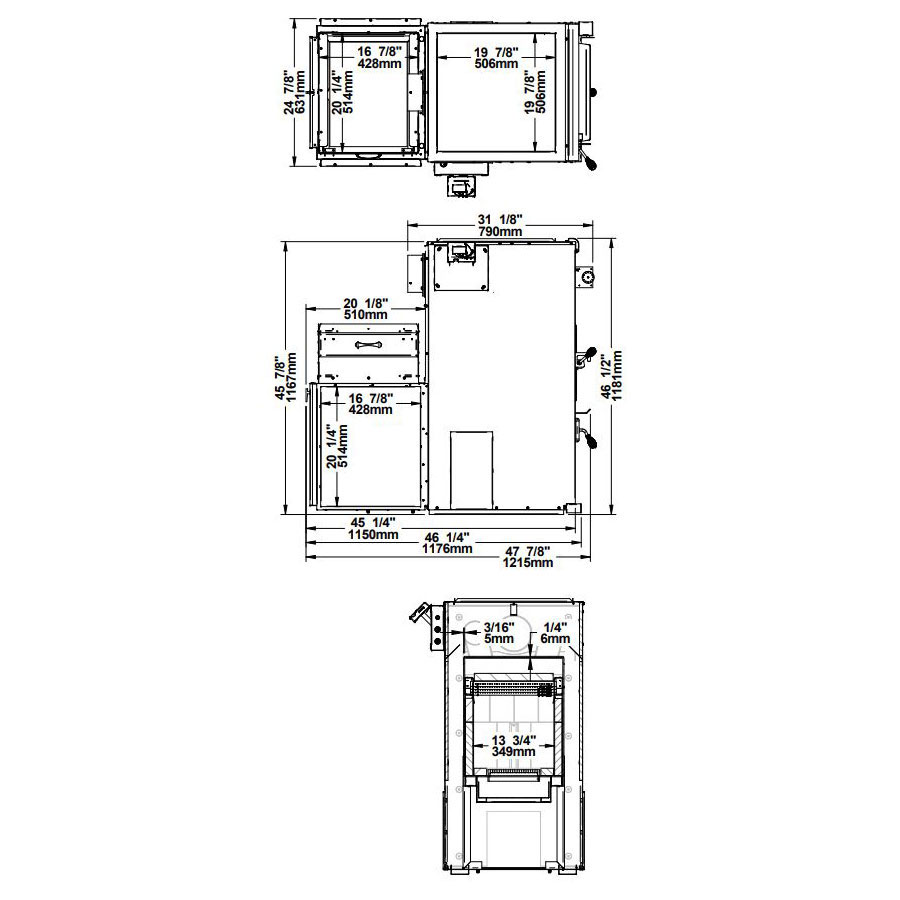 PSG Mini Caddy EPA Wood Furnace - Front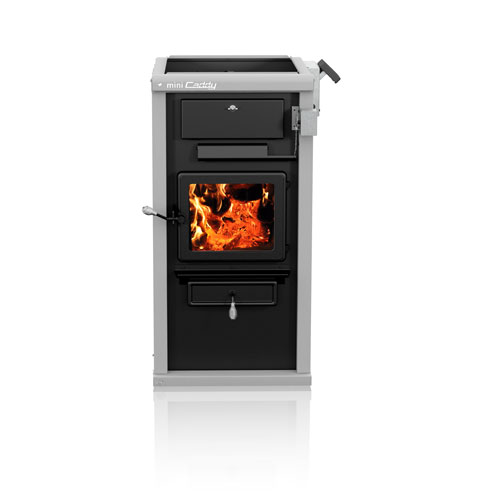 PSG Mini Caddy EPA Wood Furnace - Facing Right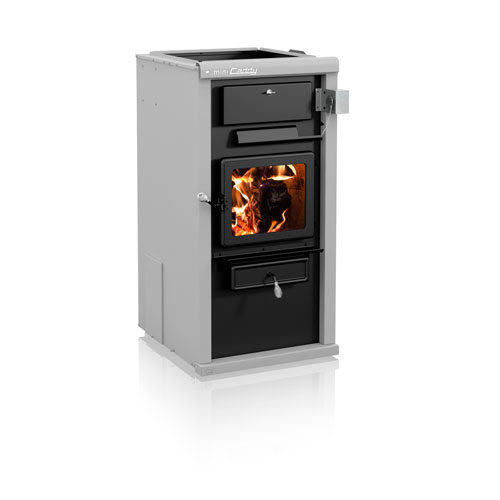 PSG Mini Caddy EPA Wood Furnace - Facing Left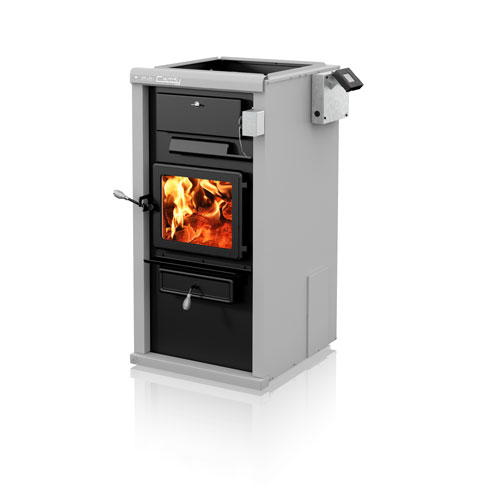 PSG Mini Caddy EPA Wood Furnace - Back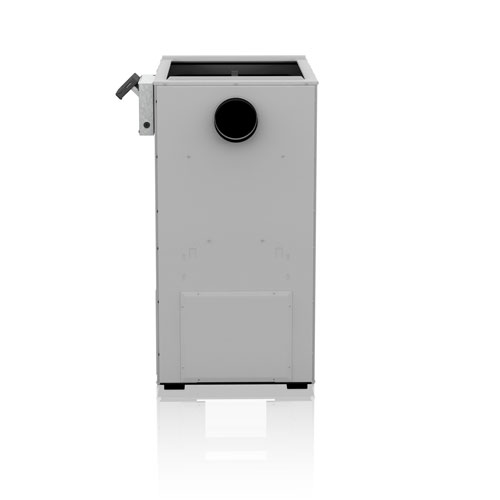 PSG Mini Caddy EPA Wood Furnace - Top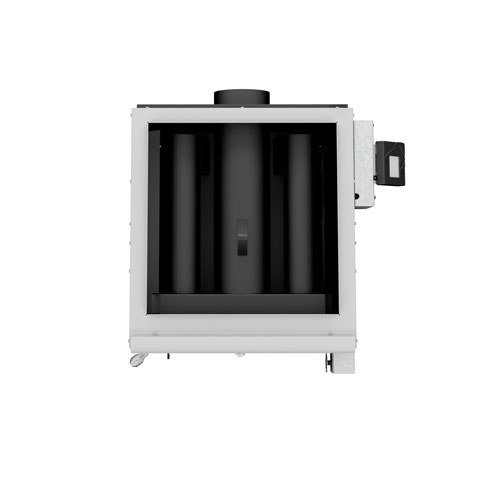 Please call or email for information regarding PSG products. Please specify the model you are interested and your zip code.