Wednesday, February 20, 2019
PSG Mini Caddy EPA Wood Furnace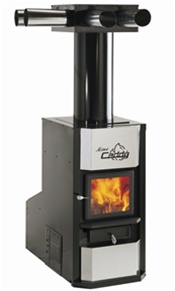 PSG Distribution is synonymous with flexibility. Designed to provide wood central heating with the added option of an electric element or oil unit, these units will automatically come on if the furnace runs low on wood.
Description
Specifications
Photos (0)
Pricing
Add Review
Features
Heavy duty cast iron frame
Ash pan
Glass door
Four fan speeds
EPA approved wood furnace
Options
PSG distribution box that includes round hot air plenum kit with 5" round outlets, including: hot air plenum, 12" round pipe (18" to 35" adjustable in height), plenum adapter, cold air return adapter with 5" round outlets
Optional electric element of 11 kW

Resources:
Specifications
Mini Caddy
Weight
405 lbs (184kg)
Dimensions
45 5/8"H x 30"W x 39 3/4"D
Max BTU Input/Output
75,000/63,750
Average BTU Output
41,440
Maximum EPA Tested BTU Output
25,500
Blower
1/4 HP Direct Drive 4 speeds
Exterior Dimensions
23 1/4"W x 39 3/4"D x 45 5/8"H
Flue Diameter
6"
Recommended exhaust pipe diameter
6"
Recommended chimney diameter
6"
Firebox Dimensions
14"W x 13/8"D x 12"H
Maximum Log length
18"
Door opening dimensions
13.5"W x 9 5/8"H
Type of door
Glass with cast iron frame
Hot air plenum dimensions
12" x 12"
Cold air plenum dimensions
22 3/8"W x 13 5/8"D
Ash drawer dimensions
11 1/2"W x 12"D x 2 5/8"H
Number of filters
1
Filter Dimensions
15"W x 20"D x 1"H
Minimum Clearances
Front
48"
Back
24" recommended for servicing
Sides
24" recommended for servicing
Ducts
3" for 1st 6' and 1" thereafter
Recommended Clearance
24" (blower maintenance)
Type of Chimney
2100 deg Faren (1150 deg Cel)
Warranty
Limited Lifetime
Emissions Rate
6.56 grams/hr
Test Standard
Safety-Can CSA B3366.1-M91, CSA B212-93 UL391 3e, ED. rev. 1999 Emissions-EPA
Please call or email for information regarding PSG products. Please specify the model you are interested and your zip code.