Wednesday, February 20, 2019
PSG Caddy EPA Wood Furnace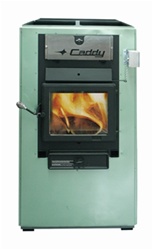 Specifically designed to meet the highest combustion standards in North America today, set by the EPA, the Caddy is the cleanest and most efficient furnace ever produced by PSG. Achieving savings in wood heating up to 30% and particulate emission reduction reaching 90%, take one look at the fire through the glass door of the Caddy and you'll see the difference.
Description
Specifications
Photos (0)
Pricing
Add Review
Features
140,000 BTU's
Furnace exterior dimensions : 26"W x 47"D x 48"H
Firebox dimensions : 17"W x 22.5"D x 16"H
Glass door with cast iron frame
Ash drawer
EPA approved wood furnace

Resources:
Specifications
Caddy
Fuel Type
Wood or Wood-Electric Combination
Max input capacity
140,000 (42 kW)
Blower 1/3 HP 4 speed Direct drive
1,300 cfm
Loading capacity
up to 70 lbs
Efficiency
71%
Color
Green
Exterior Dimensions
26"W x 47"D x 48"H
Recommended exhaust pipe diameter
7"
Type of chimney
2100 deg Faren. (1150 deg Cel)
Recommended chimney diameter
7"
Firebox Dimensions
17"W x 22.5"D x 16"H
Maximum Log length
21.5"
Door opening dimensions
13.75"W x 10"H
Type of door
Glass with cast iron frame
Hot air plenum dimensions
24.5"W x 28.25"D
Cold air plenum dimensions
24.5"W x 15.75"D
Ash drawer dimensions
12"W x 16"D x 3"H
Number of filters
2
Filter Dimensions
12"W x 24"D x 1"H
Minimum Clearances
Front
48"
Back
24" recommended for servicing
Sides
24" recommended for servicing
Ducts
6" for 1st 6' and 1" thereafter
Recommended Clearance
24" (blower maintenance)
Weight
560 lbs (254 kg)
Warranty
Limited Lifetime
Emissions Rate
6.56 grams/hr
Test Standard
Safety-Can CSA B3366.1-M91, CSA B212-93 UL391 3e, ED. rev. 1999 Emissions-EPA
Please call or email for information regarding PSG products. Please specify the model you are interested and your zip code.