Wednesday, September 27, 2023
PSG Caddy Alterna II - Discontinued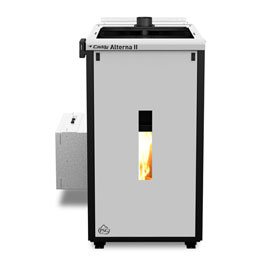 This product has been discontinued and is no longer available. This page is for informational purposes only.
The Caddy Alterna II from PSG is a 120,000 BTU warm air pellet furnace. With a 240 pound hopper capacity and efficiency topping the 81% mark, it is the perfect heating device for the coldest North American winters.
Description
Specifications
Photos (3)
Pricing
Add Review
You spoke, they listened, introducing the newly redesigned Caddy Alterna II Pellet Furnace! Answering the call of homeowners looking for the comfort of a wood-heating system without the inconvenience, and tested to the highest standards set by the EPA and CSA B415.1-10. The Caddy Alterna II is available in both pellet unit or a pellet/electric combination unit to fulfill everyone's needs, pleasing even the most discerning folk looking for an Eco-friendly, efficient heating solution.

Thanks to it's 240 lbs hopper capacity, the Caddy Alterna II provides great heating autonomy, and by adding the optional electrical system, it can continue to operate once the pellets have run out. To top that tidbit off, PSG has made certain components maintenance free meaning no need to adjust, calibrate, or oil, and a self-diagnostics electronic interface prevents unnecessary service calls. And of course you can't forget the the self-cleaning bottom feeder that keeps the burn pot free of deposits.

Let the Caddy Alterna II show you what the definition of unmatched reliability means, with every component carefully selected and sourced from reputable vendors. With an all stainless steel combustion chamber and burn pot, the heart of your Caddy Alterna II is guaranteed to last. Never be dependent on a single source of energy to bring comfort and safety to your family again.
Features
The Alterna can use : standard wood pellets, sawdust / hay mix pellets, 100% bark pellets, or switch grass pellets
Input capacity: 101,000 BTU (29.6 kW)
Loading capacity: up to 240 lbs
Efficiency : 82.4%
Exhaust pipe diameter: 4"
Furnace exterior dimensions: 49 1/2" X 29 3/8" X 57 5/8"
Hot air plenum dimensions: 22"W x 22"D
Air return plenum – dimensions (Depth or Height X Width) 16" X 21 1/4"
G-10 blower with 1/2 hp motor - theoretical 1650 CFM
Qualifies for the USA tax credit (USA only)
Options
Air Diffuser

Auxiliary Discharge System

Electric Element

Fresh Air Intake Kit

Hot Water Loop Kit

Insulated Flex Pipe for Fresh Air Intake Kit

Leg Assembly for Discharge Tank

Orifice for Evaporator Coil

Stand Alone Auxiliary Discharge Tank

Storage Tank Extension

Storages Tank w/ Pneumatic

Self Feeding Pellet System

TX Valve for Evaporator Coil

Uncased Air Conditioning Coil
Old Style Model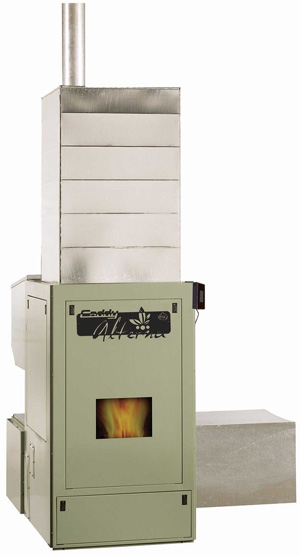 ....................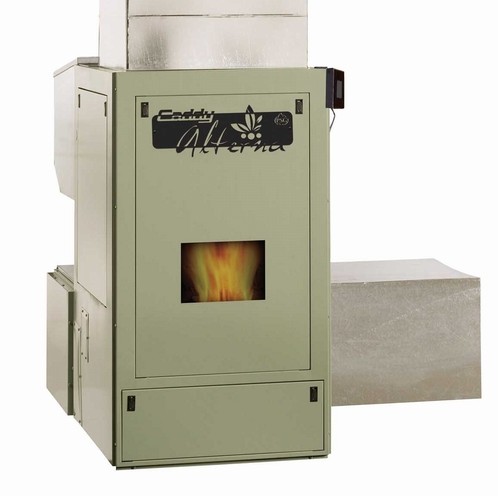 Resources:
Appliance Performance
Type of Fuel
Pellet
Firebox Volume
3.6 cu. ft.
Max Burn Time
200 hrs.
Hating Area
1,000 - 2,500 sq ft
Overall Heat Output Rate
25,216 BTU/h - 72,447 BTU/h (7.4 kW - 21.2 kW)
Max Heat Input Rate
101,000 BTU/hr (29.6 kW)
Average Overall Efficiency
67.9% (HHV) 73.2% (LHV)
Delivered Heat Output Rate
22,537 BTU/h - 64,737 BTU/h (6.6 kW - 19 kW)
Average Delivered Efficiency
60.5% (HHV) 65% (LHV)
Optimum Efficiency
82.4%
Burn Rate
1.2 lb/hr - 11.8 lb/hr
Average Electrical Power Consumption
860 Wh
General Features
Chimney Diameter
4"
Flue Outlet Diameter
4"
Baffle Type
Stainless Steel
Weight
573 lbs (260 kg)
Blower 1/2 HP 4 speed Direct drive
1,650 CFM
Filters - Dimensions (W x H x D)
16" X 20" X 1"
Air Return Plenum - Dimensions (Depth or Height)
16"
Air Return Plenum - Dimensions (Width)
21 1/4"
Hot Air Plenum - Dimensions (Depth or Height)
22"
Hot Air Plenum - Dimensions (Width)
22"
Overall Dimensions (W x D x H)
49 1/2" X 29 3/8" X 57 5/8"
Door Opening Dimensions (H x W)
10" x 13 3/4"
Glass Surface Dimensions (W x H)
3" x 16"
Door Type
Single, Glass w/ Cast-Iron Frame
Glass Type
Ceramic Glass
Center line of Flue outlet to the Side
13 1/2"
Center line of Flue outlet to the Floor
26 3/4"
Electric Element - Location
Left or Right
Electric Element - Recommended (Max Output)
15 kW
Electric Element - Other Optional(Max Output)
20 kW
Water Loop Kit - Connecton Location
Left or Right
Water Loop Kit - Connecting Pipe Diameter
3/4"
Water Loop Kit - Back-up Tank Volume
60 Gal (227L)
USA & Canadian Standard Emissions
EPA / CSA B415.1-10
USA Safety Standards
UL 391, UL 1995
Canadian Safety Standards
CSA B366.1, CSA C22.2 no. 236
Warranty
Limited Lifetime
Clearance to Combustibles
Front Clearance
48"
Back Wall Clearance
24"
Side Wall Clearance
4"
Opposite Side Wall Clearance
24"
Recommended clearance for Maintenance on option side
24"
Ducts Clearance
<5'=2" ; >5'=0"
Diagram for PSG Caddy Alterna II (PF09010)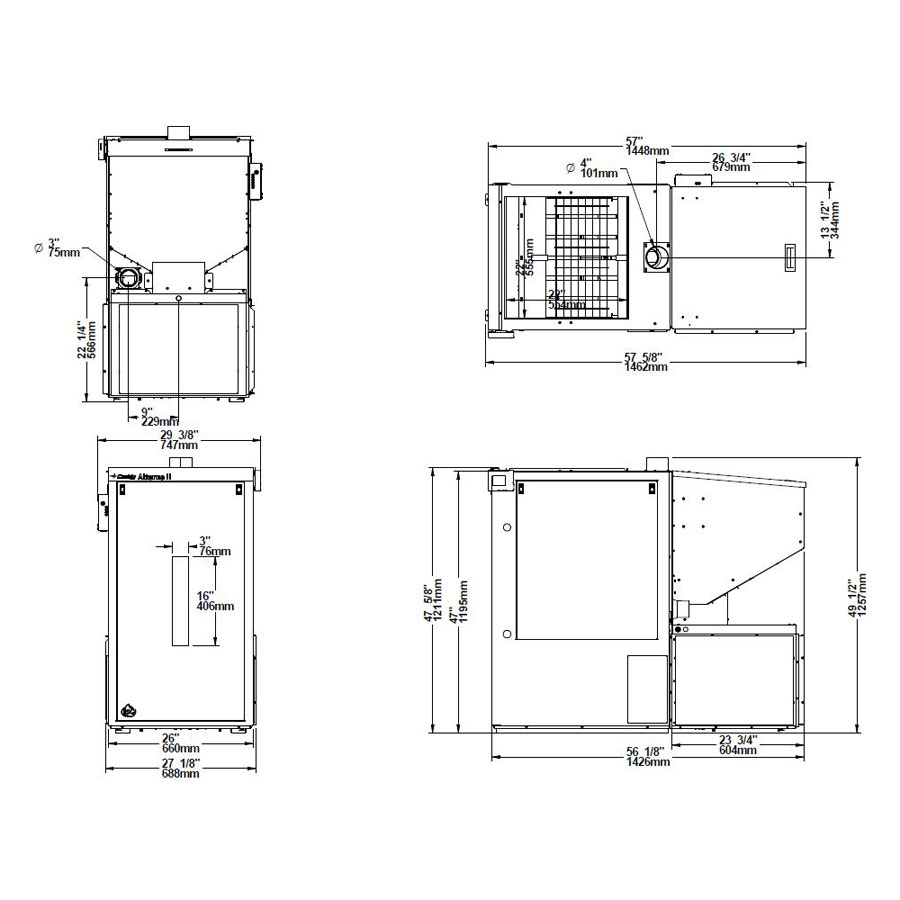 PSG Caddy Alterna II Pellet Furnace - Front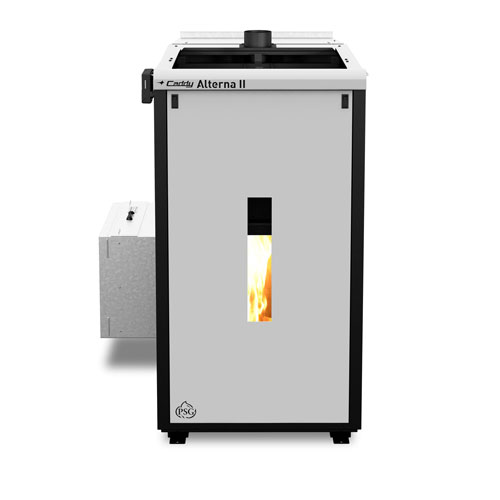 PSG Caddy Alterna II Pellet Furnace - Facing Right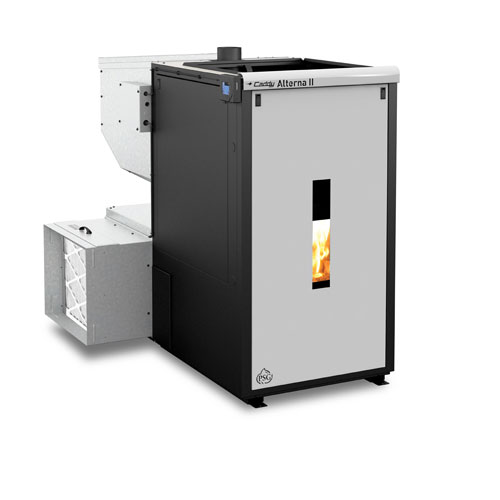 PSG Caddy Alterna II Pellet Furnace - Facing Left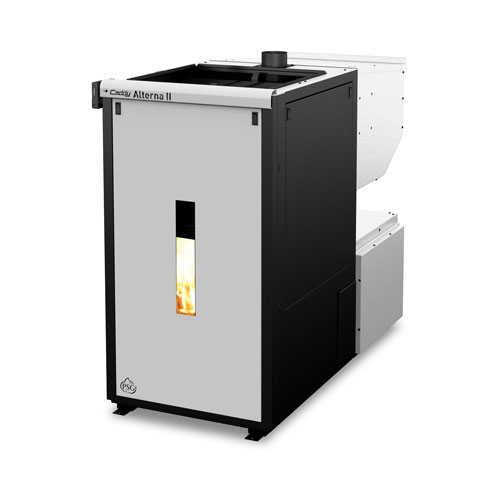 Please call or email us for information regarding PSG products. Specify the model you are interested in and your zip code.