Saturday, January 18, 2020
ProFab Pelco PC 2520 Pellet Boiler - Discontinued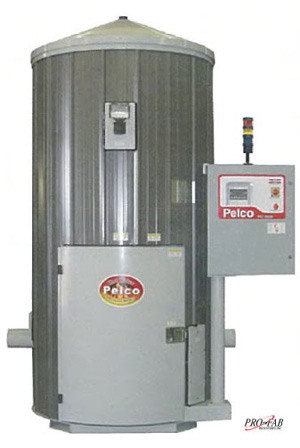 This unit has been discontinued and is no longer available for sale.
Built to produce low emissions, the Pelco, by ProFab, is a hot water boiler designed and manufactured to the highest professional standards. The Pelco projects top quality workmanship and can be used in a wide variety of locations from your greenhouse to your barn, office, school, and more. Featuring an automatic fuel feed, ash removal, and flue cleaning, its hard to beat such an efficient, low maintenence machine.
Description
Specifications
Photos (2)
Pricing
Extended Info
Add Review
Pelco Biomass Boilers connect directly into the existing heating system in your barn, greenhouse, office, factory, home, shop, or other building via a heat exchanger, ideally through a flat plate heat exchanger installed near the Pelco unit. The Pelco is designed with a central firebox surrounded by a large capacity water reserve. The firebox and flue design provide maximum surface area for the most efficient heat transfer. After the water is heated, it is channeled to your building's heating system through underground insulated pipes.
Features
High efficiency
Low emissions
Automatic fuel feed, ash removal, flue cleaning
Various alternative fuel options
Easy-touch online electronic control interface
Multiple applications
Fast payback
Click here for Single Line PEX Pipe

Resources:
| | |
| --- | --- |
| Specifications | Pelco PC 2520 |
| Height | 11' |
| Width | 73 1/4" |
| Water Capacity | 350 US Gal. |
| Shipping Weight | 6,250 lb |
| Burner Size | 36 1/2" |
| Maximum Input BTU* | 2,500,000 BTU |
| Computerized Controls | Included |
| Electrical Requirements | 220 V / 20 Amp |
| Outlet Fitting Sizes | 2 1/2" |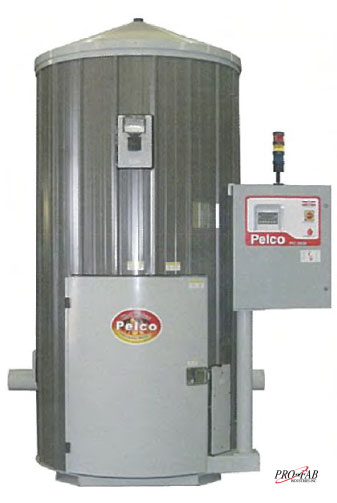 Specifications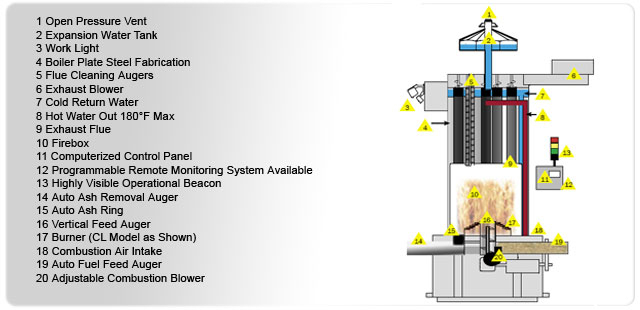 Please call or email for information regarding Pelco boilers. Please specify the model you are interested in and your zip code. You may also leave your contact information and one of our boiler specialists will contact you at a time that is convenient for you.
Be sure to check out our newly improved Cookstove Community website cookstoves.net; the best place online to connect with other cookstove users over stoves, self-sufficient living, alternative energy, and more! Take a look at our selection of videos, articles, and photos, and be sure to visit the forums to connect with like-minded folks from all over.
If you are planning to cook with a cookstove, you will need to understand some basic fire safety. Remember, extinguishing a grease or oil fire with water is not a good idea.
For help choosing and installing a wood boiler, see the links and posts below.