Sunday, December 3, 2023
Empyre Pro Series 400 Boiler/Furnace - Discontinued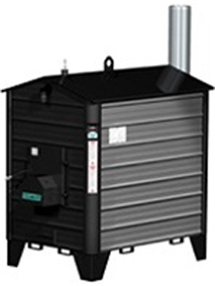 This product has been discontinued, and all inventory has been sold. This is an informational page for those who have already purchased the unit.
*Please Call or Email for latest Sales Discounts!!!
The high efficiency Empyre Pro Series is leading the way in new high efficiency clean burning technology. For you, this efficiency means savings all around.
Description
Specifications
Photos (0)
Pricing
Videos (1)
Add Review
Heat from the Pro Series dual burn chamber is transferred to the furnace's built-in water reservoir through a series of flues. This heated water is then channeled to your home's heating system through underground insulated pipes. The Pro Series' full length back door makes plumbing simple. In a house, the heated water connects directly to the radiant or forced air heating system through a heat exchanger. Similarly the Pro Series heats all domestic hot water through a sidearm heat exchanger installed on the outdoor furnace's hot water tank.
Click here for Single Line PEX Pipe

Resources:
| | |
| --- | --- |
| Specifications | Empyre Pro Series 400 |
| Heat Output (Peak) | 330,000 BTU/Hr |
| Heat Output ( 8 Hr Burn) | 230,000 BTU/Hr |
| Heat Output ( 12 Hr Burn) | 150,000 BTU/Hr |
| Heating Area* | 6,000 - 8,000 sq. ft |
| Log Length | 34" |
| Log Diameter | 7" |
| Loading Door Opening | 20" X 24" |
| Furnace Width | 49" |
| Furnace Length | 81" |
| Furnace Height | 96" |
| Furnace Weight | 2,610 lb |
| Firebox Dimensions | 28w x 33h x 40d in |
| Water Capacity | 115 US Gal. |
| EPA White Tag Qualified | YES |
Empyre Pro Series 400 Indoor or Outdoor Wood Gasification Boiler Videos