Sunday, December 3, 2023
Empyre Elite XT 200 EPA Outdoor Wood Boiler/Furnace - Discontinued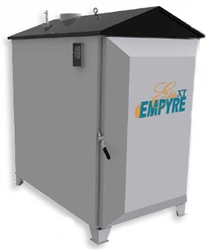 Profab has gone out of business in 2015 and this product is no longer available. This is an informational page for those who have already purchsed the unit.
*Please Call or Email for personal help concerning your boiler questions.
Obadiah's will provide answers to your questions and recommend a boiler that will work for you!
The Empyre Elite Indoor Wood Gasification Boilers bring a needed dimension to the European Style Gasification boilers that have the wood box above the combustion chambers and force the gases downward through a nozzle and burn at extremely high temperatures in a separate lower combustion chamber. Pro Fab had been building Gasification boilers in North America longer than just about any other company. What few folks realize about Pro Fab is that it's really Precision Laser and Engineering Group, Founders of the famed Pelco Biomass Commercial Boilers, these folks have more experience and success building boilers than any other boiler company in North America. No one comes close to their capabilities. Obadiah's has been a partner with Pro Fab since 1998.
Description
Specifications
Photos (10)
Pricing
Videos (1)
Add Review
Description
Using dual burn chambers, the Pro-Fab Empyre Elite Series Gasification Boilers uses a process called wood Gasification to produce highly efficient combustion. This type of combustion is found in many European Style Solid Fueled Gasification Boilers. What is so unique about this style of combustion is that most boilers use a process called, "Batch Burning Boilers". In many European countries it is illegal to install a boiler that can idle and is not a Batch Burner. When they refer to Batch Burning they are lighting the fuel which in this case is wood, on fire and when the fire gets hot enough the flap at the rear of the upper firebox which leads to the chimney closes. The upper firebox is then pressurized by a blower which then forces the gases back down through the burning wood into a separate combustion chamber below the area where the firewood was loaded. This process continues burning the wood at a high rate of combustion which is very hot thereby burning the gases and reducing the emissions. The process continues non stop until all the wood is consumed. The BTUs that are produced are intense and must be stored in water storage systems called Thermal Batteries. The BTUs are then pulled back out and reused later when the structure is calling for heat. The Thermal Batteries release the BTUs until the temperature drops below the point where the heating system can utilize it. This is where it gets tricky.....Obadiah's has been selling Gasification Boilers since they first came into the North American market. The way we heat our homes in North America and the way the Europeans heat their homes is not the same. In North America most homes today have forced air heating, if they have radiant heat they have baseboards. Both of these processes require high thermal temperatures in the water to transfer enough BTUs to provide heat. 160 to 180 degrees Fahrenheit. Radiant in-floor heating runs at a much lower and more efficient temperature of 102-108 degrees Fahrenheit. If you can only store BTUs in water until it begins to boil at 212 degrees Fahrenheit at sea level, how long do you think it takes to run out of heat if your requiring 160-180 degrees? Therefore for much of the North American market, Batch Burners are not practical as you can not store enough BTUs in the Thermal Batteries before you run out of heat. Drawing your Thermal Batteries down to 160 degrees can happen in just a few hours in the winter and you will need to refire the Boiler again to keep your home warm. Who wants to continually have to load and fire their boiler to stay warm? If you have radiant in-floor heat you can draw down to 50% of your Thermal Battery before your out of heat, with forced air and baseboards your lucky to get 20-30% before your out of useable BTUs!!! More information explaining this can be found on our Blog.
Pro Fab realized this early on and incorporated this issue into their design of the Elite Series and Pro Series Boilers. The Pro Series Gasification boilers are the first North American boilers that used the European Style of Gasification, which provided Pro Fab with much more experience than many of their competitors. Therefore they designed their Gasification Boilers to idle, so they could run longer on a load of wood and not require so much water storage. The Elite Series boilers are unique in that you do not need to spend thousands of dollars more to install Thermal Batteries when you install your boiler. The Elite boilers can ramp up and gasifiy when there is a call for heat, as well as idle cleanly when there is no call for heat. This engineering makes them unique in the industry filled with Batch Burning Boilers that require water storage to work, which for many North Americans is not practical at all. The Elite Series boilers have been refined over time and are now on version 3 which is an all Stainless Steel version that will stand up to the corrosion issues typically found in open boilers that are not pressurized. The Elites Boilers are non pressurized Gasification boilers and therefore easier to install and operate for the average homeowner. Pressurized boilers run at higher temperatures and require expansion tanks to work properly. More information can be found here Blog.
To install a wood burning Gasification boiler such as an Elite Series 100, 200 or Elite XT 100 or 200 to an existing forced air system is not very complicated and requires a Water To Air Heat Exchanger be installed in your furnaces plenum. The Heat Exchanger is like the radiator in your vehicle, except instead of cooling your engine, it is heating the air as the hot water flows through it. The blower on the furnace pushes the hot air throughout your home. In the summer your Air Conditioner will continue to function normally. Obadiah's can provide you will everything you'll need to install your new Elite Boiler properly. Click here for parts.
Click here for Single Line PEX Pipe
Click here for Dual Line PEX Pipe

Features
Specifically designed to go indoors, it measures only 28" wide and and weighs as little as 600 lbs. when shell and brick are removed
Connects to a 5" or 6" chimney
Power assisted venting, no worry concerning chimney draw
Will burn fire wood with 11-25% moisture levels - allowing wood to be stored outdoors, the most forgiving unit on the market
Burns fire wood in many sizes
10-12 hour burn cycles
No smoke out loading door
Few electrical components
Easy to service - blower and controller levels can be adjusted by homeowner within minutes
Very little ash output, only a couple cups per week - unit does not have to be out or cold for service
CSA/UL listed for indoor installation with low clearance to combustibles, 12" on sides
No need for back-up power, wild loop, dump zone, back-up pump in case or power or pump failure - unit will not boil over by fire box design
No water storage tank
No need to light several fires per day, only start the unit once per year
No smoldering fire between cycles - fuel lays there as charcoal
Relights on its own after laying dormant for an hour - no wasteful propane burner to keep unit going
Competitive pricing - clean, cheap heat that leaves a small carbon foot printguard doors protect the unit from the elements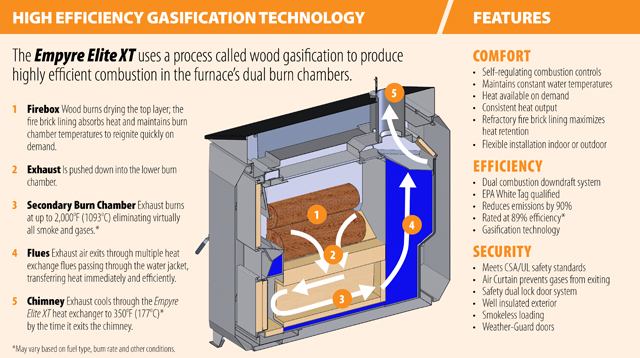 Wood Gasification Process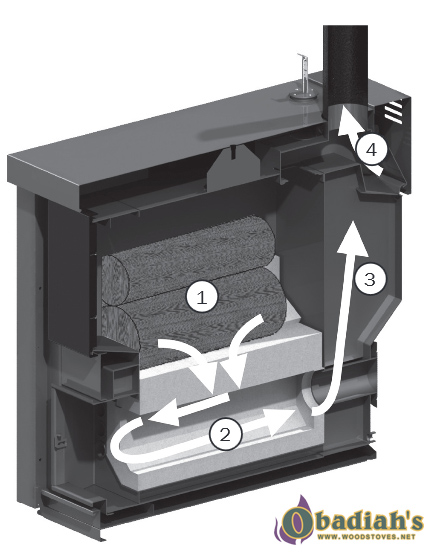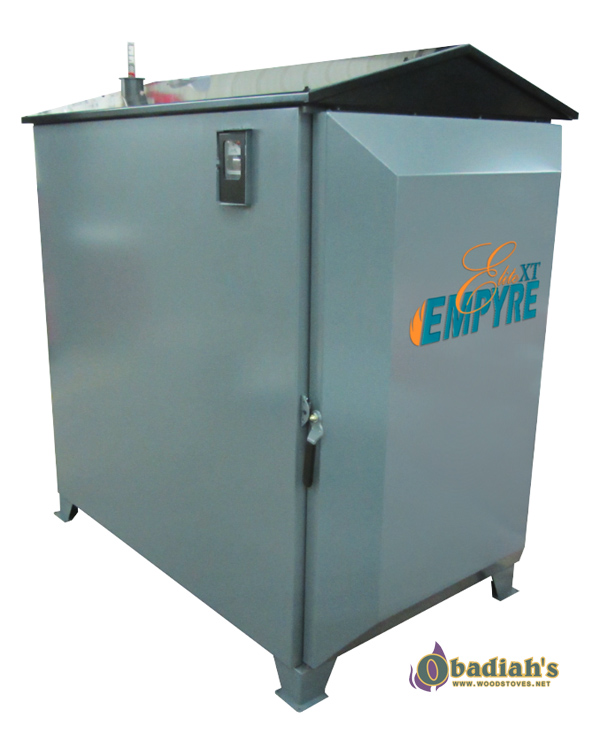 Resources:
Specifications
Empyre Elite XT 200 Outdoor Unit
Heat Output (Peak)
220,000 BTU/Hr
Heat Output ( 8 Hr Burn)
110,000 BTU/Hr
Heat Output ( 12 Hr Burn)
72,000 BTU/Hr
Furnace Width
40.5"
Furnace Height
69.5"
Furnace Length
67"
Furnace Weight
1635 lbs
Firebox Dimensions
22.5"w x 26"h x 31.5"d
Firebox Volume
10 cu. ft
Loading Door Opening
18.5" x 16.5"
Flue Collar Diameter
6"
Log Length
25"
Log Diameter
6"
Water Capacity
112 US Gal
Minimum Clearance to Combustibles
Flue Pipe/Side & Back Wall
12"
Front
48"
Ceiling
24"
Dimensions: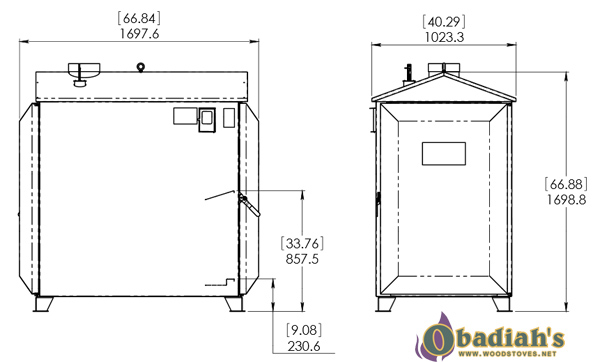 Wiring Diagram: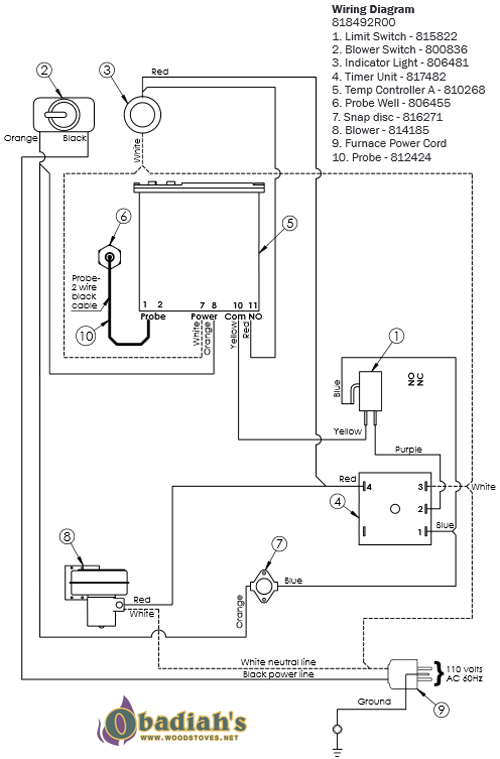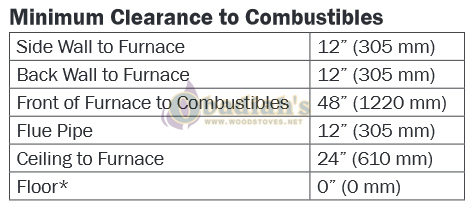 Installations: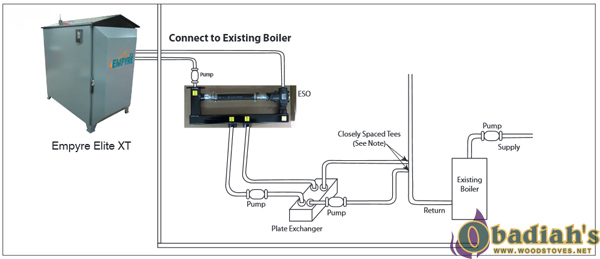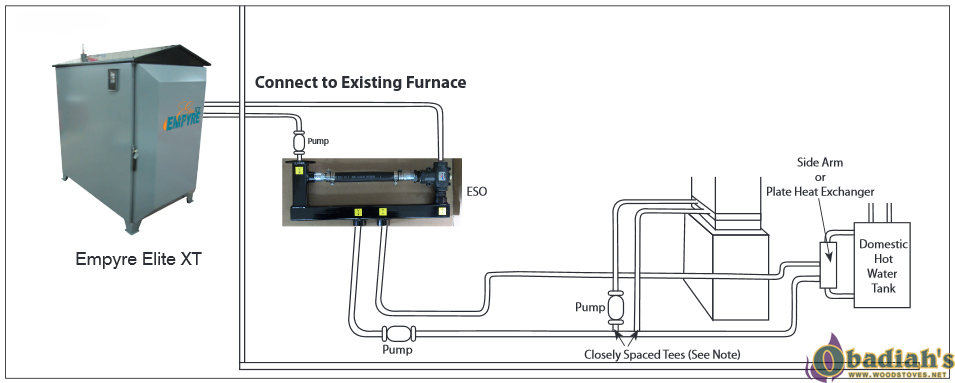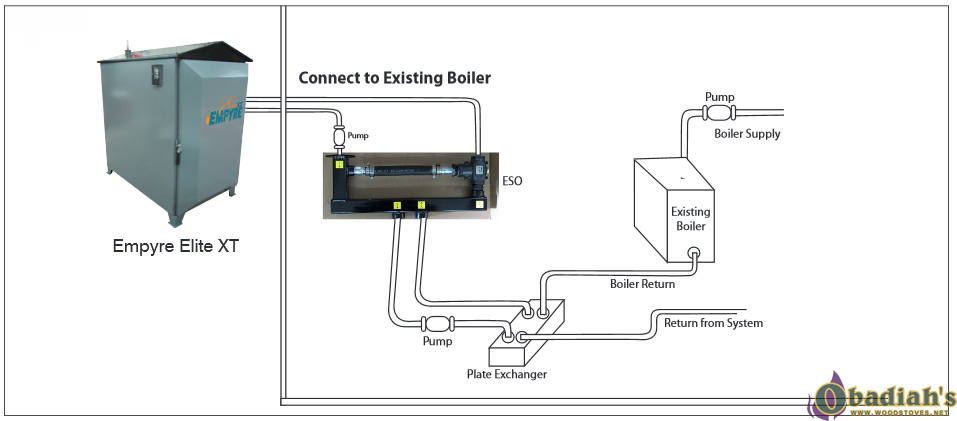 Diagrams: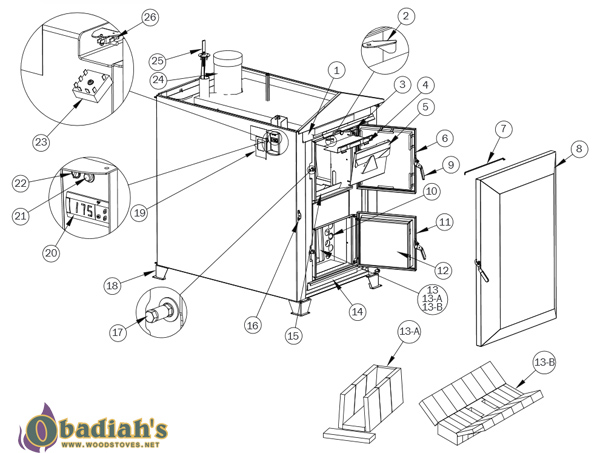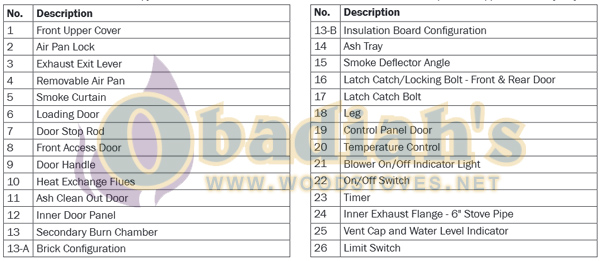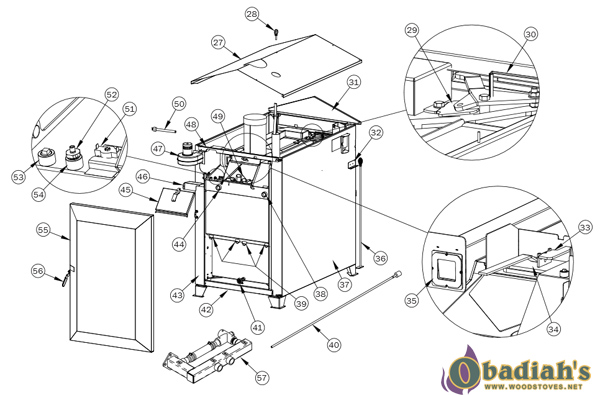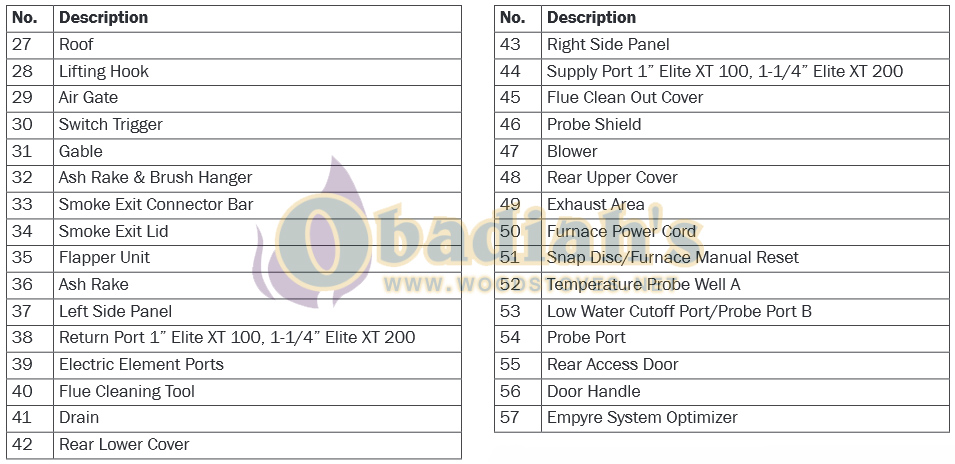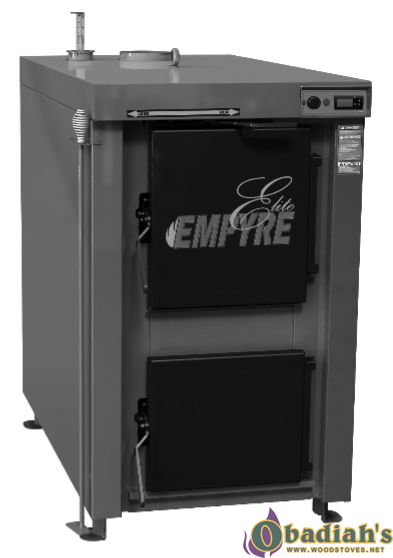 Front Access Door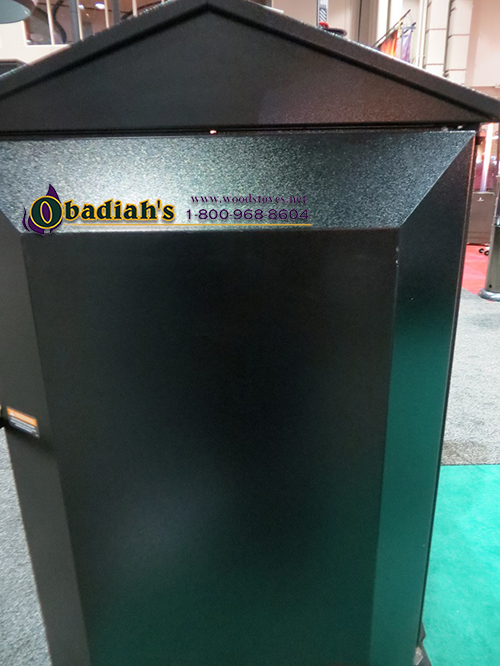 Front Upper and Lower Access Doors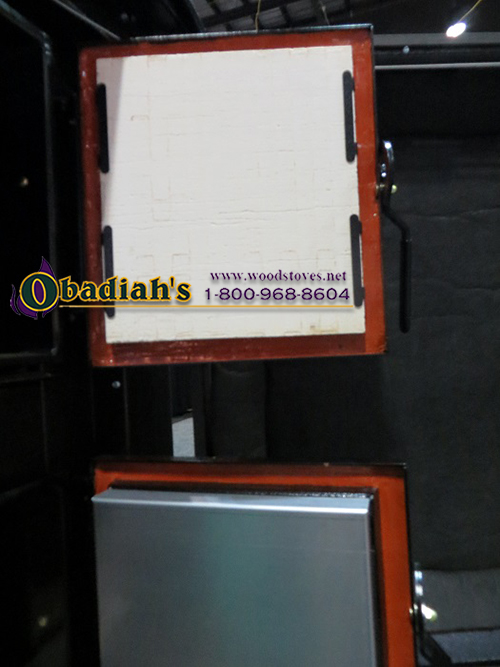 Front View Access Door Closed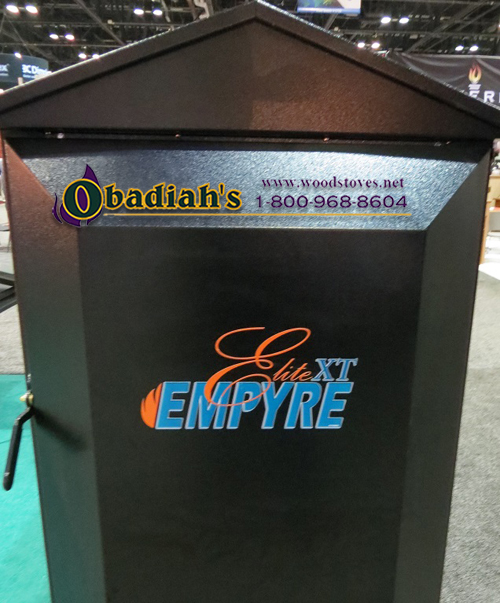 Front View Combustion Chambers and Access Doors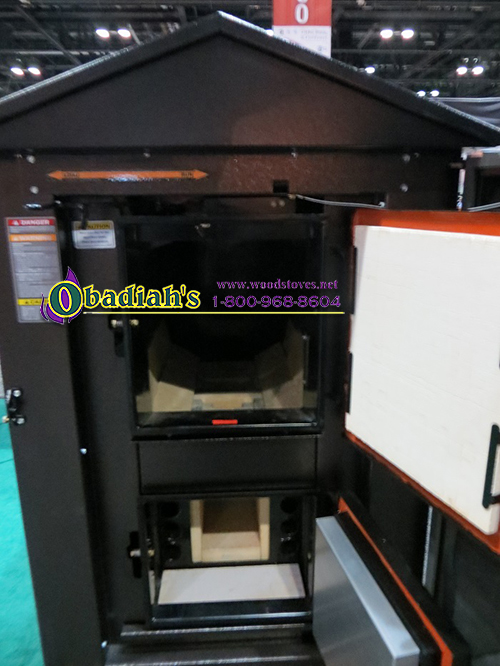 Front View Combustion Chambers and Access Doors Closed

Gasification Nozzles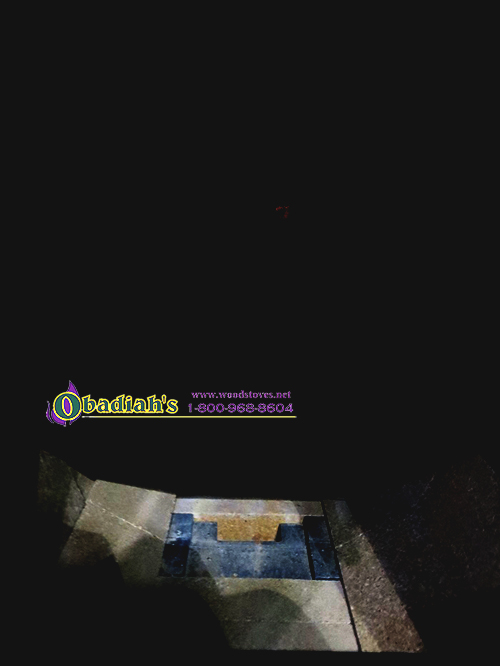 Lower Gasification Chamber Door

Rear Access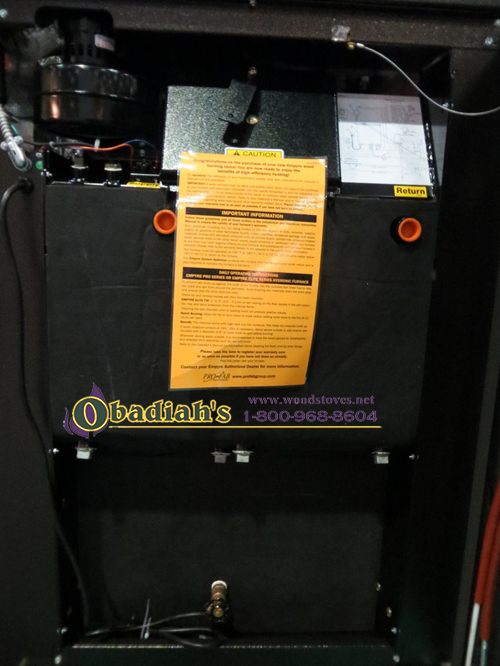 Rear Access Door and Cleaning Tools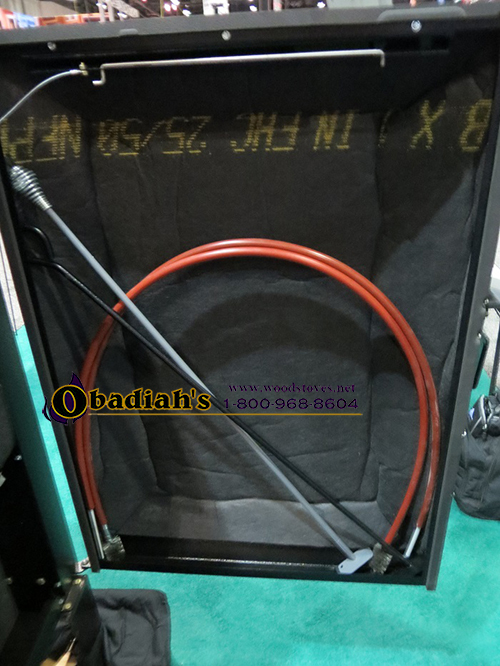 Empyre Elite XT 100/200 Indoor/Outdoor Wood Gasification Boiler/ Forced Air Furnace Videos