Sunday, December 3, 2023
Pro-Fab Cozeburn 250 Outdoor Boiler/Furnace *Not for sale in US*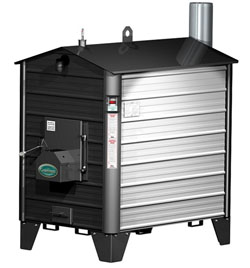 This product has been discontinued due to stricter 2016 EPA NSPS regulation.
Looking for parts? View a full parts list on our website, CLICK HERE.
The Cozeburn Hot Water Outdoor Furnace is the perfect choice for all your residential heating needs. The Cozeburn's quality and dependability has kept it in the forefront of the hot water furnace industry for nearly two decades. Although it was originally designed to burn cordwood, the Cozeburn may also burn corn, ag cubes, wood pellets, coal, or other biomass fuels when equipped with a Pro-Stoker.
Description
Specifications
Photos (1)
Pricing
Videos (11)
Add Review
Cozeburn 250 Features:
The Cozeburn is available in four sizes and offers both Mild Steel and Stainless Steel models. These multiple models cater to any residential or small business heating load and are equipped with several ports for multiple hookups. The Cozeburn is ideal for heating houses, shops, small greenhouses, pools, hot tubs, garages, sheds, and domestic hot water. The Cozeburn Outdoor Hot Water Furnace connects directly into your existing heating system in your home, shop, greenhouse, or other application. The Cozeburn is designed with a central firebox surrounded by a large capacity water reserve. The corrugated firebox top provides maximum surface area for the most efficient heat. After the water is heated, it is channeled to your home's heating system through underground insulated pipes.
In your house, the hot water from the furnace may be used for several applications. The hot water line is typically connected to your hot water tank through a heat exchanger, providing all your domestic hot water. The water is then channeled into the existing radiant or forced air heating system. Depending on the application, a water-to-air heat exchanger can be installed to direct the heat into your heating system. The Cozeburn is installed in conjunction with an existing heating system, which remains connected as a backup system.
Heat is thermostatically controlled on the furnace by setting the aquastat to your desired temperature, ensuring even, consistent, efficient heat. The Cozeburn is equipped with multiple hookups, allowing you to heat several buildings at once.
Click here for Single Line PEX Pipe

Resources:
| | |
| --- | --- |
| Specifications | Cozeburn 250 |
| Heating Area | 2,000 - 4,000 sq. ft |
| Loading Door Opening | 20" x 20" |
| Total Width | 49" |
| Body Width | 47" |
| Total Length | 80" |
| Body Length | 59" |
| Total Height | 85" |
| Chimney Size | 6" |
| Shipping Weight | 2,000 lb |
| Firebox Dimensions | 30"w x 33"h x 42"d |
| Water Capacity | 125 US Gal |
| Material | Mild Steel |
| Limited Warranty | 10 Year |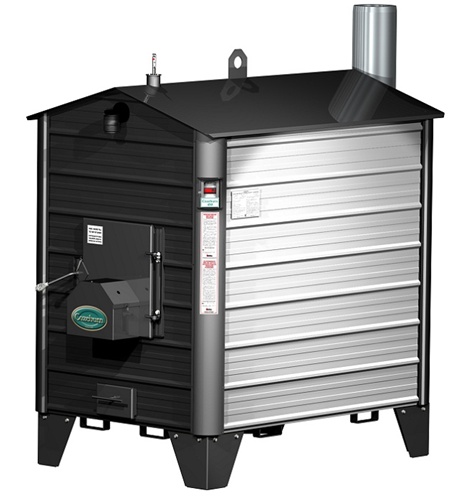 Pro-Fab Cozeburn/Empyre 250/450 Outdoor Hot Water Wood Boiler/Furnace Videos
Profab Boilers Empyre Cozeburn Boiler - Overfiring Boiler Replacement Parts Needed
Profab Empyre & Cozeburn Boilers – Replacement Parts: Temperature Probe & Well
Profab Empyre & Cozeburn Boilers – Replacement Parts: Snap Disc
Profab Empyre & Cozeburn Boilers – Replacement Parts: 2 Amp Reset Switch Breaker
Profab Empyre & Cozeburn Boilers – Replacement Parts: Digital Temperature Display
Profab – Empyre & Cozeburn Boilers – Water Leak
Profab Empyre & Cozeburn Boilers – Replacement Parts: Solenoid
Profab Empyre & Cozeburn Boilers – Overfired Boiler – When do I need an electrician?
Profab Empyre & Cozeburn Boilers – Replacement Parts: Float Switch
Profab Empyre & Cozeburn Boilers – 1500rpm & 3000rpm Blowers