Monday, September 16, 2019
Prity 2M Wood Cookstove - Discontinued*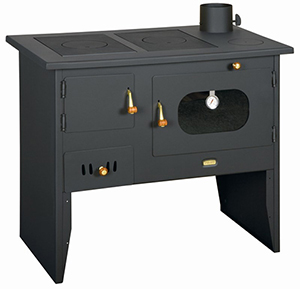 *PRODUCT DISCONTINUED - this page is for informational purposes only.
The Prity 2M is a steel and cast iron wood cook stove/range cooker from Bulgaria. Heat up time for the stove is rapid and can heat a large area of your home. The 2M cooker has an optional bottom set of doors and is available for a "pretty" price!
Description
Specifications
Photos (3)
Pricing
Extended Info
Videos (4)
Reviews (1)
Add Review
The Prity 2M has a lot of nice features for a "budget" wood cookstove/range cooker. The stove's construction is of steel; gauges 14, 11 and 8, and equipped with a cast iron grate and cast iron hot plates.
The stove's oven has a fast heat-up time, baking in 15 - 20 minutes and thanks to the integrated thermometer you may always observe the temperature within the oven allowing tight regulation of the fire.
This wood cookstove can be used for indoor or outdoor cooking. 2M Prity - nice for summer!
Features:
3 cast iron hot plates
Brick lined fire chamber
Flue with damper
Cast iron grate
Ash pan
Thermo shock glass ceramics pane in firebox
Heat resistant glass in oven door
Temperature gauge (Centigrade)
Optional Feature:
Set of doors for stove bottom

Resources:
| | |
| --- | --- |
| Specifications: | Prity 2M Cookstove/Range Cooker |
| Energy efficiency: | 70.1% |
| Total heat output: | 47 000 BTU |
| Heatable Area: | Up to 6000 cubic feet of space |
| Weight: | 236 lb |
| Dimensions: | Length 36.6", depth: 22.8", height: 31.5" |
| Firebox door: | 7.5" x 6.3" |
| Firebox size: | 17"x 9"x 11.5" |
| Oven size: | 19" x 16" x 8.5" |
| Chimney diameter: | 5.11" |
| Temperature of exhaust smoke: | 600F |
| Max. Temperature inside the oven: | 480F |
| Chimney draft requirement: | 14 Pa |
Note: The stove is not currently UL listed. Please follow local building code.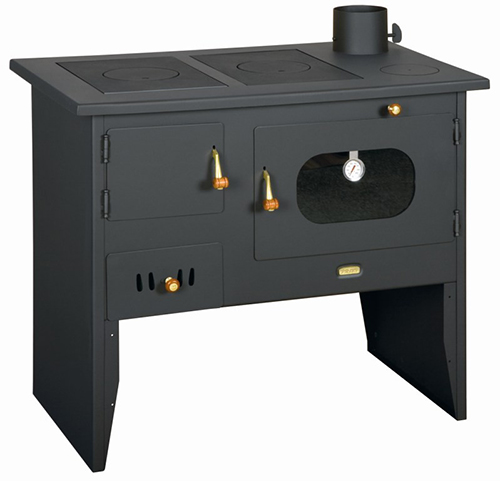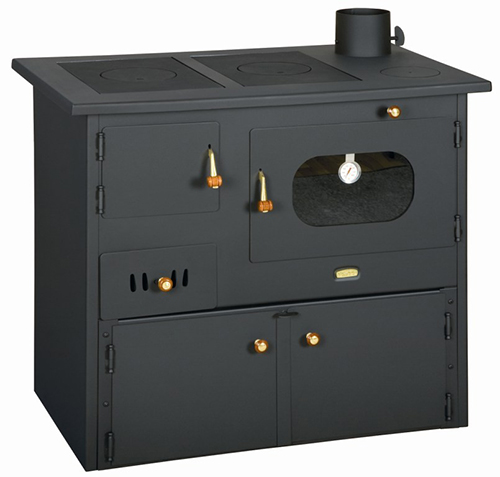 Be sure to check out our newly improved Cookstove Community website cookstoves.net; the best place online to connect with other cookstove users over stoves, self-sufficient living, alternative energy, and more! Take a look at our selection of videos, articles, and photos, and be sure to visit the forums to connect with like-minded folks from all over.
If you are planning to cook with a cookstove, you will need to understand some basic fire safety. Remember, extinguishing a grease or oil fire with water is not a good idea.
For help choosing and installing a wood boiler, see the links and posts below.
Pouring Water on an Oil Fire
Stove Delivery and What To Look For
Boss of the Swamp: Woodstove & Chimney Maintenance (Part 1)
Boss of the Swamp: Woodstove & Chimney Maintenance (Part 2)
lovely stove
May 31, 2014
Reviewer: Penne
I have one of these, and I'm delighted with it. It's so easy to cook with. The top can get very hot, good for stir fries and bacon, but put the pan to the far right and you can cook really slowly; cauliflower with a touch of olive oil, cumin and coriander left for about an hour is gorgeous. The oven heats up quickly too; decide to make a cake, light the fire and by the time you've made the mixture the oven is up to temperature.
The stove throws out a huge amount of heat, but doesn't retain it since it is only steel, not cast iron. Also it does need tending fairly regularly. I also burn coal on it which stays in for longer, but is probably the cause of the frequent build up of soot under the hotplate, easily cleaned out.
It's not very heavy so can be manouvered quite easily when fitting.
It is a very pretty stove, pictures don't do it justice.
Note: there is no shelf in the oven, I use an old cooling rack, and there is no towel rail.
Yes, it's cheap, but well worth the money