Saturday, December 2, 2023
Portage & Main ML42 Outdoor Water Furnace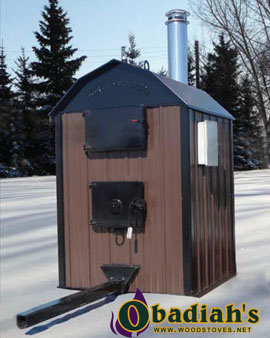 This product has been discontinued due to stricter 2016 EPA NSPS regulation. Inventory can no longer be sold in the United States, unless it is for Commercial use. Remaining inventory can be sold into Canada, and South America.
The ML42 outdoor water furnace by Portage and Main is designed to automatically meter fuel into the fire, functionally "stoking" the fire. Merely load the hopper with pellets, sunflower seed hulls, biomass or coal and go.
The Portage and Main coal / biomass stoker can efficiently distribute heat throughout the home / building by using any forced air heat source already installed or add a plate exchanger to connect to an existing indoor boiler. The boiler can also be used to produce unlimited domestic hot water.
The ML42 boiler / furnace is a very clean/efficient heating option for anyone that has a larger heating requirement.
Description
Specifications
Photos (4)
Pricing
Videos (1)
Add Review
The ML42 boiler is super efficient and can be used for heating new building(s) or be integrated into existing heating systems. Moreover, the water furnace does not require daily feeding as other outdoor furnaces. The stoker model has user determined metering controls for fuel. The user decides and sets how much fuel goes into the stove according to the heat desired / required.
Heating with coal is economical and the available indoor hopper eliminates coal freezing troubles. Using coal also minimizes the need for expensive fuels such as natural gas, oil and propane.
The ML42 outdoor water furnace has many features, listed below, that are signature to Portage and Main furnaces.

Features:
Double pass with reversing flow tube heat exchange is standard.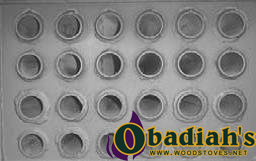 Water-filled baffle provides first and second pass of heat exchanger and catches fly ash.
Rounded firepot and water jacket is stronger, longer lasting as well as cleaner and more efficient
Four 3" diameter heat transfer water tubes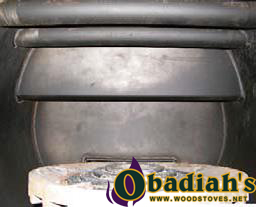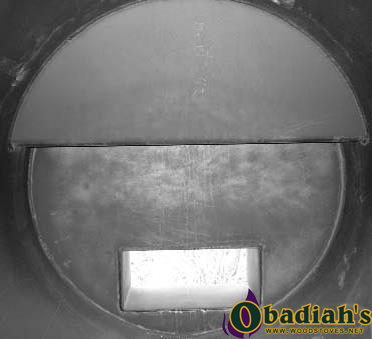 Rotating heavy duty self-cleaning high out put cast iron stoker head available in 18" or 20"
Combustion blower induces air through the specially designed slots in the stoker head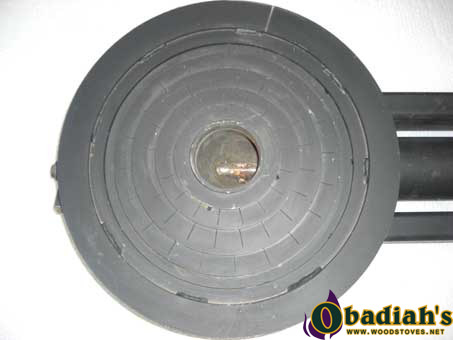 Stoker in "Fire Keep Mode" controlled by adjustable time override to come on for 30 seconds every 30 minutes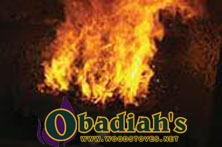 Last pass through before exiting chimney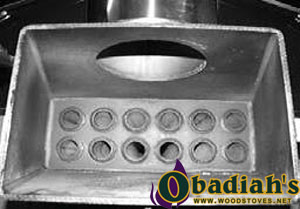 Digital Johnson control is programmable to one degree.
High limit safety aquastat, a manual aquastat, can control the furnace if the Johnson control fails
Variable Frequency Drive (VFD) speed control feed rate - allows for burning of any grade fuel
Adjustable drive overloads for fan and stoker
Burn back protection by parallel wiring to insuring stoker and fan will stop if overload/jam occurs as well as timer device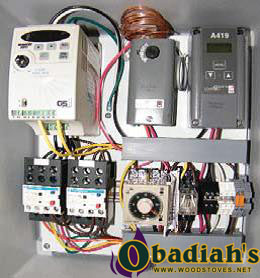 Heavy-duty Bonfiglioli Gear Box Drive and heavy-duty ¼ HP AC 220 Volt 3-Phase Leeson drive motor (inverter rated)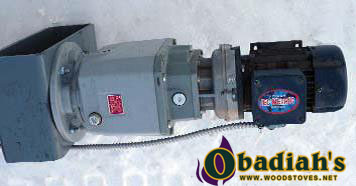 Automatic 5' ash remover auger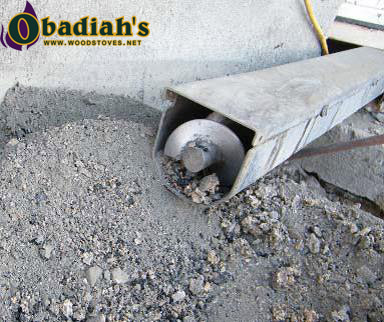 Fuel feed hopper designed to fit under hopper bottom bin – auger made with 3/8" flighting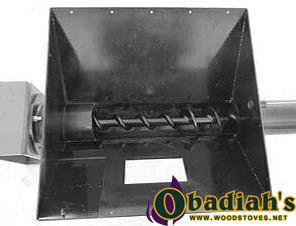 Indoor hopper available in custom sizes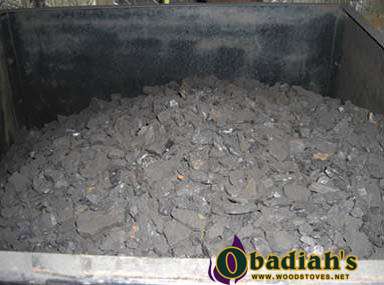 Float is easy to read – low water shut-down safety switch on stokers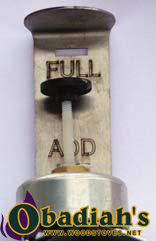 Fire door insulated with Roxul insulation which is rated for 2200 degrees F and the heat exchanger door is lined with refractory brick
Solid rope gaskets on fire door heat exchanger and cleaning access doors keep the unit air tight
Powder coated finish on the one piece roof, paint on the rest of the furnace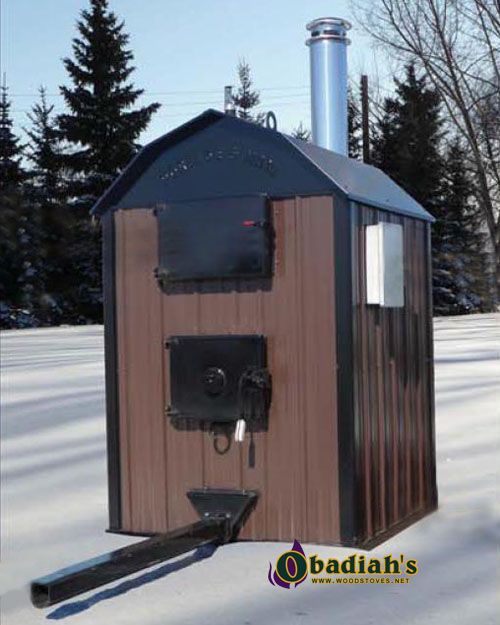 Firepot and inside water jacket are made of 1/4" W44 cold rolled steel.
The outside water jacket is made of 3/16" W44 cold rolled steel.
All Parts are laser cut and are boiler style welded – welding inside and outside helps prevent weld corrosion.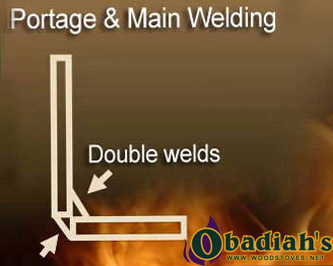 Resources:
| | |
| --- | --- |
| Specifications | Stoker Model ML42 |
| HEIGHT (inches) | 98 |
| WIDTH (inches) | 59 |
| LENGTH (inches) | 57 |
| WEIGHT (pounds) | 2,850 |
| STOKER WEIGHT (pounds) | 600 |
| FIRE BOX SIZE (diameter x length) | 42" x 44" |
| HEATING AREA (square feet) | up to 30,000 |
| WATER CAPACITY (U.S. gallons) | 240 |
| EST. BTU OUTPUT | 1,000,000 plus |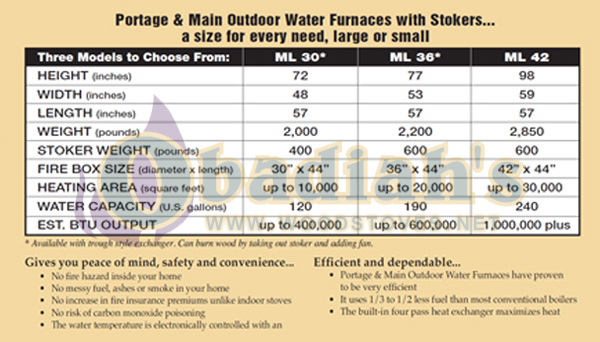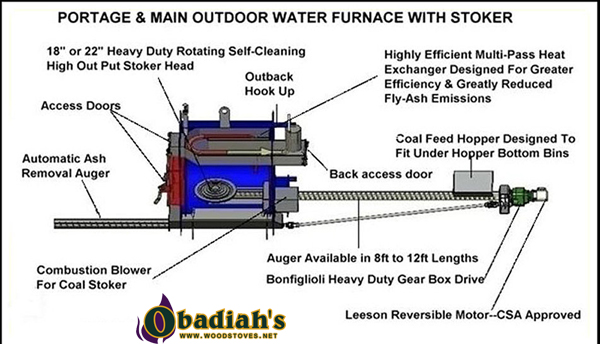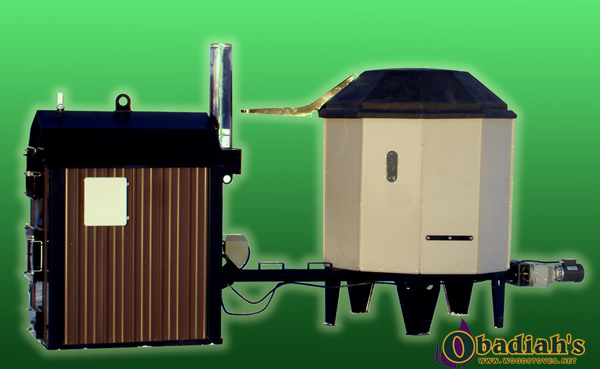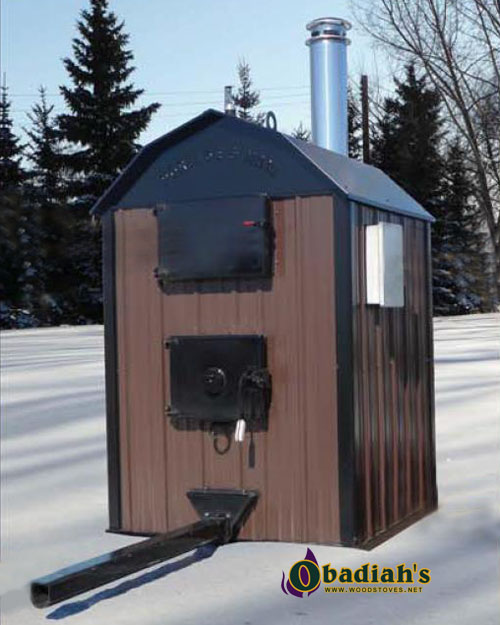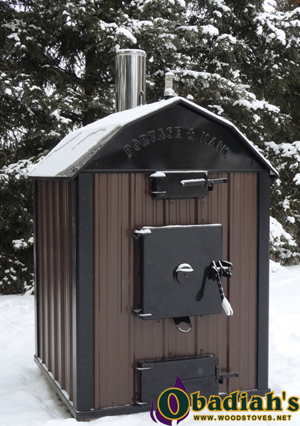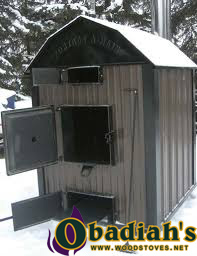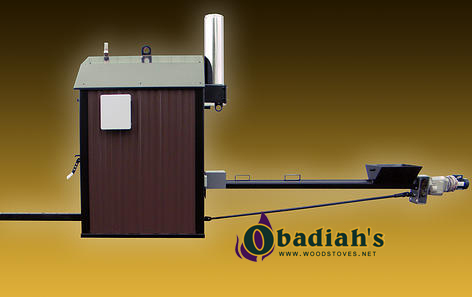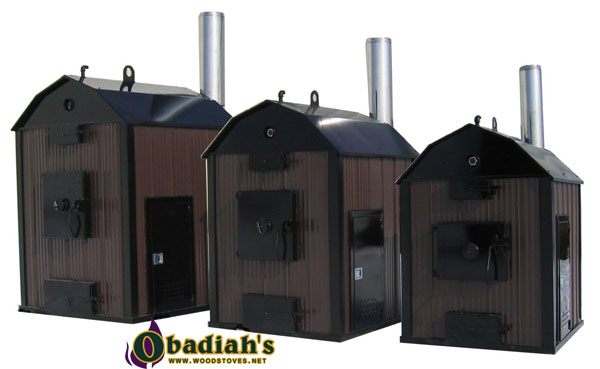 Portage and Main Commercial Application and Tour