Wednesday, September 27, 2023
Portage & Main Enviro-Chip Burner 500 - Discontinued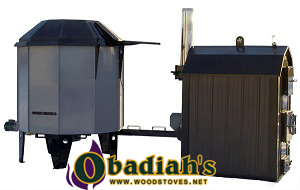 This product has been discontinued due to stricter 2016 EPA NSPS regulation. Inventory can no longer be sold in the United States, unless it is for Commercial use. Remaining inventory can be sold into Canada, and South America.
The Enviro-chip burner 500 outdoor water furnace by Portage and Main is designed to be an automated system which meters the amount of fuel into the heater providing long burn times. This chip burning hydronic heater burns bio-mass which includes wood chips, corn stover, switch grass, etc.
Description
Specifications
Photos (7)
Pricing
Videos (1)
Add Review
The Enviro-chip 500, a self feeding water boiler, is a non-pressurized system that can supply hot water for heating homes, commercial buildings as well as domestic hot water for these establishments. The furnaces are automated systems in that the burning rate is controlled by metering in the amount of biomass chips which are stored in a 6' diameter bin. The bin has an easy to open and close lid and it is equally easy to load with a skid steer, tractor bucket or loader. This outdoor hydronic heater has a heavy duty feed system with a large bin that will last up to two days under a heavy load and up to a week under a moderate load. The biomass is delivered to a very efficient boiler, designed by time tested Portage and Main. The Enviro-chip furnace, chip heating with automated system, can provide the heat requirements for large residential homes and small businesses. Larger requirements such as schools, municipal buildings, apartments or other institutional buildings are potential applications.
Heating with biomass products reduces the mess associated with cordwood and minimizes the dependence on expensive fossil fuels like oil and gas. In addition, one ton of wood chips can yield 6 million BTUs versus 4.2 million BTUs yielded from one ton of cordwood.
The Enviro-chip 500 outdoor water furnace has many features listed below, that are signature to Portage and Main furnaces.
Features:
The heat exchanger design features reverse return 2" diameter fire tubes.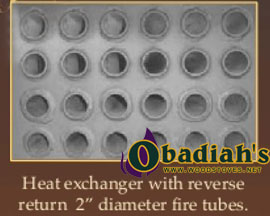 Water tubes above the fire extract maximum heat.
The round burn chamber is completed surrounded by a round water jacket. Having a rounded firepot and water jacket is stronger and longer lasting as well as cleaner and more efficient.
Fire head is surrounded by molded refractory brick.
Forced air feed at the firepot and in the exhaust ensure a clean complete burn of the bio-mass fuel.
Stoker has a controllable "Fire Keep Mode".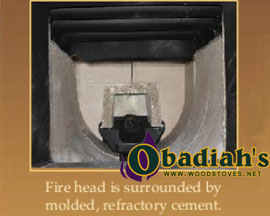 Welds are double (boiler style).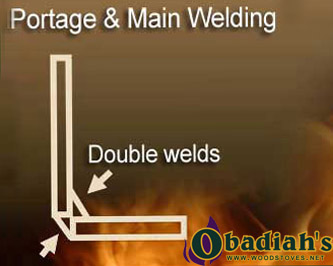 Digital Johnson A419 control is programmable to one degree.
High limit safety aquastat, a manual aquastat, can control the furnace if the Johnson control fails.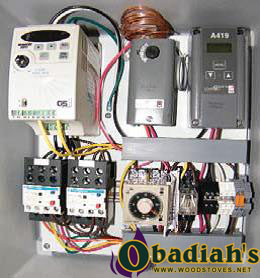 Variable Frequency Drive (VFD) speed control feed rate and an auger feeds chips into the burn head.
The non-pressurized system (no special operator license needed) has a low water, no fuel and low temperature cut off.
Furnace and bins are powder coated finish-complete stand alone outside units, though also approved to be located in a shed garage, etc.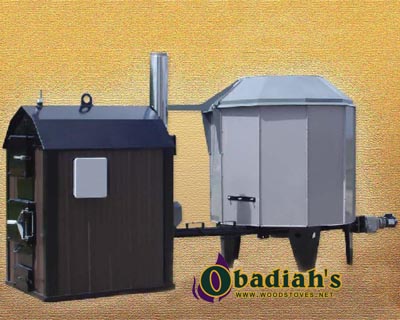 Additional Information:
The Enviro-chip burners can burn a variety of wood chips eliminating the need for perfect chip size, though the ideal chip is 1.5 to 2 inches fed through a 3 inch auger with 3/8" flighting. This unique drive allows chips, sawdust and even pine shavings to burn in such a way that back burn will not happen.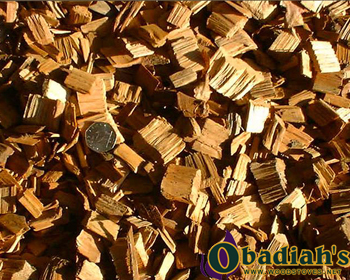 Resources:
Specifications
Portage & Main Enviro-Chip Burner 500
Furnace Output
Up to 500,000 BTUs/hr
Shipping Weight (pounds)
2,600
Water Capacity (US Gallons)
120
Flue
6"
Fire Tube Heat Exchanger
20 tubes - 2" diameter
Furnace Height
72"
Furnace Width
48"
Furnace Depth
57"
Ash Removal
Ashpan
Clearances
Rear
18"
Side
18"
Front
48"
Top
18"
Flue pipe
18"
Floor
16" from front 8" from side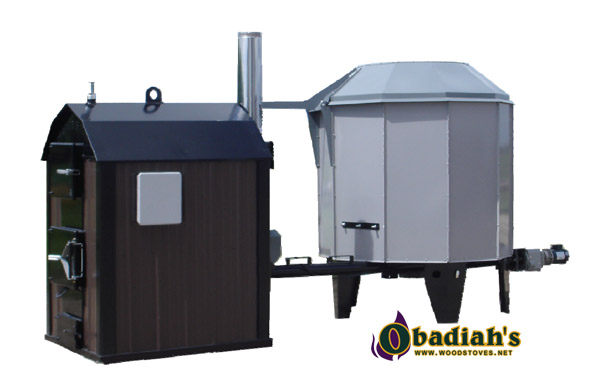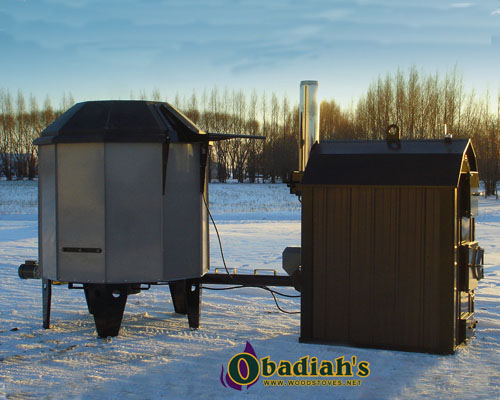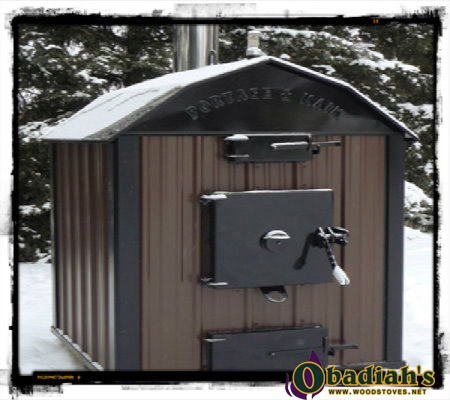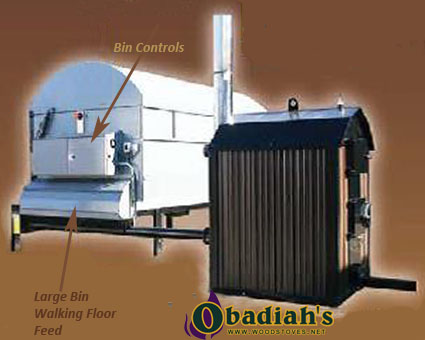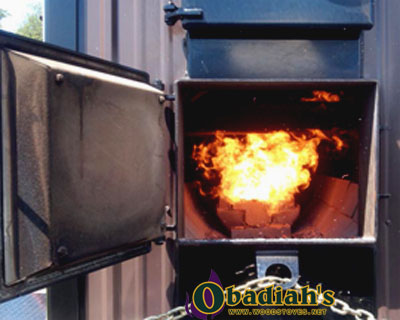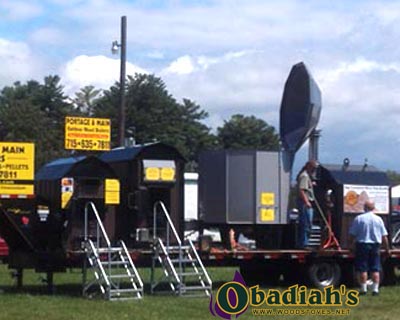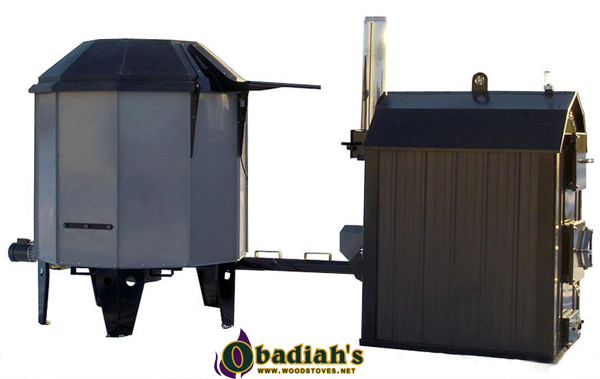 *Shipping is not included.
Please call or email for a shipping quote.
Portage and Main Enviro-Chip Burner Series