Wednesday, September 27, 2023
Pioneer Baker's Choice Cookstove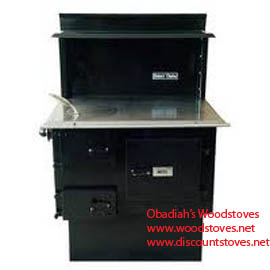 The Pioneer Baker's Choice Wood Cookstove is the perfect choice for your cabin or smaller home. This stove was designed by Amish craftsmen. They welded the steel construction together for a lifetime of trouble-free performance and assembled this stove with standard features such as the backsplash and shelf to store the items that you like to keep handy for cooking and baking.
Need Replacement Parts? Check out our full parts list for Pioneer Cookstoves, Click Here.
Visit the tabs below for useful information, photos, and more!
Description
Specifications
Photos (4)
Pricing
Extended Info
Videos (7)
Reviews (1)
Add Review
Features
Top or front loading firebox
Custom-molded refractory brick-lined firebox for even heating and efficiency

Note: There is no warranty on bricks, please be aware, throwing wood into the firebox can cause premature damage.

Ashpan for easy cleaning
Porcelain knobs
Oven thermometer
Smooth, polished steel cooktop
Heat regulating damper controls
The durable stainless steel stove body
Finished with corrosion protectant black, high-heat paint, not porcelain enamel
Oven door swings out, not down
Lid lifter
7" oval to 7" round flue adapter for single-wall stove pipe (crimped end always points down)
Right hand side to Flue Center 12" Left hand side to Flue Center 24"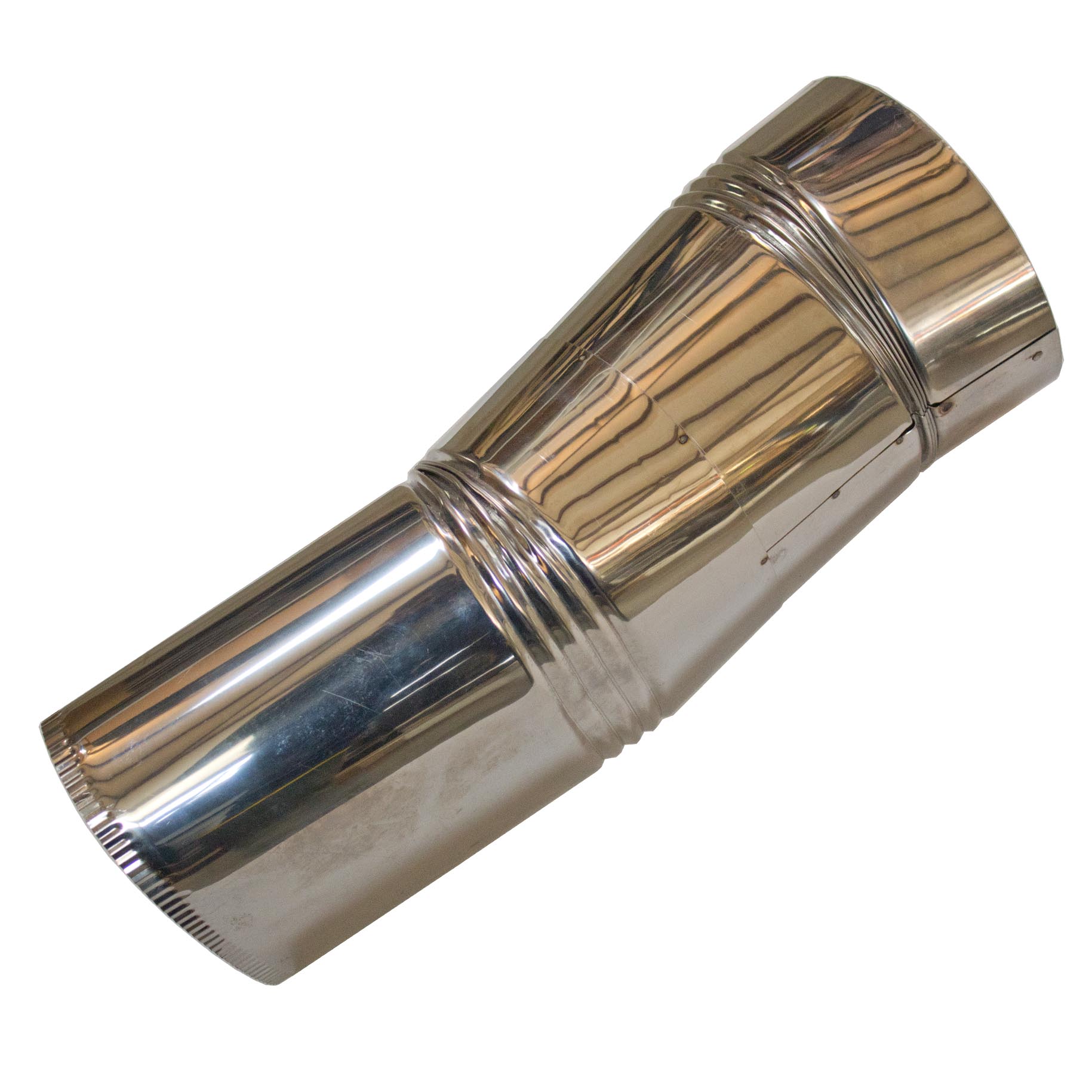 Handmade by Amish craftsmen
Safety tested UL1482 / ULC S-627 and CSA B366
EPA Exempt (learn more here)
Washington State Approved (learn more here)
Options
Water reservoir (7 or 7.5 gallons)
Warming closet
Stainless steel water coil
More options!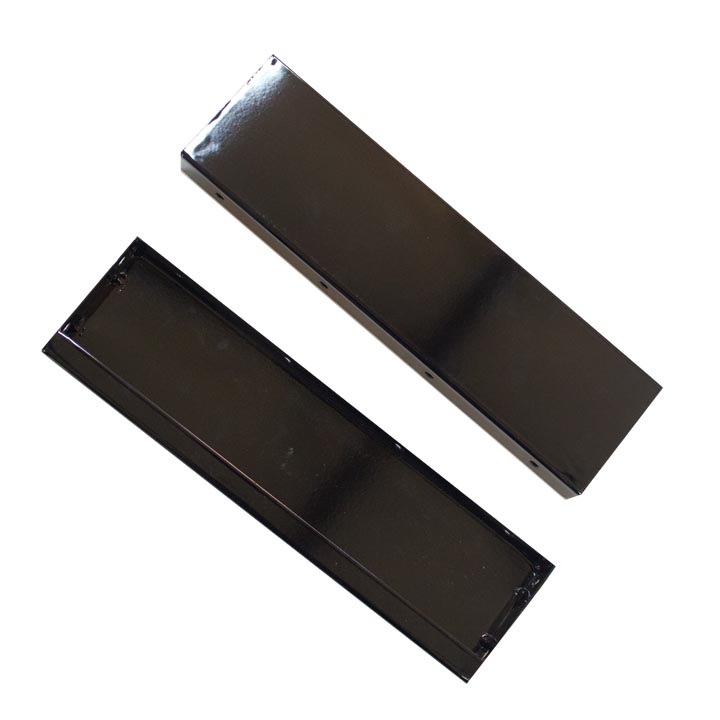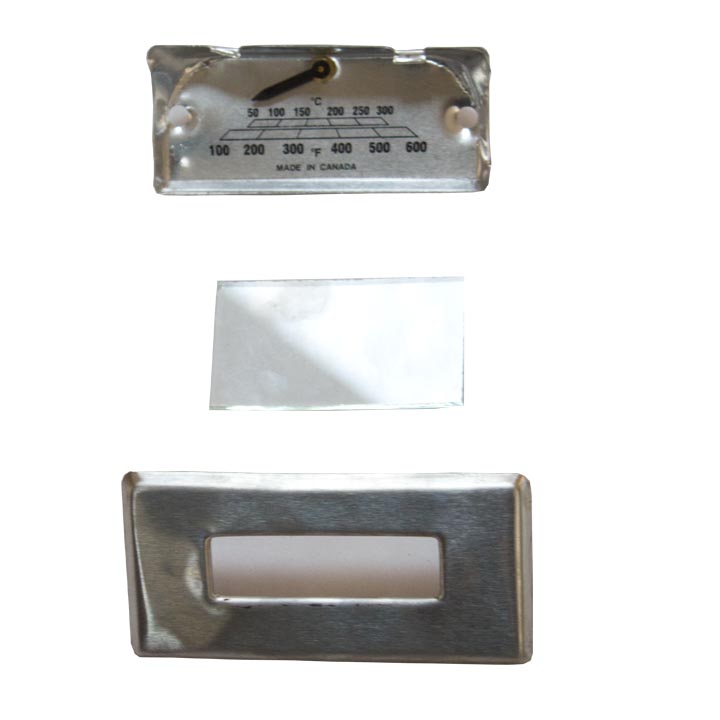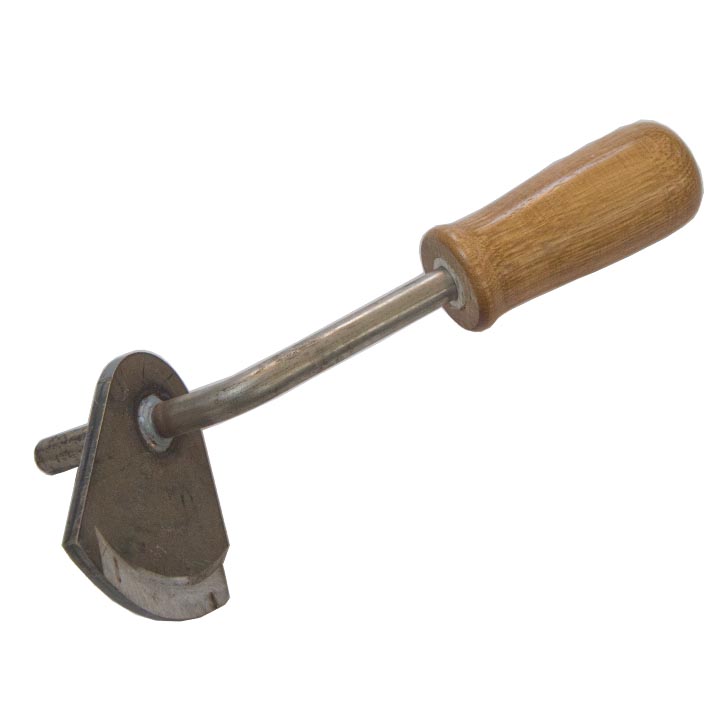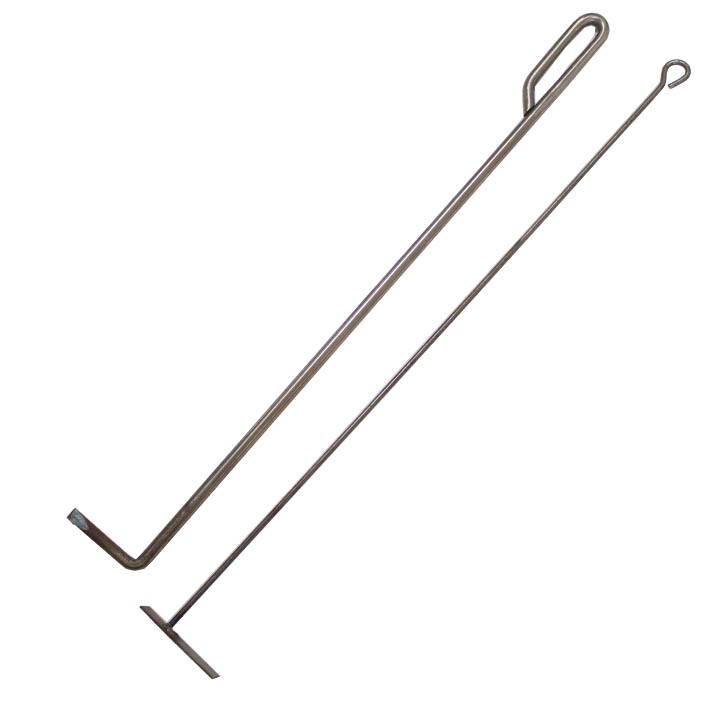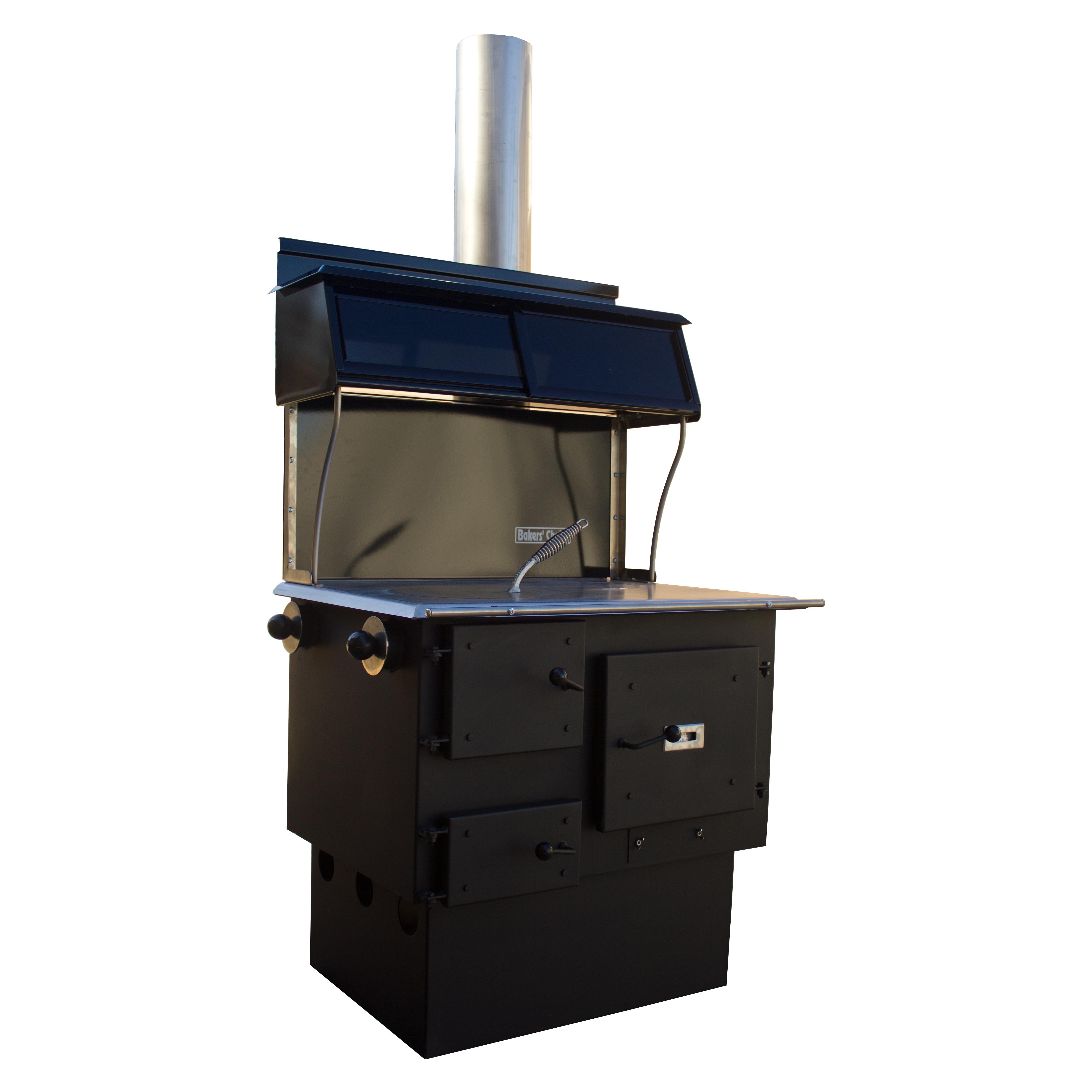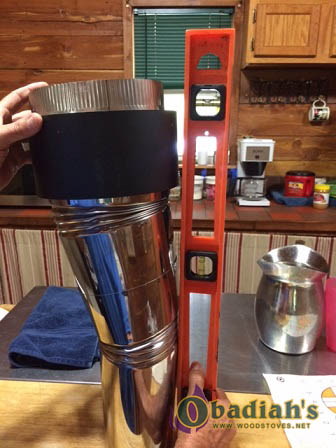 PLEASE NOTE: This adapter is shown upside down.
Crimped end always points down.

Resources:
Baker's Choice
Specifications w/out Side Reservoir
Specifications with Side Reservoir
Fuel
Wood
Wood
Overall Dimensions
36" W x 28" D x 53.5" H
43" W x 28" D x 53.5" H
Oven Dimensions
14" W x 22" D x 14" H
14" W x 22" D x 14" H
Fire Box Dimensions
11.5" W x 18.5" D x 14" H
11.5" W x 18.5" D x 14" H
Ash Pan Dimensions
9.5" W × 4" D x 21" L
9.5" W × 4" D x 21" L
Cooking Surface
34" W x 21.5" D x 32.5" H
41" W x 21.5" D x 32.5" H
Flue - Adapter is included
7" Oval Flue
7" Oval flue
Venting Location
Rear
Rear
Weight
380 lbs
430 lbs
Heating Capacity
Up to 2,000 sq. ft.
Up to 2,000 sq. ft.
Water Reservoir SS - Built on RH Side of Cooktop
N/A
7 Gallons / 8" W x 16" L x 12" D
Clearances To Combustibles
Front
48"
48"
Rear
28.5"
28.5"
Left Side
27"
27"
Right Side
27"
27"
This stove is not mobile home approved nor EPA approved. Cookstoves are nationally exempt from EPA regulations. Learn more about EPA exemptions here.

Detailed Dimensions are as follows:
28" deep + 2.5" for handles = 30.5" overall deep
32" wide cooktop + 4" for handles = overall width of 36"
32" height for the cooktop
33.25" height to the flue collar
Depth of stove with rear reservoir = 28"
Width of stove with side reservoir 43" wide
An oval to round adapter comes with the stove. This creates an offset and the adapter protrudes out 5.5" off the back of the flue collar. This 5.5" must be added to the stove depth of 28" (28" + 5.5" = 33" total stove depth) for clearance purposes.
When facing the front of the stove, the flue collar on the stove is positioned 12" from the right side to the center of the hole. The flue collar is 33.25" high from the floor. The flue collar protrudes out 4" from the back edge of the stove.
The rear water reservoir sits 4" on the back of the stove and 4" on the flue collar and does not overhang the flue collar. Adding the rear water reservoir does not change stove clearances.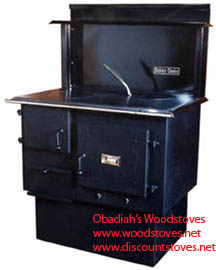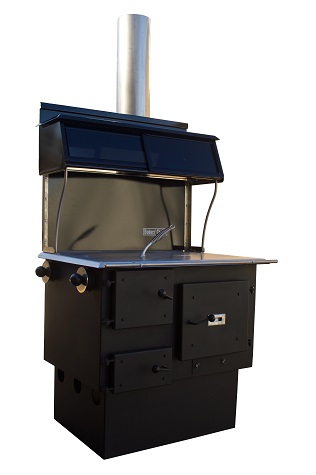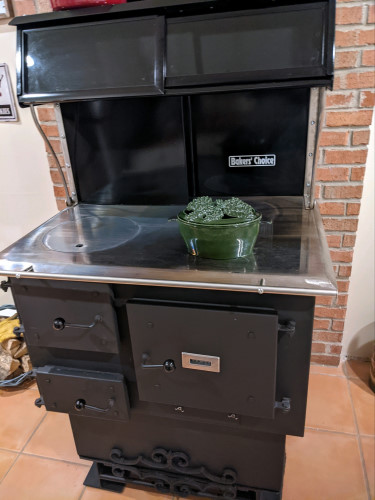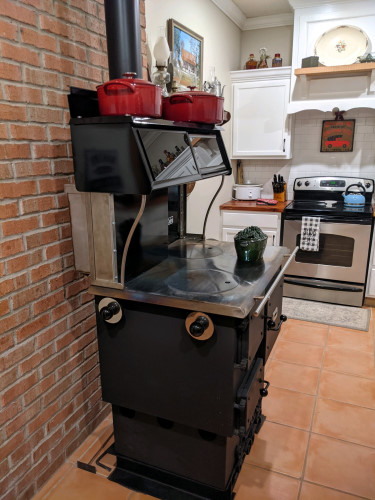 Shipping: Residential, curbside delivery via freight truck with a lift gate is included in the Continental U.S.A. (some exceptions may apply). Please inquire with our sales staff if you have specific shipping needs such as international, freight terminal and/or business deliveries or if you need a smaller truck size. Click here to see Obadiah's Shipping Terms.
Obadiah's offer's a 20% discount and free shipping on most complete chimney systems. Email our chimney specialists for an exact quote.
Be sure to check out our newly improved Cookstove Community website cookstoves.net; the best place online to connect with other cookstove users over stoves, self-sufficient living, alternative energy, and more! Take a look at our selection of videos, articles, and photos, and be sure to visit the forums to connect with like-minded folks from all over.
If you are planning to cook with a cookstove, you will need to understand some basic fire safety. Remember, extinguishing a grease or oil fire with water is not a good idea.
Pouring Water on an Oil Fire
Stove Delivery and What To Look For
Boss of the Swamp: Woodstove & Chimney Maintenance (Part 1)
Boss of the Swamp: Woodstove & Chimney Maintenance (Part 2)
Wood Stoves with Domestic Hot Water View Review
Shopping Wood Cook Stoves - Domestic Hot Water Wood Cookstoves
Shopping Cookstoves - What Wood Cook Stoves Have Water Reservoirs?
Obadiah's GREAT & Love the cookstove!
September 5, 2013
Reviewer: Karl Geary - NY State
Let me start with the company I bought my cookstove from, "Obadiah." From what I can tell, It's a smaller mom and pop operation. From the purchase to install, these guys were just great. I was installing the stove myself and Woody, himself a fireman, sized and recommended the best route the pipe should take, etc. Even when I had to call a few times with banal questions, they were patient to the last. Now the stove is in and I am very very grateful to them for their help and support. The stove itself: It's simple, functional and very effective. I use it to heat an area about 1450 sf, this it does with ease. The space is pretty well insulated, but still an old house and there are air leaks. The oven is great, bit of a learning curve there. But I think that says more about me than the stove. Otherwise, I gotta say, I love this stove.