Saturday, November 17, 2018
Osburn Horizon EPA Wood Fireplace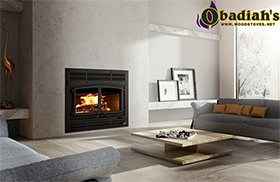 The Horizon Wood Fireplace by Osburn is one of the largest fireboxes on the market with a 4.28 cu ft. firebox producing burn times of up to 10 hours! The Horizon Zero Clearance Wood Fireplace provides a large viewing area, so you can cozy up to the fire during those cold winter nights.
The Osburn Horizon Wood Fireplace is an EPA, NSPS approved, and may qualify for tax credits.
Description
Specifications
Photos (2)
Pricing
Add Review
Horizon EPA Wood Fireplace provides a clean face style that is sure to compliment any decor. The Horzion offers additional forced air heating options to heat those hard to reach rooms in the home.
Required Accessories
Prairie Faceplate

Refractory Firebrick Lining

Optional Accessories
Forced Air Distribution Kit

The forced air heating system allows you to manage the heat distribution automatically. Using a wall thermostat, you can select the temperature you want to maintain in the room where the fireplace is located. Once the thermostat is satisfied, the excess heat is redirected to another room up to 50 feet (15 m) away from the fireplace using a 300 CFM blower. Allowing you to enjoy a nice fire in your living room without the discomfort of excess heat generated by your Osburn Horizon Wood fireplace.
The system can also be used to supplement heat in a room remote from the fireplace. For this type of application, the thermostat needs to be positioned in the desired room and programmed with the temperature to be maintained. The system, now in "heat mode", will activate the blower as long as the temperature in the remote room is not achieved and that the fireplace has enough heat to distribute.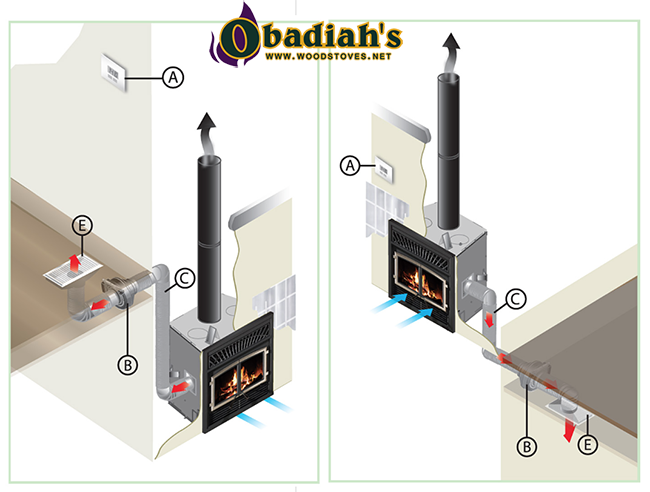 6" x 25' Insulated Flex Ducting for Forced Air Kit

Warm Air Grille - Modern Style

Fresh Air Intake Kit


Resources:
Product Specifications Horizon Wood Fireplace
Glass surface – dimensions (Width X Height)
29 3/4" X 13 1/2"
Overall dimension (Height)
43 3/8"
Overall dimension (Width)
50 3/4"
Overall dimension (Depth)
31 3/4"
Door opening
12 3/4"H x 33"W
Firebox Size
17"H x 25 3/8"W x 17 7/8"D
Centre line of flue outlet to the side
25 3/8"
Centre line of flue outlet to the back
11 7/8"
Recommended heating area (sq.ft.)
1,000 - 2,800
Firebox volume (cu. ft.)
4.28
Maximum burn time
10 h
Maximum heat output (dry cordwood) : (2)
95,000 BTU/h (27.8 kW)
Overall heat output rate (min. to max.) : (2) (3)
16,610 BTU/h (4.9 kW) to 43,021 BTU/h (12.6 kW)
Maximum log length
25 in (635 mm) east-west*
Flue outlet diameter
8 in (203 mm)
Type of chimney
CAN/ULC S629, UL 103 HT (2100 °F)
Baffle material
C-Cast
Approved for alcove installation
Not approved
Approved for mobile home installation‡
Not approved
Weight
550 lb (250 kg)
Appliance weight (Including refractory slabs and faceplate)
665 lb (302 kg)
Type of door
Double, glass with cast iron frame
Type of glass
Ceramic glass
Blower
Included (up to 176 CFM)
Tested & Approved
EPA / ASTM WK47329 UL/ULC
Optimum efficiency : (6) (7)
69.7 %
Average particulate emissions rate : (8)
1.6 g/h
Average CO : (9)
157.4 g/h
Warranty
Limited Lifetime
Osburn Horizon Wood Fireplace Unit Dimensions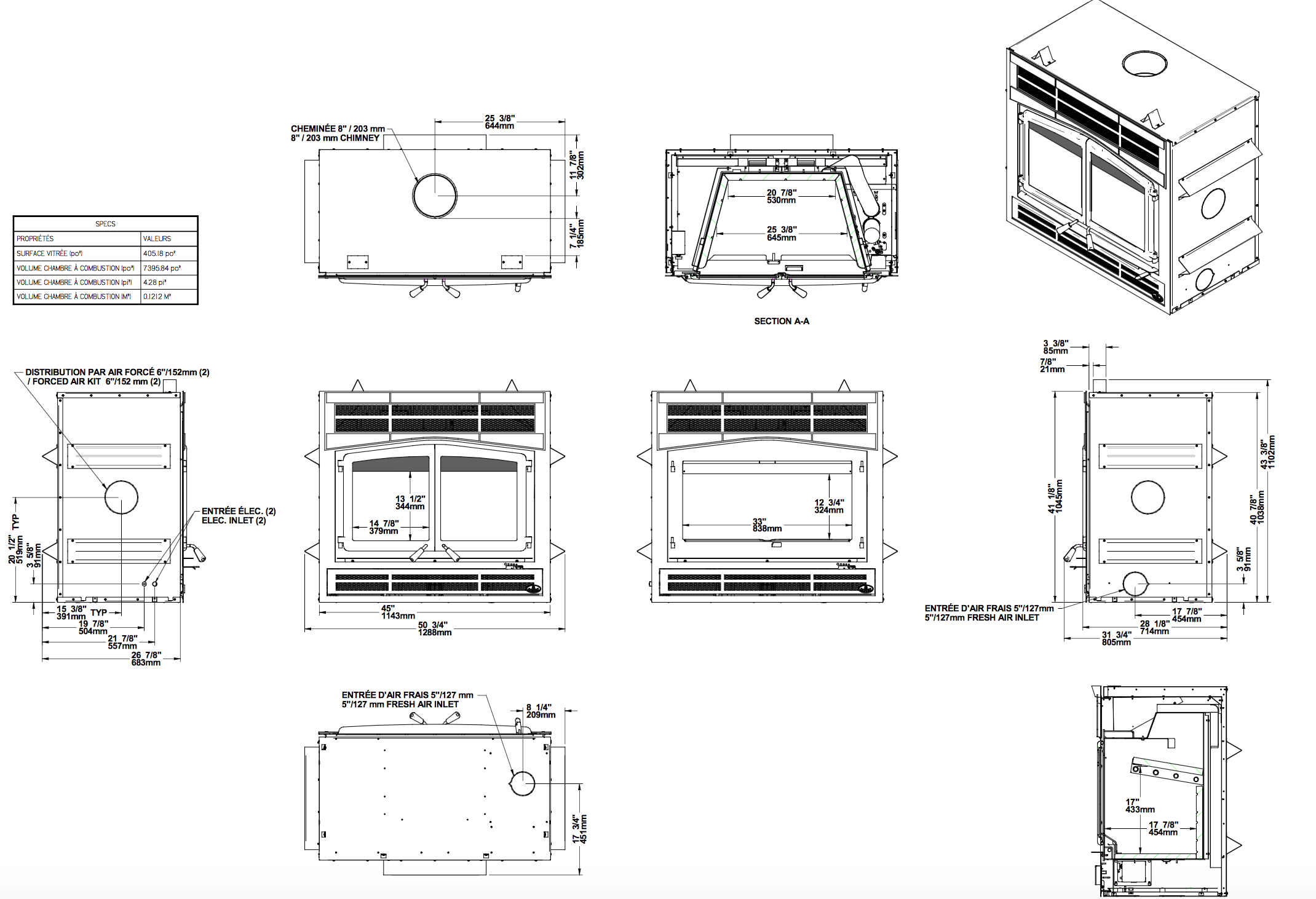 Osburn Horizon Wood Fireplace Clearances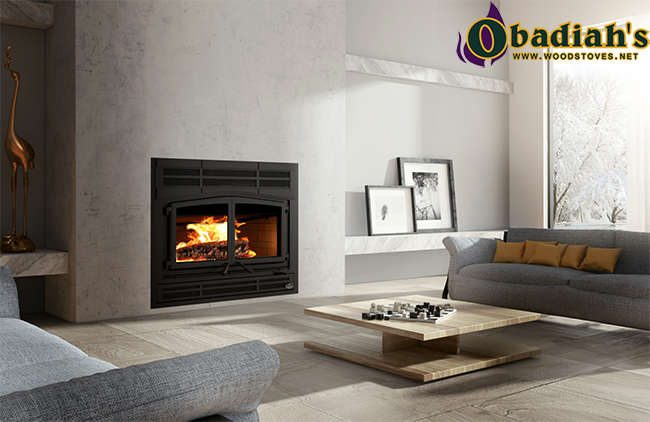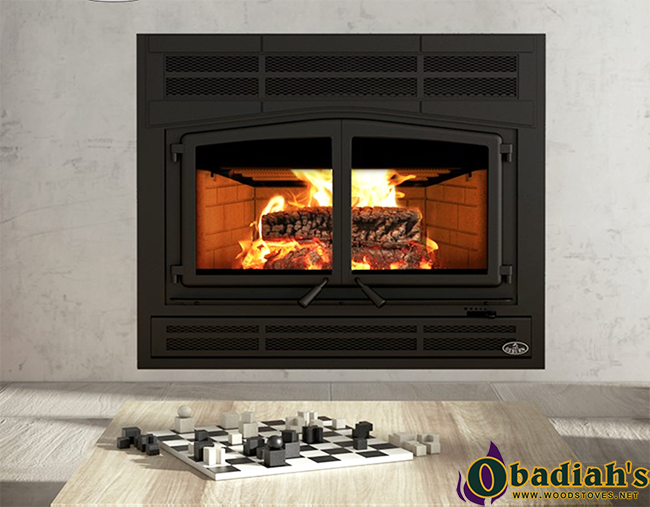 All Retail Prices Include: Residential, curbside delivery via freight truck with a lift gate is included for shipping in the Continental U.S.A. (some exceptions may apply). Please inquire with our sales staff if you have specific shipping needs such as international, freight terminal and/or business deliveries or if you need a smaller truck size. Click here to see Obadiah's Shipping Terms.
Obadiah's offer's a 20% discount and free shipping on most complete chimney systems. Email our chimney specialists for an exact quote.