Friday, December 8, 2023
Saunacore BSE Stainless Sauna Heater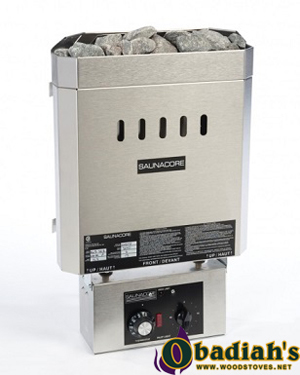 Saunacore BSE Stainless Sauna Heaters are manufactured in North America. The 5 available sizes range from the 3.0 KW all the way up to the 9.0 KW electric sauna heater. Made of surgical stainless steel, these sauna heaters are built to last the test of time. The lifetime warranty that comes with these heaters completely backs up the quality of the construction and design. Order yours from Obadiah's Woodstoves today!
Description
Specifications
Photos (1)
Pricing
Add Review
Features:
Heat deflector surrounding rock tray directs heat into sauna, whereas others heat directly upwards over heater.
Precisely engineered baffled shell construction provides enhanced air flow for quicker heat-up time.
Extremely well ventilated body construction can allow heater run up to 50 degrees cooler than other comparable sauna heaters.
Cold air at floor level is sucked up from the open underside of the heater and flows through the hot rock compartment, creating the air convection method in motion throughout sauna.
Can be mounted on straight wall or in a corner.
Ultra long life Incoloy heating elements. More durable than copper or stainless steel elements.
Built-in high temperature safety cut-off switch.
100% Surgical Stainless Steel (304 grade) construction, including shell, inner baffles, frame and rock tray.
Lifetime warranty!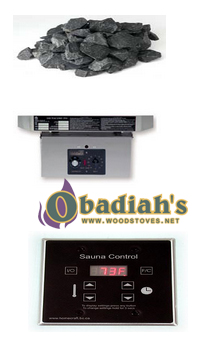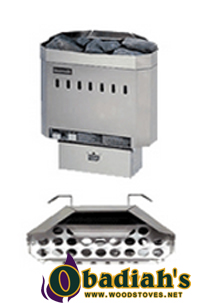 These electric sauna heaters are shipped with special sauna rocks that are designed to store the heat. Their large surface area, provides very quick recovery while generating maximum steam. All sauna heaters come standard with built in heat controller and timer. This is especially popular as bathers can set the temperature in the sauna without leaving. It also makes installation quicker. We also offer an optional state of the art digital LED display controllers for more precise temperature and time settings. This low voltage digital control is all electronic, a significant advance in "state of the art" sauna accuracy and convenience. This control runs silently, with tremendous accuracy and reliability.

Resources: