Thursday, September 21, 2023
Norsk Kleber Merethe Plus Soapstone Masonry Stove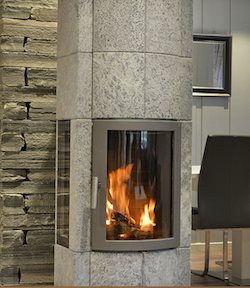 Norske Kleber Soapstone Mass Wood Heaters Built from Quality Material - Imported from Norway!
Masonry heaters are EPA Exempt. All Norske models are UL & ULC listed for North America.
Available in Single Sided - Or 3-Sided Glass Viewing Models!
Charming Soapstone is not only beautiful to look at, but also provides massive storage heating capabilities. Get the most from your wood heat, with a soapstone wood heater.
Description
Specifications
Photos (8)
Pricing
Add Review
The Merethe Plus 5 by Norske Kleber is unique because its one of the few 3-sided free standing wood stoves available in North America.
The Merethe is build of Authentic Soapstone from Norway, stylish, functional wood heat for any space.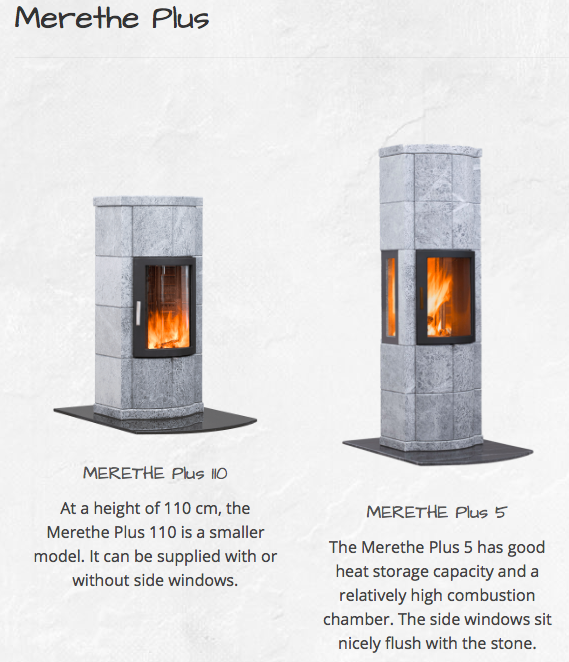 Benefits of Soapstone Heat
Optimum storage of the heat from the fire, which is dispersed from the stove into the room long after the fire is extinguished - Maximizing Heat Absorbtion Benefits
A pleasant radiant heat – the heat that is stored in the stones is radiated into the room, very much like the warmth you would experience from the evening sun - Warms your body to the bones!
A good indoor climate – since our types of stoves do not have very hot surfaces that are in direct contact with the air in the room, no particles from the air get burnt - Good for those with asthma or breathing sensitivities!
Excellent energy efficiency – due to the slow heat release and high burning efficiency, roughly half the amount of wood is used compared to cast iron or steel stoves - Less wood means less work!

Resources:
Norsk Kleber Merethe Plus Soap Stone Masonry Heater Specifications 
Merethe Plus 110
Merethe Plus 5
Overall Dimensions
Glass Viewing Area
Total Weight
Maximum Log Size
BTU Heat Output
Chimney Flue Outlet  
6" Top Vent
Safety Certification
ULC S627 / UL 1482-11
Clearance to Combustibles

35.31"W X 23.5"D X 35.31"H
400lbs
Oven Capacity
19" Log Length
Glass Viewing Area - Firebox & Oven Doors 14.56"W x 20.86" H
BTU Heat Output 31,124 BTU's
Heating Capacity 400-1600 sq. ft.



Rear 5.5"
Side 5"