Friday, May 29, 2020
Napoleon NZ3000H EPA Wood Fireplace - Discontinued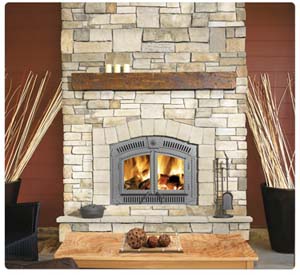 This product has been discontinued as it does not meet 2020 EPA Emission Standards. This page exists for informational purposes only.
NZ3000H Zero Clearance EPA Wood Fireplace by Napoleon
The Napoleon NZ3000H Fireplace has been redesigned to include a catalytic combustor. The NEW NZ3000 Wood Fireplace is EPA Approved and qualifies for tax credits.
Description
Specifications
Photos (7)
Pricing
Videos (1)
Add Review
Napoleon's EPA certified NZ3000H wood-burning fireplace has lower emissions then it's predecessor and burns up to 25% longer, thus a more efficient model while still maintaining its heat. The NZ3000 offers superior, heavy-duty boiler plate steel and full refractory lined firebox with advanced EPA technology. The ultra-high efficiencies allow for easily sustained overnight burns. Only Napoleon® provides wood-burning fireplaces that have an elegant, rustic style and are built to these high-quality standards.
Cozy up this heating season with the New NZ3000H Wood Fireplace. This fireplace is zero clearance, making it the perfect heating solution for both new and old construction projects. The NZ3000H provides satisfyingly long burn times of up to 17 hours, allowing you to spend more time enjoying the things you love, and less time hassling with loading the firebox.
NZ3000H Wood Fireplace Firebox Construction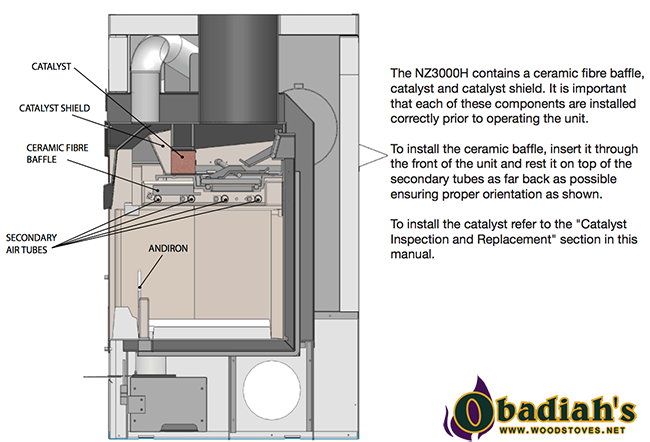 Napoleon NZ3000H Wood Fireplace Features:
The NZ3000 features ultra high efficiencies, allowing for easily sustained burn times
The HIGH COUNTRY™ Series offers a superior firebox construction, guaranteed to last a lifetime
Fully lined refractory firebox with stainless steel secondary air chamber, completes the combustion process
Napoleon's advanced wood burning technology with our "super low" burn rate feature allows for extended, overnight burns
Heat radiating ceramic glass
Andirons come standard with the unit
President's Limited Lifetime Warranty
Decorative knob allows the operator to bypass the catalyst temporarily, increasing the air flow through the unit to aide in starting a fire or reloading fuel
Digital catalyst temperature monitor allows the operator to ensure their fireplace is always within the optimal temperature range to provide lowest emissions possible
Improved air wash system allows glass doors to stay cleaner
Cast iron baffle and bypass door for durability
Cast iron front doors provide consistent seal

Products may not be exactly as shown. Flame height and activity is influenced by varying configurations and may not appear as shown.
Additional Accessories
Painted black arched screen kit allows you to enjoy an open fire
Central heating system
Powerful remote blower 315 CFM
120 volt thermostat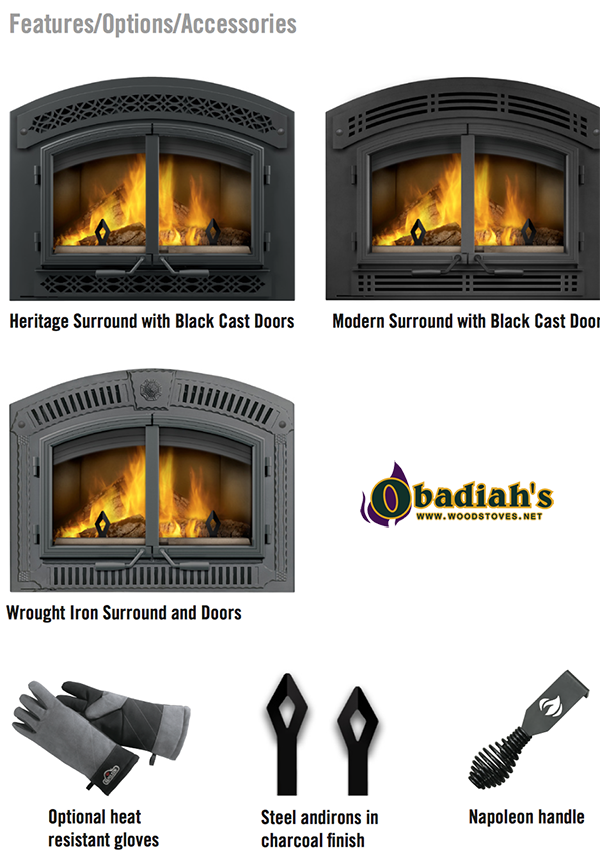 Resources:
Specifications NZ3000 Zero Clearance EPA Wood Fireplace
Product Dimensions
43 1/4"h x 42"w x 29 1/4"d
FLUE CENTER LINE TO REAR
15 9/16 (141mm)
FLUE CENTER LINE TO SIDE
21" (533mm)
Heat Output*
60,000 BTU
Emissions
3.25 g/hr
Firebox Chamber (D,W,H)
13.75" x 25.75" x 12.5" (349mm x 654mm x 318mm)
Firebox Capacity
2.377 cu. ft.
Area Heated
3,000+ sq. ft.
Burn Time
17 hours
Max log size
25"
Flue Diameter
7" Class A
Outside Combustion Air
Yes
Mobile Home Approved
No
Central Heating and/or 315CFM Room Blower
Optional
Door size
40W x 32H
Weight
551 LBS (249.9 KG)
Electrical Draw
< 12 AMPS
Figures may vary with individual conditions
**Wolf Steel Ltd own test showing realistic BTU using hardwood logs with regular refueling. Heat output will differ depending on chimney draft as well as type, moisture content and size of wood
Napoleon NZ3000H Wood Fireplace Product Dimensions

Napoleon NZ3000H Wood Fireplace Framing Dimensions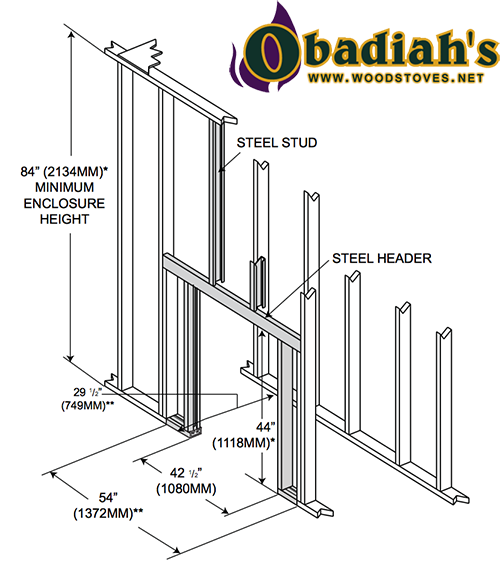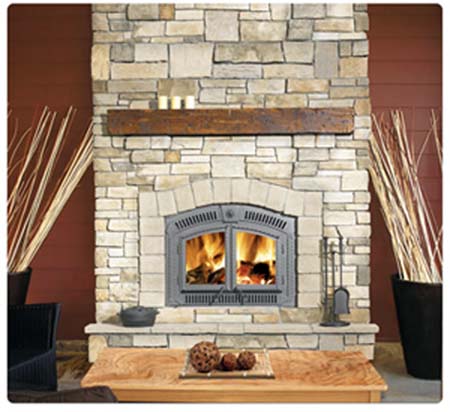 Arched Wrought Iron Face Plate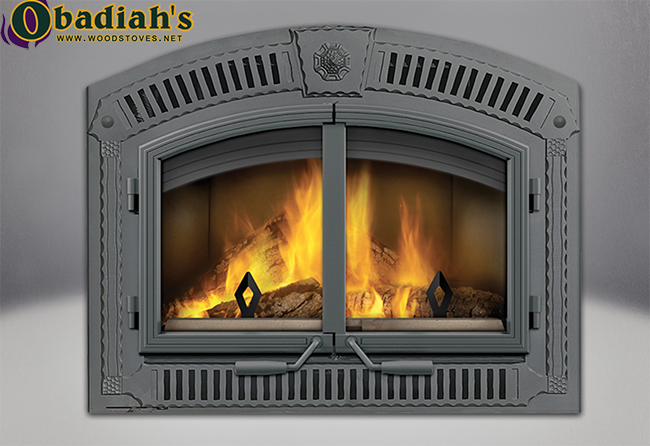 Napoleon NZ3000H EPA Wood Fireplace with Modern Insets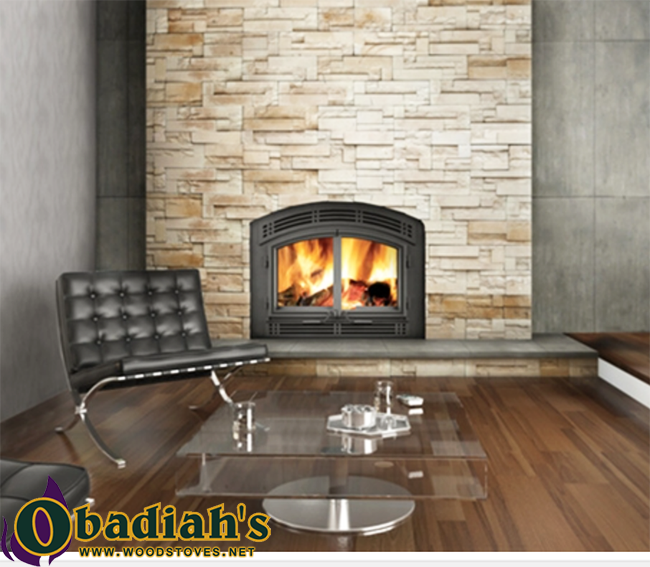 Arched Modern Insert Face Plate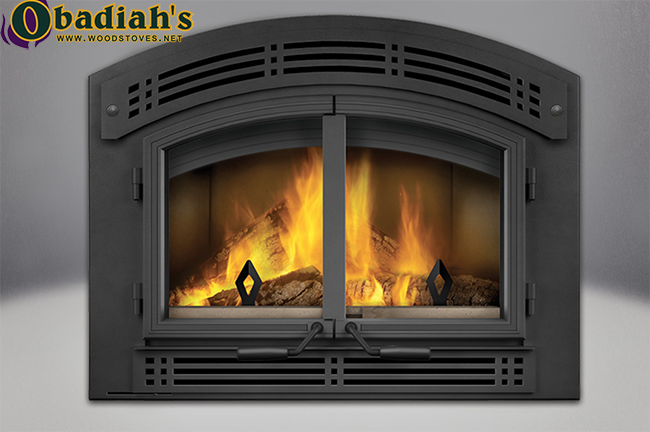 Arched Heritage Face Plate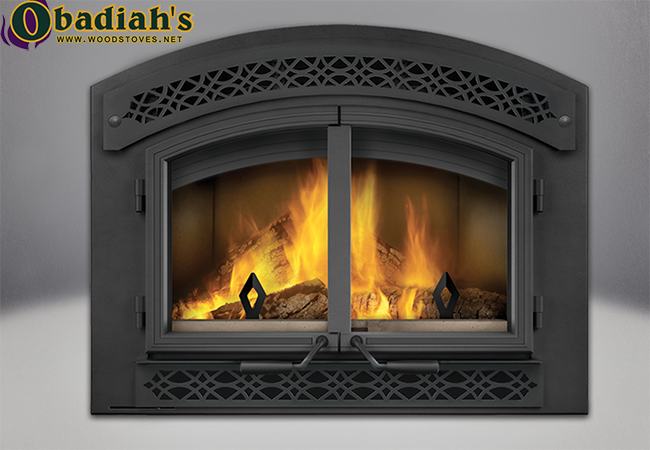 Arched Black Double Doors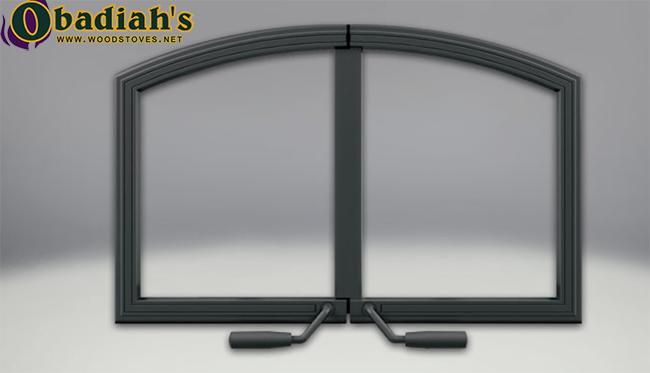 Arched Wrought Iron Double Doors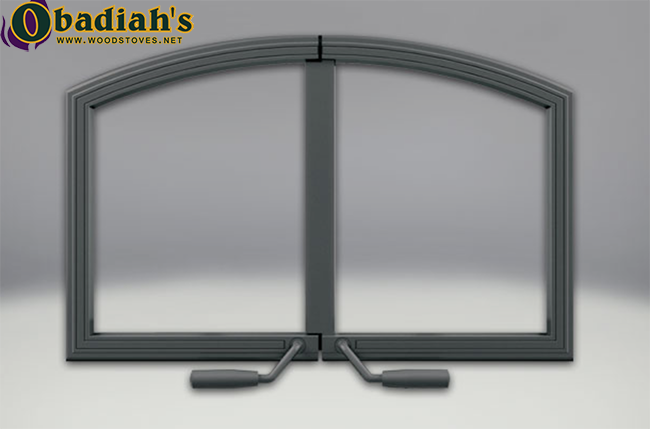 NZ3000H Wood Fireplace Operating Instructions