Friday, December 8, 2023
Napoleon NCPF110 Multi Fuel Furnace - Discontinued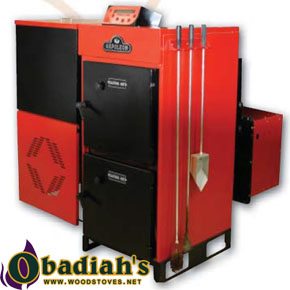 This product has been discontinued and all inventory has been sold. This is an informational page for those who have already purchased the unit.
The Napoleon NCPF110 multi fuel furnace is a superior biomass hot air furnace that delivers a lot of heat to keep residential or commercial buildings warm and comfortable. With the amazing efficiency that comes with burning organic fuels such as corn and wheat, you can heat your building in a more environmentally friendly manner, as opposed to using materials that are not eco-friendly to burn, such as oil. And since the cost of purchasing corn, wheat or pellets is lower than buying oil and gas to burn, you can save money while reducing your carbon footprint.
Description
Specifications
Photos (1)
Pricing
Add Review
The Napoleon NCPF110 is a multi fuel furnace capable of burning corn, wheat, or pellets to deliver environmentally friendly energy that heats your residential or commercial space (up to 3,600 square feet).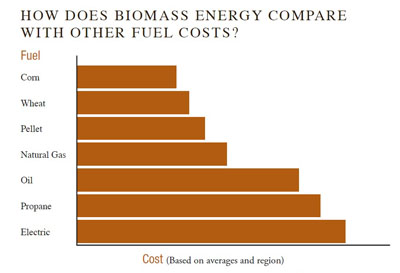 There are a number of other features that make this biomass hot air furnace a great purchase. As illustrated in the graph above, the renewable sources of energy that this eco-friendly furnace uses are not only better for the planet to burn, but they are also cheaper to purchase. With an optional wall thermostat installed, it can control the fuel feed system to provide a constant temperature. And when the clean-burning furnace is low on fuel, the controller flashes and a buzzer will remind you that it is time to refuel. Instead of using inefficient power venting, a natural venting system uses a slower exhaust to increase efficiency. The combustion blower supplies the exact amount of air to the burner needed for complete burning and maximum heat transfer. And with a top loading fuel feed system that keeps the burn pot and fuel storage separate, there is no risk for burn back when using this biomass heating system.
For a clean and efficient burning furnace that delivers a powerful amount of heat to keep residential and commercial buildings warm without damaging the environment, the Napoleon NCPF 110 makes for an excellent choice at a great price.
Features:
High Efficiency
Horizontal, high performance heat exchanger system designed for maximum heat transfer. Provides 18.4 sq. ft. of heating surface
Natural venting system, as opposed to mechanical power venting results in a slower exhaust process increasing overall efficiency
Combustion blower ensures the exact amount of air is supplied to the burner for complete combustion through the system to maximize heat transfer
Top loading fuel feed system separates burn pot and fuel storage eliminating risk of burn back
Rugged commercial grade auger feeds the precise amount of biomass fuel from the hopper into the burn pot and provides varying levels of heat
Convenience / Versatility
Automatic fuel feed for convenience and peace of mind
Versatile, rear or top mount capability for exhaust flue and return air plenum designed to fit a variety of installation applications
Large bottom front door provides easy access for servicing of burn pot or ash reservoir
Optional stand-by burn pot is available to eliminate down time when burn pot is removed for cleaning, simply clean and exchange at your leisure
Corn must be sifted prior to placing in the hopper to alleviate naturally occurring dust particles
Three Stage Control System For Optimum Performance
First mode starts the fire
Idle mode trickle feeds the burn pot to maintain a small core fire in anticipation of the thermostat calling for heat
Once the thermostat is satisfied and desired room temperature is reached, 13 the system automatically returns to idle mode
High temperature shut off protection
One Touch Setup / Service
Digitally controlled furnace
Choose from corn and pellet or a mixture of both fuel selections
LCD display and touch button control system for fully automatic control
Choice of Celsius or Fahrenheit temperature indicator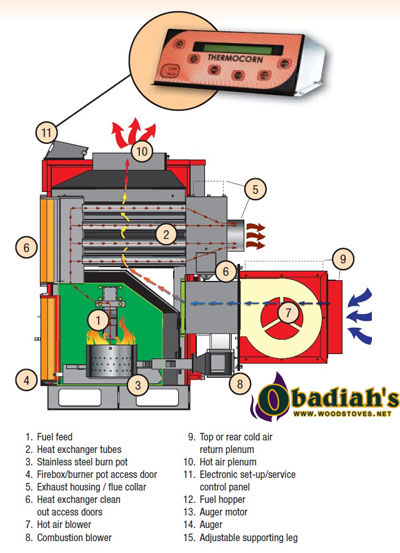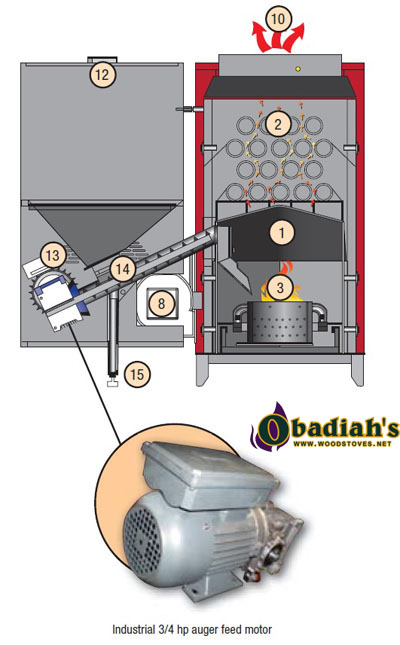 Resources:
| | |
| --- | --- |
| Specifications | Napoleon NCPF 110 |
| Heating Capacity | Up to 118,000 BTU's (up to 3600 sq.ft.)** |
| Furnace Efficiency | 80% |
| Hopper Capacity - 8 bushels (10 cu. ft. ) | 8 bags of corn (448 lbs), 10 bags of pellets (400 lbs)*, 8 bags of wheat (444 lbs) |
| Fuel Rate | 2 - 15 lbs / hr* |
| Working Voltage | 220 Volt, 15 Amp |
| Flue Pipe | 6" diameter (15 cm) |
| Venting Options | Class "A", "L" vent or masonry chimney with stainless steel liner |
| Flue gas temp @ 20" above furnace outlet | 266 – 392ºF, (130 - 200ºC) depending on the run mode |
| Running Modes | First fire: Starting the burn pot, Low mode: Low heat (Spring & Fall), High mode: High heat (Winter), Idle mode: Keep core fi re burning for automatic thermostatic control |
| Combustion Air Blower | 150 cfm (255 m3 / hr) |
| Plenum Opening For Hot Air Outlet | 18" x 14" (457 x 356 mm) |
| Return Air Opening | 18" x 14" (457 x 356 mm) Designed to accept standard furnace fi lter block |
| Burn Pot | 310 Stainless steel (9 GA), double walled with dual combustion air induction inlets |
| Heat Exchanger | Steel boiler plate, heavy duty tubes |
| Auger Motor | High torque, fan cooled (3/4 hp) |
| Forced Air Blower | 1800 cfm (3060 m3 / hr) |
| Dimensions (Height x Width x Depth) | 51" x 52" x 57" |
| Weight (Furnace And Hopper) | 770 lbs approx (350 kg) |
| Weight (Furnace Only) | 560 lbs (255 kg) |
| Shovel | Adds fuel to the burn pot for initial start up |
| Scraper | Exhaust housing scraper |
| Wire Brush | Heat exchanger brush |
* Depending on quality and moisture content of fuel used.
** Figures may vary with individual conditions such as floor plan layout, insulation value/heat loss of the home, geographical location and the fuel used.
Dimensions: