Sunday, December 3, 2023
Napoleon HVAC Condo Pack Electric Forced Air Heating / Cooling
Napoleon HVAC PSE SERIES - Electric Heating / Electric Cooling Forced Air Furnace
Self contained, high efficiency Thru-The-Wall heating & cooling unit Heating - 5 kW, 7.5 kW, 10 kW, 15 kW Cooling - 12800 Btuh, 16500 Btuh, 19500 Btuh, 24400 Btuh
The Napoleon Condo Pack Electric Heating and Cooling is designed for conventional thru wall installation applications, The Condo Pack is the most effective choice with an 'all indoor design' for a clean exterior look. Perfect for residential low and high-rise applications as well as institutional and industrial installations. Napoleon's streamlined design is an aesthetically pleasing solution for your unique architectural needs. Pre-wired and pre-charged, our dual unit slide out chassis allows for easy installation and maintenance of both heating and cooling units.
Description
Specifications
Photos (1)
Pricing
Add Review
The unit is shipped in one package, completely assembled and wired. The air conditioning condensate drain is shipped separately with the unit for field install. If any damage is found, proper notation should be made on the carrier's freight bill. Damage claims should be filed with the carrier as quickly as possible. Check the rating plate (at the front of the access panel) to confirm heating and cooling capacities. The unit should be operated only with the electrical supply noted on the rating plate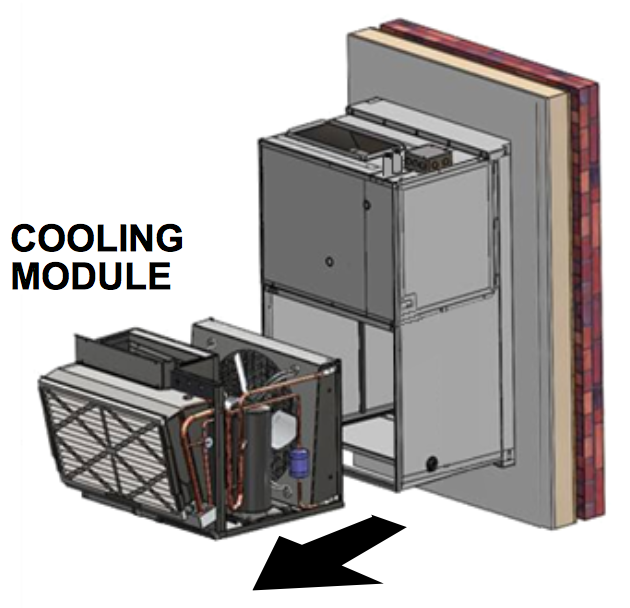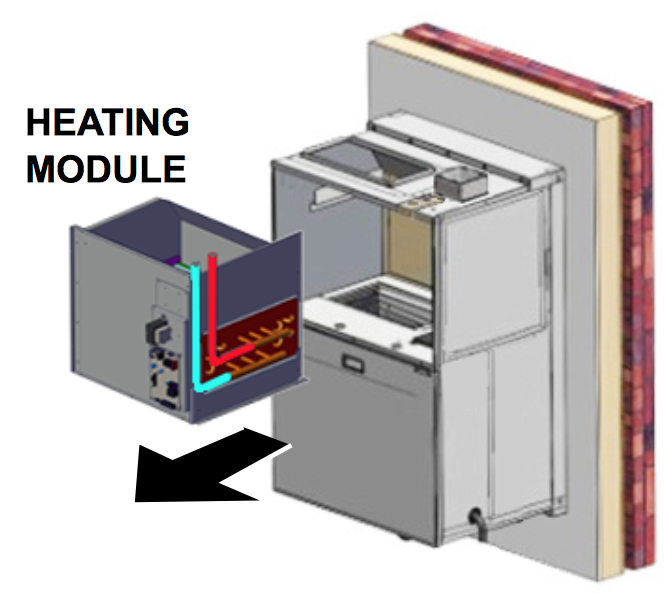 Features
• Up to 10.8 EER
• Up to 24,400 BTU/H Cooling
• Up to 15kW Electric Resistance Heating
• R410A Refrigerant System
• Micro-Channel Condenser and Evaporator Coils
• Removable heating and cooling module
• Pre-wired and pre-charged
• Plug-and-play installation and service
• High efficiency Copeland scroll compressor • Individual metering and control for each unit
• Industry standard footprint for retrofit applications
• Appliance shell dimensions: 43-1/8" High x 28" Wide x 32" Deep
• Wall Sleeve dimensions where penetrating exterior wall: 44-7/8" High x 28-7/8" Wide
• Standard TAUPE color
• Dual Inlet Blower for higher flow rates / reduced air noise
• Endura Pro Multi-Speed Electronically Commutated Motor for increased electrical efficiency
• Indoor access to all parts & maintenance needs
• Innovative, dual slide-out chassis can be partially or fully removed for efficient servicing.
• With spare modules, building management can perform quick swap outs, maintaining indoor conditions in the apartment/condo, while troubleshooting non functioning units off line.
• Can perform direct replacement of the individual modules at the end of their service life instead of replacement of the complete appliance.
• All control harnesses are separated with modular quick disconnects so module swap outs do not require time consuming rewiring.