Friday, December 8, 2023
GDS60 Napoleon Cast Iron Gas Stove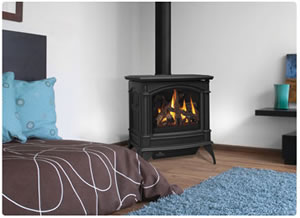 Now with a new elegant fine detailing and sleek, more sophisticated outer casting design!
Description
Specifications
Photos (3)
Pricing
Add Review
Napoleon's GDS60 has always been successful and in popular demand for it's solid performance and impressive heating efficiencies. Now with it's new elegant fine detailing and sleek, more sophisticated outer casting design, the GDS60-1 offers much more that it's original superior capabilities.
GDS60 Gas Stove Features:
Heater and wall furnace rated
35,000 BTU's in natural gas or propane and 78% steady state maximum efficiency
Yellow Dancing Flame® burner system
50% flame/heat adjustment for maximum comfort and efficiency
Compact, easily accessible and user-friendly controls
Equipped with 100% safety shut off feature for your peace of mind
Heat transferring, high heat ceramic glass
Clear, 230 sq. inches of viewing area - 19 1/4" 21 1/4"
President's Limited Lifetime Warranty
Additional Accessories
Ease of operation is added with an optional, convenient wall thermostat or an on/off auto temperature remote control
Optional blower and rheostat extracts maximum heat from the extra large heat exchanger
Black painted or satin chrome plated trivet (rear vent only)
B-vent adaptable
Special Notes
Propane Conversion Kit Available

Resources:
| | |
| --- | --- |
| Specifications | GDS60 |
| Fuel | Natural Gas or Propane |
| BTU Input | 35,000 |
| Efficiencies (Steady State) | 78% |
| Efficiencies (AFUE) | 72% |
| Glass Type | Ceramic |
| Blower kit | Optional |
| Mobile Home Approved | Yes |
| Height | 31 1/4" |
| Front Width | 27" |
| Depth | 19 1/2" |
| Glass | 18 3/4" H x 21" W |
Additional Information
Vents up to 20ft horizontally and 34 ft vertically (direct vent stove)
Direct vent model requires no chimney, it vents conveniently through a wall or roof and uses outside combustion air
Approved for bathroom (direct vent only) bedroom, bed-sitting room and basement installations
Suitable for mobile home installation
Patented B-vent adaptor kit conveniently modifies the direct vent stove into a conventional B-vent unit
Installs safely on any floor, even carpet and vents up to 20 ft. horizontally and up to 40 ft. vertically
Tested to ANSI Z21.86, Z21.88 CSA 2.32 and CSA 2.33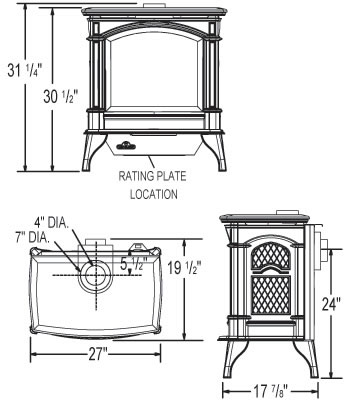 Line dimensions are to be used as a guide only. Please consult your installation manual for updated and precise measurements before proceeding to install or frame your Napoleon Fireplace. Check all Local and National Building Codes and Gas Regulations.