Friday, December 8, 2023
Timberwolf EPI22 Economizer Insert - Discontinued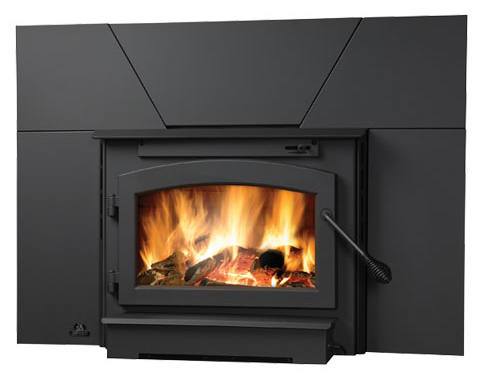 This product has been discontinued as it does not meet 2020 EPA Emission Standards. This page exists for informational purposes only.
With Timberwolf's EPI22 Economizer EPA wood burning insert, be prepared for your masonry fireplace to transform into an efficient, clean burning and cost effective heating source. Accommodating 18" logs, the large firebox design allows for a long 8 hour burn time.
Description
Specifications
Photos (0)
Pricing
Videos (5)
Add Review
Possessing one of the highest efficiencies in the industry, the EPI22 painted black steel insert boasts an 86% efficiency. It's features include a large ceramic glass viewing area, a dual blower system, the included cast iron door, and standard black flashing with trim. All of this and more makes this insert one of the best values in the market. In addition, all of these items are included in the price.
Features
EPA Certified
Wood Burning Insert shown with standard black flashing
Heats from 800 to 2000+ sq. ft.
Large ceramic glass viewing area
Firebox capacity of 1.9 cu.ft.
Up to 65,000 BTU's with dual blower system included
Minimum fireplace opening: 25 7/8"W x 22"H x 14"D
Painted black solid cast iron door included
Comes with standard black flashing

Resources:
| | |
| --- | --- |
| Wood Insert Specifications | Timberwolf EPI22 |
| BTU Heat Output (High Burn) | 65,000 |
| Firebox Capacity | 1.9 cu ft |
| Area Heated | 800-2,000 + sq ft |
| Burn Time | 8 hrs |
| Log Size | 18" |
| Emissions | 3.6 gr/hr |
| Flue Diameter | 6" |
| Blower Kit, Cast Iron Door and Flashing with Trim | Included |
| Shipping Weight | 350 lbs |
* Wolf Steel Ltd. own test results showing realistic BTU using hardwood logs with regular refueling. Heat output will differ on chimney draft as well as type, moisture content and size of wood.
**Figures may vary with individual conditions such as floor plan layout, insulation value/heat loss of the house, geographical location and firewood used.
Chimney Liner Installation - Chimneys 101
Chimney Liner Installation Part I - Preparing the Liner
Chimney Liner Installation Part 2 - Inserting the Liner
Chimney Liner Installation Part 3 - Connecting the Liner & Damper Insulation
Chimney Liner Installation Part 4 - Final Touches