Saturday, December 2, 2023
Napoleon Huntsville 1900 Wood Stove - Discontinued
The Napoleon Huntsville 1900 Wood Stove features a solid, dynamic appearance with performance to match. It has the same great features and wood burning technology as the 1100 &1400 pedestal models. With the largest firebox capacity in the Huntsville line, it creates a tremendous amount of heat with incredibly low emissions.
This product was discontinued in 2016. This page is provided for informational purposes only.
Description
Specifications
Photos (2)
Pricing
Videos (2)
Add Review
Napoleon's decorative, full canopy top with cooking trivet deflects heat forward into the room while providing an attractive "simmering" spot
Appealing pedestal base provides a well concealed inlet for combustion air which can be drawn from outside to add even more heating efficiency
The easy operation of a single lever burn control regulates primary and secondary air establishing a perfect mixture and providing a clean burn
Wrap around side shields add a delicate balance of elegance and functional practicality helping to disperse heat evenly and reduce clearances to combustibles
Large viewing area -- air wash in combination with high temperatures keeps the viewing glass clean
Large ash dump with convenient folding lid and dual carrying handles add to the ease of cleaning
Economical 6" flue assures you of efficiency and cost saving installations
Secondary air tube insulated with ceramic fiber and protected with a stainless steel cover plate ensures complete combustion
Upper firebox lined with ceramic fiber baffles. The advantage of light weight ceramic is three fold:
Ease of installation: only two pieces - Lighter, easier to handle.
The thermal dynamics of ceramic fiber allows for quicker startup and a hotter, cleaner burn.
Cool room air is circulated around the firebox, heated and returned to the room
Non-catalytic high tech design eliminates the need for a delicate ceramic catalytic combustor which can deteriorate over time
Black trivet
Available in painted black and porcelain enamel black or almond (green is no longer available).
President's Limited Lifetime Warranty

Resources:
Specifications
The Napoleon Huntsville 1900 Wood Stove
Emissions (grams per hour)
2.8
Width x Height x Depth
25 1/2" x 33 1/4" x 31 1/2"
Firebox Chamber (W.H.D.)
18" x 12" x 22 1/2"
Firebox Capacity
3.0 cu. ft.
Door Size (height x width)
14 3/4" x 19 3/8"
Weight without bricks
285 lb.
Weight of Bricks
114 lb.
Approximate Area Heated* sq. ft.
1,000 - 3,500
Heat output BTU/h**
11,800 -34,000
Heat output BTU/h (high burn)***
85,000 BTU
Burn Time (low fire)*
12 hours
Catalytic Combustor
no
Mobile Home approved
no
R-2000 approved (Canada)
yes
Recommended log size
21"
Max. Log Size
22"
Outside Combustion Air
yes
Flue diameter
6"
Flue size prefabricated
6"
Minimum Clearances with Single Wall Chimney Connector from Stove to Combustibles
Rear
12"
Side
22"
Corner
8"
Minimum Clearances with Approved Double Wall Pipe from Stove to Combustibles
Rear
12"
Side
22"
Corner
8"
*Figures may vary with individual conditions. Please consult your specialty dealer
**EPA (Environmental Protection Agency) rated BTU/HR with softwood test fuel (for emissions testing only) - no refueling
***Wolf Steel Ltd. own test results showing realistic BTU using hardwood logs with regular refueling. Heat output will differ depending on chimney draft as well as type, moisture content and size of wood.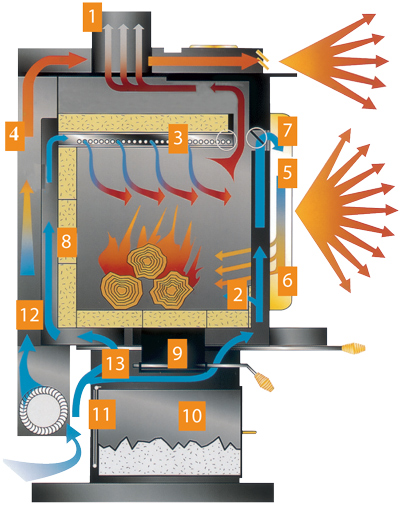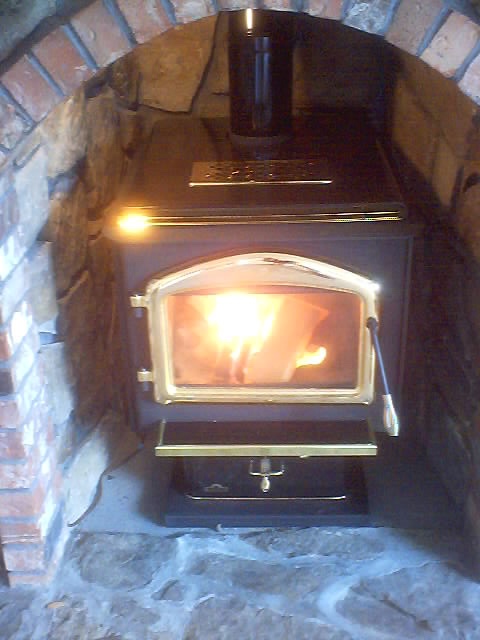 Boss of the Swamp: Woodstove & Chimney Maintenance (Part 1)
Boss of the Swamp: Woodstove & Chimney Maintenance (Part 2)