Monday, December 4, 2023
1100C Napoleon Cast Iron Wood Stove - Discontinued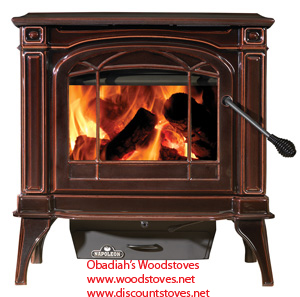 This product has been discontinued as it does not meet 2020 EPA Emission Standards. This page exists for informational purposes only.
Dual Vortex Action
To achieve an extraordinary clean burn without a catalytic combustor, horizontal jets of super heated secondary air are mixed with the fire's smoke to burn off released smoke particles. You can actually watch the spirals of secondary flames just below the ceiling during most of the burn.
Secondary Air Tube-Kiln Construction
Napoleon's secondary air tube is insulated with ceramic fiber and protected with a stainless steel cover plate, ensuring complete combustion. This fully lined refractory firebox acts as a kiln, concentrating the maximum amount of heat to efficiently heat your home.
Napoleon's patented EPA Wood Burning Technology...more heat with less fuel. Emissions as low as 2.8 grams per hour and 69.8% overall maximum heating efficiency.
A combination of stainless steel and 2300 degrees Farenheit resistant ceramic fibre protect against deterioration caused by extreme temperatures.
Description
Specifications
Photos (1)
Pricing
Videos (2)
Reviews (1)
Add Review
The painted black finish is standard. The 1100C is also available in porcelain enamel brown or painted wrought iron finsih. It features an elegantly arched, Early American look, single door with concealed hinges, ceramic glass and a convenient ash pan.
EPA (Environmental Protection Agency) approved with emissions as low as 4.1 grams per hour and 69.8% overall maximum heating efficiency - more heat with less fuel.
The easy operation of a single lever burn control regulates primary and secondary air establishing a perfect mixture and providing a clean burn
Primary "bottom air feed" assists in cold start ups and to revive a small, dying fire
Large viewing area through an elegantly arched Early American cast iron door
High heat ceramic glass provides a safe, unobstructed view of the fire
Effective air wash in combination with high temperatures keeps the viewing glass clean
Fully refractory lined firebox, similar to a kiln maintains the interior temperatures necessary to achieve low emissions
Ash dump with self closing door is readily accessible.
Concealed hinges
President's Limited Lifetime Warranty

Resources:
Stove Specifications
Model 1100C Wood Stove
Emissions (grams per hour)
4.1
Width x Depth x Height (inches)
25 1/2 x 22 1/2 x 33 1/4
Firebox Chamber (D.W.H.) (inches)
13 1/2 x 18 x 12
Firebox Capacity
1.7 cu. ft.
Door size (height x width)
14 3/4 x 19 3/8
Weight without bricks
252
Weight of Bricks
90 lbs
Approved Area Heated*
600-1,500
Heat output BTU/h**
11,700-42,200
Heat Output BTU/h (high burn)***
55,000
Burn Time (low fire)*
7 hours
Catalytic combustor
no
Mobile home approved
no
R-2000 approved (Canada)
yes
Max. log size
18"
Outside combustion air
no
Flue diameter
6"
Flue size-prefabricated
6"
Minimum Clearances with Single Wall Chimney Connector from Stove to Combustiles
Rear
10"
Side
12"
Corner
6"
Minimum Clearances with Approved Double Wall Pipe from Stove to Combustiles
Rear
12"
Side
6"
Corner
2"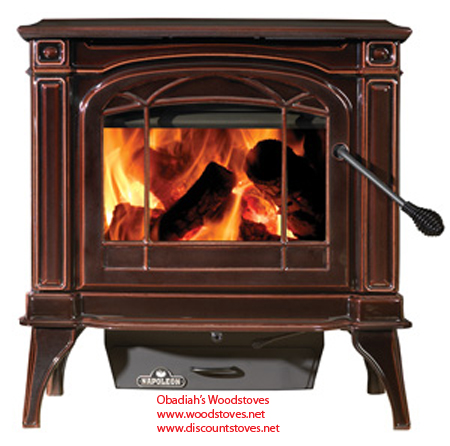 Boss of the Swamp: Woodstove & Chimney Maintenance (Part 1)
Boss of the Swamp: Woodstove & Chimney Maintenance (Part 2)
bought in 2008. Grateful every day!
January 22, 2014
Reviewer: Lisa
We bought this very wood stove, though at the time they offered it and we bought it in green, in 2008. We live in Southern Maine, and our house is 1775 square feet and two stories. This little gem keeps us warm, warm, warm! I grew up with wood heat and swore I would never heat with wood as an adult. I grew up smelling like wood smoke and in a very dusty house. That is not the case with this stove. We are warm. Our clothes, hair, house don't smell like a smoke house. I LOVE this stove! Some people might consider the need for 12" logs a drawback. We do not, though when we realized that we'd have to get shorter logs, we anticipated that it would be a big problem. I'm happy to report that we were wrong. This stove is one of the very best online (or otherwise!) purchases we have ever made. 5 stars just aren't enough to express our satisfaction with this stove.