Wednesday, September 27, 2023
Majestic Aura Gas Fireplace - Discontinued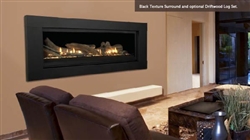 This product was DISCONTINUED in 2016. This page is provided for information purposes.
The Aura fireplace is a soothing source of heat, delivering up to 51,000 BTU's of heat when needed, ensuring you a warm, comfortable place to be while still able to warm the room efficiently helping to lower your heat bill.
Description
Specifications
Photos (4)
Pricing
Add Review
Vermont Castings Aura Direct Vent Gas Fireplace

Linear Fireplace Design
The breath taking panoramic view, the Aura has an incredible 70-inch viewing area, the widest fireplace on the market.
Flexible Installation
The Aura uses just one 5" x 8" vent pipe, making it the longest produced standard. This makes easy installations, and also helps to keep the home exterior cleaner, having only one exit. Non-combustible board and an LP conversion kit are also included to help make installing the fireplace according to your own preferences.
Style Options
Create the look that's right for you with a wide range of style options, both on the inside and the outside. Choose from modern stone and glass kits, interior porcelain panels, or an optional driftwood log set. You're sure to find the right style for your home or business with three unique exterior surrounds to choose from.
Total Signature Command System
Ultimate fireplace control - A Smart Mode thermostat helps you maintain comfortable heating levels. Battery backup ensures uninterrupted heating, and the included touch screen remote lets you control the height of your flame or activate the floor illumination for an inviting ambiance even when the fire is not lit.
Up to 1,008 sq. in. of Viewing Area
Wide viewing area - You and your friends can enjoy the beautiful flame picture from almost anywhere in the room. ClearView non-reflective glass showcases the interior perfectly.
Up to 51,000 BTUs
Comfortable heat source - The Aura fireplace releases up to 51,000 BTUs of heating power when you need it, so you'll stay warm and cozy while efficiently warming the room to help lower heating costs.


Features

•Up to 1,008 sq. in. of Viewing Area
•Modern lines suit today's modern demand
•ClearView non-reflective ceramic glass appears nearly invisible
•Total Signature Command™ System with Touch screen remote
•Comes standard with Onyx and Diamond glass, and stone kit
•Porcelain panels in Black or Bronze (required)
•Hidden side controls
•Included conversion kit easily converts from natural gas to liquid propane
•Floor illumination using standard light bulbs
•Needs only single 5" x 8" top vent termination
•Includes required non-combustible board
•Power Vent compatible (but not required for typical installations)

Field Installed Accessories
•Three optional surrounds in Black Texture, Iron Age, or Stainless Steel
•Optional Black Texture inside trim kit for non-combustible wall finishes
•Optional driftwood log set
•Alternate glass kit colors available in Sapphire, Bronze, and Emerald

Resources:
Specifications
Aura
Dimensions (Actual)
90 5/8"W x 48 1/4"H x 23 1/8"D
Dimensions (Framing)
91 1/8"W x 48 1/2"H x 23 3/8"D
Viewing Area
69 1/2 "W x 14 1/2 "H (1,008 sq. in.)
BTU Input
51,000 Max. 34,000 Min. (Nat) /
43,000 Max. 32,000 Min. (LP)
Ignition System
Circulating Signature Command System
Gas Type
Natural Gas or Liquid Propane
Gas Line
18" Flex line
w/Shut oFf 1/2" FPT
Compilable
5" x 8 Selkirk, Simpson,
Dura Vent, Metalfac, ICC
Flue TYpe
Dedicated Top Vent
Low Voltage Wall Switch Wire
15' wire with wall switch cover
Design Certified
CSA
Clearance Around Flue
Horizontal
3" all sides
Vertical
3" all sides
Outside Wall
1" all sides
Clearance To Combustibles
Fireplace
0" Clearance to stand offs all sides
Top of unit to Ceiling
30"
Firebox opening to Wall
9 1/2"
Hearth Requirements
0" Clearance
Efficiency Data
Thermal Efficiency
Up to 80%
AFUE Efficiency
71.5 % (NAT) / 77.5% (LP)
P4 Canada Efficiency
79.3 % (NAT) / 79.8% (LP)
Mantel Clearances
Note:
The combustible area above the facing must not protrude more than 3/4" from the facing. If it does, it is considered a mantel and must meet the mantel requirements listed in the owner's manual.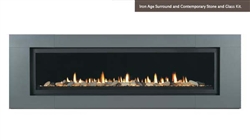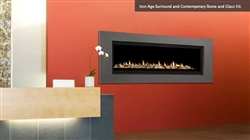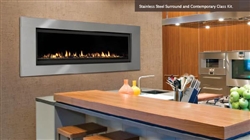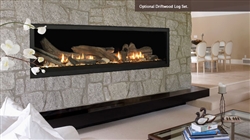 Please call or email for information regarding Majestic products. Please specify the model you are interested in and your zip code.