Sunday, June 16, 2019
La Nordica Rosa Reverse Wood Cookstove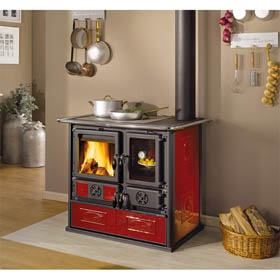 The Rosa Reverse Cookstove by La Nordica is a Cast Iron Wood Cook Range imported from Italy! This product combines excellent european quality at an affordable price ($2,800USD) *includes delivery (some exceptions apply)*
Note: The Rosa Reverse Wood Cookstove is not UL approved. This may cause a problem with your homeowner's insurance. Please check with your insurance company prior to making a purchase.
Description
Specifications
Photos (6)
Pricing
Extended Info
Videos (4)
Add Review
Last chance to order Non-UL listed La Nordica's before major price increase & UL listing takes effect - order must be placed by 04/29/19, for June delivery. $200 Non-Refundable deposit required to place order

Note: The stove is not currently UL listed. Please follow your local building code.
The La Nordica Rosa Reverse is the same stove as the Rosa Reverse Sinistra, however this is a Right hand flue. When the flue is moved to the right hand, this also moves the oven to the right, while firebox will be on the left hand side of the stove. Please note: the regular Rosa Reverse with Right Hand Flue is NOT available in the soapstone finish. The Rosa Reverse are the ONLY La Nordica stoves with Outside Air Connection.
The Rosa Reverse has the same overall size of the Rosa Maiolica Wood Cookstove, however the Reverse model features a larger firebox, with a smaller oven. The Rosa Reverse Wood Cookstove is ideal for those who want to acheive longer burn times, and do not require a large baking oven. With a burn time of up to 10 hours, the Rosa Reverse Italian made Wood Cookstove is sure to keep you warm during the Holiday season.
The La Nordica Rosa Reverse Wood Burning Cooker combines everything you expect from a traditional cooker and engineered to modern European standards, the La Nordica Rosa Reverse range cooker has appeal for both the contemporary and traditional home. The Rosa Reverse wood cook stove is remarkably a beautiful cast iron range cooker, the La Nordica Rosa Reverse has removable hob rings and a large storage drawer for either pans or logs.
Rosa Reverse Wood Cook Stove Features
Adjustable primary air
Adjustable secondary air
Pre-adjusted third Air
8.1kW Nominal heat output
10kW Maximum heat output
Removable hob rings
Heat control damper
Temperature gauge
Chrome fender
Door opening size - 355mm x 248mm
Firebox size - 374mm x 321mm x 326mm
Oven Size - 245mm x 300mm x 382mm
Average hourly fuel consumption - 2.3 kg/hr
Options
Choice of color - Burgundy or Parchment
Extra Oven Rack

Resources:
Rosa Reverse Wood Cookstove Specifications
Rosa Reverse Cook Stove Dimensions
40.5"W x 33.7"H x 25.6"D
Stove Footprint
35" wide by 25" deep
Weight
403 lb
Firebox Opening
13.7"W x 9.25"H
Firebox Size
14.7"W x 11.4"H x 12.6"D
Oven Size
9.6"W x 11.8"H x 15.1"D
Flue Location
Top or Rear Vent
Chimney Flue Diameter
15 cm (5.9") (adaptor required to connect to 6" chimney)
Firebox Material
Cast Iron
BTU Output
34000 BTU
Efficiency
81.1 %
Approx. Avg Wood Consumption
5 lb/h
Rosa Reverse Wood Cookstove Product Dimensions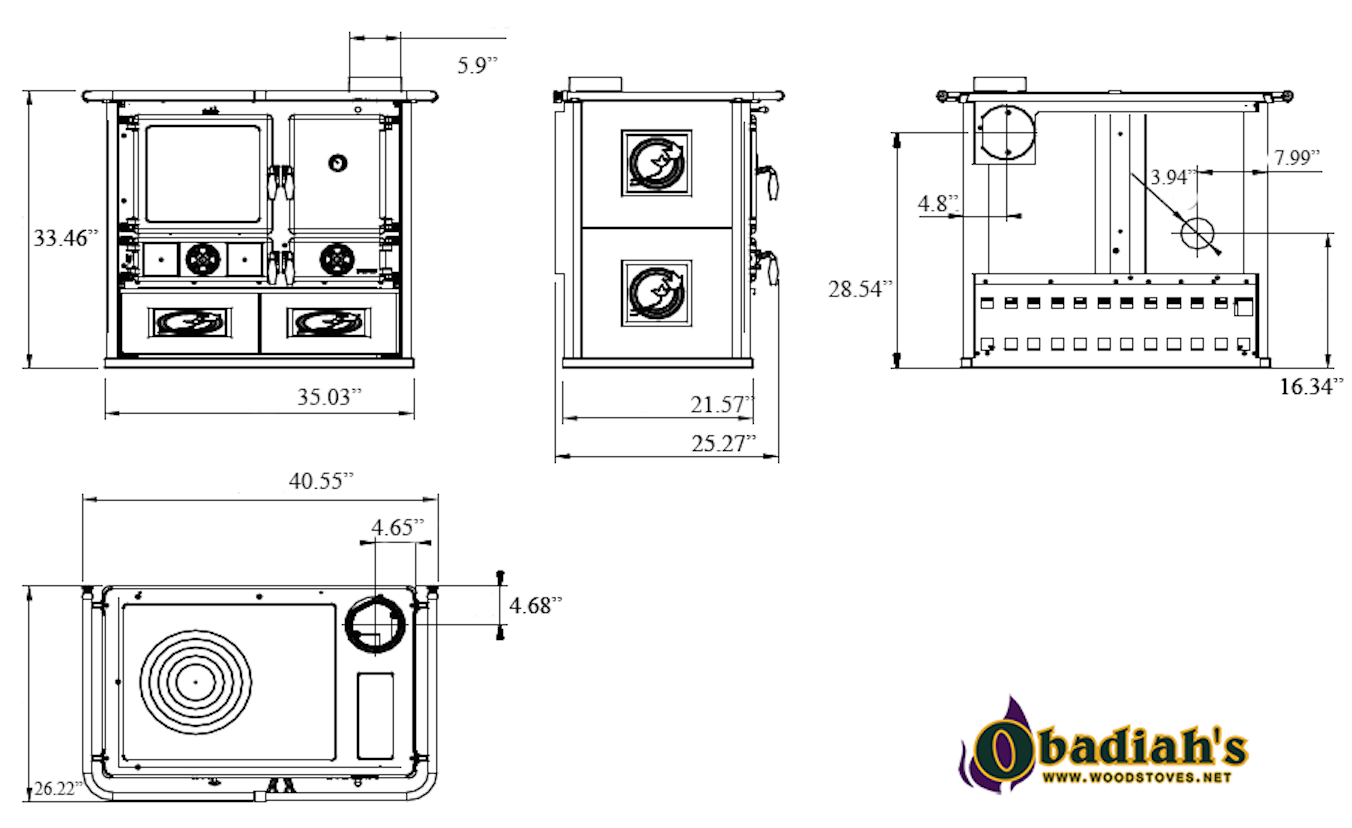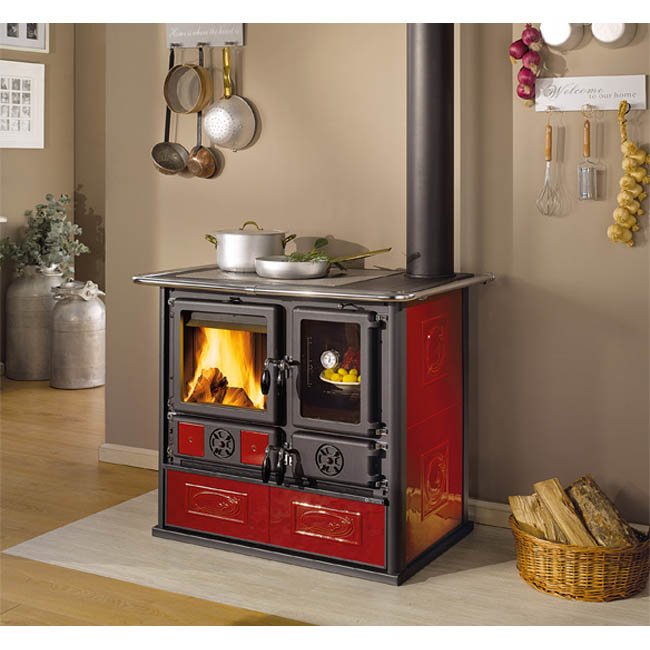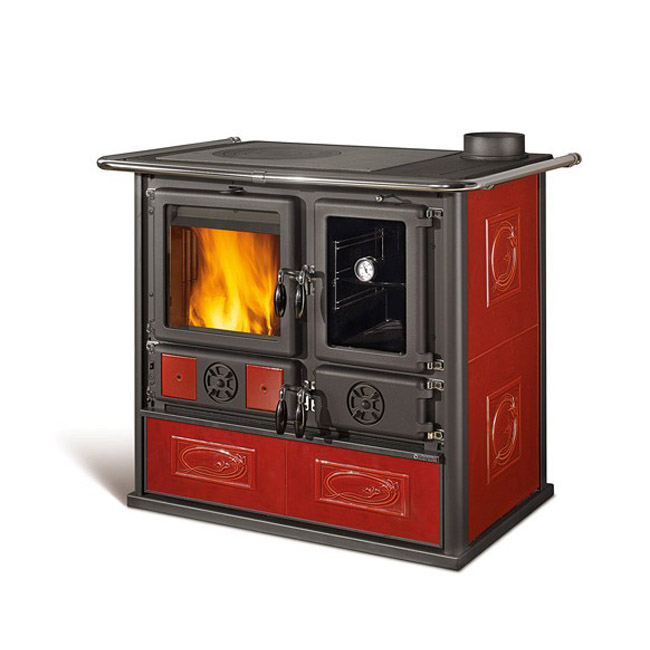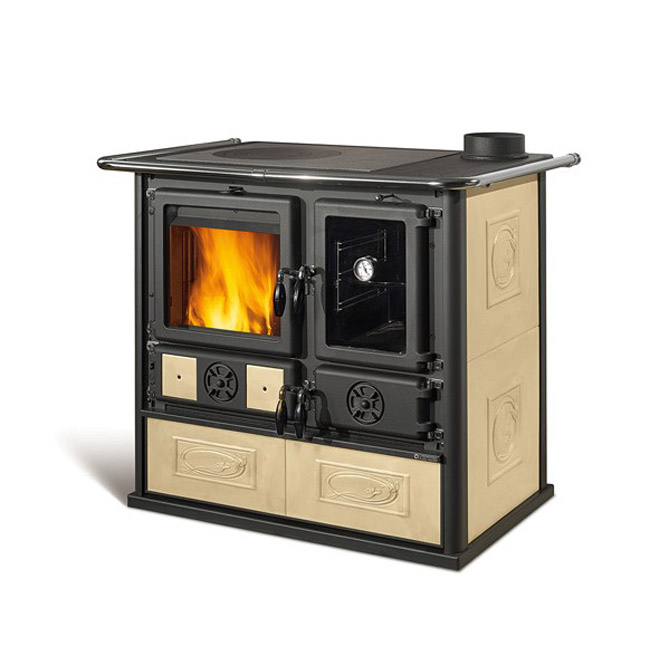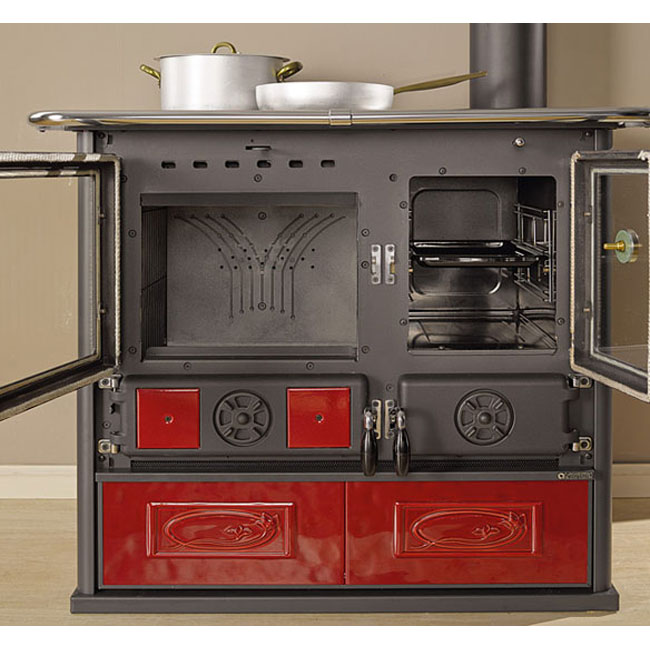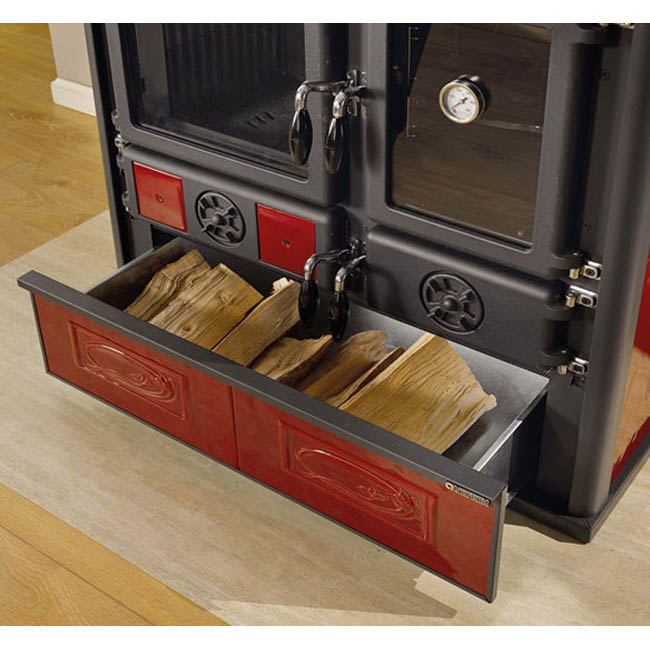 ** Residential, curbside delivery via freight truck with a lift gate is included for shipping in the Continental U.S.A. (some exceptions may apply). Please inquire with our sales staff if you have specific shipping needs such as international, freight terminal and/or business deliveries or if you need a smaller truck size. Click here to see Obadiah's Shipping Terms.
Please call or email us today to order! One of our sales consultants will help you on your way to great, home wood-fired cooking!
Obadiah's offer's a 20% discount and free shipping on most complete chimney systems. Email our chimney specialists for an exact quote.
Be sure to check out our newly improved Cookstove Community website cookstoves.net; the best place online to connect with other cookstove users over stoves, self-sufficient living, alternative energy, and more! Take a look at our selection of videos, articles, and photos, and be sure to visit the forums to talk to like-minded folks from all over.
If you are planning to cook with a cookstove, you will need to understand some basic fire safety. Remember, extinguishing a grease or oil fire with water is not a good idea.
La Nordica Rosa Reverse Wood Cook Stove Review
La Nordica Rosa Reverse Sinistra Cook Stove - Product Overview
La Nordica Rosa Reverse Sinistra Wood Cook Stove - Technical Overview
La Nordica Rosa Reverse Sinistra Wood Cook Stove - First Burn in the Stove