Wednesday, September 27, 2023
Keystoker Koker Coal Furnace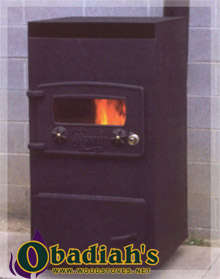 The Keystoker Koker coal furnace is a powerful heater for your home that incorporates unique designs and features to burn cleanly and efficiently. This coal burning furnace can be chimney vented or direct vented, allowing this furnace to produce heat for a variety of homes. With an included Honeywell Thermostat, this coal furnace operates automatically to keep your home at a temperature you deem comfortable. And with many more features, this efficient coal furnace is a must-have for those seeking a powerful coal heater.
Description
Specifications
Photos (1)
Pricing
Videos (4)
Add Review
The Keystoker Koker is an automatic coal burning furnace that produces a whopping 160,000 BTUs to heat your home. With plenty of features and unique designs that increase efficiency and functionality, it's no wonder that this coal furnace was tested consistently with an efficiency rating between 88 and 90 percent.
The Koker is manufactured with heavy gauge steel, which gives this automatic furnace a hardy build that is difficult to damage. Within this hard exterior are a series of unique designs, including the patented flat grate design and built in heat exchange. These combine together to make the coal fire burn hotter, giving you more heat and a more efficient burn for the fire. An air wash system also helps keep your glass cleaner. This coal burning furnace uses clean-burning anthracite coal rice, and buckwheat. This heating unit comes already assembled (except the hopper), and since it is automatic, there is no need to shake grates or shovel ashes.
For those seeking a clean-burning, efficient, and powerful coal furnace to keep their home warm, look no further: the Koker from Keystoker will deliver.
Features
For Chimney Or Direct Vent
Top or Bottom Vent Optional
Heat Output Controlled By Your Room Thermostat
Hot Water Coil Optional
5 Year Limited Warranty
Optional 6" or 8" Convection Air Vent

Resources:
| | |
| --- | --- |
| Specifications | Keystoker Koker Coal Furnace |
| BTU's | 160,000 |
| Flue Exit | Top/Rear |
| Flue Size | 6" |
| Rear Flue Height | 5" |
| Height | 49" |
| Depth | 49" |
| Width | 26" |
| Weight | 550 lbs |
| Hopper Capacity | 240 lbs |
| Blower CFM | 1,500 |
| Glass Door | Yes |
| Side Clearance | 18" |
| Rear Clearance | 18" |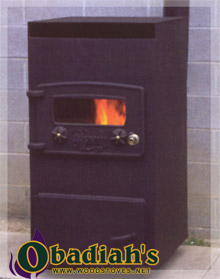 Please call or email us today for a shipping quote! Specify the model you are interested in and your zip code.
Freight cost is additional. Please call (406) 300-1776 or email for a complete price quote. Please specify the model you are interested in and your delivery zip code.
Obadiah's offer's a 20% discount and free shipping on most complete chimney systems. Email our chimney specialists for an exact quote.
Keystoker Koker Furnace - Overview
Keystoker - Forced Air Coal Furnace Overview
Keystoker - Top 10 Coal Burning Questions
Keystoker Coal Stoves, Furnaces, and Boilers - Factory Tour