Saturday, June 3, 2023
Keystoker A-120 Coal Furnace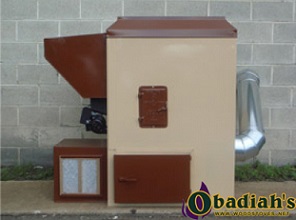 The Keystoker A-120 warm air coal furnace is a sturdy and powerful heater that is capable of fulfilling the heating needs of a home. This rugged American made coal furnace is made with heavy gauge steel with an insulated metal jacket. With built in patented Keystoker designs in this efficient coal burning furnace, heat ouptut and efficiency are improved dramatically. And since this coal furnace uses clean burning anthracite coal as fuel, you do not need to worry about enlarging your carbon footprint to fulfill your heating needs.
Description
Specifications
Photos (1)
Pricing
Videos (2)
Add Review
The Keystoker A-120 is an automatic coal burning warm air furnace that touts excellent efficiency as well as great heating ability. This clean coal furnace produces up to 120,000 BTUs to keep your home comfortable and warm throughout the cold seasons.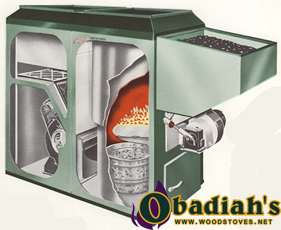 There are couple great patented features built right into this automatic coal furnace. The patented flat grate design gives this efficient coal furnace a deeper firebox, allowing for much hotter combustion which results in much greater efficiency, and a lot more heat to be used for warming your home. The patented built in heat exchanger forces the hot gases from the fire to the bottom of the furnace, and then back up through 4" pipes allowing the blower to force hotter air out of the furnace and into your home. With the temperature this coal furnace burns at combined with the rice or buckwheat anthracite coal that is used as fuel, a clean coal combustion is achieved that produces very little pollution. And with a Honeywell thermostat, this automatic coal furnace puts out heat based on the temperature that is set on the thermostat, and what the temperature in the house is at currently. If it's colder than desired, the furnace will run hotter.
With such great heating capability at a low price, this automatic coal burning furnace can heat a wide variety of homes cleanly and efficiently.

Resources:
| | |
| --- | --- |
| Specifications | Keystoker A-120 Coal Furnace |
| BTU's | 120,000 |
| Flue Exit | Rear |
| Flue Size | 8" |
| Rear Flue Height | 11" |
| Height | 48" |
| Depth | 49" |
| Width | 27 ½" |
| Weight | 440 |
| Hopper Capacity | 140 lbs |
| Blower CFM | 1,500 CFM |
| Glass Door | No |
| Side Clearance | 10" |
| Rear Clearance | 20" |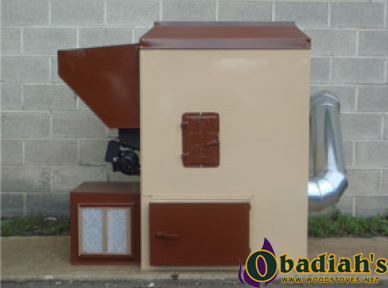 Please call or email us today! Specify the model you are interested in and your zip code.
Freight cost is additional. Please call (406) 300-1776 or email for a complete price quote. Please specify the model you are interested in and your delivery zip code.
Obadiah's offer's a 20% discount and free shipping on most complete chimney systems. Email our chimney specialists for an exact quote.
Keystoker - Top 10 Coal Burning Questions
Keystoker Coal Stoves, Furnaces, and Boilers - Factory Tour