Thursday, September 21, 2023
J.A. Roby Ultimate Wood Stove - Not EPA approved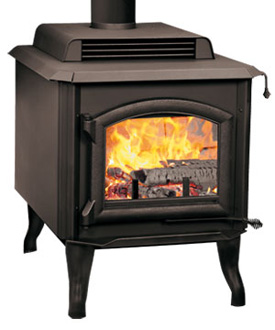 Note: This stove is NOT EPA approved, and thus cannot be sold into most states. This product can be shipped into, MI, TN, WI, HI, and Canada.
As the biggest, most advanced and powerful combustion stove in North America, the Ultimate from J.A. Roby impressively heats up to 3 000 ft² and will not cease to impress you.
Description
Specifications
Photos (3)
Pricing
Videos (2)
Reviews (1)
Add Review
The principal characteristic of the Ultimate is its depth, as it possess a combustion room of 4ft³ and its exterior dimension are 33 ½" high by 27 ½" wide by 37" depth, easily accepting 25" wood logs. It can easily warm up a house with a dimension up to 3 000 ft². The multi-position adjustment for the door has never been easier, adjusting the door pressure in order to get a more airtight seal, conforming its angles, horizontal and vertical movement effortlessly. Fans are also available as an option. The Ultimate is offered by specialized retailers and the best hardware stores.
Features
One cast iron door model
High efficiency combustion
Heating by convection and radiation
Low clearances to combustible materials
Air-wash system
Log length 25"
Heat up to 3000 ft²
Offered in metallic black.
Options
150 CFM fan
Adapter kit (2 X 6" duct, 460 CFM fan & sensor)

Resources:
Specifications
J.A. Roby Ultimate
Type of fuel
Wood
Recommended heating area
500 - 3000 pi2 / 46,5 - 270 m2
Maximum output
0 BTU/h
Exteriors dimensions
Width
27 ½" - 69.85 cm
Height
33 ½" - 85.09 cm
Depth
37" - 93.98 cm
Type of chimney
2100° F. - 650° C
Exaust pipe diameter
6" - 15.24 cm
Recommended chimney diameter
6" - 15.24 cm
Minimum chimney height
12' - 3.66 m
Firebox dimensions
Width
20 ½" - 52.07 cm
Height
13 ½" - 34.29 cm
Depth
25 ¼" - 64.14 cm
Dimension
3.900pi3 - 0.11 m3
Door opening dimensions
16" x 10 ½" 40.64 cm x 26.67 cm
Minimum clearances to combustibles
Back
10" - 25.4 cm
Side
20" - 50.8 cm
Corner
20" - 50.8 cm
Top (measured from floor)
84" - 213.36 cm
Maximum log length
25" - 63.5 cm
Weight
460 lbs / 208.65 kg
Warranty
Limited lifetime
Standard test - emissions
EPA
Standard test - safety
ULC- S-627 / UL 1482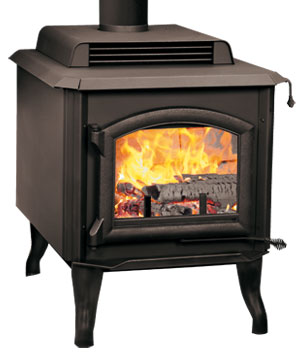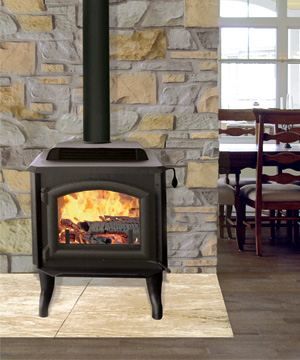 This price does not include shipping. Please call or email Obadiah's for a price quote, specify the model and your zip code.
Boss of the Swamp: Woodstove & Chimney Maintenance (Part 1)
Boss of the Swamp: Woodstove & Chimney Maintenance (Part 2)
smoking problem solved
April 16, 2015
Reviewer: ROSS OSMOND
I just bought and installed a new stove, wow, it looks great and heats up my house in no time and burns less wood than my old stove. The only problem that i had with it was, at first it would smoke very bad when i open the door to put in wood. Idiscovered that the top bricks are supposed to be pulled forward to the front of the stove, at first they were to the back. It works like a charm now.