Wednesday, September 18, 2019
J.A. Roby Wood Stove - Discontinued*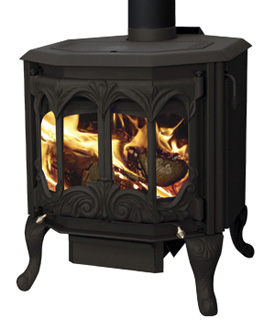 *PRODUCT DISCONTINUED - This page is for informational purposes only.
With high effectiveness combustion and low clearances, the Mystere from J.A. Roby is a smart and stylish choice for anyone in the wood stove or cook stove market.
Description
Specifications
Photos (3)
Pricing
Extended Info
Add Review
*PRODUCT DISCONTINUED - This page is for informational purposes only.
The Mystere offers a 20" x 12" viewing window and many stylish options to make fit your needs exactly, without having to sacrifice the even warmth and high combustion. EPA certified, the Mystere also offers an oven that can give you the opportunity to enjoy the traditional way of cooking on a wood fire.
Features
Model without oven
Two cast irons doors
High efficiency combustion
Convection and radiation heating system
Air-wash system
Low clearance to combustibles materials
Easy access ashes drawer
Can be used as an extra cooking stove
Offered in one tone finish: metallic black, honey-glow brown or in rustic style finish: Metallic black hammered charcoal, metallic black hammered brown
Options
Oven
Blower thermodisc kit
Rigid fire-screen

Resources:
Specifications
J.A. Roby Mystere
Type of fuel
Wood
Recommended heating area
500 - 1850 pi² / 46- 172 m²
Maximum output
52000 BTU/h
Exteriors dimensions
Width
26" - 66.04 cm
Height
31" - 78.74 cm
Depth
27 ¾" - 70.49 cm
Type of chimney
2100° F. - 650° C
Exaust pipe diameter
6" - 15.24 cm
Recommended chimney diameter
6" - 15.24 cm
Minimum chimney height
12' - 3.66 m
Firebox dimensions
Width
18" - 45.72 cm
Height
12" - 30.48 cm
Depth
17 ¾" - 45.09 cm
Door opening dimensions
17 ½" x 9 ½" 44.45 cm x 24.13 cm
Minimum clearances to combustibles
Back
8" - 20.32 cm
Side
12" - 30.48 cm
Corner
12" - 30.48 cm
Top (measured from floor)
84" - 213.36 cm
Weight
380 lbs / 172.36 kg
Warranty
Limited lifetime
Standard test - emissions
EPA
Standard test - safety
ULC-S627-00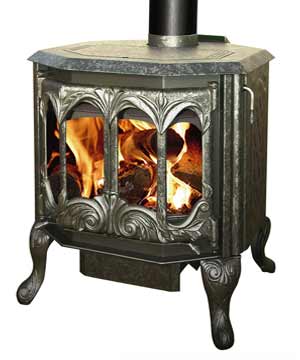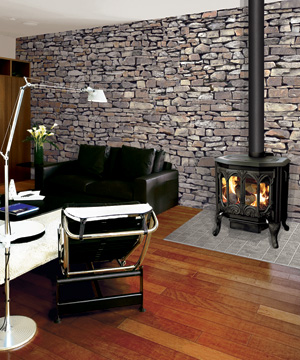 *PRODUCT DISCONTINUED - This page is for informational purposes only.
Be sure to check out our newly improved Cookstove Community website cookstoves.net; the best place online to connect with other cookstove users over stoves, self-sufficient living, alternative energy, and more! Take a look at our selection of videos, articles, and photos, and be sure to visit the forums to connect with like-minded folks from all over.
If you are planning to cook with a cookstove, you will need to understand some basic fire safety. Remember, extinguishing a grease or oil fire with water is not a good idea.
For help choosing and installing a wood boiler, see the links and posts below.