Friday, December 8, 2023
J.A Roby Chief Wood Cook Stove w/Side Water Reservoir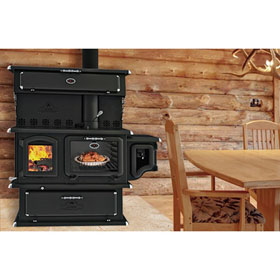 Introducing the first line of EPA Approved Wood Cook Stoves - Produced by J.A. Roby in Canada
The Chief Wood Cook Stove is a beautiful traditional style cooking range that will add warmth, comfort, and a touch of magic to your home. The Chief Wood Range is decorative steel and cast iron combination stove. The stove body is made from steel, while the doors and legs are cast iron. The Chief Wood Cookstove comes standard with a side water reservoir. Purchase the optional enamel cast iron cook plate for easy stove-top cooking and cleanup. This model is EPA approved!
Page updated 1/5/21
Description
Specifications
Photos (16)
Pricing
Extended Info
Videos (10)
Add Review
The Chief Wood Burning Cook Stove by J.A. Roby is smart, efficient, stylish, and super easy to use! The Chief Wood Cooking stove sits on a pedestal base, that includes a lower pan drawer for extra storage space! The Chief Wood Cook Range features a cooking surface, glass doors on both the firebox and oven, baking oven, warming oven, pan drawer, water reservoir, and outside air! What more could you possibly want in a wood heating and cooking stove? These excellent amenities show J.A. Roby's perfect attention to detail on every aspect of this functional Wood Cook Stove. The inclusive water reservoir provides a constant flow of hot water through the day for cleaning up dishes, washing the floors, or even bathing. The Chief Wood Cookstove offers everything you could ever desire in a Wood Buring Range and is sure to complement every kitchen. The Chief wood range comes standard with a backsplash, top warming oven, pan drawer, and side reservoir. The warming oven temperature tends to a range of approx. 250 degrees Fahrenheit.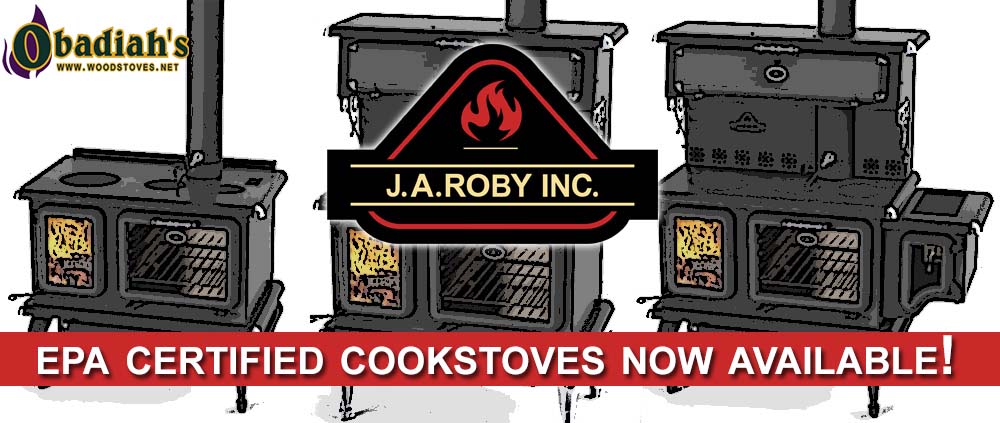 Features
Model with two cast iron door, one arched firebox, and one square oven
EPA METHOD 28R certified appliance
Recommended heating area (sq.ft) : 1000 - 1800
Color: metallic black
Model: pedestal with pan drawer
Glass air wash system (firebox)
Easy to access ash drawer (front of the stove)
Glass oven door
Food warmer
Water tank included
Thermometers on oven and food warmer
Handles, corners and chrome ornaments
Three removable lids on top
Low clearance to combustible material
Ceramic fiber baffle
Outdoor air intake
Firebox lined with refractory bricks for better heat distribution
Stainless steel secondary air system improving gas combustion
Flue pipe diameter: 6"
Low emissions 1.9 g/h
Max log length 20"
Mobile home approved
UL/ULC Tested as per applicable standards by Intertek


Resources:
Product Specifications
J.A. Roby Chief EPA Wood Cook Stove
Overall Dimensions
51 ¾" W X 58 ½" H* X 26 ¼"D *Height is to top of warming oven
Cook Top Height
35 ¼"
Height from cook top to bottom of warmer
12 ½" with cook plates, and 13" without plates
Interior Oven Dimensions
17 ½"W x 12 ½"H x 18 ¾"D
Interior Food Warmer Dimensions
39 ⅞"W x 10 ¾"H x 16 ¼"D
Door Opening Dimensions Height
9 ⅛"H x 9"W
Firebox Dimensions
12"W x 11 ⅝"H x 20"D
Firebox Size
1.7 cu.ft.
Fuel Type
Dry seasoned wood
Recommended Heating Area
1000 - 1800 sq. ft.
Maximum Output
70,000 BTU/h
Efficiency
64.5%
Maximum Log Length
20"
Chimney Type
2100° F - Solid Fuel Class A
Flue (Chimney) Size
6"
Minimum Chimney Height
12'
Tested & Approved
ULC S627-00 UL 1482-2011 & EPA Method 28R
Warranty
Limited Lifetime
Weight
567 lbs
Minimum Clearances to Combustibles
Rear
2 ¼"
Right & Left Side
10"
Right & Left Corners
8"
Ceiling
84" (measured from floor)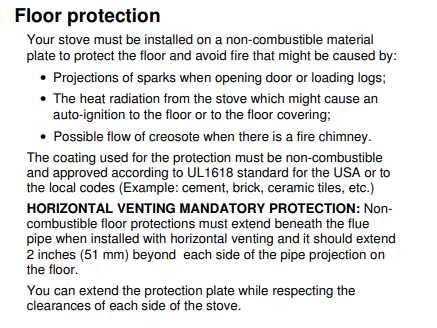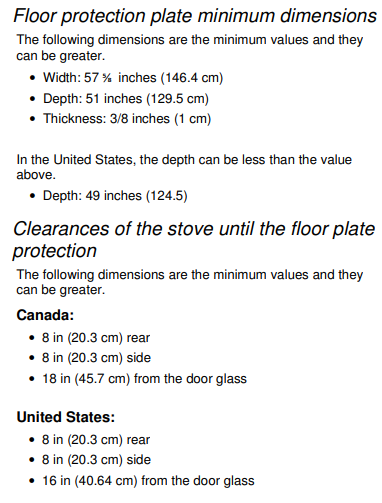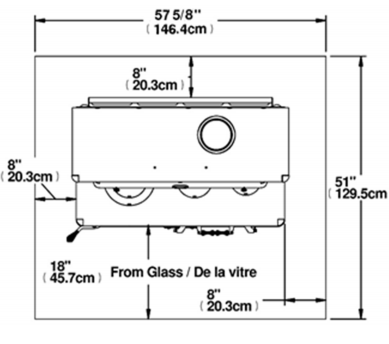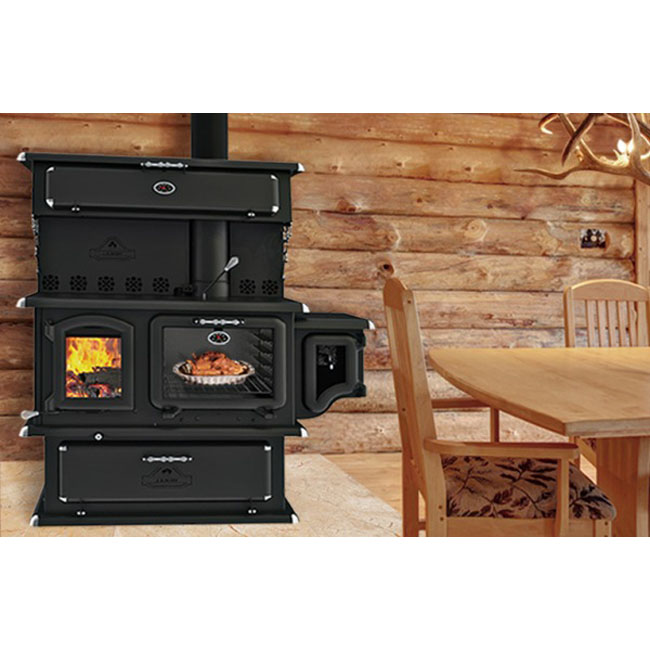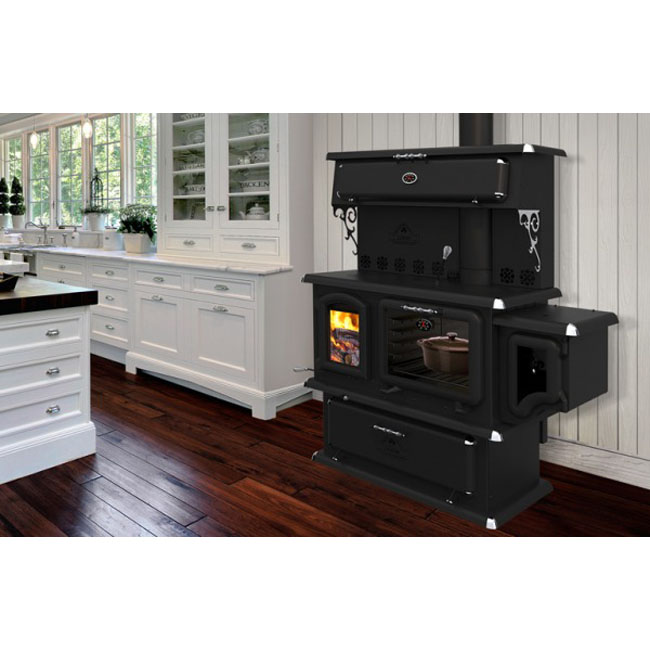 J.A. Roby Chief Wood Cook Stove in Black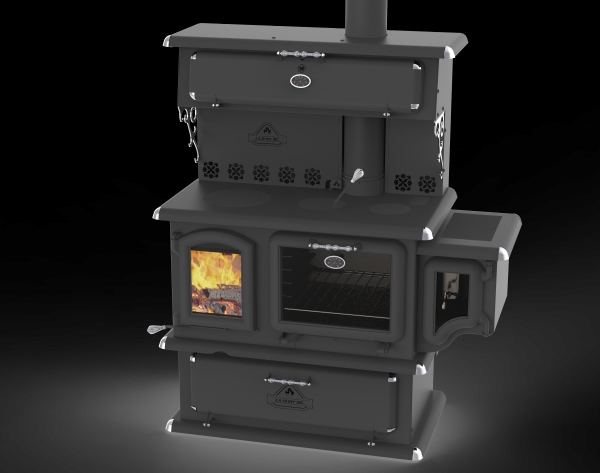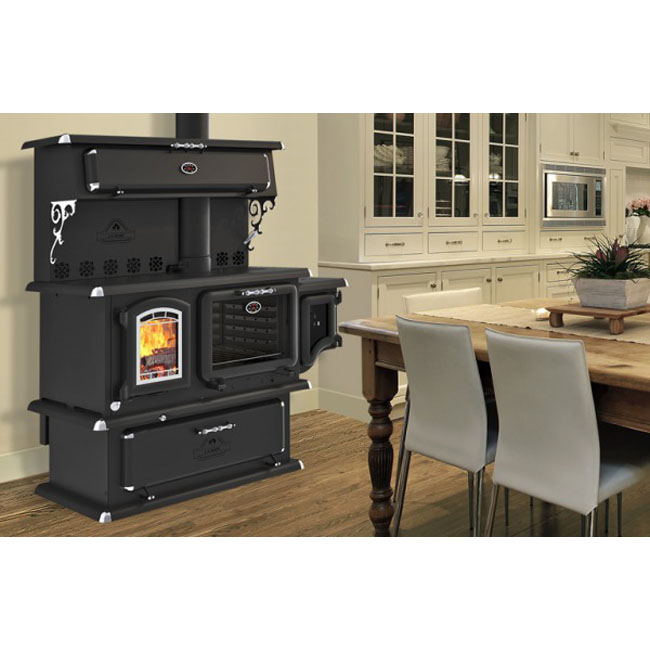 J.A. Roby Chief Tor Wood Cook Stove in Chrome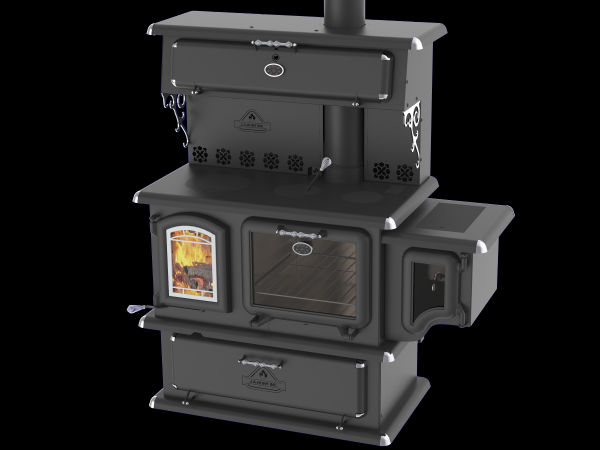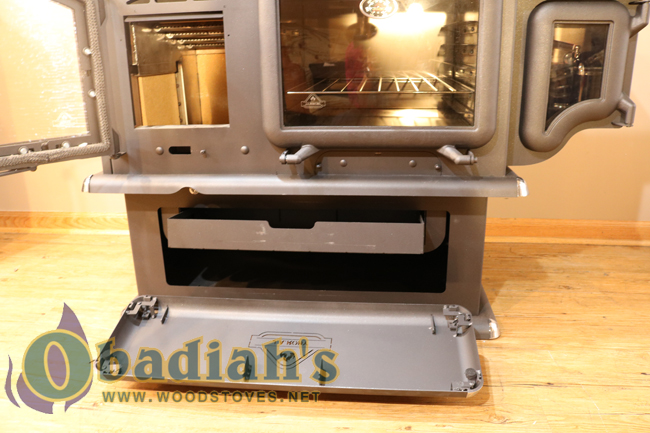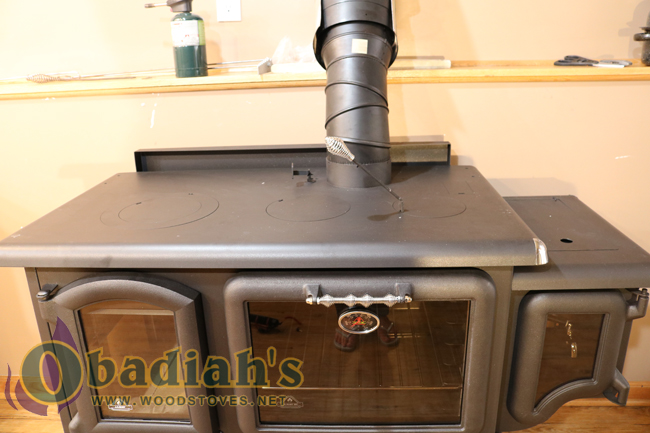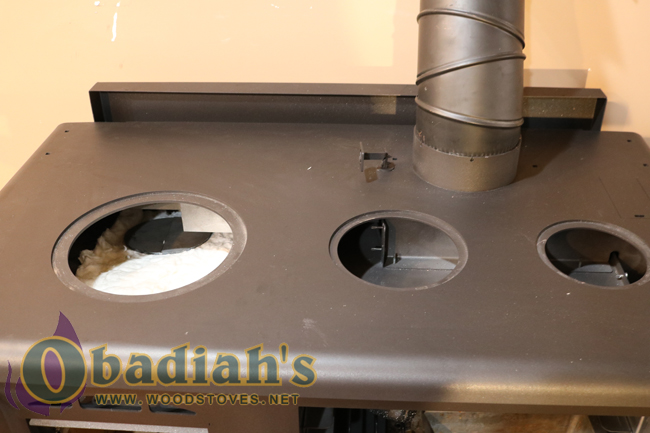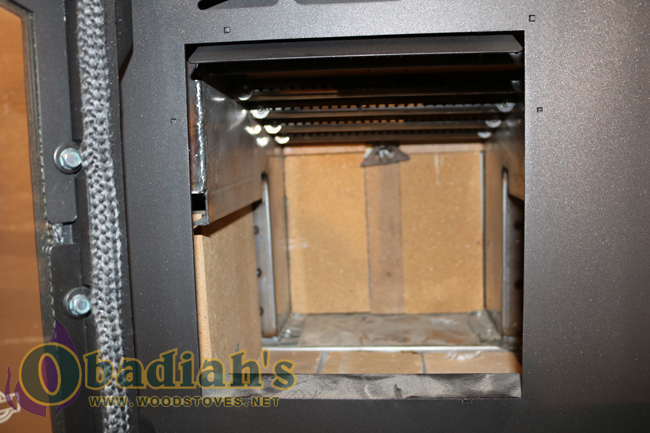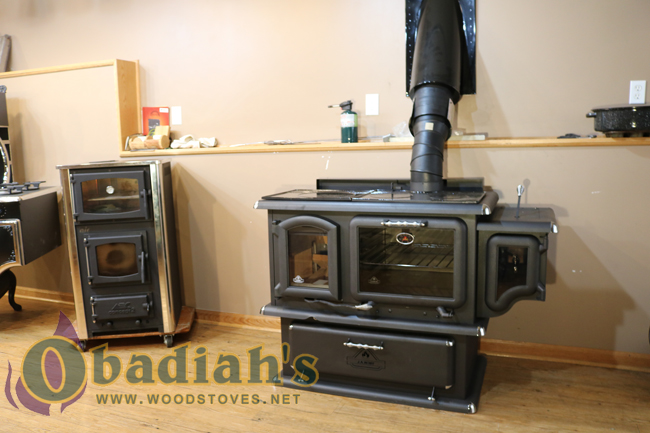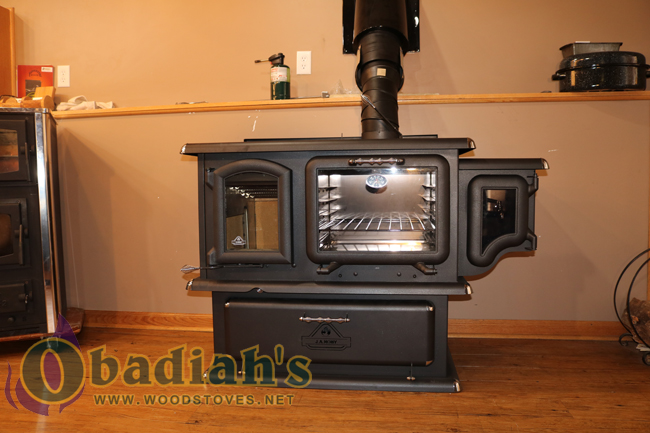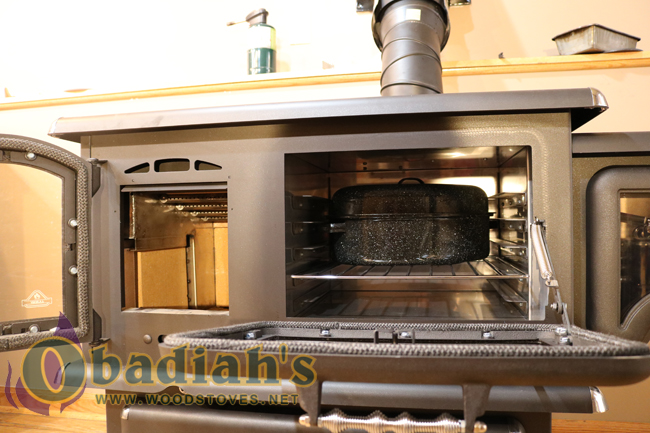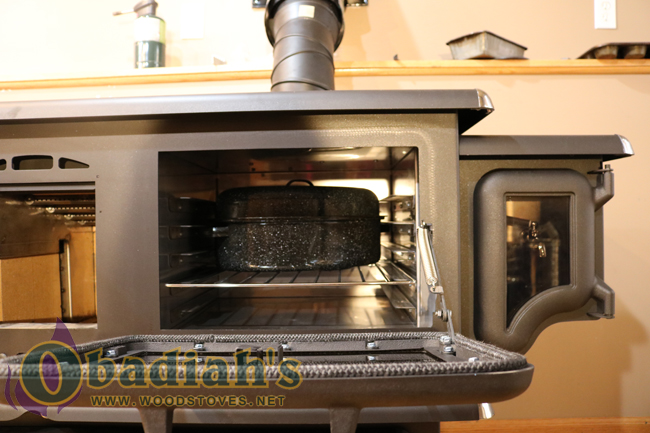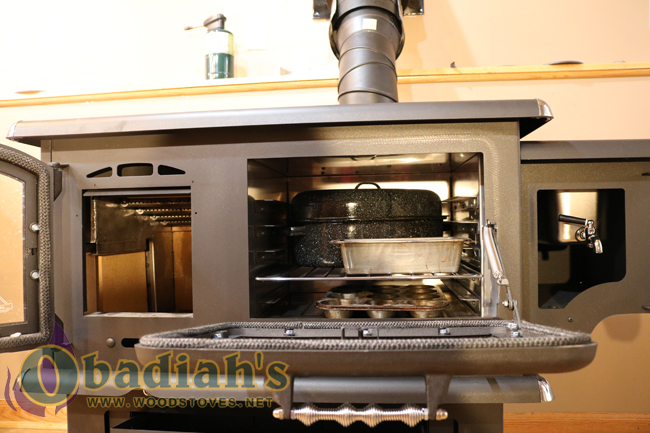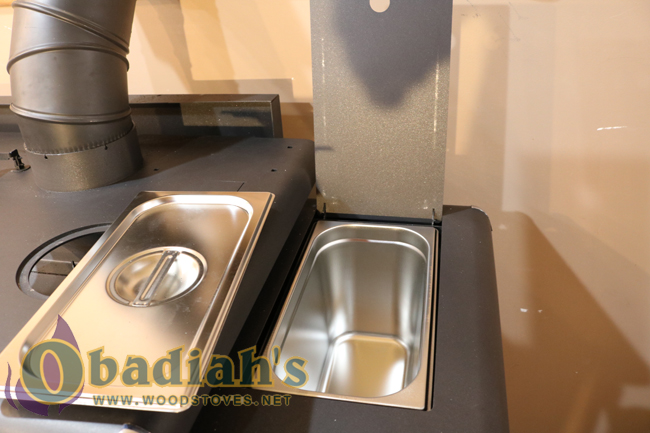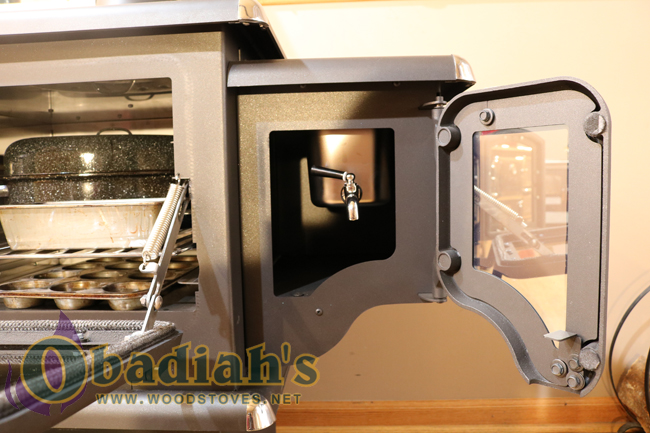 Be sure to check out our newly improved Cookstove Community website cookstoves.net; the best place online to connect with other cookstove users over stoves, self-sufficient living, alternative energy, and more! Take a look at our selection of videos, articles, and photos, and be sure to visit the forums to connect with like-minded folks from all over.
If you are planning to cook with a cookstove, you will need to understand some basic fire safety. Remember, extinguishing a grease or oil fire with water is not a good idea.
JA Roby EPA Wood Cook Stove Product Review
J.A. Roby Cookstoves - Chief Wood Cookstove General Overview
J.A. Roby Cookstoves - Chief Wood Cookstove Technical Overview
Obadiah's: What Cookstove is Right For You?
J.A. Roby Cookstoves - What Comes With Your Stove?
Obadiah's: J.A. Roby Cookstoves - Uncrating Your New Stove
Wood Cook Stove Comparison: Elmira Fireview Vs. J.A. Roby Chief
J.A. Roby EPA Wood Cook Stove - Product Comparison - Chief vs. Cook LX Wood Cookstove
Shopping Cookstoves - What Wood Cook Stoves Have Water Reservoirs?
Why Purchase a J.A. Roby Wood Burning Stove?